From the June 15, 1923 issue of American Rifleman, an article about 1923 Palma Matches by Maj. K.K.V Casey, the U.S. Palma Team Captain that year.
How many teams can we expect to participate in the 1923 Palma?
This is the paramount question to be answered in connection with the revival of the
historic long range match
at Camp Perry this year. Beside it, all other questions become relatively unimportant except in so far as they may encourage—or discourage—the attendance of other rifleman nations who in the past have contributed toward making the Palma a marksmanship classic.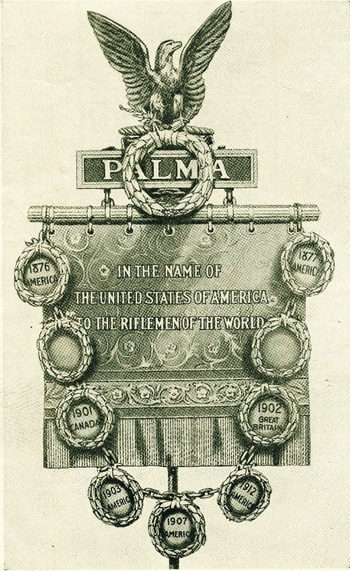 The Palma conditions under which the 1923 event will be held, removes all handicaps which European competitors have felt were to be found in former arm and ammunition specifications; therefore the important and remaining essentials for making the Palma revival a success lies in attracting a sufficient number of entrants to provide keen competition and in placing a strong United States team in the field to defend our title of World Champion won in past Palmas.
The United States team, according to present plans, will defend the Palma trophy at Camp Perry on Saturday, September 22. As the selection of the Team and whatever practice the Team is to get will have to be prior to that date, the question of the selection of the Team and the subsequent practice will mean that from the conclusion of the National Rifle Association Matches until the Palma Match very little time can be devoted to either the final selection of the Team or team practice.
The Team will be selected as heretofore, that is by the scores made in the regular NRA matches at 800, 900 and 1000 yards, followed by a two days' tryout over the Palma course. To get in this amount of shooting, and at the same time allow the different competitors full opportunity to practice for the National Match, for participation in the National Individual Match and other events that will take place the week of September 17-22, will require some skillful engineering on the part of
Col. Mumma
, but as this is the type of task that he delights in, no difficulty is anticipated on that score.
The United States Palma Team this year will be what the riflemen of the nation make it—a winner or a looser, according the support which is given it in the way of team material. The participation of European and Canadian teams, however, rests upon a different basis. It is up to us, who are sponsoring the revival to create in them a desire to participate and to convince them that they will shoot under handicaps no greater than those under which our own shooters labor—in short, that they will get an even break.