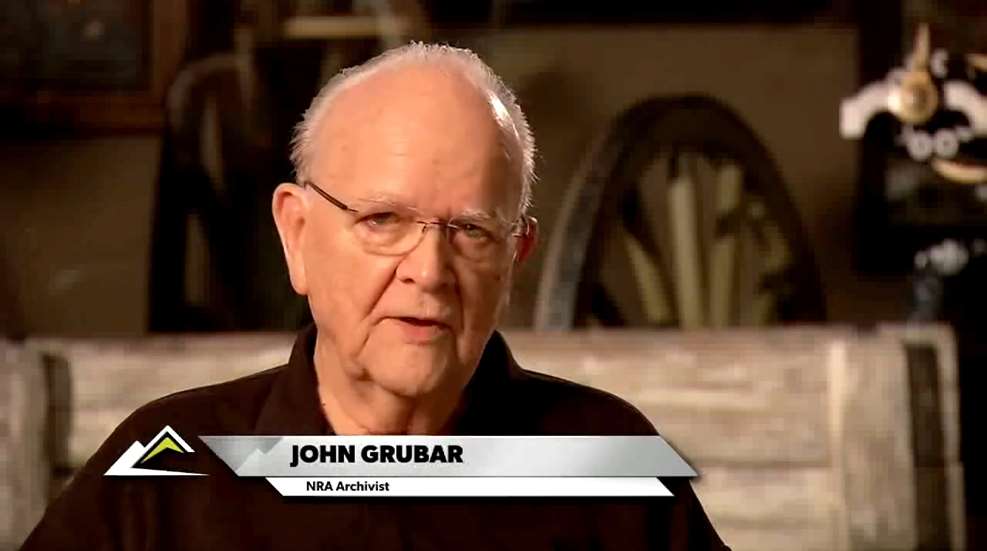 Mr. John J. Grubar, long-time employee and associate of the National Rifle Association of America, has made plans to retire. His role as NRA Archivist will be tough shoes to fill.
"For good this time," he told
SSUSA
with a chuckle. "I will be keeping busy at home."


Mr. Grubar's life has been far from boring. A Lieutenant in the U.S. Naval Reserve and Korean War Veteran, he quit his physical education teacher job at the University of Maryland sixty years ago, and began an illustrious career with the NRA.


Since 1955, Mr. Grubar has worked for the NRA in more ways than one. When he first started at the NRA he was in the Editorial Division with positions including Editor for NRA Tournament News (
Editor's note: SSUSA is the direct descendant of NRA Tournament News
), assistant managing editor and associate editor for American Rifleman. Later, in 1967 he transferred to the Competitions Division; holding the positions of assistant manager, assistant division director, and division director. Eventually in 1992 he retired from the NRA—but he did not stop contributing his time by any means. 
He continued to work at Camp Perry as a volunteer after his many years of dedicated service as the publications director, reporter and photographer, special services officer, awards officer, assistant statistical officer, administrative officer, executive officer/match director for all phases and NRA National Matches Coordinator. Along with Camp Perry and the National Matches, he dedicated his time to run the Exhibit Hall at the NRA Annual Meetings, and up until now, served as the official NRA Archivist.
Not only did Mr. Grubar contribute his time to the NRA, he participated in the National Board for the Promotion of Rifle Practice (NBPRP) to include the Ad Hoc Committee. He worked at the NRA National Police Shooting Championships as a reporter and photographer, NRA Statistical Advisor, NRA Awards Coordinator, Executive Officer, Chairman of the Protest Committee and Match Director. Mr. Grubar was the NRA employee of the year in 1961. He also received a Lifetime Master Smallbore prone and position award.
Additionally, he has also been a member of many other clubs and associations, a small selection he mentioned were: President of the Berwyn Junior Rifle Club, Berwyn Rod & Gun Club, U.S. Aggies Rifle and Pistol Club, Terrapin Rifle Club, Friends of Camp Perry and, of course, a Life Member of the NRA.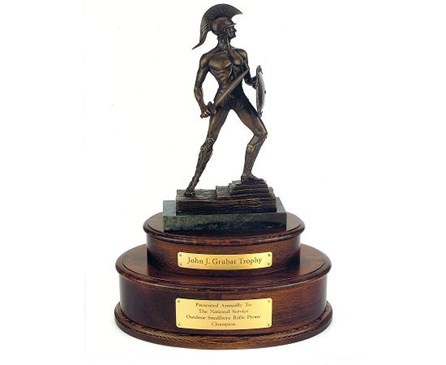 The John J. Grubar Trophy is a bronze statue of a "Trojan Warrior" by D.R. Rushing and was presented to the NRA by Mr. Grubar himself. This trophy is awarded annually to the High Service Competitor in the National Smallbore Rifle Prone Championship.
Mr. Grubar will be missed at the NRA. His retirement is well-deserved and we wish him all the best.