by
posted on February 27, 2023
Support NRA Shooting Sports USA
DONATE
In competitive shooting, it takes some understanding of each discipline to know what certain wins and scores "really" mean. Take U.S. Army Marksmanship Unit Sgt. 1st Class Brandon Green winning all five individual NRA High Power National Trophies for Any Rifle last summer at Camp Atterbury. This has never been done before in the more than 100-year history of the NRA Trophies. Last year was full of firsts for Army shooters. Army National Guard Staff Sgt. Amanda Elsenboss became the first woman to ever win the President's 100 Match. AMU Staff Sgt. Jarrod McGaffic shot a score of 500-24X, setting a new national record and making him the first person to ever clean the National Trophy Individual Rifle Course.
STAFF SGT. AMANDA ELSENBOSS, ALL GUARD RIFLE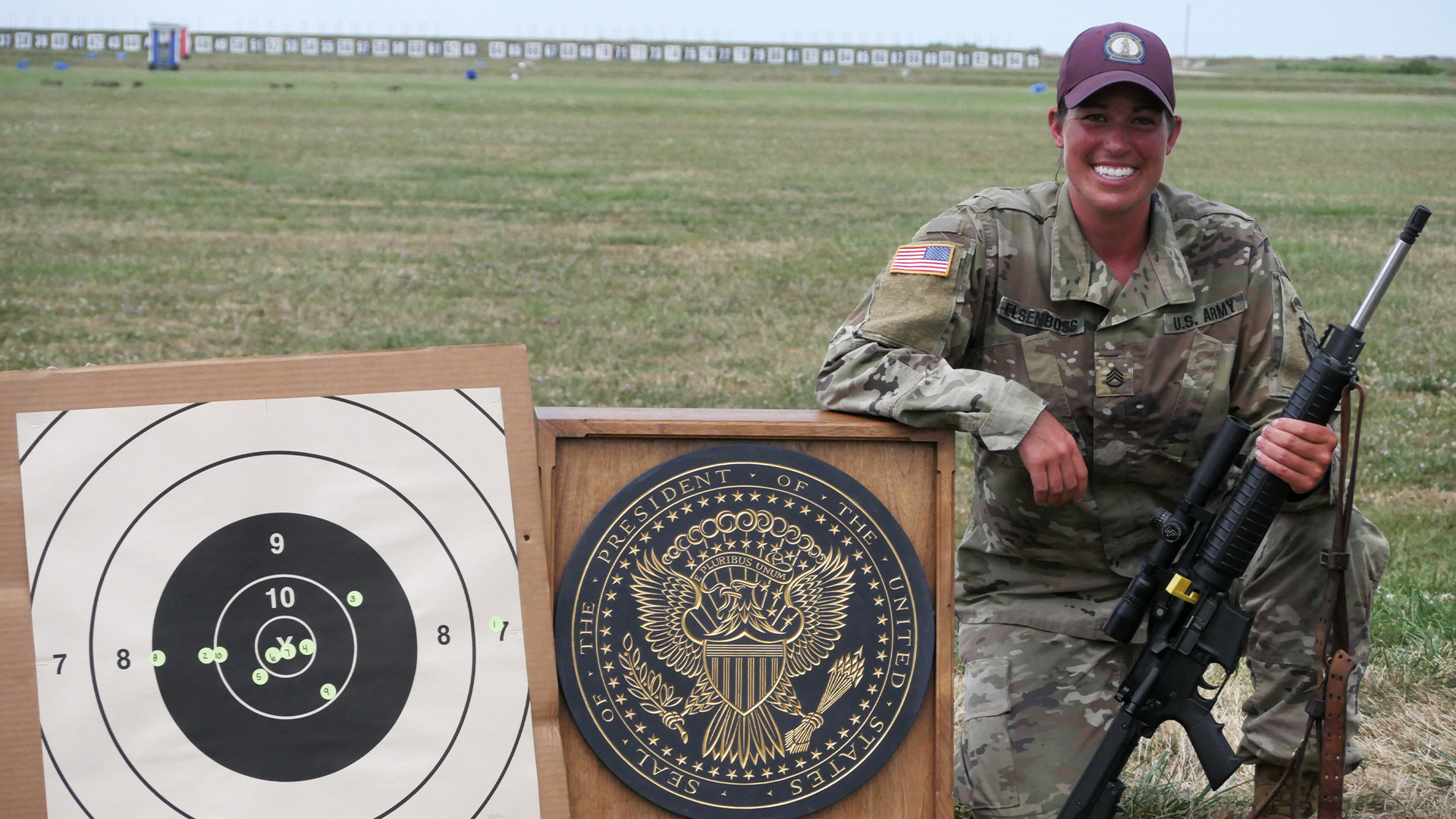 Elsenboss is an icon—well known among service rifle and long-range competitors for nearly two decades of stellar performances first as a junior, then as a member of the AMU, and now the National Guard.
Last year, she defended her 2021 NRA National Service Rifle title, placed third in the High Power grand aggregate and won the Scott Trophy with a sitting rapid score of 200-16X. Elsenboss also became the first woman to win the President's 100 Rifle Match, cementing her status as a role model to young women in the shooting sports.
Unlike the members of the AMU, All Guard team shooters are spread across the country, all with regular day jobs. Finding time to practice is difficult and often a labor of love. "Last year was interesting for me," Elsenboss said. "I didn't have much time to train so when I was training, it was as hard as I could muster, without giving myself any breaks or accepting bad shots. I worked to only train myself to shoot great shots."
Elsenboss said winning the President's 100 Match was her greatest accomplishment last year, especially with the high-pressure shoot-off and difficult winds. Regarding mistakes, Elsenboss admitted that she makes them. "It's just a matter of not sliding down that path and continuing to make them," she said. "It is easy to get wrapped up over a bad shot and then watch your entire string or match fall apart. Even though we say it as a joke, the person who makes the least mistakes wins, and that is the truth."
STAFF SGT. JOHN COGGSHALL, ALL GUARD RIFLE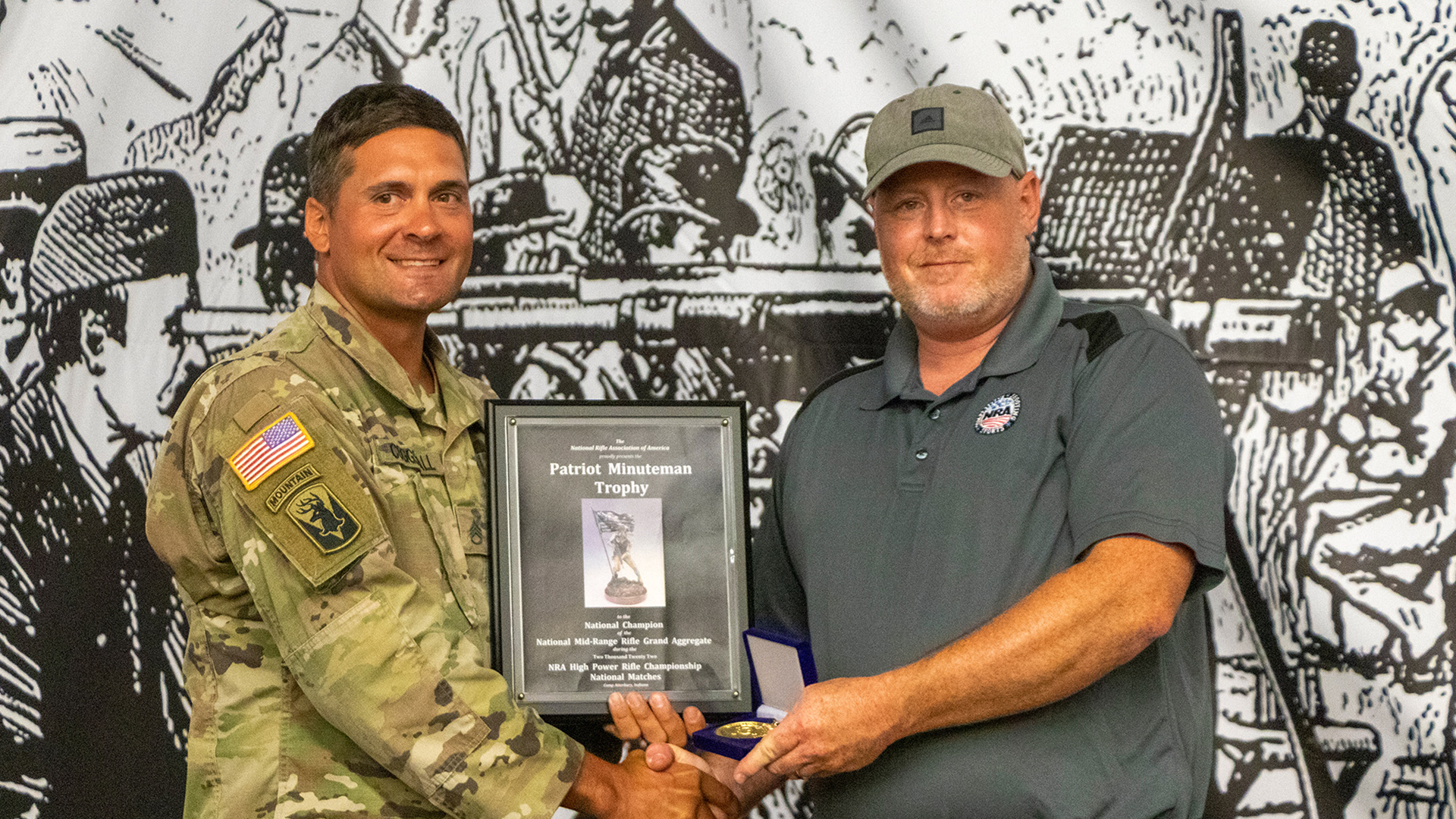 Coggshall's score of 2399-189X earned him the 2022 NRA Mid- Range National Championship. He also placed third in the NRA Long-Range Championship, runner-up in the Canadian Cup and won the Coast Guard Trophy.
"Winning NRA Mid-Range was my biggest accomplishment last year," he said. "Shooting a four-day aggregate match requires an incredible amount of focus to perform at your highest level, especially when the best shooters in the country are in attendance after the same trophy. My winning score was one point off from a perfect score of 2400. It really puts into perspective the razor-thin margin of error required to win at the national level."
Coggshall began shooting when he was 10 and joined the Connecticut National Guard shortly before his 20th birthday. "The National Guard is very supportive of marksmanship competition, and I find myself very lucky and proud to be a part of the team for so long. Over the years, my role on the All Guard team has evolved from shooter to mentor and coach. It's just as gratifying to see my teammates and new shooters succeed as winning myself."
Developing his unique match process has contributed to Coggshall's success. "It's similar to the 'shot process' that most people are familiar with but extrapolated to the whole match," he said. "I have refined everything from how I prepare for the day, to preparing for the next stage or next task, such as scoring or even pit duty. I've found this to be helpful in making my shooting experience consistent and therefore repeatable."
1ST LT. LISA J. EMMERT-TRACIAK, ALL GUARD PISTOL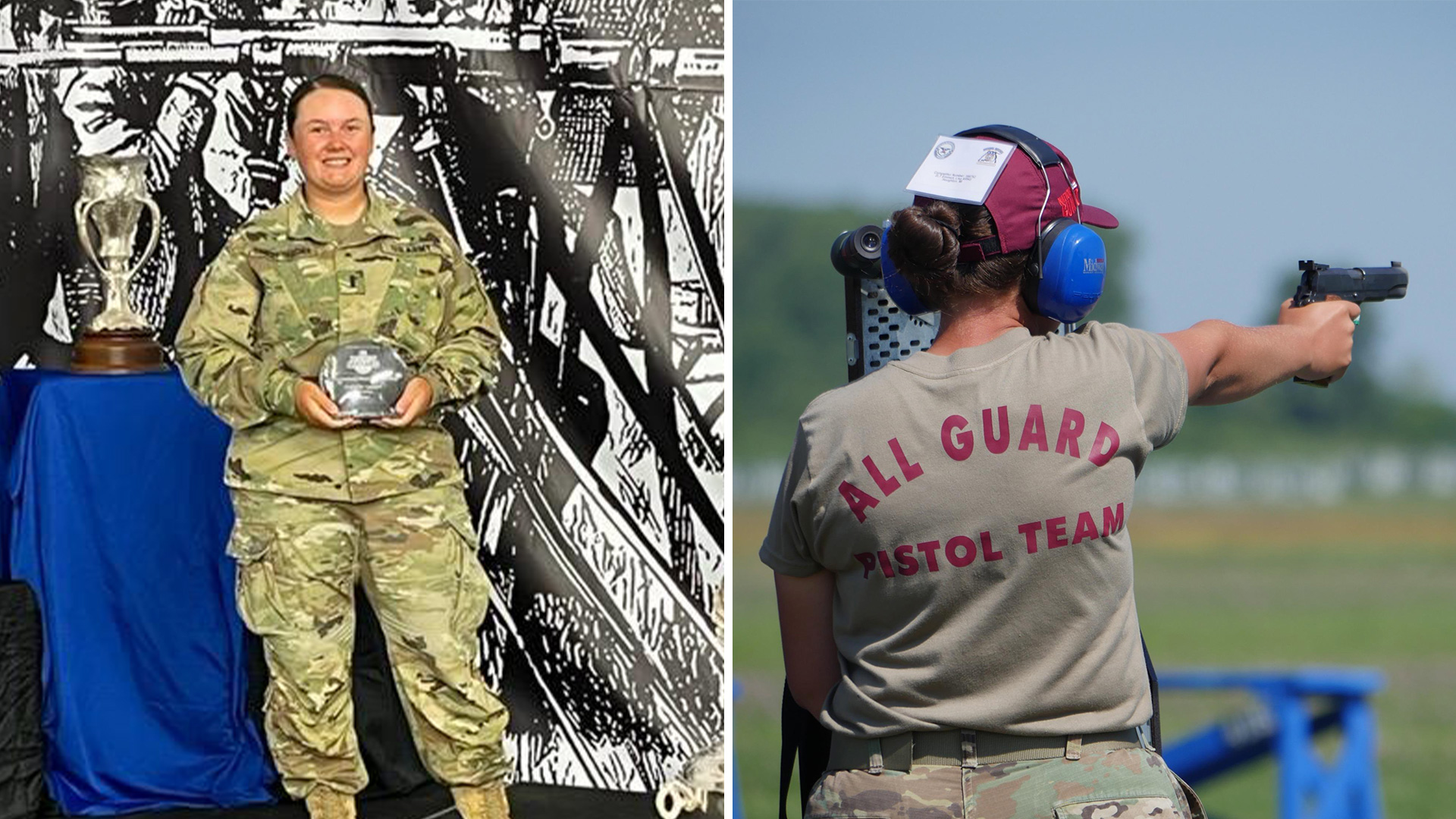 Traciak competes in multiple pistol disciplines: bullseye, service pistol, revolver, air pistol and sport pistol. She was High Woman and High National Guard at the NRA Precision Pistol National Matches, as well as High Woman of the .22 Cal. (882-42X), Centerfire (875-43X) and .45 Cal. (863-24X) individual championships. Traciak was also the top shooter of several second-place teams and fired on the prestigious U.S. Mayleigh Cup Team.
Last year's scores earned Traciak her NRA Precision Pistol High Master classification. She was also ranked fifth by USA Shooting in sport pistol and air pistol and invited to train full time at the Olympic Training Center in Colorado Springs, Colo.
Traciak said the key to her success lies in positive thinking, training and good coaches, plus products she can trust. "Don't use gear you can blame a bad day on," she said.
Traciak uses the following for competition, with red dots on all her bullseye guns.
.22 cal.: Hammerli 208S with 1911 grip, Eley Tenex ammo
.45 cal.: Springfield Range Officer accurized by Dan Norwood, Zero ammo
Service: All Guard .45 Colt 1911
Revolver: .38 Spl. Smith & Wesson All Guard gun
STAFF SGT. JARROD MCGAFFIC, AMU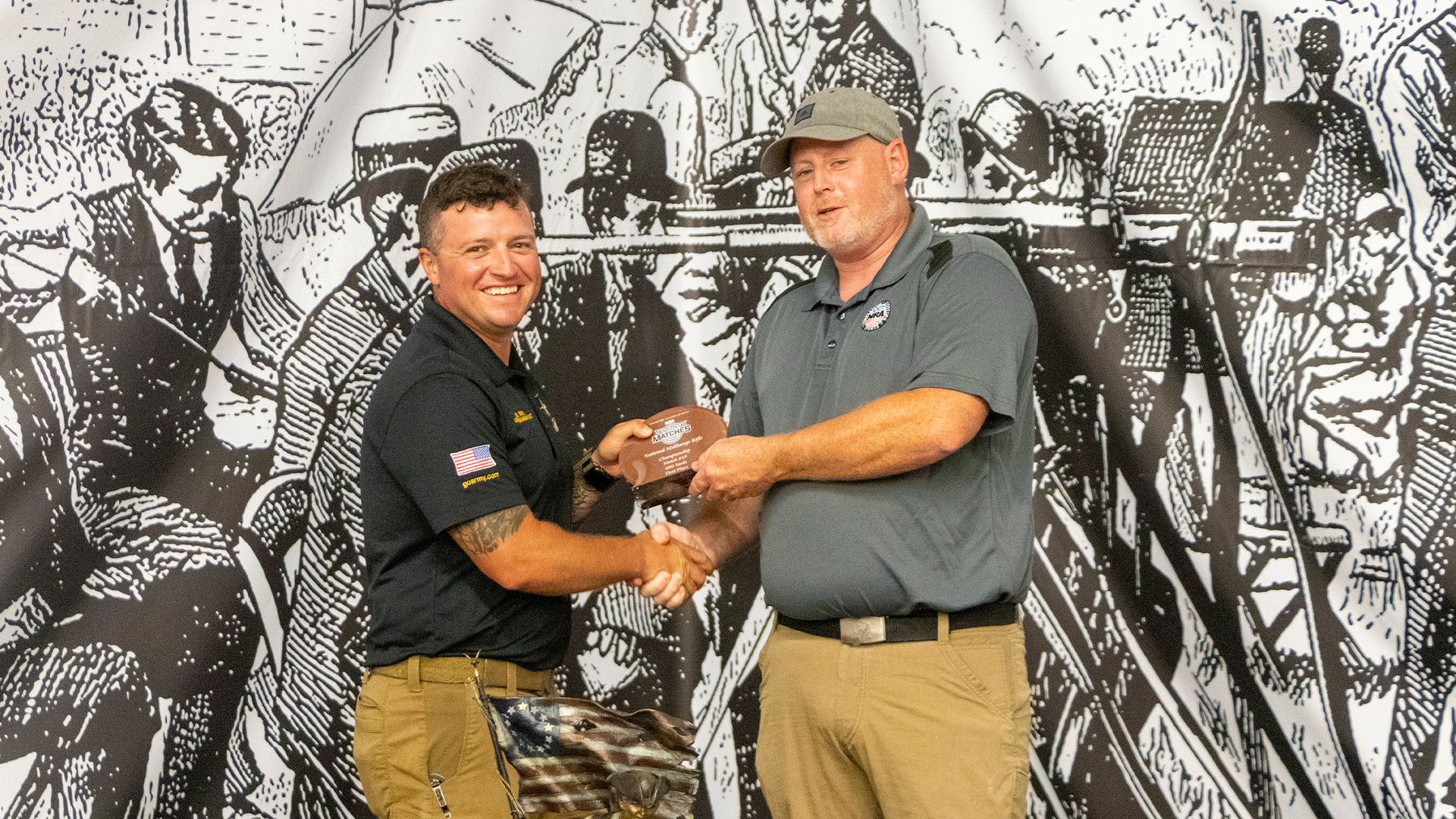 McGaffic was a member of Team USAMU Match, which set a new record of 1991-111X in the RNDC Trophy Team Match at Camp Atterbury, as well as a member of USAMU Greenwood, winner of the National Trophy Team Match at Camp Perry. His greatest accomplishment was an individual one—not only winning the 2022 National Trophy Individual Rifle Match but setting a new record of 500-24X, besting Brandon Green's five-year-old 499-30X record.
"Setting a new national record with a perfect score is something I won't soon forget." McGaffic said. "It allowed for me to see what I'm truly capable of. I saw a great deal of self-discipline in myself that day. To put my focus on each individual shot and to not worry about the 'what ifs' of competition, or to get into my own head or in my own way. That victory humbled me, simply focusing on the act of shooting and not winning. I didn't even know I had broken the record until after the fact—I assumed someone had already done it before. It truly meant a lot to me."
Unlike others featured here, McGaffic didn't grow up shooting competitively. He joined the National Guard as a military policeman, but after posting high scores in qualifications he found his way to the AMU first as a gunsmith, then as a shooter.
"Being able to cross train and shoot competitively with a match gun put me on another level," he said. "With the match gun I was able to shoot a higher power optic, which highlighted the discrepancies in my shooting. Those issues I was able to improve upon with enough time behind the gun. It gave me better appreciation of what the firearms are truly capable of and what I was capable of as well."
STAFF SGT. BEN CLELAND, AMU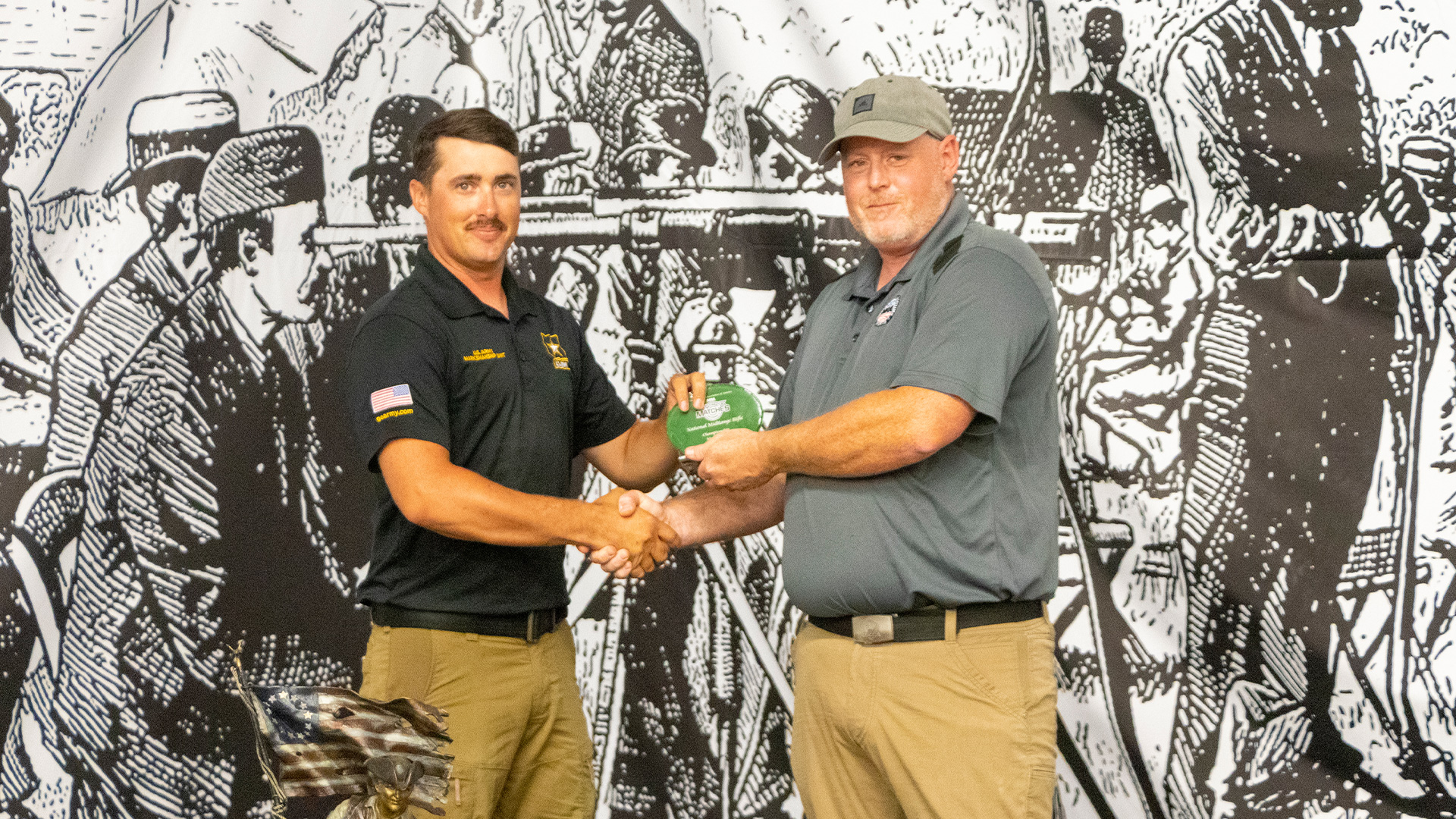 Cleland's long list of 2022 accomplishments include winning the NRA High Power National Championship, setting three national records and capturing third place in the Mid-Range Nationals and second place in Long-Range.
Though at Camp Perry Cleland landed the Pershing, Rattlesnake and Mountain Man trophies, he said his biggest 2022 accomplishment was setting the NRA Mid-Range 300-yard record (200-43X). "Shooting 43 Xs in a row was something that I didn't think was possible for anyone, so when it happened it was a surreal experience." Besides the fact that he has been shooting since he was three, Cleland attributes his success to "preparation, meticulous goal setting and an outstanding support system."
Perhaps most helpful to competitors is that despite Cleland's incredible Mid-Range record, he still made mistakes during those events. "I failed to write down important information in my data book while it was fresh in my mind which set me back time and effort relearning tasks," he said. "I missed an important equipment check that caused me to use a defective piece of equipment that cost me dearly during Mid-Range. While only a few examples, I believe the important thing to remember is that you should never ever give up, stay positive, and don't let your mistakes ruin the experience you gained or hold you back."
SGT. 1ST CLASS BRANDON GREEN, AMU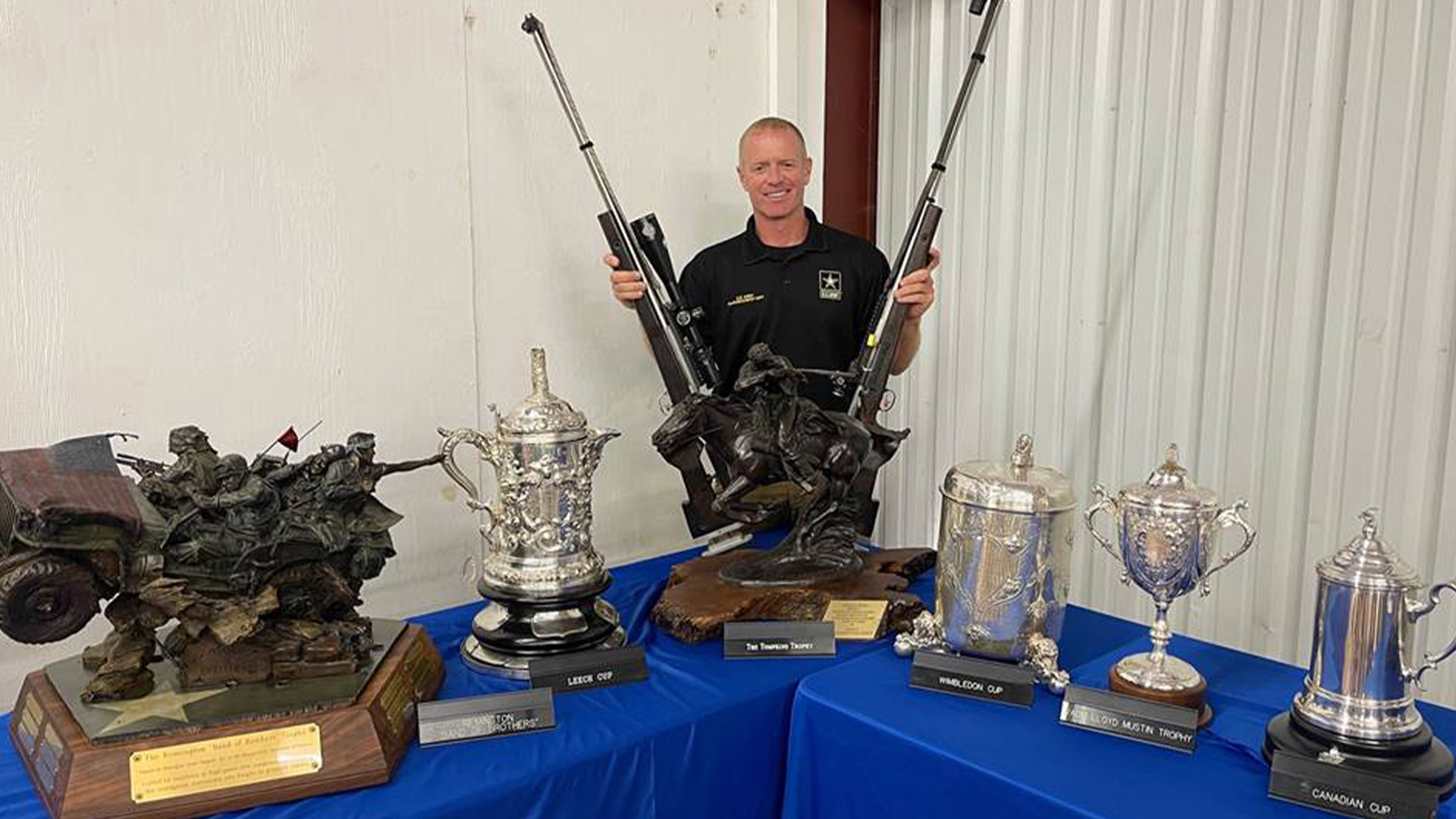 Green was runner-up in the NRA High Power Nationals aggregate, but topped the leaderboards of the Centenary Trophy, Army Cup, Appreciation Cup and Crowell Trophy matches. He was also a firing member of the winning RNDC team. He placed 10th in the Mid-Range championship and was a firing member of the winning Mid-Range Prone Team. Green's greatest success came during the NRA Long-Range Championships. He claimed the Tompkins Trophy, Canadian Cup, Remington Trophy, Mustin Trophy, Leech Cup and Wimbledon Cup—the first competitor in history to win all in the same year. In addition, Green also fired on the winning Roumanian Trophy Team at Camp Atterbury.
While thankful for all of the accomplishments he garnered on the firing line last summer, Green said winning the NRA Long-Range Championships was his biggest personal victory. "I have come very close over the years, but 2022 was the first time that I managed to capture the Tompkins Trophy," he said. "This is a special trophy due to the great champions that have won it in the past, and to have my name on it with them is a huge honor."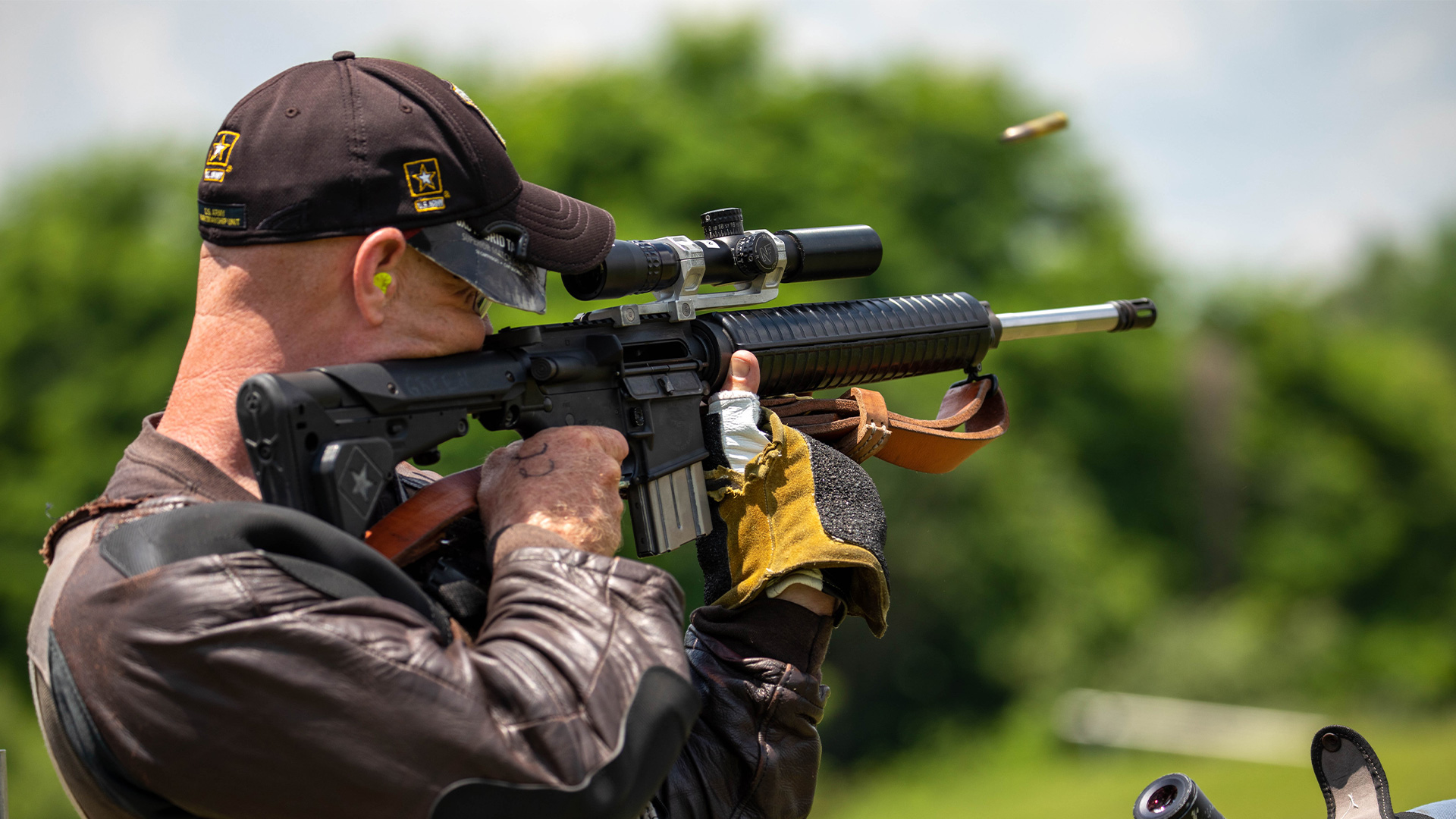 Shooting with the AMU been key to his success throughout the years. "When you work and train with world-class shooters day in and day out, you will always find something to learn," Green said. "I believe that most competitors can build an accurate rifle and ammunition but having champions to learn from daily is a game changer."
In other words, there is no secret and it's not in the gear, but there are some things you can do.
"More often than not we see shooters simply trying to shoot a high score every time they practice instead of working on a specific task." Green explained. "I always try to focus my training on a task that will help me achieve my end goal. The main focus of the training will always revolve around one of five tasks: sight alignment, trigger control, firing position, wind reading or team communication. Once you learn to focus on these tasks, scores will usually start to climb. The key is to remember to keep this same focus and mindset in both practice and matches."
GUNS & EQUIPMENT
Aside from training tips, competitors should know what guns and equipment the best of the best are using. Master Sgt. Mike Hester, shooter and lead armorer for the All Guard teams, provided insight. "The equipment we use is really pretty standard stuff," he said. "After having the luxury of experimenting and testing thousands of combinations of barrels, chambers, ammo, bullets, primers, rifle actions, triggers, etc., I've learned that one thing is true—it is all basically useless if you don't understand the four fundamentals of marksmanship: sight alignment, sight picture, breathing and trigger control."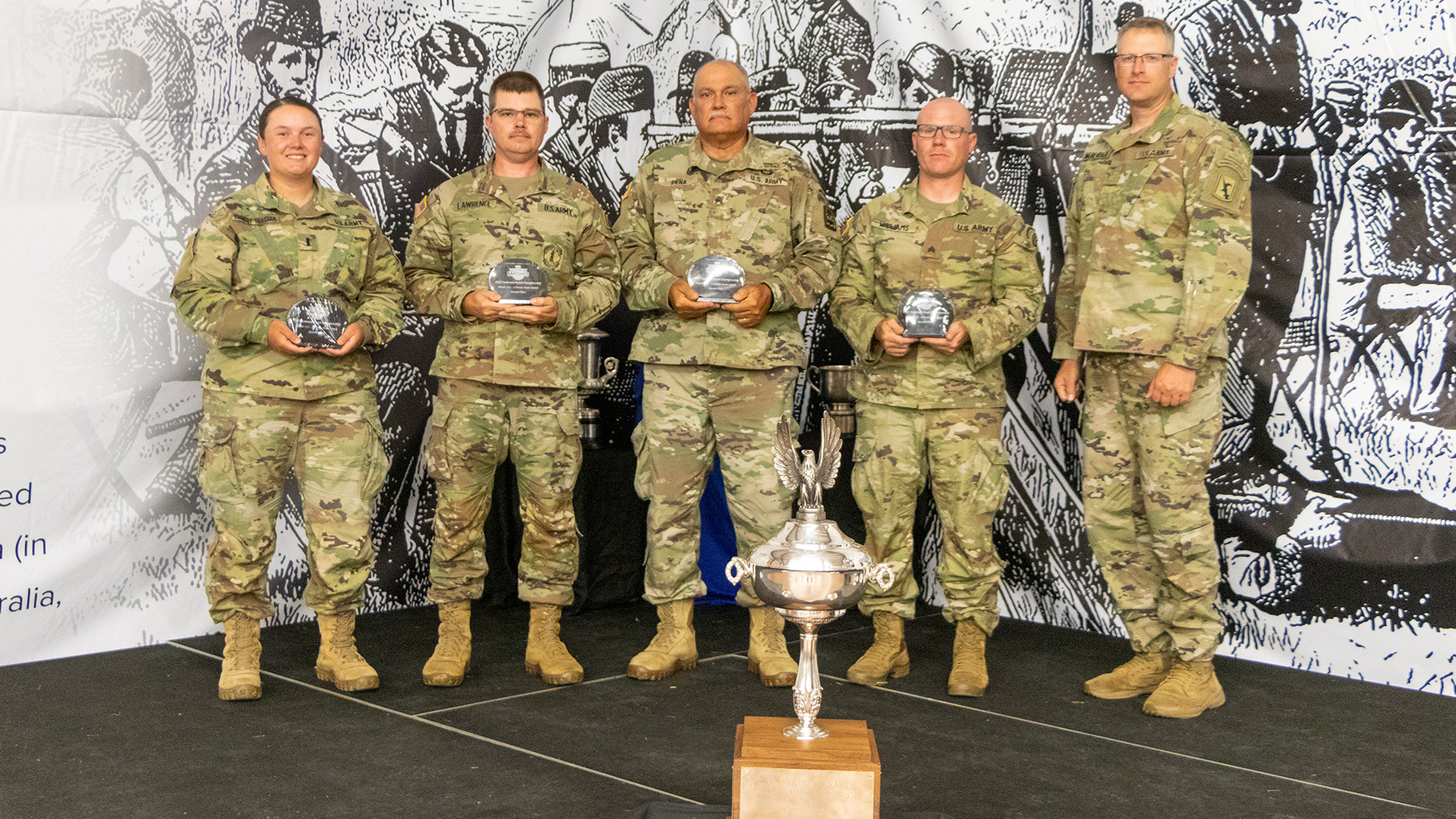 Hester said the All Guard Pistol team requires mostly bench work and "doesn't need the machine shop very much," save for the M-9 builds.
Long-range rifles are stock Remington 700 short-actions made in 1968, chambered in 6.5 mm Creedmoor with PTG aftermarket bolts. "The triggers are a Trigger Tech Primary single stage," he said. "Stocks are a discontinued McMillan called the Rimfire Prone—it is a replica Anschutz 54 stock inletted for a Remington 700. The barrels are about half-Krieger, half-Bartlein and the optics are Nightforce NSX 8-32X."
As for service rifles, the All Guard teams use stock GI parts except for barrel, bolt carrier, float tube, trigger and gas block. "The barrel is Krieger 1-7.7 with a Compass Lake Engineering chamber," Hester said. "The bolt carrier is a chrome National Match from Young Manufacturing. The trigger is a Geissele high speed two-stage National Match. The float tubes I made in-house and the gas blocks are Rock River. Scopes are Nightforce 4.5x with an SR-1 or SR-2 reticle."
The ammunition is all custom loaded to Hester's recipe. "Our .223 Rem. cases are Lapua with Sierra or Berger bullets. The powder is not available to the average loader. For 6.5 mm Creedmoor and .308 Win., we use mostly Peterson brass with some Lapua. The bullets are mostly Berger 140 Hybrids and 185 Juggernauts with some experimental ammunition having Hornady 153 A-Tip and ELD-M and ELD-X bullets. The powder for these is also a proprietary blend unavailable to average reloaders."
Some think great performances are magic. They aren't. Rather, they are a result of a lot of range time, hard work, dedication and mental management. Army competitors—AMU and All Guard—claimed a number of top awards last year, and while not all are mentioned, the performances outlined here have set a new bar for years to come.