We have a new Bianchi Cup Champion, one who is no stranger to the podium:
Bruce Piatt
. This is his sixth Bianchi Cup crown, previously winning in 1993, 1997, 1999, 2006 and 2009. Piatt's 2019 score of 1920-179X
—
a single X ahead of last year's champion, SFC Adam Sokolowski of the U.S. Army Marksmanship Unit
—
secured him yet another Cup for his trophy room.
"It feels great to come back and win the Bianchi Cup again after 10 years. It's just such an awesome feeling," says Piatt.
What's even more awesome is the road that led Piatt to this latest victory at the iconic Green Valley Rifle and Pistol Club in Hallsville, MO.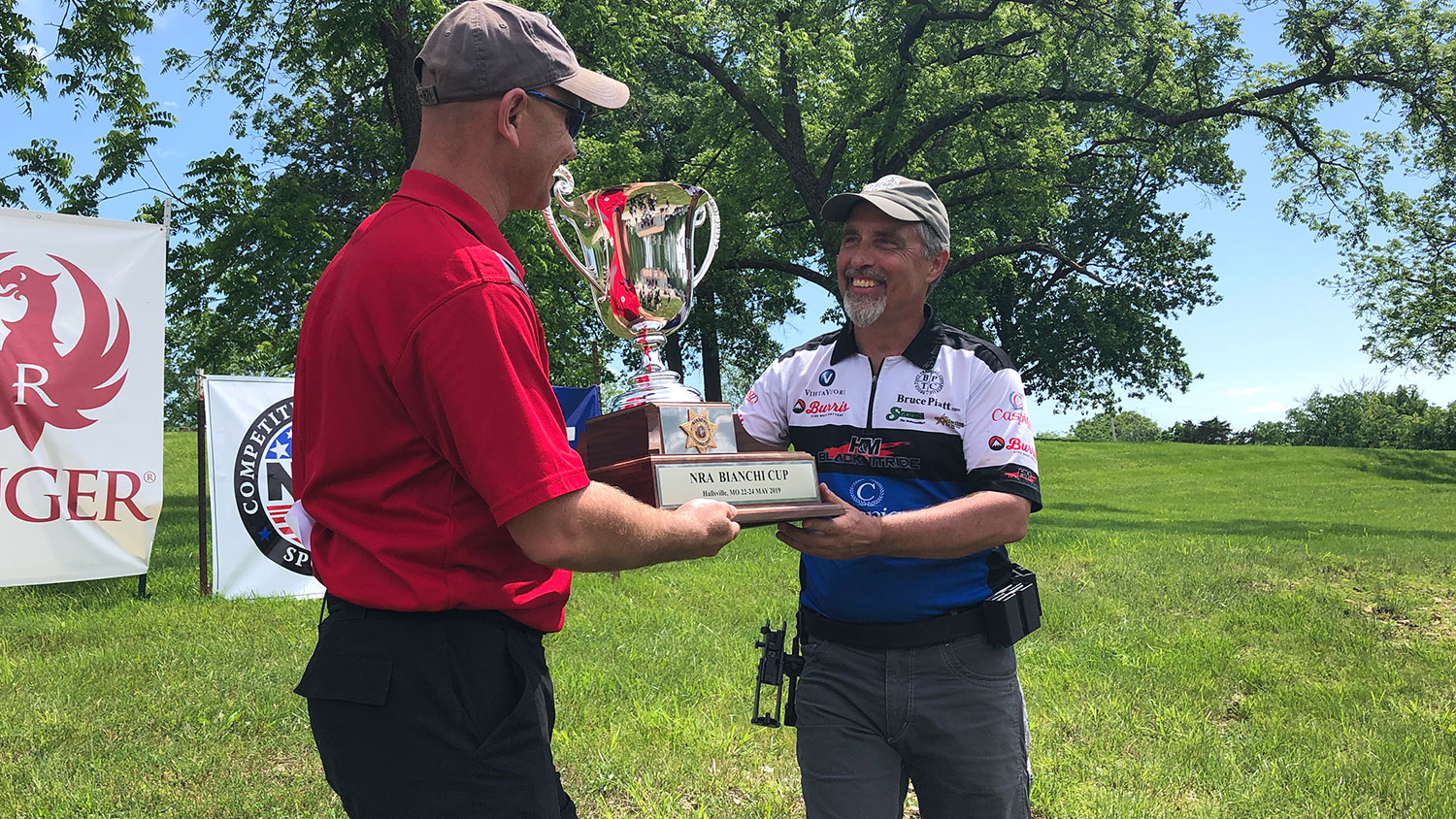 After sitting out 2018 to recover from shoulder surgery, Piatt returned to Missouri this year confident. Hot off the heels of his win at the 2019
Crawfish Cup
 in Louisiana this past April, he was in prime position to take this year's crown. On day one, Piatt lost a few Xs at the during the Practical Event but he did not let that deter him.
"After taking a year off because of the injuries, coming back to the Bianchi Cup and winning is awesome," says Piatt. "It was totally unexpected. I didn't feel good the first day and dropped a few Xs. I knew the other guys were ahead of me, but I did well on the Mover the last day."
Runner-up SFC 
Adam Sokolowski
completed the match with a score of 1920-178X. Last year, Sokolowski made history as the first shooter to complete a Bianchi trifecta in the modern age, after winning the overall Bianchi division as well as the Metallic and Production titles in previous years.
Carl Bernosky
finished third with a score of 1920-175X. Additionally, he netted the Bianchi Senior Championship. Bernosky, well-known as one of the most talented high power rifle shooters of all time, is one of the all-time greats in competitive shooting that we should all try to emulate.
Eighteen-time Bianchi Cup Champion
Doug Koenig
finished in fourth place with a score of 1918-180X. He uncharecteristically dropped two points at the difficult Moving Target stage, denying himself a perfect 1920. Koenig presented the Cup to Piatt at the awards ceremony.
Something to note, all four of the top shooters mentioned above had clean 480-48X scores in two events: the Barricade and the Falling Plates.
A total of 136 shooters from nine countries attended the Bianchi Cup this year, hailing from 42 different states and nine countries.

Former NRA Bianchi Cup Coordinator Damien Orsinger weighed in on Piatt's victory.
"Bruce's dedication to the sport of NRA Action Pistol is hard to match. The sport is lucky to have such a great ambassador."
A full match report will be published in a future issue of the
digital magazine
.
See more: All About Bianchi Cup Events.