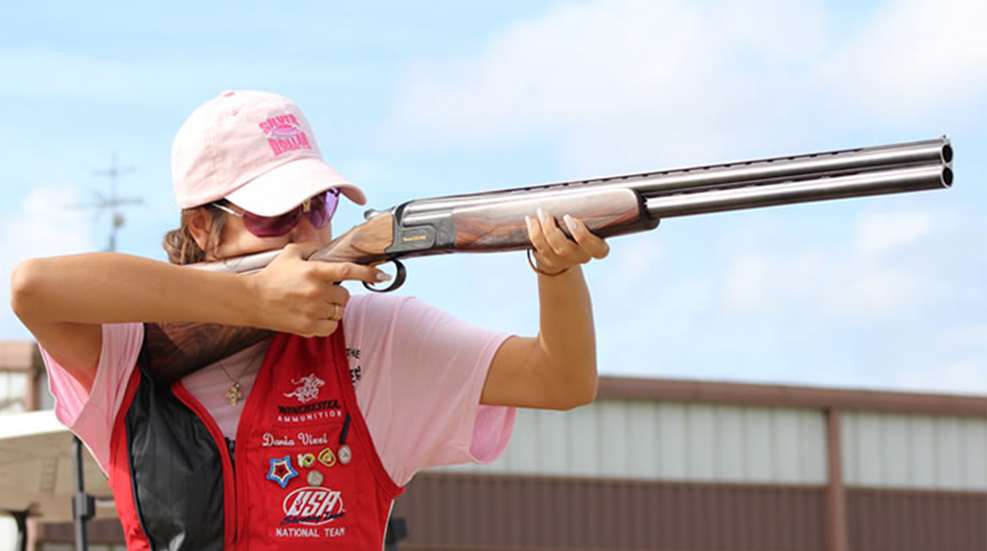 Recently I had the chance to talk with International Skeet competitor Dania Vizzi. She is deep in preparation for Rio 2016.

"Shooterina" is a fitting nickname for this former ballerina, who now spends most of her spare time on skeet ranges throughout the world. The University of Southern Florida student became interested in the shooting sports after watching her dad shoot. One summer she attended the prestigious Juilliard Dance Intensive program, but declined to return to focus on her shooting career.

John Parker: How old were you when you became interested in the shooting sports?

Dania Vizzi: I took my first shot when I was fourteen. I was so little, and I was super scared the first time, so I cried and did not shoot again for two years. The gun was so big and was hard for me to handle. Then when I was sixteen I began competitive shooting. My dad bought me a 20 gauge semi-automatic that wouldn't really kick me and I could handle better.

JP: Are you still shooting the Perazzi MX2000 with Winchester ammunition?

DV: Yes I am. I'm sponsored by Perazzi and I just got a new one of the same model. I've started training with my new one recently. Still using Winchester ammo as well.

JP: Have you shot your new gun yet?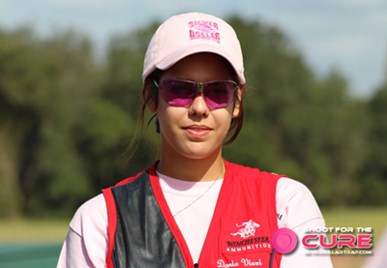 DV: I did back in October, at my favorite shoot at the Silver Dollar Trap Club event called Shoot for the Cure. It's a charity shoot for breast cancer awareness. We shoot pink targets and shells, and it's always a great time. Each year we have more and more people join in the fun. This was the sixth year for the event: 132 shooters participated, and we raised $12,500 for the cause—beating last year's donation of $10,000.

JP: What is your training regimen?

DV: I train at the Silver Dollar Trap Club, part of the Silver Dollar Resort community in Odessa, FL. I train from five to seven days a week, depending on how close I am to a match or how much I think I need to train.

I don't really shoot rounds. I usually start with a cold round, and repetitive station work. I'll start on station one and shoot five singles, then I'll shoot five pairs. If I miss any, I have to restart. I'm done when I'm done.

JP: Until you have it perfect?

DV: Exactly. Until I don't have to think about it anymore. All the repetitions pay off then.

JP: Did you ever have a shooting mentor?

DV: My shooting mentor is Todd Graves. He is our national coach as well as my personal coach. I started with him about three years ago. I had tried a few other coaches before Todd. When I found Todd, I knew he was the one for me. He understands all my shooting needs. If he tells me something, I know he is right, I never have to second guess him.

JP: You spent most of your life as a dancer. Were you nervous when you turned down the Juilliard Dance Intensive program to focus on competitive shooting?

DV: I knew I wanted to be a dancer, until I started competitive shooting. I turned down dance as a whole after getting into shooting.

I have been dancing since I was 3 years old and found the dance world can be extremely cutthroat. In shooting, you either hit the target, or miss.

JP: Did any of your skills as a dancer translate over to competitive shooting?

DV: Oh definitely! I think that is why I was able to do well so early in shooting. Competitions have never scared me, because I have been on the stage dancing in competitions since I was six.

The discipline I learned from dance certainly helped me in shooting as well. It helped a lot because I was not nervous at first. Being on the field for a competition is just like being on the stage in dance. The field is my new stage.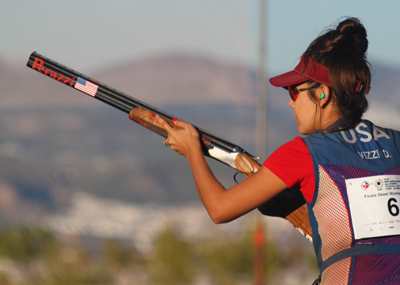 JP: Do you have a favorite memory from your competitive shooting career?

DV: My favorite memory is winning the World Championship in the Junior Women category. There is nothing more memorable than standing at the top of the podium, with the flag raised and the national anthem playing. Hard to top that! And then when they hung the gold over my neck, I had goosebumps.

JP: Do you have any advice for prospective competitive shooters?

DV: I think a lot of people are scared to come to compete because they do not feel they have the skills. The reality is, most of the shooters at our matches are beginners. Shooters are the friendliest people.

JP: The "What's in your Range Bag?" article mentioned your other hobbies included kickboxing and baking. Which one comes first?

DV: Baking, because I am so busy from shooting with my dad, I can bake with my mom and destress. She is my best friend. It's a great way to decompress and spend time with her.

JP: When is your next major competition?

DV: May 2016 in Tillar, AR for the spring selection match. It's the second half of the Olympic selection process. After the fall selection match I took two weeks off, now I'm starting back and I have my new gun. I am currently training hard for May.

SSUSA thanks Dania Vizzi for taking time out of her schedule to talk to us. We wish her good shooting in 2016!