Bushcraft Illustrated
A Visual Guide
By Dave Canterbury
240 pp. Adams Media. $26.99
Full of basic to advanced survival techniques, Bushcraft Illustrated is a nicely produced book that showcases the skills necessary to venture into the wilderness.
You know you can count on quality information from Canterbury, the author of New York Times bestsellers like Bushcraft 101 and Advanced Bushcraft. This book is the latest from Canterbury, who among other things makes videos for his YouTube page that boasts 590K subscribers, and runs the Pathfinder School—one of the top survival schools in the country.
When I first picked up Bushcraft Illustrated, it reminded me of the richly illustrated informational books I would read as a kid (see The Way Things Work). The decision to add a fully-illustrated guide to Canterbury's line of wilderness survival books was genius. The illustrations themselves are plentiful, clear and easy to follow. Additionally, the book itself is bound and printed well, which is valuable for a book that will be opened a lot like this one.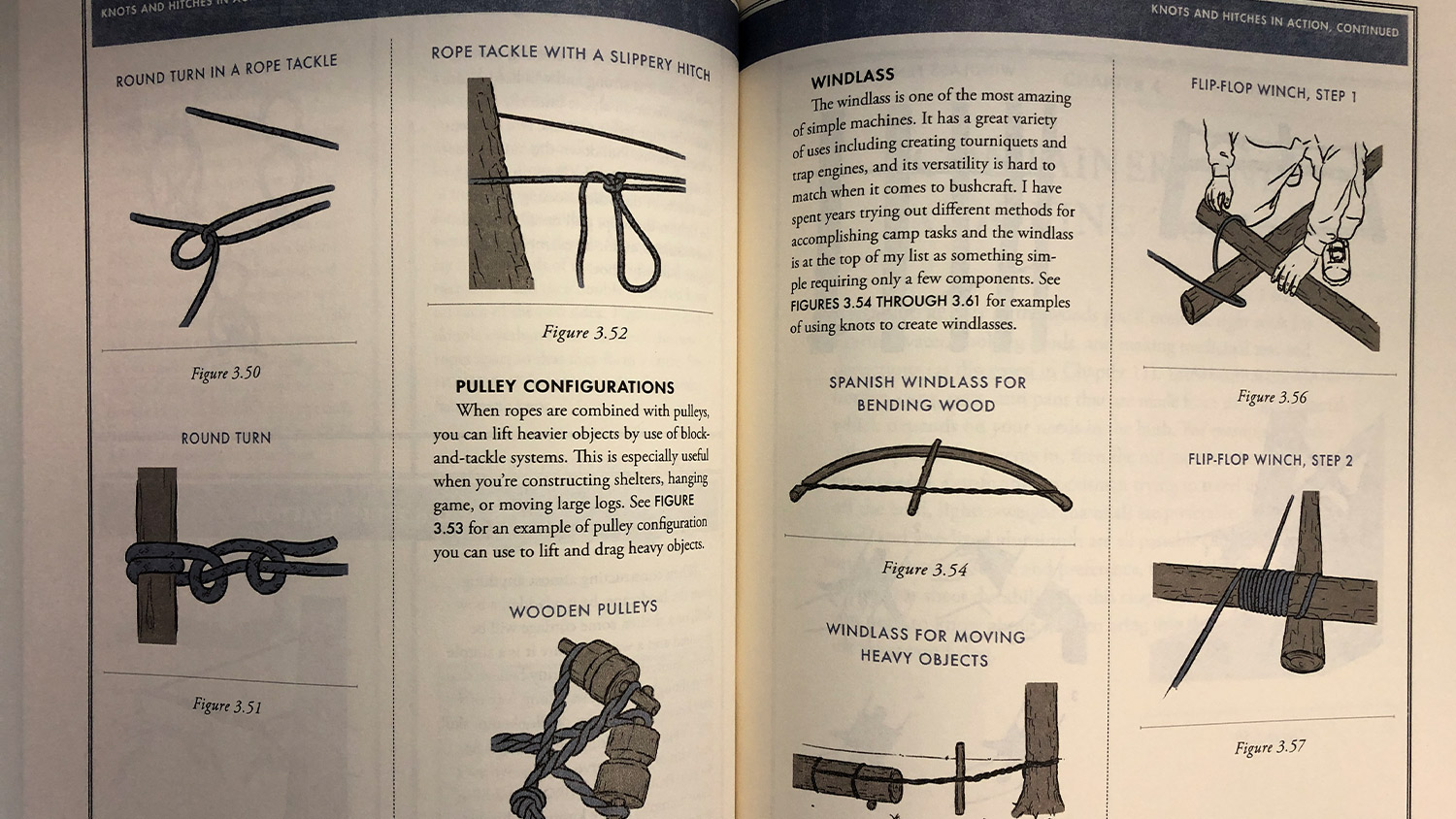 Canterbury's fundamental character regarding bushcraft draws from his desire to reconnect with nature. His ethos is reflected in his videos and his books, and this one is no exception. Canterbury's brand of bushcraft recommends combining practical skills with a simple survival kit that includes any items that allow you to work best with the materials that you end up digging up out in the wild.
In his own words: "Carrying a simple survival kit is always the best plan … You will then use what you packed to create what you need."
Bushcraft Illustrated is organized in a logical way, beginning with choosing a pack and making your own, moving on to tools, knots, cooking, fire making, navigation, hunting, fishing and much more. You won't find expert-level tutorials here, but instead the gist of different jobs like processing a turtle, netmaking and specialized field craft tools in an easy-to-digest format. My favorite illustration was the chart on page 44 that included 42 different types of axe heads.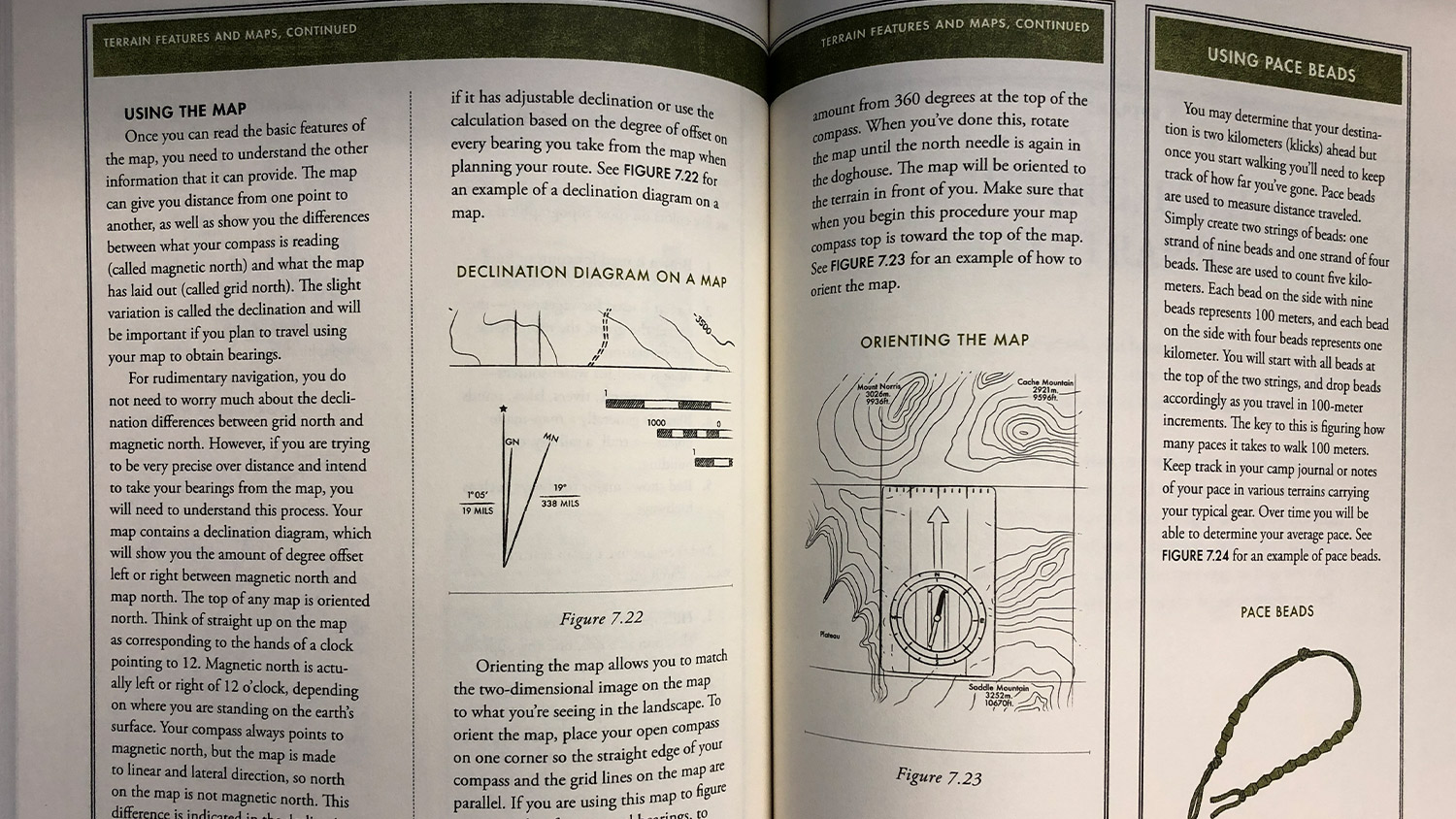 Peppered throughout the pages between the various how-tos and diagrams are short bushcraft tips; with valuable information on how to figure out how tall a tree is, advanced fire building, the difference between baits and lures and many others.
There's also a small section on foraging, but in this book the emphasis for food gathering is on hunting and trapping. Additionally, there's an entire chapter devoted to the processing of game and preserving meat.
While the section on medicinal plants is interesting, the lack of any information on CPR in the first aid section is a notable omission. Admittedly, I'm not a survival expert, but since CPR is a technique that doesn't require any special tools, to me it seems like it would be one of the top survival skills to have.
Bottom line
Helpful illustrations and detailed instructions go a long way for preparing to trek into the woods.
Bushcraft Illustrated
is essential reading for anyone looking to hone their wilderness skills. Properly prepare for your next outdoor adventure with this visual guide. The best price I found for the hardcover edition was at 
Amazon.com
for $16.90.