by
U.S. Army, Army Marksmanship Unit, Custom Firearms Shop
posted on February 26, 2016
Support NRA Shooting Sports USA
DONATE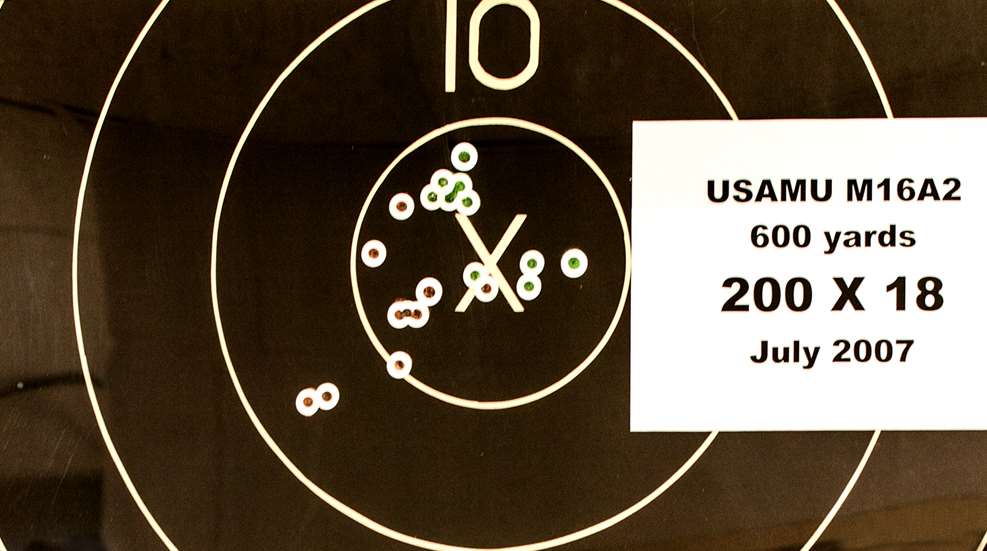 WARNING: All technical data in this publication, especially for handloading, reflect the limited experience of individuals using specific tools, products, equipment and components under specific conditions and circumstances not necessarily reported in the article and over which the National Rifle Association (NRA) has no control. The data has not otherwise been tested or verified by the NRA. The NRA, its agents, officers and employees accept no responsibility for the results obtained by persons using such data and disclaim all liability for any consequential injuries or damages.

Today we resume our discussion of loading accurate ammunition economically. Readers who missed Part 1 may wish to read it for some very useful information.

Having covered the basics of making more economical choices and optimizing ammunition for training, we'll look at even more ways to save money while obtaining excellent results. Now, it gets interesting.

Remember those bulk 55 or 62 gr. FMJ bullets that are said to be a "bargain?" Well, their accuracy is typically rather ghastly, by NRA High Power Rifle standards. Moreover, a quick scan reveals a much better, very cost-effective alternative. As a rule, open-tip bullets (i.e., solid base, soft points or hollow points) tend to be much easier to make accurate than FMJ (open base) bullets.

For AR-15 use, HP bullets are preferred due to the SP's exposed lead tips being damaged by feed ramps. Some major, online reloading component suppliers market "house brand" 50-55 gr. HP "varmint" bullets (which actually come from a "famous maker"). One company's are more economical than the others, at $51.50/500, or $10.30 per 100. This is actually lower than the cheapest 55 gr. FMJ's found—and the HP's give excellent accuracy!

Recently, an AMU Handloading Shop staffer used them to easily develop a load averaging 0.6" at 100 yards with 5-shot groups from the bench (not machine rest). This was in a good, but not top-tier AR-15 varmint barrel. Combining these varmint bullets with our other less-expensive components brings cost down to just $4.22 per 20, or $211.00/1000 rounds. This is ~$221.00/1000 cheaper than the full-distance, 77 gr. match handloads.

Of interest, the lighter 55 gr. bullets reduce barrel wear vs. the 77 gr., and the less-expensive spherical powders meter beautifully. This can greatly reduce time spent reloading vs. the extruded powders used in the premium match handloads. A little math shows that using the inexpensive—but quite accurate—training ammo for just 2,000-3,000 rounds will save enough vs. the 77 gr. match handloads to pay for a top-quality match barrel and installation!

But, why stop there? While not strictly handloading-related, another cost-control strategy is to avoid discarding high-quality match barrels early. When AR-15 barrels used in competition may be past their accuracy prime for use at 600 or 300 yards, they often retain excellent accuracy at 100/200 yards, especially with the more blunted-ogive 52-55 gr. HP bullets.

When seated to magazine length, their ogives sit significantly closer to the rifling than those of the more streamlined bullets. Often, these barrels may remain accurate for several thousand more rounds, especially with the lighter (more blunt) bullets.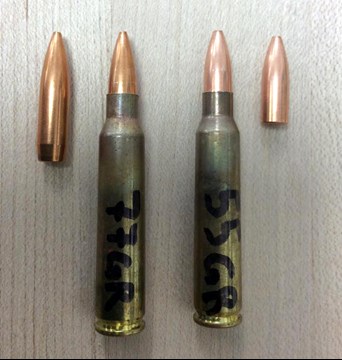 We compared two magazine-length handloads (pictured): one with a popular 77 gr. match bullet, and one with the "house brand" 55 gr. economy HP varmint bullet discussed above. Seated to identical length and checking with an ogive comparator, the 55 gr. bullet sits ~0.086" closer to the lands than the 77 gr.

While this can be significant, other bullet designs can make a dramatic reduction in the "bullet jump to rifling" when feeding from the magazine. This writer has seen group sizes cut in half, or better, from worn match barrels or USGI barrels with a long, NATO throat when using particular 50-55 gr. bullets.

One, in particular, seems to be the "magic bullet," as it were. A premium maker's 55 gr. varmint HP, it has such a gaping opening at the front that it far outclasses the others in reducing bullet jump. In fact, in newer barrels with certain match chambers, it must be seated significantly shorter than normal magazine length in order to avoid jamming it into the rifling! Due to its very blunt profile, reliability is best in rifles with M4 feed ramps. If dim memory serves, it may have a factory item number of 1390, or similar.

Rather than discarding one's first "shot-out" match barrel, test it with light bullet handloads. If accurate enough, this upper receiver assembly can be used for 100/200-yard training—including the extended rapid-fire practice sessions which erode barrels relatively quickly.

The new match barrel is fitted to a new match upper, handloads are developed, and it is reserved primarily for full-distance match use. The new barrel will last longer, as it is not being used nearly as much for training. By the time the new barrel nears replacement, the old, training barrel should be well-used. It is discarded, its upper gets a new match barrel, and it becomes the new designated match upper.

The just-demoted, former "match" upper with the now-aging barrel (i.e, the second one built) should still retain lots of life. It is relegated to training use, and eventually the process repeats. Therefore, one saves quite a bit over time in replacement barrel cost.

Moreover, one can use any given, freshly-rebarreled match upper in competition for much longer before replacement, due to reduced wear from training. This means a longer period using one's match loads in competition before switching barrels, and less load development.

At first glance, this may seem expensive due to the need for 2 upper receivers, free-float handguards, bolt carriers, etc. rather than just one. However, in the big picture, remember the old saying that one doesn't "buy" top-quality, durable gear, one merely pays "rent" while using it. That is, should one retire from competitive shooting or change disciplines, quality used gear can often be sold for a good percentage of its original cost. Moreover, some items, like best-quality match receiver sights or optics, may bring most or even all of their original cost when they are eventually sold.

Bottom line: even with today's higher component prices, handloaders still save tremendously vs. the price of factory ammunition. They also have full control over the performance of their ammo in their rifles. Even today, there are still bargains to be had, if one knows where and how to shop!

We hope these articles will help new handloaders learn ways to save money while still maintaining fine accuracy, thus allowing more skill development per dollar available.

Thanks to the U.S. Army Marksmanship Unit for allowing the reprint of their handloading series.