by
posted on August 9, 2016
Support NRA Shooting Sports USA
DONATE
Robert Gustin of Cameron Park, CA, is this year's NRA National Mid-Range Champion. Gustin's score of 2395-168X was just four points below his winning score at last year's championship. His awards included a Patriot Minuteman plaque and a gold-tone NRA national championship medallion.

No stranger to the winner's podium at Camp Perry in both Smallbore and High Power Rifle, Gustin was also a collegiate All-American and from 1970-72, he was a member of the U.S. Army Marksmanship Unit. Additionally, he is a veteran of the California Highway Patrol.

Kevin Nevius of Gibsonburg, OH, and Gustin both shot well for the duration of the match, with Gustin managing the take home the win. Nevius, however, shot a record-breaking 200-20X in the 600 yard any sights match, one of the several matches that make up the championship aggregate. [Note: Mark DelCotto first shot 20X at 600 yards with iron sights in 2007 at Camp Perry. Kent Reeve scored 20X with iron sights in 2012.]

In Any Rifle, William Gelet of Mount Pleasant, PA, won first place with a score of 2392-125X. In second place was Camp Perry legend David Tubb of Canadian, TX. Tubb's score of 2390-143X was only 15 X's higher than Michael Toliver of Chandler, AZ, who placed third.

In Palma Rifle, Nathaniel Guernsey of Centreville, VA, won with a score of 2388-128X. Placing second with a score of 2386-154X was Adam Fitzpatrick, of Gastonia, NC. Daniel Altman of Bowling Green, OH, won third place with a score of 2386-134X.

In the Team Championship, the winning Palma Rifle team was Lite Holders, winning with a score of 2356-112X. Team members were Nathaniel Guernsey, Jon Rhynard, Douglas Frerichs, Michael Toliver, and Team Captain Douglas Frerichs. The winning Any Rifle team was USA Rifle Team-Shirley with a score of 2378-113X. Team members were Steve McGee, Shirley McGee (also Team Captain), Robert Gustin, and Kevin Nevius.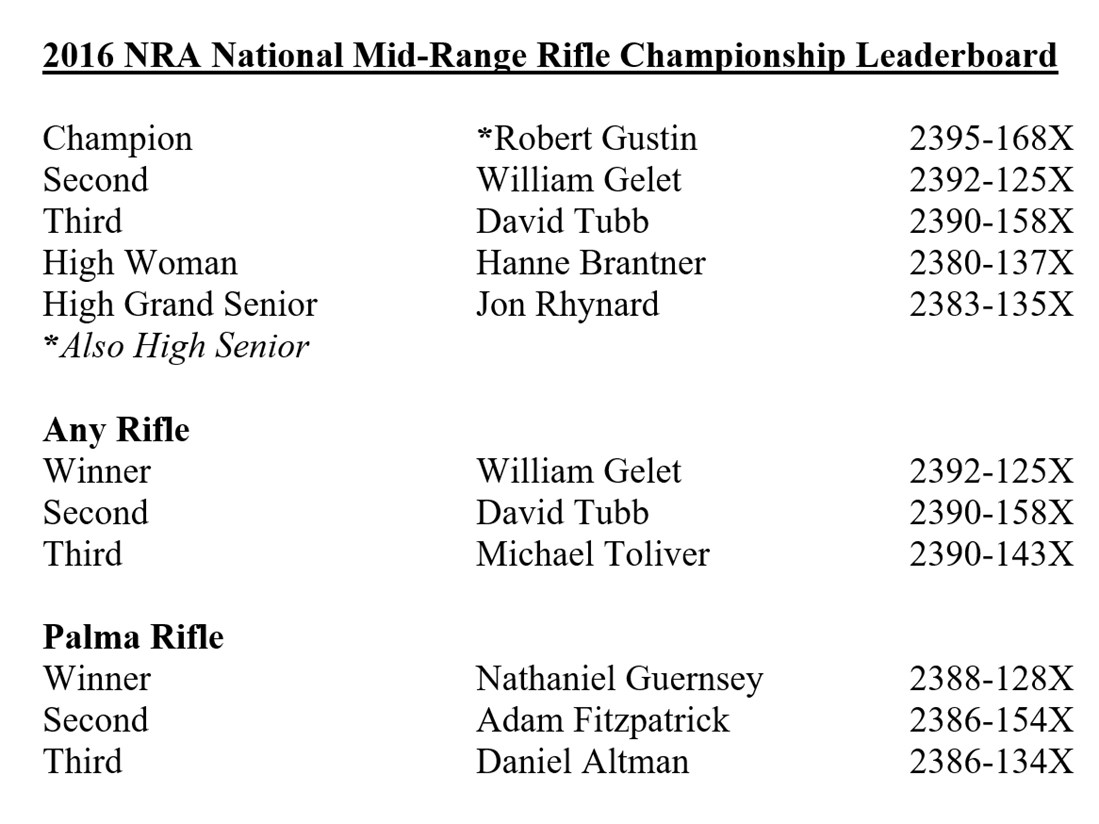 There were 92 competitors in attendance at this year's championship, up from 86 in 2015. The Mid-Range Championship is held each year at Camp Perry, OH, as part of the NRA National High Power Rifle Championship segment of the historic NRA National Matches. Learn more about NRA High Power Rifle Mid-Range competition by emailing the NRA High Power Rifle department at [email protected].