by
U.S. Army, Army Marksmanship Unit, Custom Firearms Shop
posted on March 11, 2016
Support NRA Shooting Sports USA
DONATE
WARNING: All technical data in this publication, especially for handloading, reflect the limited experience of individuals using specific tools, products, equipment and components under specific conditions and circumstances not necessarily reported in the article and over which the National Rifle Association (NRA) has no control. The data has not otherwise been tested or verified by the NRA. The NRA, its agents, officers and employees accept no responsibility for the results obtained by persons using such data and disclaim all liability for any consequential injuries or damages.

Today, we will address the importance of accurate record-keeping.

Surprise—some misconceptions may be dashed upon the harsh rocks of reality! We meticulously track components by lot number to ensure accurate, consistent performance. No component lot is fielded before it is accuracy-tested from a machine-rest and approved. Records are kept for each ammo lot we produce, detailing which powder, primer, bullet and even case lot number (when available) was used. If a component is changed, the new ammo gets a different lot number. Lot numbers are stamped on each ammunition box.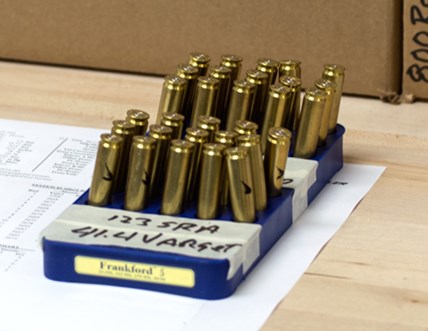 The differences in lots of the same make/type of components can be readily visible.

Example 1: When switching from Lot "A" powder in .308 match ammo to a new lot, the same charge weight with Lot "B" was obviously higher in the case neck. We had to reduce Lot B's powder charge 1.4 gr. to duplicate our previous velocity, pressure and accuracy. This reinforces the common safety advice to reduce one's load and re-develop it when changing powder lots.

Obviously, if one is a high-volume, competitive shooter, purchasing powder in quantities of the same lot number makes life easier. This ensures consistent performance over time with less testing, instead of frequently buying individual pounds with varying lot numbers.

Never assume that the lot numbers you think you have will always be correct! We've found numerous examples of powder cases (two or more 8-lb. jugs in one box) which had a factory-applied lot number on the outer box. Inside, however, things were different. The jugs themselves bore one or more different lot numbers from those on the outer box. This may be a distributor-level issue.

Primers
We've also found several examples of 5000-round cases of top-quality primers which contained mixed primer lot numbers. i.e., a sealed, factory 5000 round case marked Lot X, may have 1000 round primer bricks with different lot numbers inside. Moreover, we've also encountered 1000 round primer bricks which contained primers of a different lot number than was marked on the outside. However, to date, we don't recall any instances of mixed lot numbers within a 1000 round primer brick. Always check lot numbers to verify accuracy—don't take them for granted!

So, why bother? After all, top-quality match primers tend to be very consistent in accuracy, so why does this lot number difference matter? Well, some lots differ in average velocity or velocity variation. However, years ago we encountered a lot of match primers which gave frequent hang-fires. In this instance, there was only a brief, but definite, hesitation between firing and actual powder ignition—but in some cases, hang-fires can be hazardous.

Of interest, this lot's first hang-fires occurred while accuracy-testing magnum match ammo at 1000 yards. We were firing from a supported position, and when the ammunition did finally fire, the shots were accurate. Naturally, the defective primers were immediately withdrawn from service. They were tested in several firearms of different calibers with similar results, ruling out a firearm-related problem. Was this a rare occurrence? Yes. Could it ever happen to you? Yes.

Now, imagine the havoc to follow if one loaded a large batch of match or training ammo with a bad lot of primers, switched to a different lot at some point, and failed to keep a record when the change was made? Would this make one feel more, or less confident on the firing line at Camp Perry?

Powder lots
The same holds true of powder lots. Occasionally, one may find a lot of powder which is chemically less-stable than others from the same maker. Components should be used on a "first-in, first-out" basis to keep them as fresh as possible. However, if one acquired a quantity of powder that, say, the dealer had in stock for quite some time before putting it "on sale," this might lead to instances of old propellant beginning to deteriorate. Once again, imagine the havoc if component lot numbers were not tracked to ammo lots, and one powder lot was found to be deteriorating.

This writer, many years ago, had a powder lot from a highly respected manufacturer which began deteriorating much sooner than other lots purchased years before. This lot caused heavy, green corrosion on the bases of expensive match bullets within as little as three months after loading. Ammo that had been loaded from six months to a year yielded some impressive sights when disassembled.

Naturally, few handloaders use the quantity or variety of lot numbers that we do here at the AMU. However, good housekeeping can be its own reward—often in unexpected ways. Some 20 years ago, this writer was routinely checking the 68/69 gr. bullets he was loading for the summer's high power competition. A startling discovery ensued! Upon checking the base-ogive length of ammo loaded with different lots of the same bullets, one lot jumped 0.030 inch further to the rifling than the others! As this ammo was used in rapid-fire, magazine length limited possible OAL, so there was no way to compensate for the change.

Testing revealed that the new bullets shot accurately, so all was well. However—imagine if the author followed the example of a friend who casually dumps all his match bullets, of whatever lot, into a big box and loads them at random … Ogive-length variations of +0.030 inch would ensue frequently throughout the entire ammo lot. As it happened, the maker had changed the bullet design slightly to improve the ballistic coefficient. The "old" design bullets were soon shot up and "out of the system." Still, good habits help ensure good results.

While it may seem like good record-keeping might be a lot of trouble, it's actually quite easy once it becomes a habit. A pre-prepared load label (or simply a printed sheet taped to ammo boxes or cans) makes things simple. An inexpensive date-stamp as found at any office supply store becomes a lot number stamp. All ammo produced as a lot gets stamped with the same date (lot number).

It was Einstein who famously stated that "If there is any substitute for genius, its organization."

We hope this article is helpful—and good luck and good shooting to all!

Thanks to the U.S. Army Marksmanship Unit for allowing us to reprint their handloading series.