The folks at Ms. Clean say their goal "is to put the best AR-style rifle cleaning kit in the hands of our service men and women … or go broke trying." After using their unique magazine shaped cleaning kit, it's pretty clear they will not be having any problems with their bank account in the future.

Through friends and family, Peter Palma and Trevor Jordan, the founders of Ms. Clean, realized that the needs of the military were not always clearly understood by those who have not served. So, the two entrepreneurs got on Kickstarter, and secured funding to produce the first cleaning system designed from the beginning, specifically for America's rifle, with the driving force in their design military needs. The same attributes that make the Ms. Clean kit ideal for the military carry over to competitive shooters, as well as the occasional trip to the range.

The Ms. Clean kit comes in a case shaped like a standard 30-round AR magazine. It's shaped to be easily carried in extra magazine pouches or in your rifle bag and comes in several different colors to eliminate confusion with actual magazines. For safety's sake, the case is large enough that it cannot be inserted into the mag well accidentally. Just open the case, and you will see they have thoughtfully included all the cleaning tools required to get that gunk out of your filthy firearm.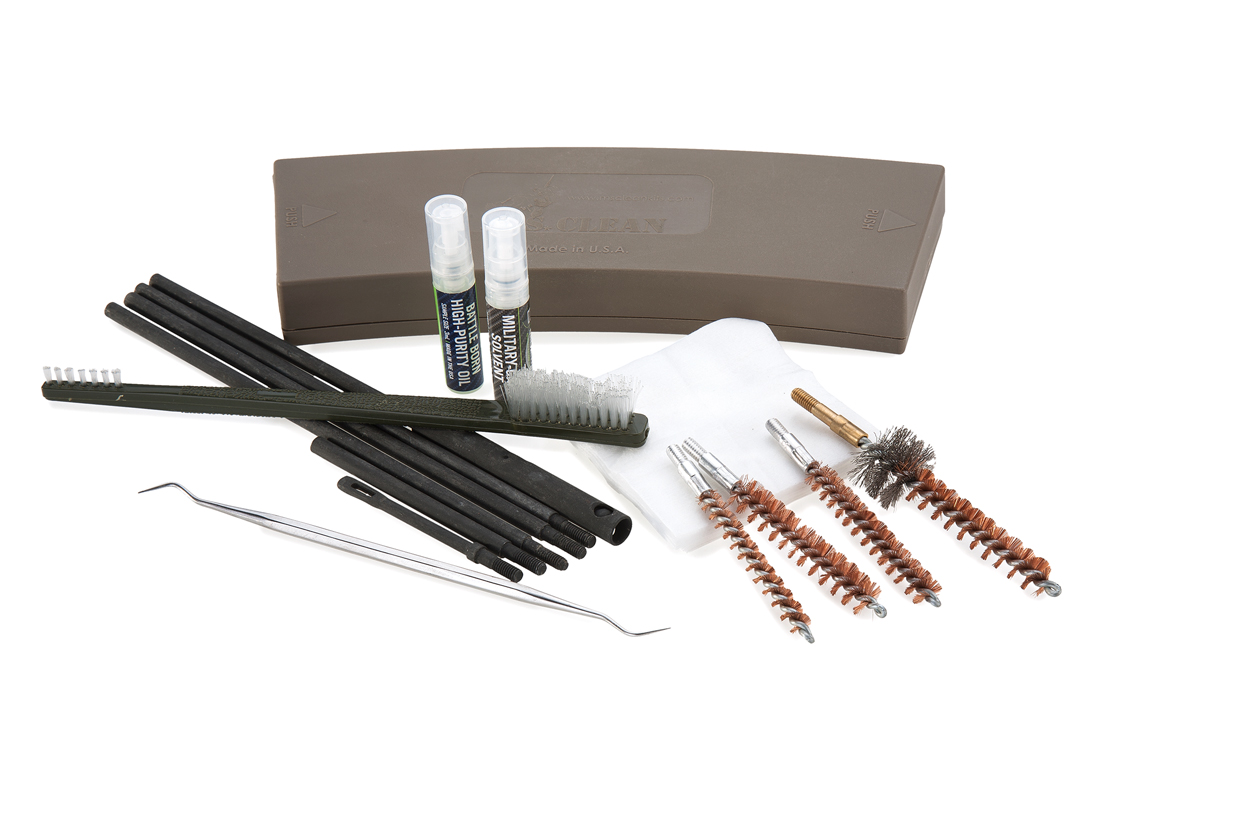 The Ms. Clean kit contains sectioned steel rods, a T-handle, a steel patch eyelet, military to civilian thread adapter, an all-purpose double-ended brush, a 5.56/.223 chamber brush, a 5.56/.223 bore brush, a 7.62/.30 bore brush, a 9 mm bore brush, dental pick, patches and your choice of 5 ml of FrogLube, FIREClean or Slip2000. The sectioned steel rods are far more valuable than a pull-through cleaner because the rods can be used to dislodge any obstructions in the bore.

The polymer case is the perfect size and is the real star of the show. It is crush-proof, and will keep lubricants from spilling and cleaning rods from bending. Additionally, the case is long enough to contain steel rods which are used to remove barrel obstructions such as mud or a stuck case. Ever lose a small piece of your gun during disassembly? The case is the perfect container to place small parts while cleaning, and can also be used as a chemical resistant miniature solvent tank.

Due to the success of the original, Ms. Clean has started another Kickstarter campaign for Ms. Clean 2.0, which they call the "double."  Be on the lookout for a review of this in the near future.

Made in the U.S., the Ms. Clean kit is available in Black, Red, Orange, O.D. Green and Flat Dark Earth with an MSRP of $44.99.