Support NRA Shooting Sports USA
DONATE
If you're not familiar with Hawke Optics, it's not surprising. Based in the United Kingdom, and having been in business for nearly 40 years with a presence in more than 60 countries, the company's entry into the American market only occurred in 2007 with the opening of its Fort Wayne, Indiana, facility.
Hawke's optical product line is extensive, including binoculars, spotting scopes, range finders and a vast array of scopes, with rifle, crossbow and air gun models. Added to that are a number of red-dot sight models, which is how I became aware of them. During a recent test of a Tippmann Arms M4-22 rimfire rifle (be on the lookout for that article coming soon), a Hawke Reflex Dot Wide View sight (MSRP: $179) was included with the gun.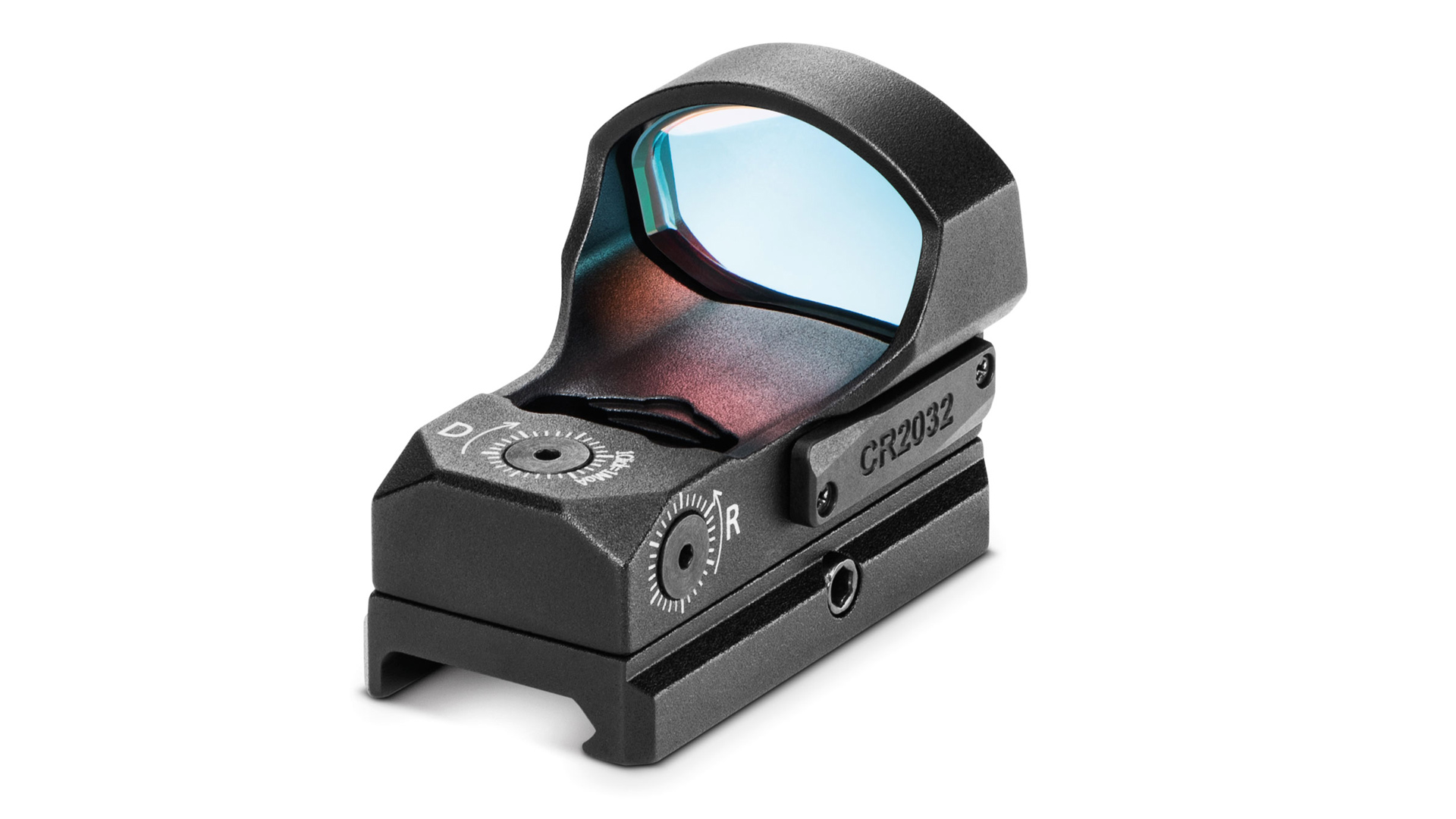 The Hawke Wide View arrived mounted on a combination Weaver and Picatinny Rail. That's a nice touch, because a Weaver mount will fit a Picatinny rail if the Weaver clamps are wide enough (not all are), but a Picatinny mount won't fit a Weaver base because the cross bar is too wide. It looks like Hawke made a Picatinny base with a Weaver cross piece. I checked the Hawke on both Weaver and Picatinny bases and it fit both. Apparently, that's how Hawke intends the sight to be used, because when I called the office to ask what the mounting footprint was for direct slide mounting, I was told the Hawke pattern is proprietary, and will not fit common reflex mounting footprints.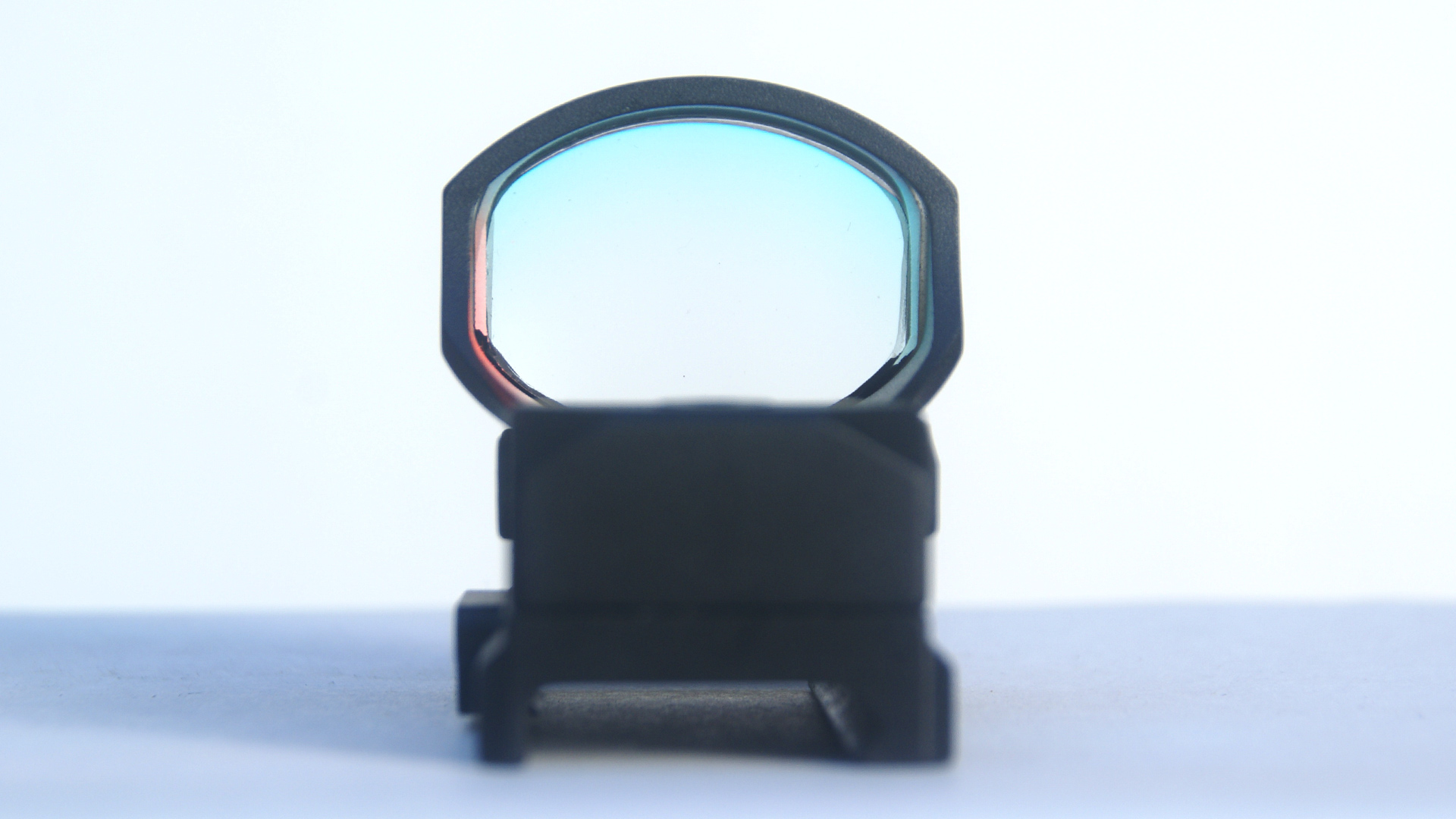 Hawke wasn't kidding about the "Wide View" name. The sight window measured about 1⅜ inches wide and almost an inch high. The dot size is three MOA. At 2.3 inches long and three ounces in weight, it's a compact fit on rimfire rifles and pistols, as well as on pistol-caliber carbines.
Power is provided by an included CR2032 battery, which installs via a sliding tray on the right side. Two very small screws secure the battery compartment, and the proper screwdriver is included, along with an extra screw. Hawke also includes a snug-fitting rubber lens cover and a lens cleaning cloth.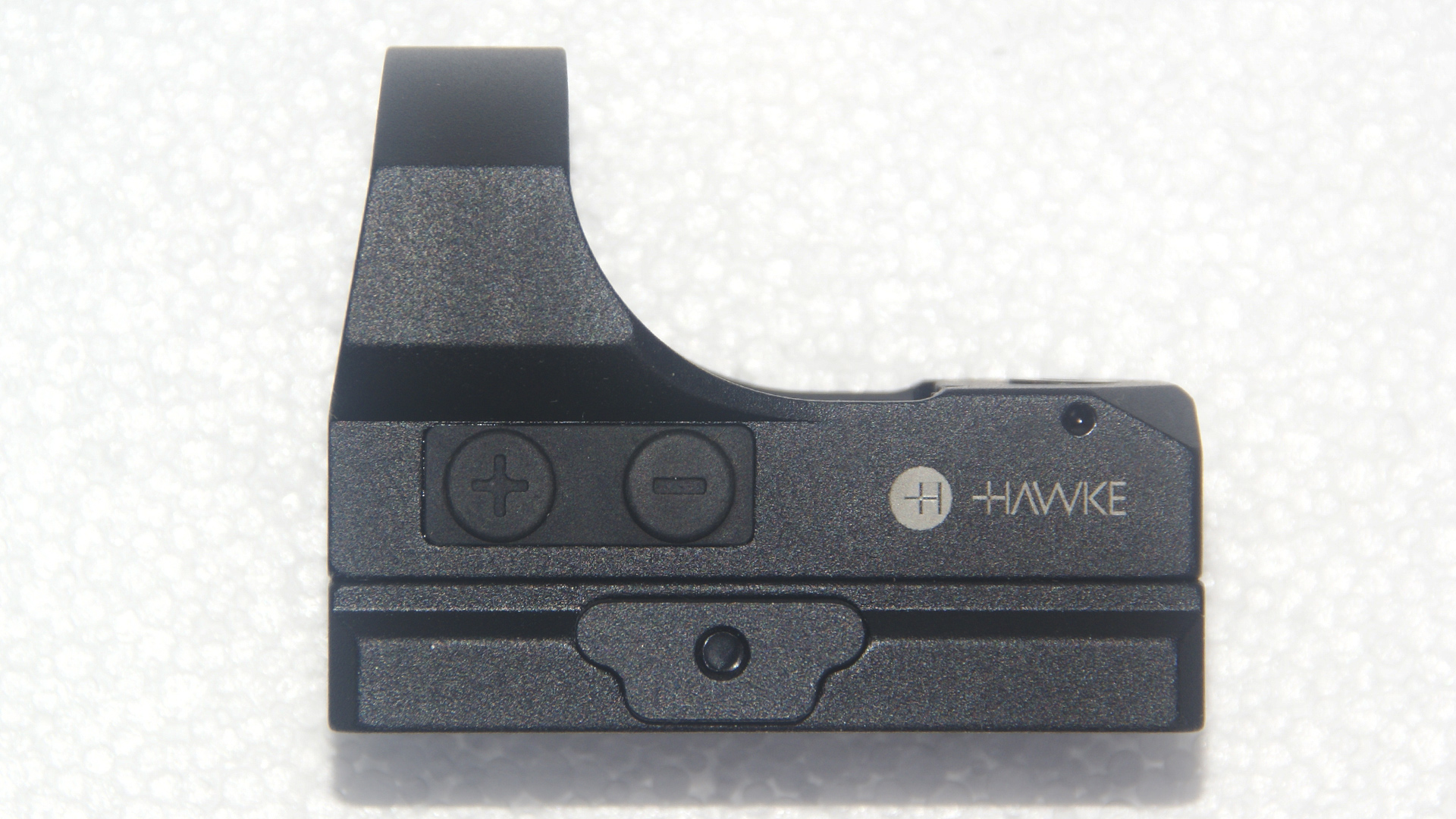 With power applied the operation of the Hawke Reflex Wide View sight is simple. The sight is operated by two buttons—Plus and Minus—on the left side. Pressing either one will turn on the sight. Pushing the appropriate button cycles through eight brightness settings. The dot is a perfect circle, and at the highest power it burned right through a low down range sun. To turn the sight off, depress either button for three seconds. When turned back on it returns to the last setting. If you forget to turn it off after your last string, the sight will do it for you. In addition, there's a five-minute auto shut-off, plus a shake awake feature. I timed it and it worked. For those who case their guns between strings at a match, that's a handy feature for preserving the battery life.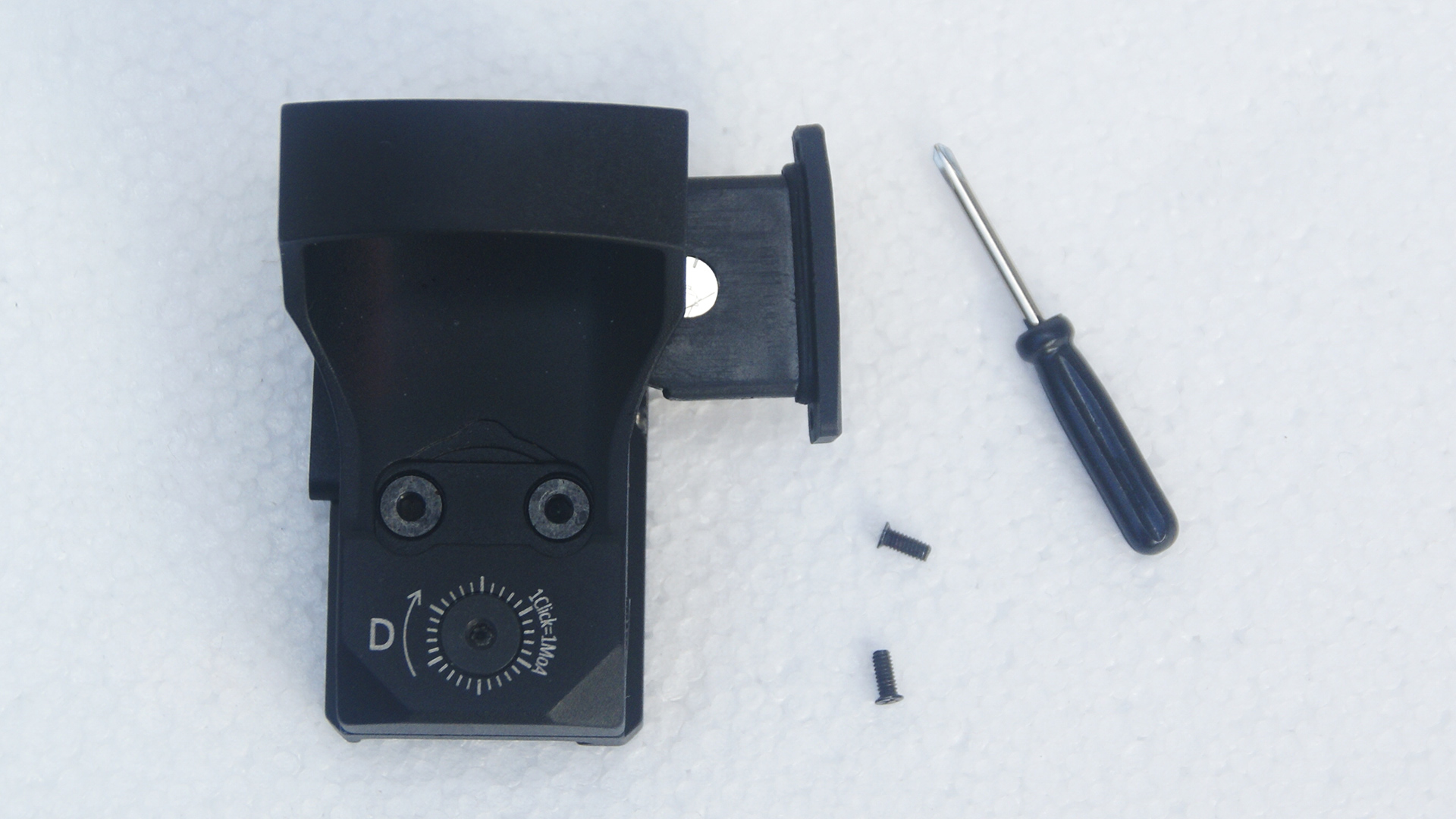 Mounting the Hawke Reflex Wide View sight to the Tippmann M4-22 was easy and the appropriate Allen wrench was included. An Allen wrench (that looks to me like about a ¹⁄₁₆-inch one) is required to adjust the windage and elevation controls. This Allen wrench was also included. As for the adjustments, they are in MOA and were positive. Another plus—it took me less than 10 rounds to get a 25-yard zero on my range.
While running the Hawke Optics sight at a Steel Challenge match, I encountered no problems. The wide window definitely helped in transitions and the bright dot was also an asset. This is a viable competitive sight for any shooter using a rail mount.
To learn more about Hawke Optics and the many different types of optics the company offers, visit hawkeoptics.com.