by
Chris Christian, Field Editor
posted on August 15, 2016
Support NRA Shooting Sports USA
DONATE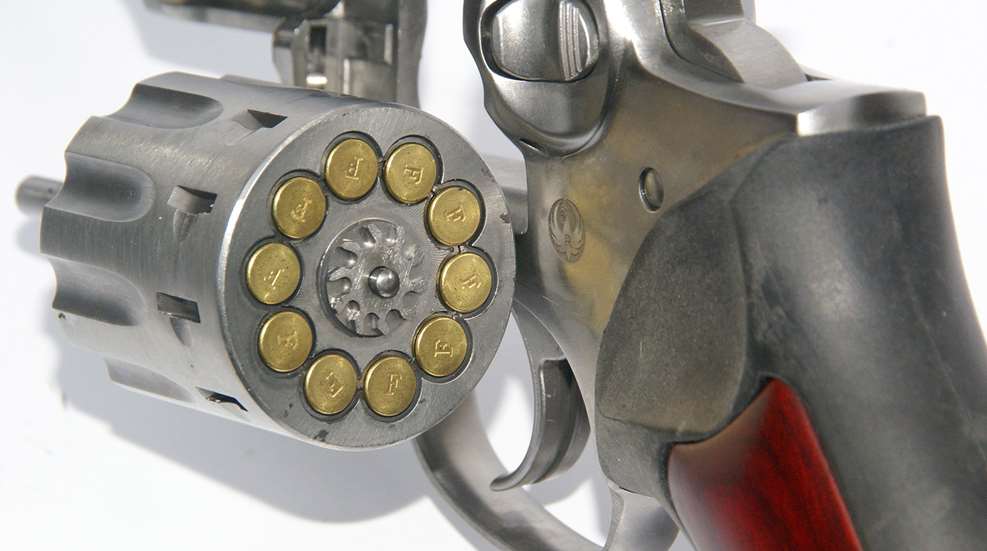 Introduced by Ruger in 1985, the double action, medium-frame, GP-100 was a refinement of their earlier Security Six DA revolver. The most notable change was the new locking mechanism (first seen on their .44 Magnum Redhawk DA revolver) that placed the forward cylinder locking latch on the crane instead of at the end of the ejector rod. This solid front and rear lockup makes the GP-100 one of the strongest medium frame revolvers available. In fact, one of my Ruger GP-100 revolvers digested over 30,000 rounds of 130 Power Factor +P .38 Special ammo in IDPA/USPSA competition before requiring a tune up. Let's learn more about this great action revolver.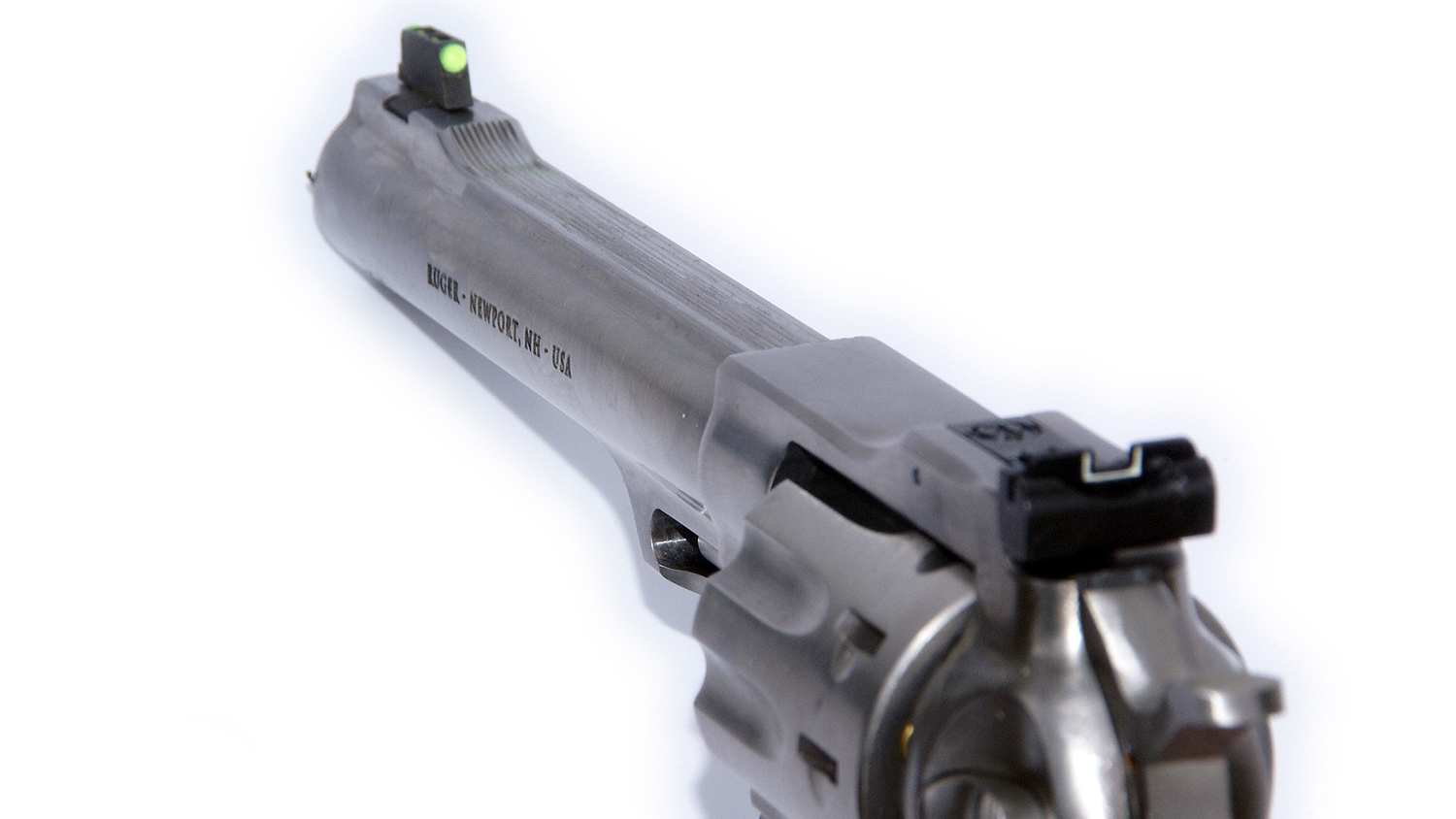 Additional refinements included a grip frame modification that allows an almost endless array of grip options, a coil mainspring, and sight options on some models that included quickly interchangeable front sights. Over the years it has been offered in fixed and adjustable sight models in barrel lengths of three, four, and six inches, and in calibers .38 Special +P, .357 Magnum, and .327 Federal Magnum—in both blued and stainless steel. The newest addition to the GP-100 family retains all those features, but in a fun package that puts 10 rounds of .22LR on tap.

The Gun
The GP-100 .22LR is built from stainless steel with a satin finish. It weighs in at 42 ounces empty with an overall length of 11.30-inches. It features a heavy 5.5-inch barrel with a 1:16-inch twist and a one-quarter length under lug. It has the same recessed target crown as seen on their Match Champion model. As with the rest of the GP-100 line it uses a frame-mounted firing pin with a transfer bar safety. It ships with a hard plastic case and a trigger lock.

Like the recently-introduced Match Champion, the sights are Ruger's adjustable rear with a white outline, while the front sight is dovetailed into the front barrel ramp. It features a green fiber optic rod of .060 diameter. It is well protected from accidental damage yet is easily replaceable. The test gun arrived with a green fiber rod, but shooters can replace that with any color they choose and replacement rods are readily available from Brownell's. The grips are soft Santoprene with wooden inserts and, like the Match Champion, the trigger is smoothly rounded for easy double action shooting.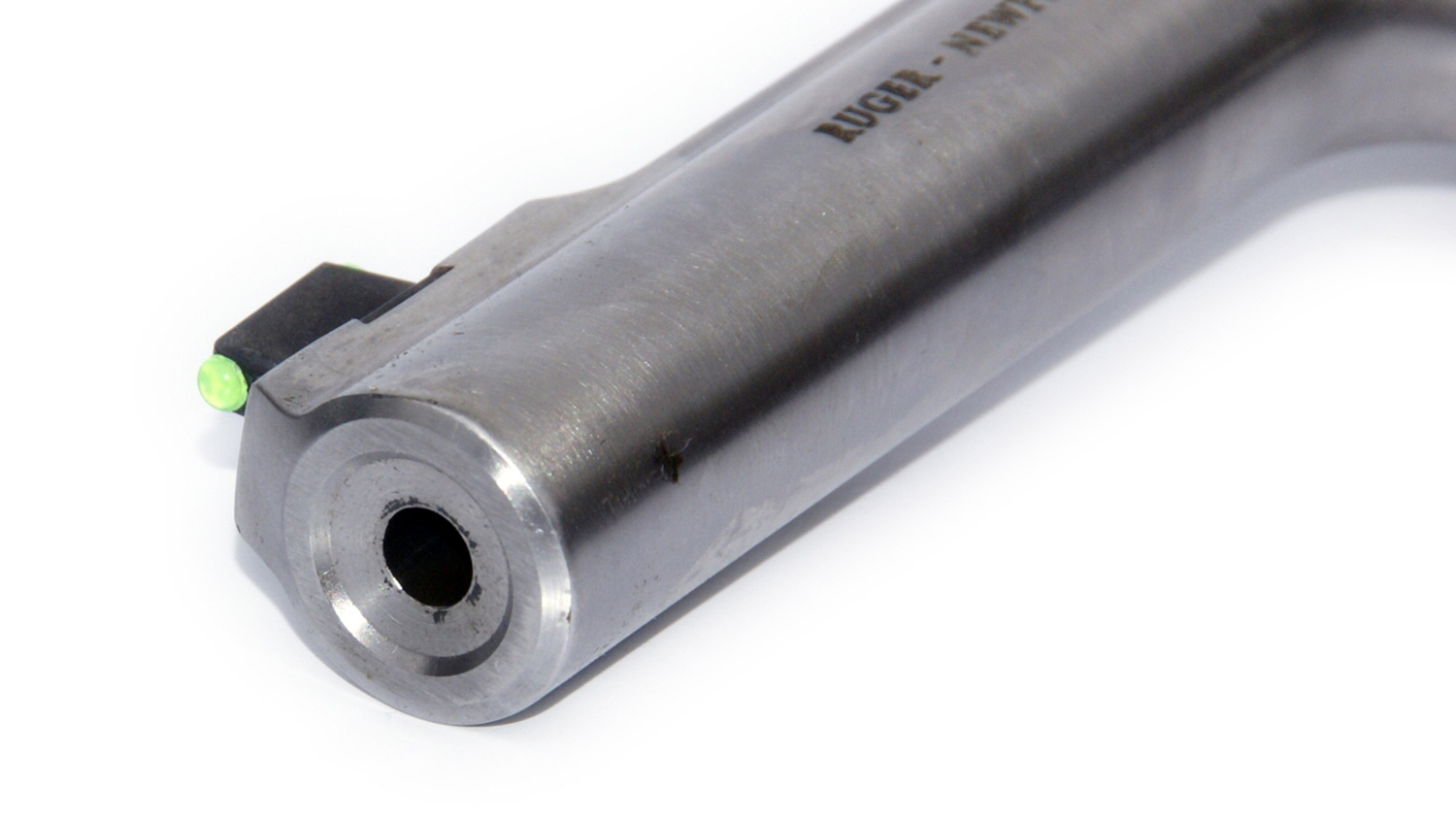 Chambered for .22LR, it holds 10 rounds and the chamber mouths are recessed. The single action pull measured 4.2 pounds on my Lyman digital trigger pull gauge, with only a slight hint of creep. The double action pull weight exceeded the 12-pound limit on my gauge. My best guess is that it's around 14 pounds.

On The Range
For the range sessions I had a selection of .22LR loads from CCI that pretty much covered the spectrum from small game hunting, plinking, and target work, along with the Mexican-made Aguila 40-grain, plated high-velocity Super Extra. The recent shortage of American-made .22LR has prompted Aguila to enter the U.S. market, and having shot several of their different loads in a couple of other guns it looks like it will be a welcome addition to the dealer's shelves.

I started my range session with some double action shooting and was pleasantly surprised by the DA trigger stroke. With ten chambers crowded into one cylinder the travel from chamber-to-chamber lock up is very short. I have found other medium-frame revolvers that were originally designed for six rounds, but then upgraded to more than six, to produce a shorter and choppier trigger pull that is noticeably different than the parent model. That wasn't true with the Ruger. The trigger pull was virtually identical in length and lock up to my other GP-100s. There was no change, despite the fact that the cylinder was rotating only a fraction of the distance it does with my six-shot guns. Shooting one felt, in terms of the rhythm of the trigger, just like shooting the others.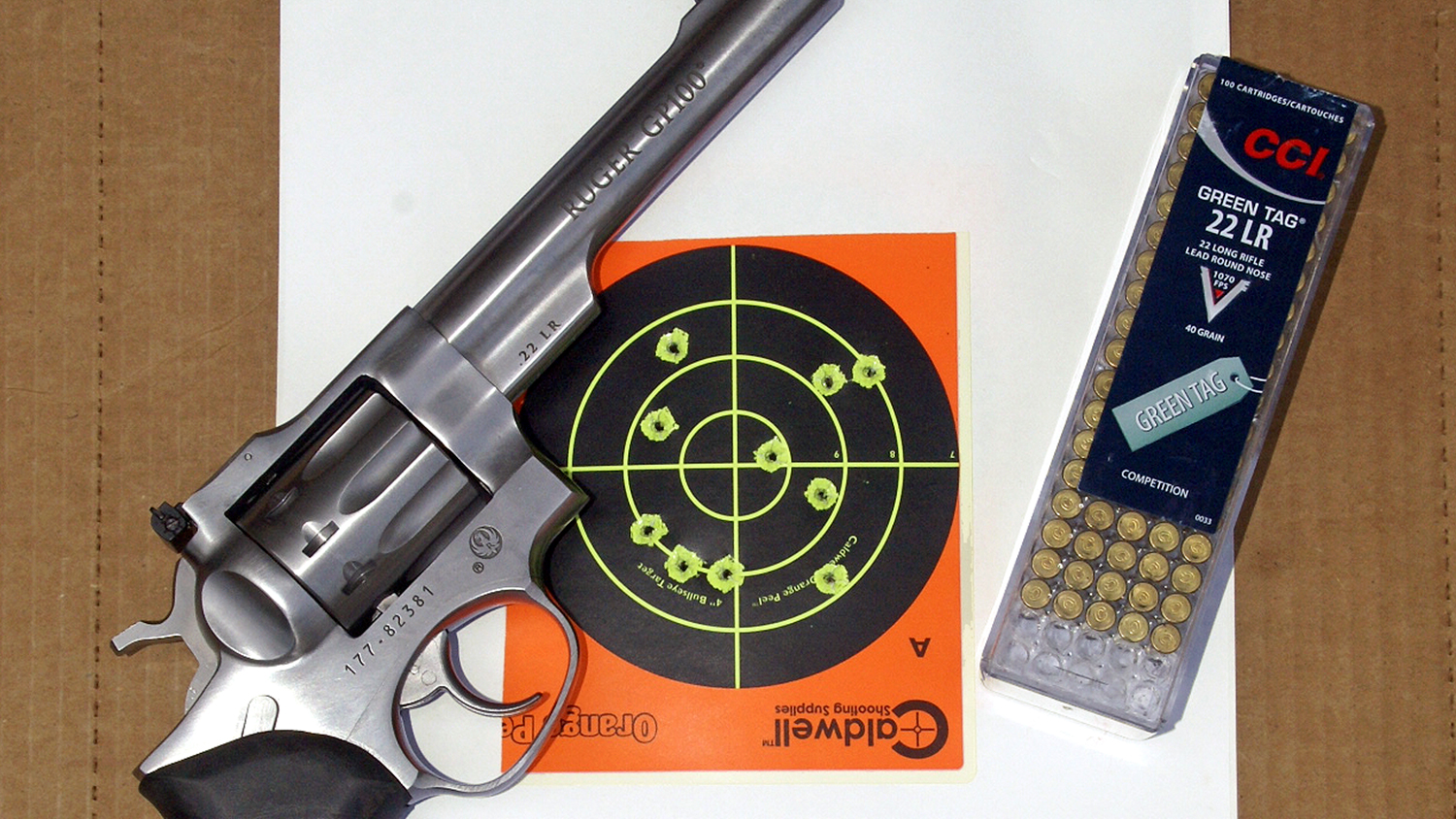 The DA trigger pull was heavier than many shooters would prefer, but that is the norm on any DA revolver chambered for .22 rimfire cartridges. Rimfire primers, enclosed within the brass cartridge case itself, require more force to ignite than centerfire primers and a stronger hammer spring is needed. Both Wolff and Wilson Combat make inexpensive spring kits that could lighten the DA pull a bit, although not to the extent of a well-tuned centerfire revolver.

Accuracy testing was done from a sturdy sandbag rest at 25 yards, and the crisp SA trigger was an asset. But shooting accuracy test groups proved somewhat challenging.

Standard group testing is done with five rounds. But when testing a revolver I prefer to shoot full cylinder groups. This is done to see if all chambers are properly aligned and producing a consistent point of impact. With ten rounds per group, a considerable amount of concentration was required and the inevitable lapse likely slipped in. The accompanying chart will show the 10-round groups total size with a center to center measurement. All tested loads showed a consistent circular cluster that indicates the chambers are properly aligned with the barrel.

The group sizes are quite good for a revolver. But I suspect the gun is more accurate than the full cylinder groups show because with all the test ammunition the best five rounds in the group would cluster under 1.25-inches—with the CCI Mini Mag HP going into less than three-quarter inch! Feed the GP-100 .22LR quality ammunition and it is more than accurate enough for any reasonable task.

The GP-100 .22LR is a solid medium-frame revolver, with an equally solid $829 MSRP. However, with a bit of trigger work and a spring kit, I could see it being a very competitive product in the appropriate rimfire divisions in ICORE or Steel Challenge.