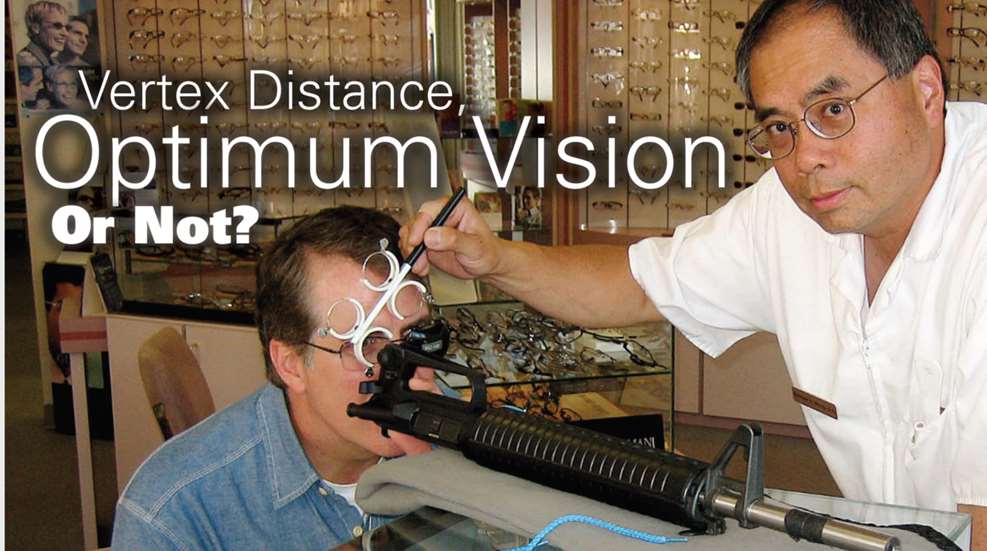 Brian, a high power rifle shooter from Texas, came to see me for a shooter's eye exam but did not bring his Champion shooting glasses for the evaluation. I determined an initial prescription but asked Brian, once he returned home, to send me a side-profile picture wearing the shooting glasses with a ruler along side. This allowed me to extrapolate the needed information to provide a prescription that would help Brian compete with confidence. This experience led me to write this article in order to help other shooters under similar circumstances.
The distance between the eye and the back surface of the spectacle lens is known as vertex distance. Eye care specialists are well aware that a prescription may change when contact lenses are fitted to replace eyeglasses. This is because the prescription at the corneal plane (the front surface of the eye) is different than at the plane where the lenses sit on the eyeglass frame. A prescription lens for a nearsighted eye becomes stronger in power when it is closer to the eye and weaker when farther from the eye; whereas a farsighted lens becomes weaker when moved closer to the eye and stronger when farther from the eye.
Specialized shooting glasses such as Champions and Knoblochs offer the shooter a variety of options, including lateral lens positioning. Unless the eye care specialist understands their use, a careful eye examination may or may not provide optimal vision with these glasses. How much does vertex distance affect shooters? The lenses in Champion, Knobloch and similar shooting glasses may be positioned two to three times farther from the eye than with typical eyeglass frames. (An offset lens bar is available with some models to bring the lens closer to the eye.) This increased distance from the lens to the eye will increase or decrease the power of a lens as explained above.
If you are using a relatively weak (lower power) prescription, changes to the vertex distance will show a negligible difference in your vision. However, as the magnitude of the prescription power increases, the new prescription could be 0.25, 0.50 diopter or more in error.
Prescription lenses are normally fabricated in 0.25 diopter increments but the following abbreviated table will show how some of you may be affected. The exact numbers are not as important as the general tendencies the table exhibits. As the shooting glass lens is positioned farther than your normal eyeglass lens by 15mm, 20mm, 25mm and 30mm, the effective power changes as follows: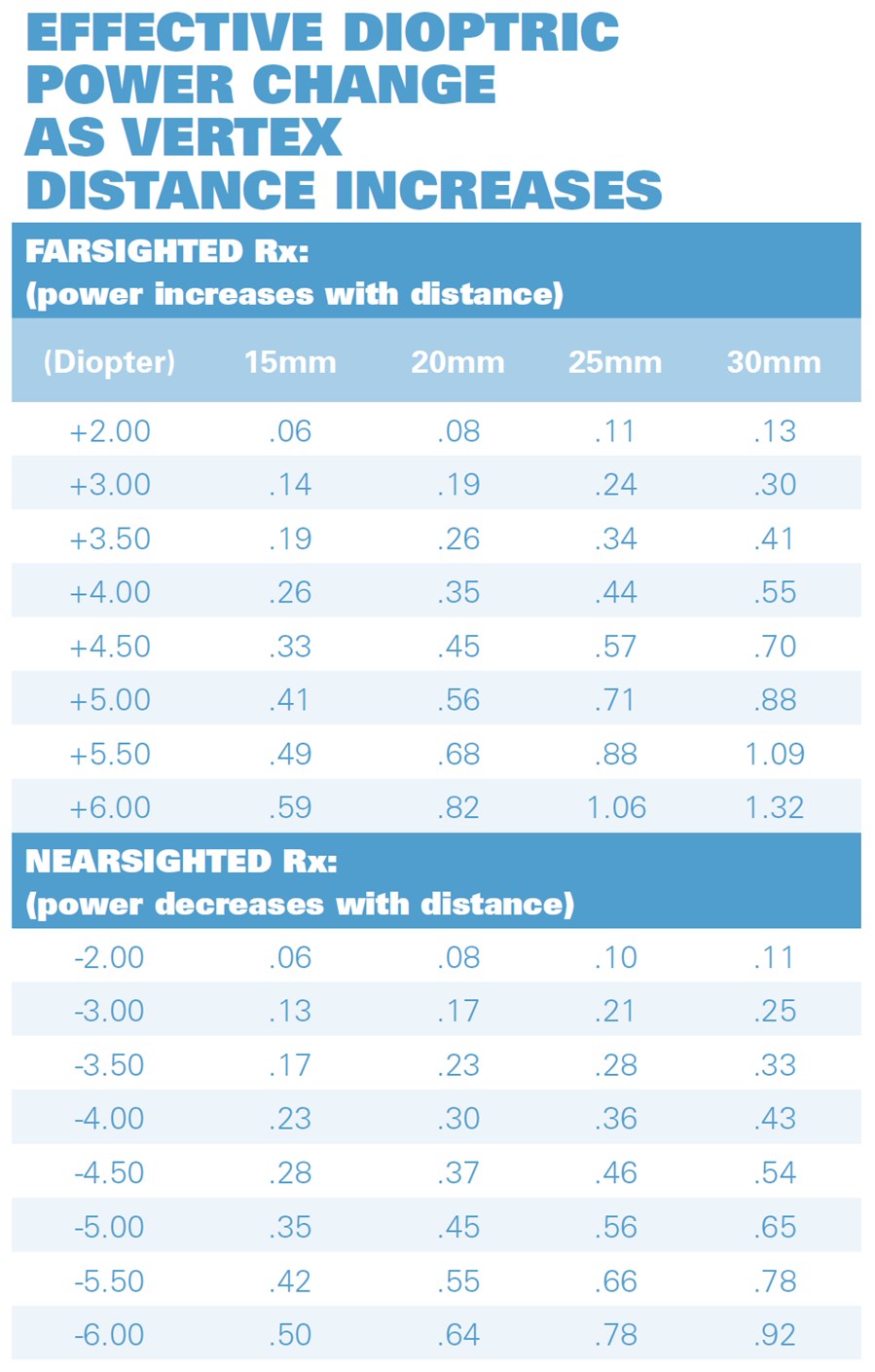 To the best of my knowledge, the above is the only published table of this kind, specifically for the benefit of shooters. By understanding how vertex distance may affect some of our shooting glass prescriptions, we can use this to our advantage, as I do in my practice. If you see just fine when shooting, there's no need for any concern. But if you don't, vertex distance may be a contributing factor for an error in your prescription. Also, if you see fine but your eyes fatigue as the shooting day progresses; again, consider vertex distance. Other factors must be considered by your eye care specialist, such as unstable vision due to poor medical health as with Diabetes, pathology associated with the aging eye, side effects from medications, and an incorrect shooting glass prescription.
An interesting note to consider; a +0.50 diopter lens used on the front sights on certain rifles to provide magnification no longer behaves as a +0.50 diopter power lens to our eyes because of vertex distance. The effective power becomes higher.