Air rifle field target is, quite simply, one of the toughest shooting challenges that any target shooter can face.

At the Crosman All-American Field Target Championship (CAAFTC), held this past June, competitors had to drop four targets within four minutes on each of 15 lanes (for a total of 60 targets) on one day, and then do it all over again the next day on different lanes for a total of 120 targets over two days.

The championship, now in its sixth year, welcomed shooters from seventeen states and Canada with 75 rifle and 20 pistol competitors. In the past, the match was held at Crosman headquarters in East Bloomfield, NY, but this year, the Rochester Brooks International Trap and Skeet Club in nearby Rush, NY, hosted the event.

Shooters compete with air rifles and pistols of .22 caliber or less, at distances of 10 to 55 yards. This includes spring-piston break-barrel and underlever air rifles, as well as pre-charged pneumatic (PCP) air rifles in which an on-board air reservoir must be charged using a high pressure pump or SCUBA tank. PCP rifles typically will deliver 5-shot groups at 50 yards that are well under one inch, while spring-piston air rifles are more difficult to shoot accurately because of the unique whiplash recoil that occurs when the shot is triggered. Shooters typically compensate for changes in trajectory at different ranges by using hold-over points on mil-dot reticles or by clicking the elevation knobs on their scopes.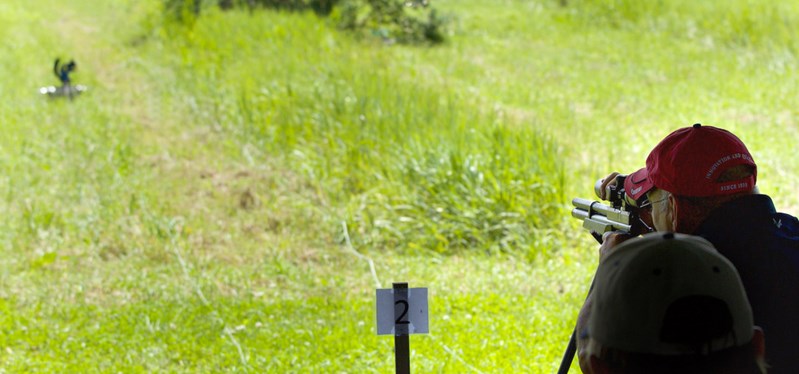 The targets are metallic silhouettes of birds and animals, and each target has a target zone that varies in size from 3/8 inch to 1 7/8 inches. Behind the target zone is a paddle. Put a pellet cleanly through the hole and hit the paddle, the target falls down and the shooter gets a point. There are no points for near misses and no X's. If you don't drop the target, you don't get a point. And just to keep it interesting, the shooters aren't aware of the range to any of the targets, or the size of any of the target zones. Furthermore, there is no correlation between the size of the target zone and the range to the target; the placement of what size target goes at what range is entirely up to the match director. That one-inch target zone can become downright tiny at 55 yards. 

The bottom line is, to be successful at field target, you have to address multiple targets at unknown ranges, estimate the range to the target, compensate for the trajectory at that range, estimate and compensate for the wind at that range, execute the shot with sufficient precision to put the pellet through the target zone—and do it all within a time limit.

WFTF PCP
World Field Target Federation (WFTF) Pre-Charged Pneumatic division competitors shoot rifles producing a maximum of 12 foot-pounds of energy and any form of sighting system. Shooters opting for this division have an eye towards world competition and generally shoot the highest scores.

After day one, Ohio's Jeff Paddock and Harold Rushton of Tennessee, the 2010 and 2013 winner of this event, were deadlocked at 59—each shooter missing just a single target. Throughout the final day both shooters remained tied and it came down to the final lane as Paddock was able to knock down one more target than Rushton to add a WFTF PCP title to his 2012 Pistol Division, Open Class CAAFTC title.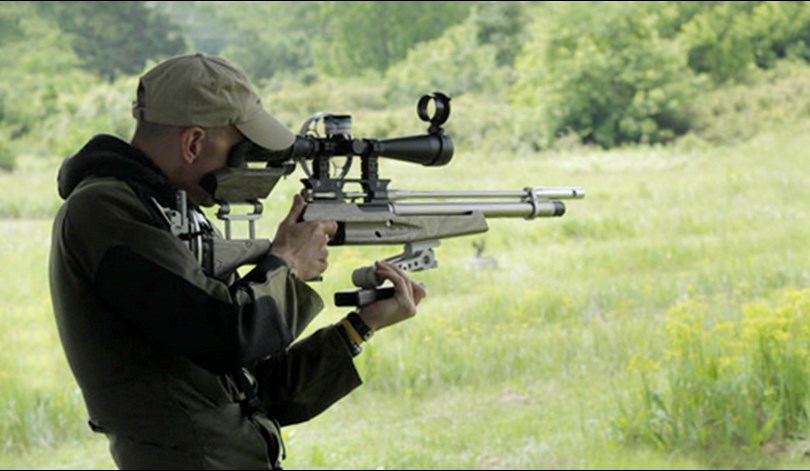 1st Place           Jeff Paddock               115
2nd Place          Harold Rushton          114
3rd Place           Greg Sauve               110

WFTF PISTON
Matt Brackett was a last-minute fill-in for another competitor and his trip from his home state of Massachusetts was worth the drive, as he took home the first place prize with score of 96.

Brackett shoots an Air Arms TX200 MkIII with a large Hakko scope. I asked if he trained in any special way to prepare for the event. He said, "I'm a cancer survivor, so I have a daily regimen that focuses on diet and exercise. I do it to be healthier but I think it helps me to be stronger in my core, which helps with the offhand shots."

He added, "I think the match was really well run, and the venue is very impressive, and the food was really good. Field target has a lot to offer as shooting discipline. You get a beautiful day in the woods, the mood of the match, and a lot of good camaraderie with the shooters in your squad."

1st Place           Matt Brackett              96
2nd Place          Gerald LaRocca, Jr.    88
3rd Place           Paul Bishop                 85

HUNTER PCP
The Hunter Division allows for rifles shooting up to 20 foot pounds, up to a 12x magnified optic and the use of a seat and shooting sticks. Always a popular class, this year's edition featured 37 shooters, with Joel Gupta of New Jersey leading the way with a score of 103.

Gupta shoots a Hammerli AR-20 FT precharged rifle with a Walther scope. Every winter, he tears down the rifle and rebuilds it to make sure it is performing properly. Gupta says he prepares for field target by shooting other disciplines, including silhouette, 10-meter air rifle, and prone rifle.

"I don't practice; I just shoot matches. I focus on position," he says. "When you have proper position, the rest comes easy. I love shooting field target, mainly because of the people." He added, "You have to trust your equipment. Once you have it set up properly, you have to trust it, even at those times when it doesn't feel right."

1st Place           Joel Gupta                  103
2nd Place          John Eroh                   99
3rd Place           Bill Day                      97

HUNTER PISTON
Always a contender, Greg Shirhall of New York took home the hardware with a 78, beating Pennsylvania's Kevin Kunkle by six shots.

Shurhall was shooting an Air Arms TX200 with a Bushnell Elite scope mounted. He says, "I was four or five points down at the end of day one, but I didn't lose confidence. I knew this wasn't a gun problem; it was a problem with me. The match was very well run, and it was a lot of fun. That, after all, is the point—we're doing it to have fun."

1st Place           Greg Shirhall              78
2nd Place          Kevin Kunkle              72
3rd Place           Eric Brewer                 63

OPEN PCP
Rifles capable of up to 20 foot-pounds, any sighting system, clothing and minimum seat heights are the rule in this class. Ron Zeman flew in from Florida and took top honors with an impressive 105 score.

Zeman shoots a modified Steyr LG100 and tries to prepare both mentally and physically. He says, "I'm 63 years old. I go to the gym two or three times a week. That keeps me in decent shape with good muscle tone and a decent heart rate. I like to arrive a day before the match so I can get centered and feel almost like I am shooting at a home venue."

An air rifle field target competitor for about 15 years, Zeman told me part of his preparation includes practicing more forced position shots, where he has to shoot offhand or from a kneeling position. He added that when he is competing, "I go through a routine of physical and mental steps, repeating a process which I've practiced countless times in solo sessions and during our local club matches."

1st Place           Ron Zeman                105
2nd Place          Dennis Eden               94
3rd Place           Mike Harris                 81

PISTOL
The pistol competition featured three classes based on equipment used and shooters faced a varying course of 45 targets. Joe McDaniel of Maryland won the Hands-Only Class with a score of 14.

McDaniel was shooting a modified Crosman 2240 pistol. When I talked to him after the match he said, "I shoot bullseye a lot, so that's how I shot the pistol match—one handed with a red dot, no magnification. To prepare, I shot for about two weeks in the backyard. I do yoga every day and attend yoga class a couple of times a week. It's good for aerobics and for strength. Core body strength is vital for shooting pistol the way I do."

He added, "One of the neat things about shooting competition is that, like playing music on an instrument, to do it well, you can't be thinking of anything else."

QUIGLEY BUCKET CHALLENGE
Joel Gupta successfully knocked down a 1.75 inch target at 55 yards three out of five tries with an open sights rifle, matching last year's record by the Sportsman Channel's Fred Eichler. The event is modeled after the triumphant scene in the Tom Selleck film Quigley Down Under in which Selleck's character shoots a bucket multiple times at an estimated 550 yards.

Gupta told me, "I didn't prepare for the Quigley match. I used a Crosman Challenger tuned by another shooter at the match that was set up to shoot dead-on at 55 yards. I shot at the very beginning, hit the target three times, and then was shaking the entire time as everyone else shot. A couple of people hit the bucket twice. I would love to see someone hit it four times."

TEAM CHALLENGE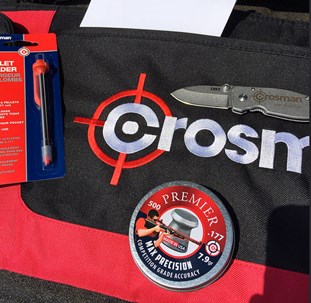 The friendly Team USA vs. Team Canada match was opened up this year to any groups of four shooters wanting to participate. Team USA, featuring Harold Rushton, Greg Sauve, Tyler Patner and Hector Medina-Gomez led the way with a team score of 404.

To learn more about field target competition, visit the American Airgun Field Target Association web site at www.aafta.org.