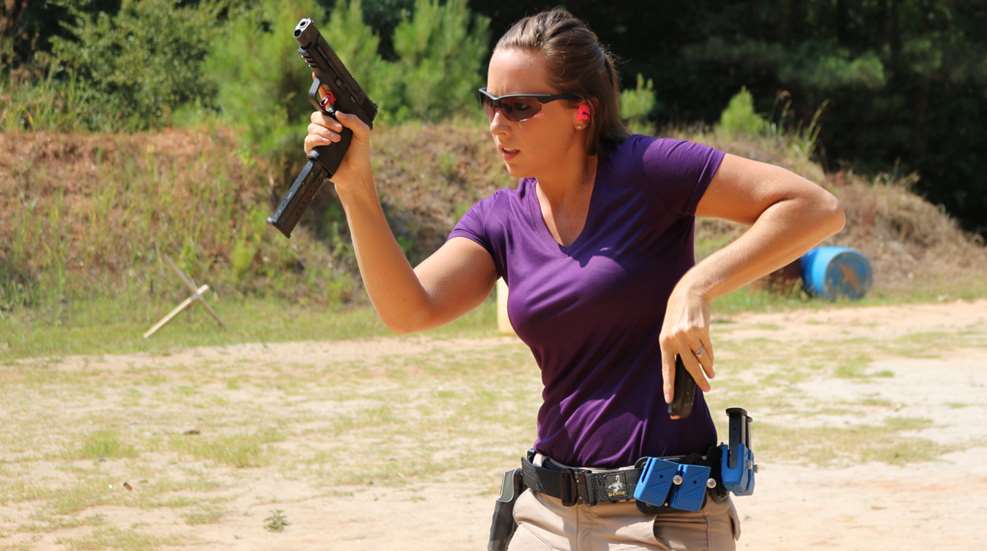 My shooting career started at age 20. I made the decision to pursue a career in law enforcement and in August 2010 started at the police academy. Prior to the academy, my only experience with guns was shooting my dad's 1911 once. Growing up as an athlete, I never struggled with physical skills. I soon discovered that plinking with a 1911 is an entirely different beast from qualifying with a service gun.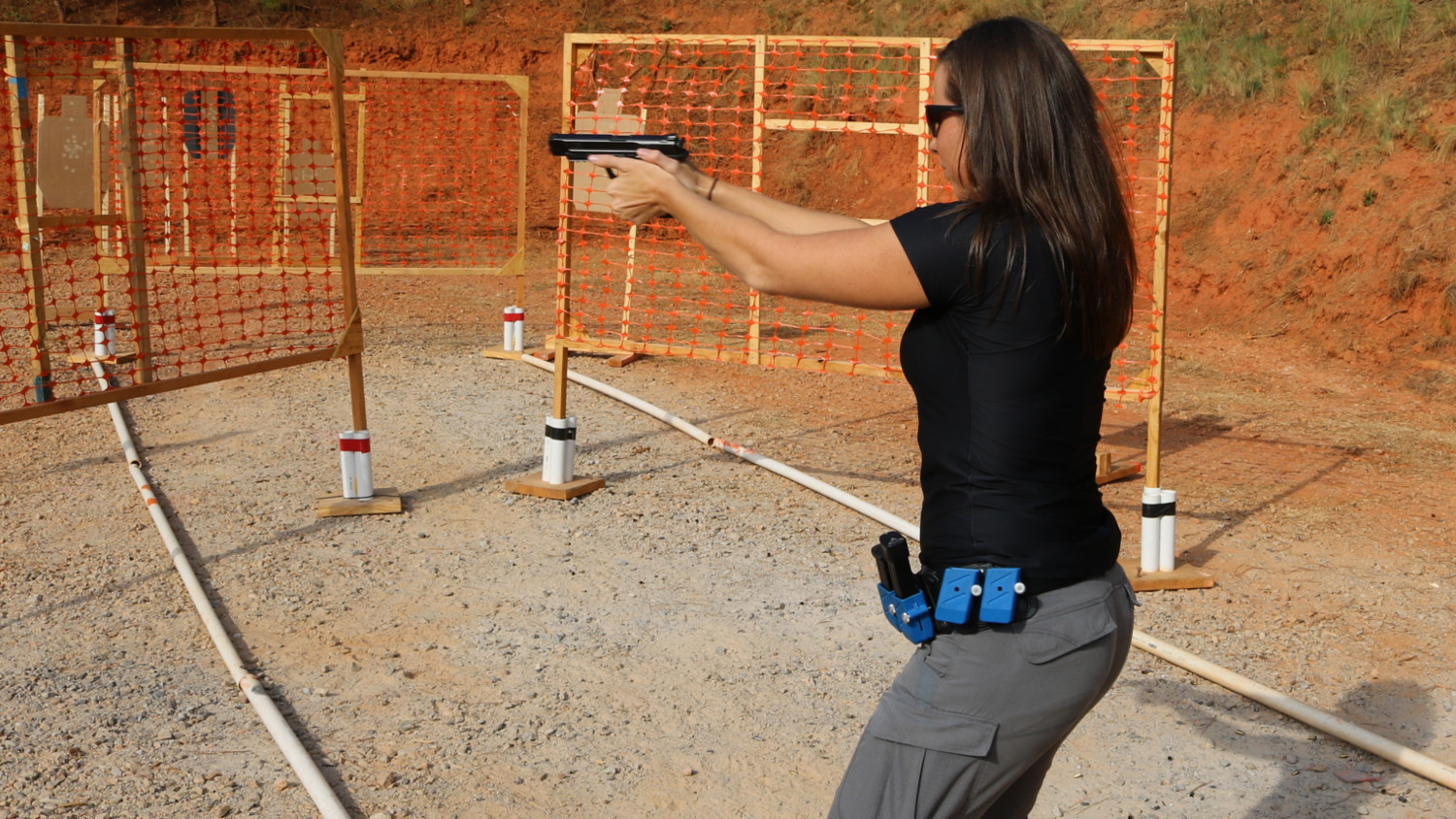 The Police Academy
Police academy firearms training is taught in a two-week block. When we made it to the range for the first day of live fire training I struggled from the start. My main problem was anticipating recoil. At the time, my instructors called it "jerking the trigger," but I learned that actually it was a distinct pre-ignition push.

For firearms qualification, I had to achieve two scores of 80 percent or more on a 30 round, 300-point course. The course included shots ranging from 3 yards to 25 yards, and some of the basics of stepping off line of attack, shooting from cover, and reloading.

I failed my first eight attempts, but managed an 80 on my ninth attempt. I had to get another 80 to stay in the class. Even though I was more determined than ever, my final score was just short of qualifying. I was dismissed from the academy, but I had the option to return for firearms week in the next class. Not wanting to give up, I began practicing on my own.

Introduction to Competitive Shooting
While the rest of my academy class continued on and graduated, I was stuck on the sidelines. I paid for a private instructor and shot with him once a week, also beginning a dry fire regimen. A friend introduced me to the Glock Sport Shooting Foundation (GSSF), learning that training for matches also helped me to prepare for firearms week.

At first, I struggled with GSSF matches, especially with the plate rack. My final time was over 500 seconds after my first match. A typical GSSF winning time is between 40 and 60 seconds. Seeing hundreds of shooters outperform me helped open my eyes to the importance of competition as a training aide.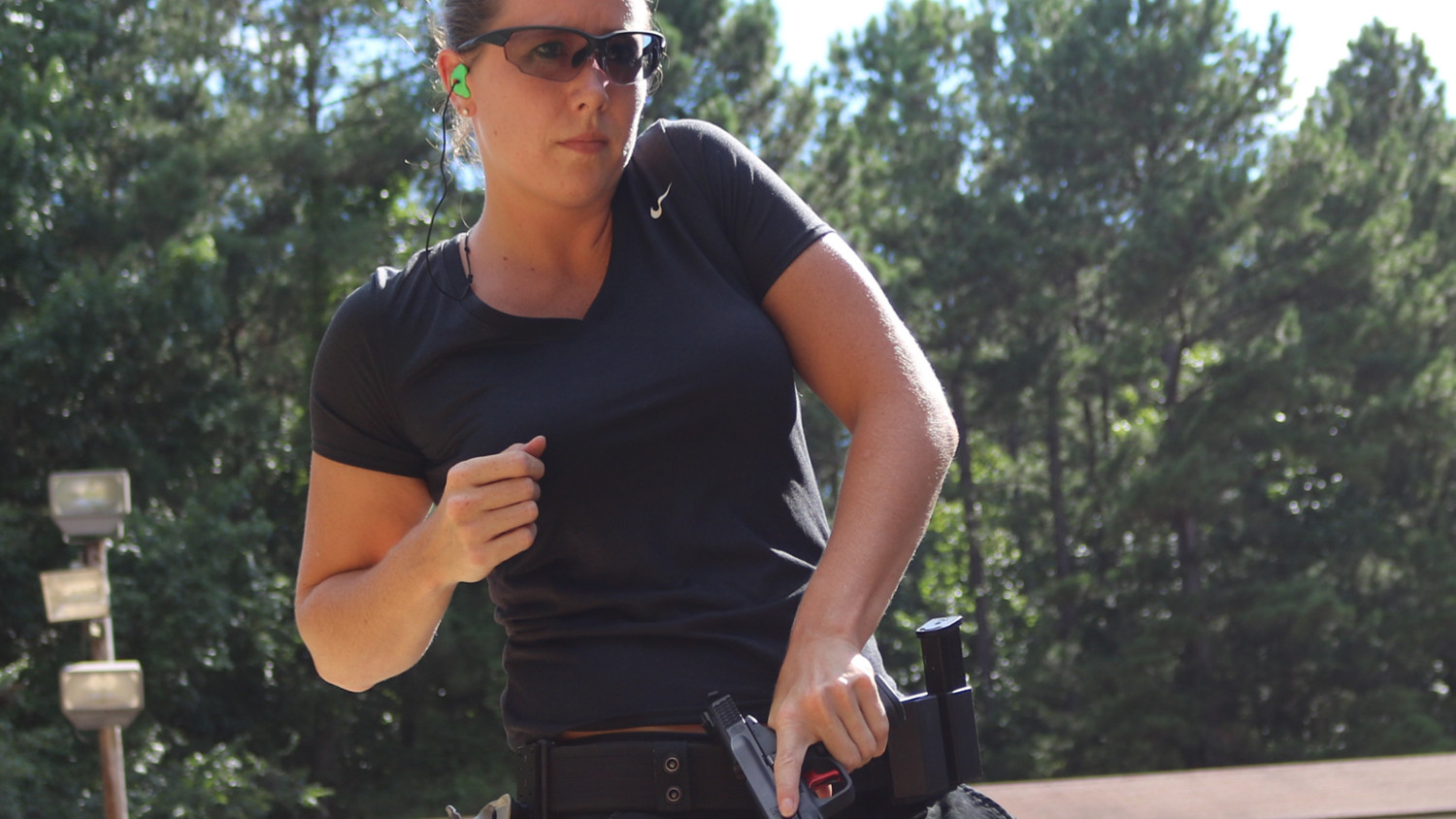 I repeated the police academy in March 2011, this time qualifying in firearms without having any issues. By learning to compete, I forced myself to attempt shots much more difficult than anything the police academy required. The result was that when asked to hit a man-sized silhouette at 25 yards, I no longer worried about getting the shot on paper. True, I couldn't always count on center hits, but I could be confident that my shots would score, because every shot at a shooting match was faster and harder than anything on a qualification course. Was I top in my class? No, I certainly was not. I couldn't have been happier with my progress, though.

One of the most important lessons I learned is that graduating from a short firearms training class does not make you proficient as a shooter. I also learned the importance of continuing to train, and to keep pushing myself to achieve standards far beyond what is asked of me as a police officer.

Not long after, I was hired by a local police department and walked in uniform at my police academy graduation. Being on patrol meant maintaining the firearm skills I worked so hard for. When I discovered USPSA, it was an opportunity for me to begin shooting on the move, reloading under pressure, and engaging multiple targets while avoiding non-threats. Initially, I would only shoot a few USPSA matches a year—instead spending a considerable amount of time training at my local gun club.

Becoming Tactikayla
In February 2015, I began shooting USPSA matches every month, and started my Instagram page. I had no idea that Instagram would be the turning point in my training. To get a lot of content, I shoot as much as possible. When posting on Instagram, I was inundated with self-proclaimed experts telling me what I was doing wrong. Occasionally, I would make contact with a quality shooter or instructor that provided me with constructive coaching. Instagram became a big motivator in my firearms training. Negative feedback from online "trolls" drove me to train harder to improve both my accuracy and speed.

I continued to shoot GSSF matches, and ended up winning Top Female Guardian at the Montgomery match in March 2015 with a time of 104. These days, if I'm not shooting a match on the weekend, I am at the range. If I'm not at the range I am doing nightly dry fires at my house; working on reloads, target transitions, and drawing. My training involves working from the holster, tracking sights while moving, in and out of batter reloads, and practice with one-handed reloads.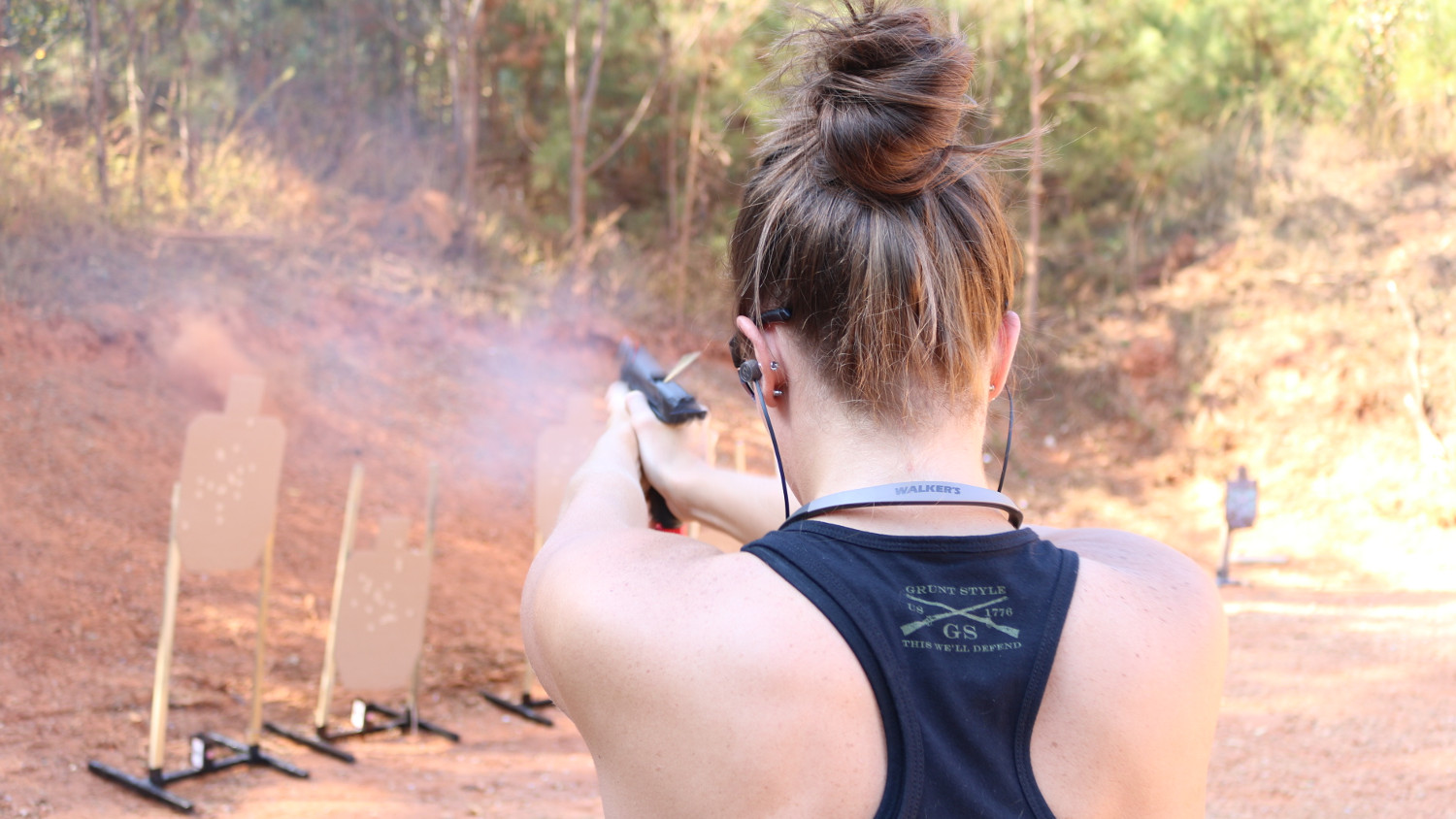 Now, when I post videos on Instagram, people no longer tell me how terrible I am, or how slow I am. Instead, they tell me how much I have improved or how fast my reloads are. This a big change, but I try to remember, in the shooting sports—someone is always better than me.

Recently, I started shooting Greater Atlanta Defensive Pistol Association (GADPA) matches along with USPSA. GADPA is an off-shoot of IDPA, with some rule modifications. GADPA focuses on defensive shooting skills by prioritizing accuracy over speed, while giving shooters the option of using cover or shooting while moving. GADPA also introduces the concept of tactical priority, which is shooting targets from greatest threat to least threat. Additionally, there are steep penalties for shooting a non-threat target.

I don't say any of this to tell you how amazing I am. I say this because I want you to know how far I have come and how far you can come. This journey has not been easy for me. I have struggled daily and put in a lot of hard work. I have come a long way in this sport, but of course I am not where I want to be … yet.

Tips from Kayla
Here are a few tips that have helped me tremendously. First, it is important to seek out competent instruction early in your shooting career. Practice and repetition are great, but if you repeat poor fundamentals you are actually creating a bigger problem.

Second, find a good training venue. We have all seen the indoor range with a "no double taps" rule or a rule against drawing from the holster. I recommend finding a training venue that will allow you to shoot multiple targets, while moving, and from multiple positions. Simply standing in a lane punching holes in paper has its limits.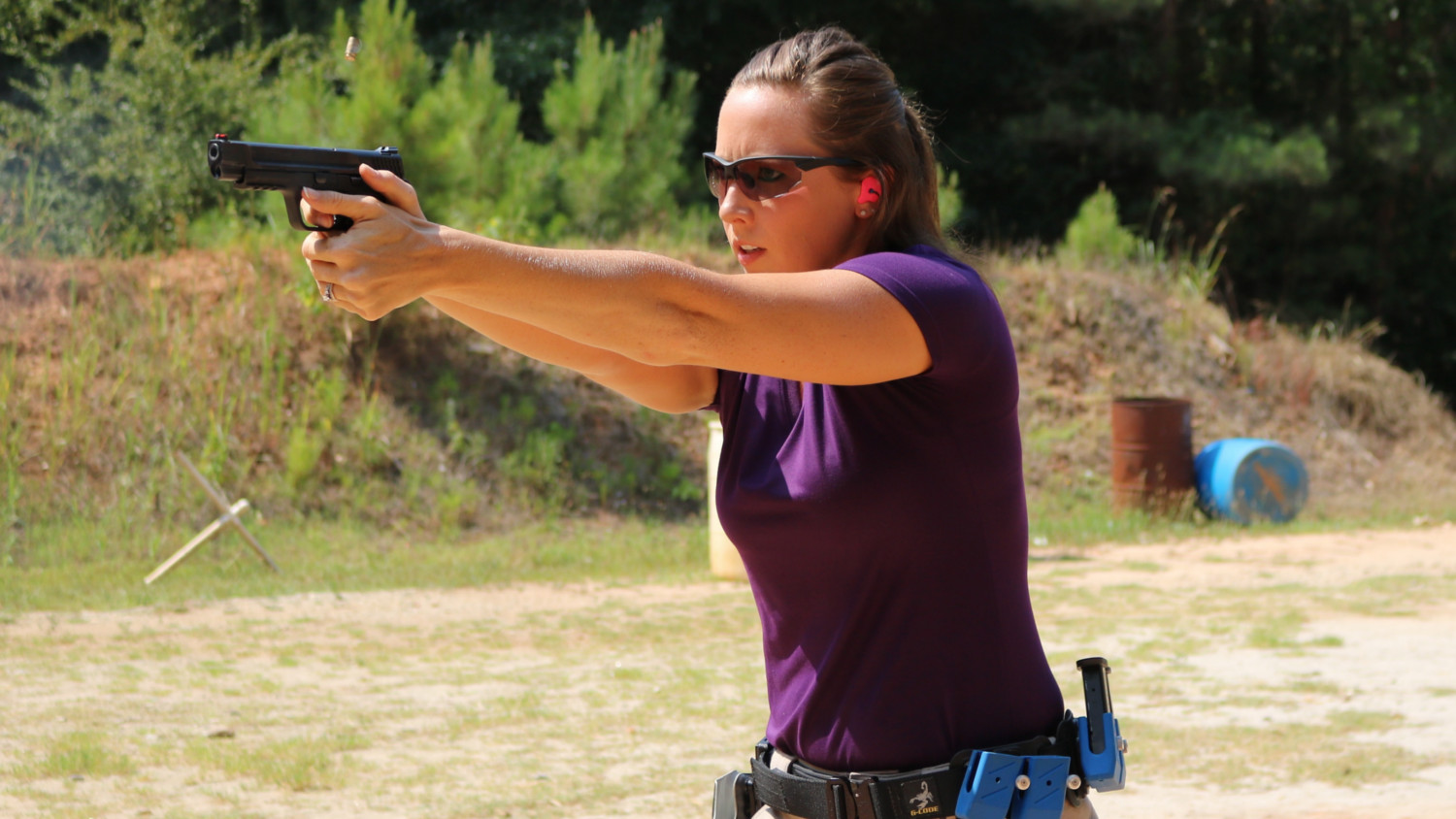 Finally, no matter how good you think you are, remember that you are always a student. Learn from other shooters at competitions. Watch videos of the pros and see how they do things. Don't be afraid to try a new technique, and give it long enough to form an educated opinion. Seek out new challenges. Most improvement comes from the desire to improve. It is much harder to self-motivate if you are the best among your group of shooters.