by
posted on November 13, 2018
Support NRA Shooting Sports USA
DONATE
This summer at the 2018 NRA National Silhouette Championships at the NRA Whittington Center in Raton, NM, top-ranked shooter Cathy Winstead-Severin made history after winning the High Power Hunting Rifle Championships for the 23rd time. The Team Lapua USA shooter is now the winningest shooter in the Silhouette High Power Hunting Rifle division.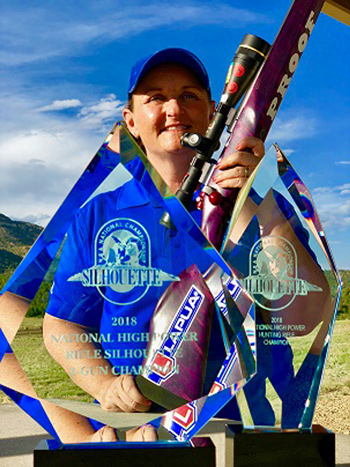 Winstead-Severin finished the match with a final aggregate score of 86, out of 90 possible points. Her final score was four points ahead of the runner-up. The High Power Hunting Rifle National Championships consisted of three matches, and Winstead-Severin's scores were 25, 32 and 29 (each of the three component matches was worth 30 points towards the aggregate score, and thus the High Power Hunting Rifle Championship). There were 52 competitors for this particular Silhouette championship. See the full results here.

Beginning her shooting career at age seven in a BB gun program, Winstead-Severin won her first NRA Silhouette championship in 1998, going on to win numerous national victories in smallbore rifle and high power hunting rifle. She's also been a four-time consecutive winner of the Iron Man match.

A dedicated user of McMillan stocks, Cathy and her husband James Severin—an accomplished competitive shooter and coach—operate Good Shooting Sales and Service, which specializes in target shooting supplies and equipment.

Learn more about the various NRA Silhouette Championships.