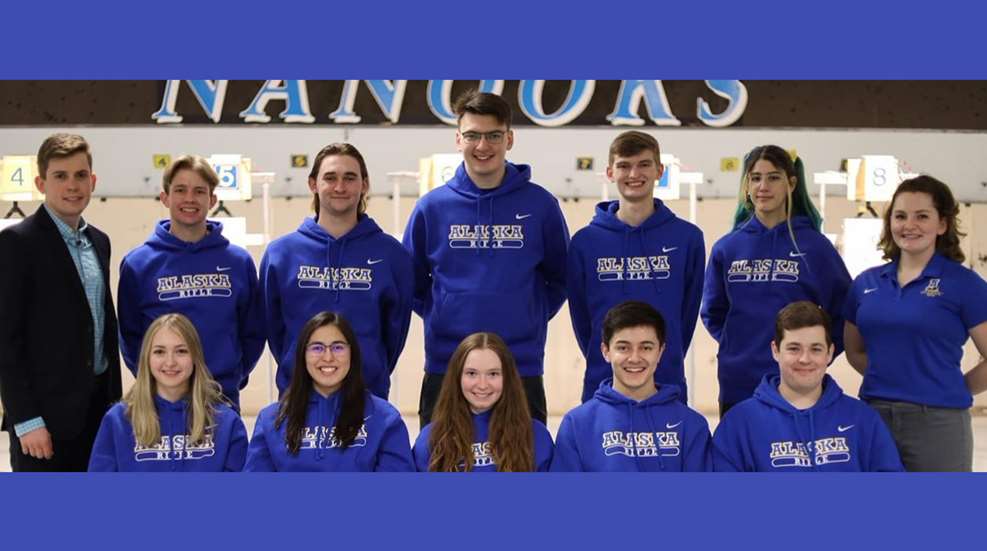 Two NCAA rifle match records were shattered over the weekend by the top-ranked University of Alaska-Fairbanks rifle team in its road match against No. 9 Navy on November 14. Alaska-Fairbanks broke the NCAA aggregate match score record (4749) and smallbore rifle team score record (2371) at the Naval Academy in Annapolis, Md., after a 4749-4694 victory.
For the season, the Alaska-Fairbanks rifle team currently has the highest aggregate match score average with 4733.715. This is 10 points ahead of the team with the next highest season average, No. 2-ranked West Virginia University.
Alaska-Fairbanks shooters occupied the top four slots in the individual aggregate leaderboard in the match against Navy. High score for the match went to freshman Rylan Kissell with 1190, followed by freshman Sára Karasová and junior Kellen McAferty both with 1186, and freshman Gavin Barnick one point behind them with 1185.
Here is what Will Anti, the head coach of the Alaska-Fairbanks rifle team, said about his team's top-tier performance to Nathan Kyle Pearsall, a reporter with the Nanooks' athletics website.
"Today was a really exceptional day. It was special to watch the group perform at that level. We planned for this to be a peak match and they certainly had a peak moment."
The other big story from the weekend is from No. 13-ranked Kentucky, who roared back to life after a disappointing loss the previous week. Picking up a pair of victories, Kentucky, the 2021 NCAA rifle champion, completed a perfect weekend at home on November 14 against Memphis, 4717-4658. Leading the way for Kentucky was the rifle team's Olympic medal-winning duo of senior Will Shaner and junior Mary Tucker, who topped the individual smallbore and air rifle standings against Memphis. In addition, Shaner's combined score of 1185 (589 smallbore, 596 air rifle) garnered him the top spot in the individual aggregate.
After a great weekend of shooting, expect to see the Kentucky rifle team make a substantial jump in the next CRCA poll rankings.
Lead photo courtesy of University of Alaska-Fairbanks Athletics.
---
Read more:
Collegiate Rifle: WVU Moves To No. 2, Kentucky Falls To No. 13