This month we go in-depth with the NRA National Matches, starting with the cover that features 2023 NRA National Precision Pistol Champion, Jon Shue, holding the Harrison Trophy in a photo taken by myself just a few minutes after the awards ceremony. He won NRA Pistol's highest honor this year at Camp Atterbury with a score of 2662-135X. You can read all about Shue and the NRA National Precision Pistol Championships, along with the High Power Rifle Championships, in the first installment of our coverage of this summer's National Matches (page 22). This month's article also includes Opening Day with Indiana First Lady Janet Holcomb firing the ceremonial first shot, along with the story of how two women competitors, Amanda Elsenboss and Kim Rowe, ascended to the top of the High Power OTC and Mid-Range leaderboards, respectively. (Be on the lookout for more coverage of the 2023 NRA National Matches at Camp Atterbury, including the Smallbore Nationals, next month.)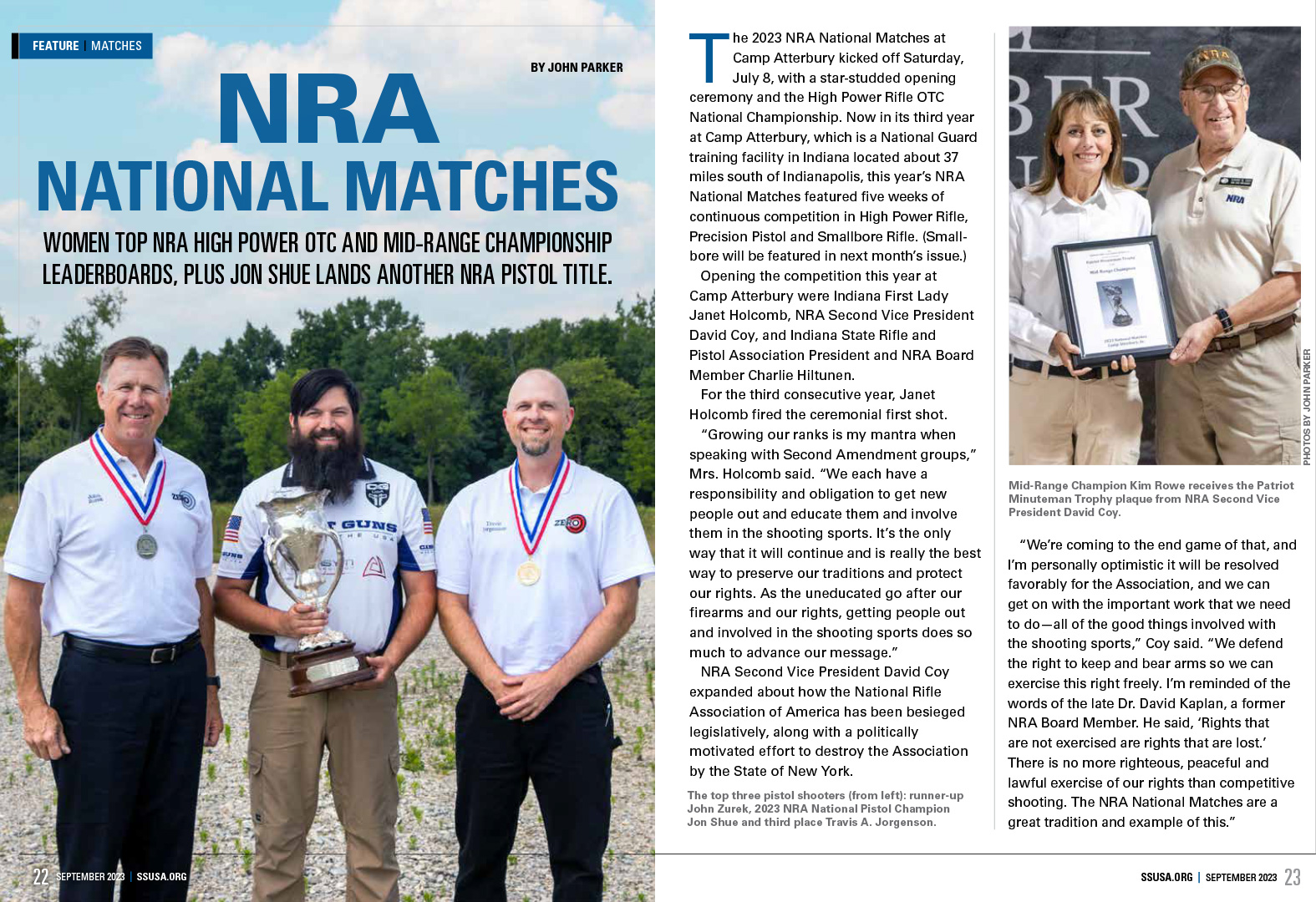 Since entering the reflex sight market more than a decade ago, Holosun has become a favorite optic brand for competitive shooters. In Product Focus, Field Editor Chris Christian puts the company's new 507COMP reflex sight to the test. Notably, the Holosun 507COMP is available with either a red dot or a green dot, and it also sports the Trijicon RMR mounting footprint. But, the real star of the show, along with longer-than-average battery life, is Holosun's Competition Reticle System, which offers eight unique reticle options.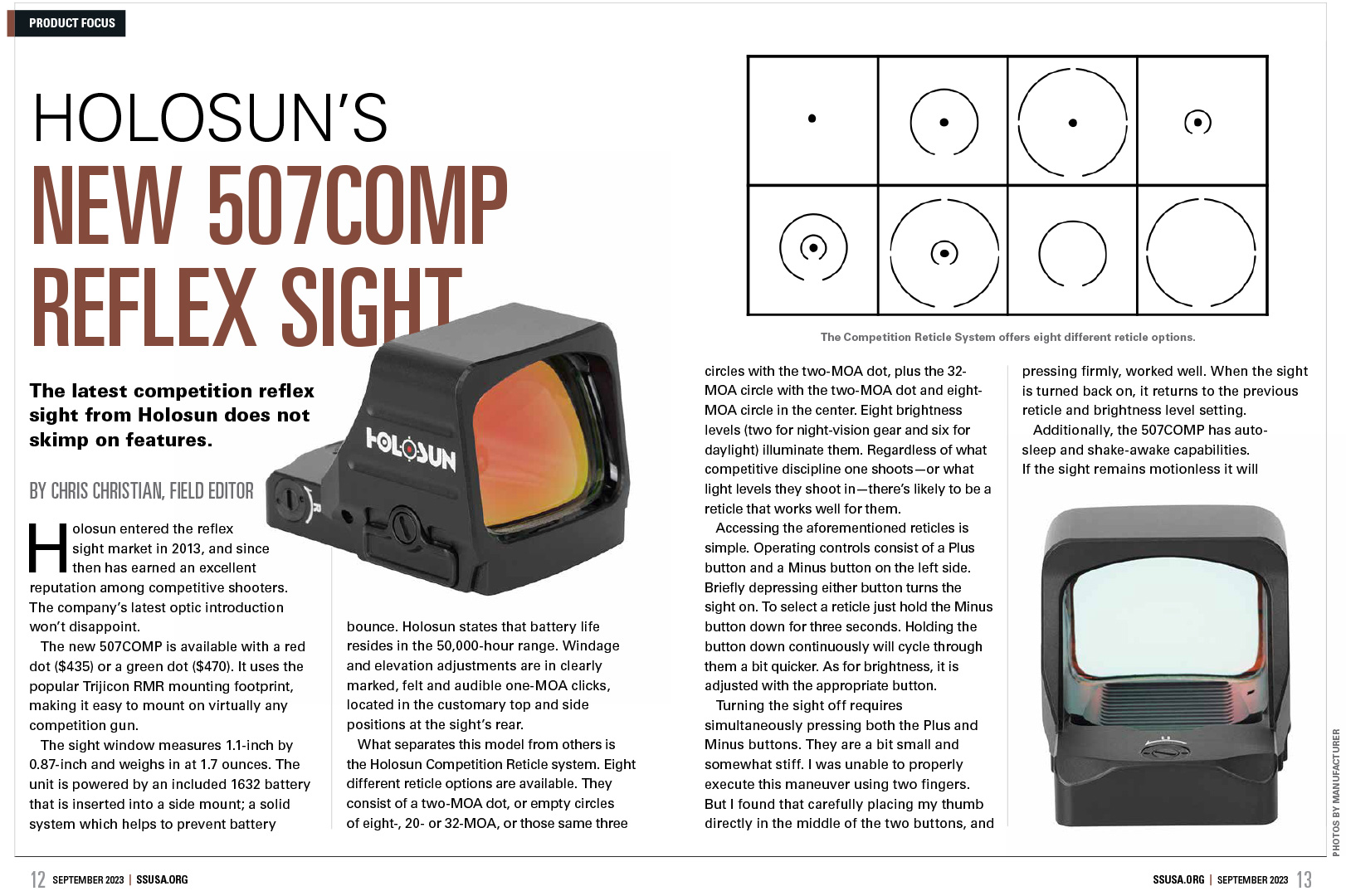 Field Editor Art Merrill this month shares the history of the No. 5 Mk I Enfield "jungle carbine," which due to a barrel shortened by four inches and other lightening work on the rifle, has vastly increased recoil bark and bite. Merrill also relays his data regarding reduced load development using Hodgdon's H4895 and its "60-percent rule" that can tame the bark and bite of the Enfield "jungle carbine."
Champion shotgunner Anthony I. Matarese, Jr., is one of the best sporting clays shooters around today, and now he has penned a new instructional book. Author Dana Farrell recently read the book, titled "Straight Shooting: A World Champion's Guide to Shotgunning." In his review, Farrell gives this comprehensive book an enthusiastic thumbs up, calling it one book "that every serious student of the game should own." If you're a sporting clays fan, you won't want to miss it.
Each year, the Daisy BB Gun National Championship is held in Rogers, Ark., and 2023 was no different. At the 56th annual Daisy BB Gun Nationals, which were conducted this past July, the team and individual champions received their titles after a jam-packed three-day tournament. The twist to this competition is that each competitor's score is comprised of more than just the shooting totals—they must also take a 100-question written test prior to the match. The test is worth 100 points towards their final scores and includes extensive safety questions.
John Parker
Editor-in-Chief, Shooting Sports USA
Are you a subscriber?
Not receiving the monthly digital magazine announcement in your inbox? Become a subscriber. Not only is it completely free, it only takes a minute to sign up and it guarantees you'll never miss a single issue of the NRA's competitive shooting journal. Subscribe here.