This issue's cover feature focuses on vision, which is something just as important to beginning competitive shooters as fundamentals like grip and sight picture. Equally essential as maintaining excellent visual acuity is determining your ocular dominance. Field Editor Chris Christian's article on sighting in new shooters includes a simple test to find which eye has stronger vision, along with techniques for handling cross dominance in rifles and pistols, i.e., when your lead eye and lead hand are not on the same side. One statistic that popped out to me—cross dominance occurs in approximately 25 percent in the population.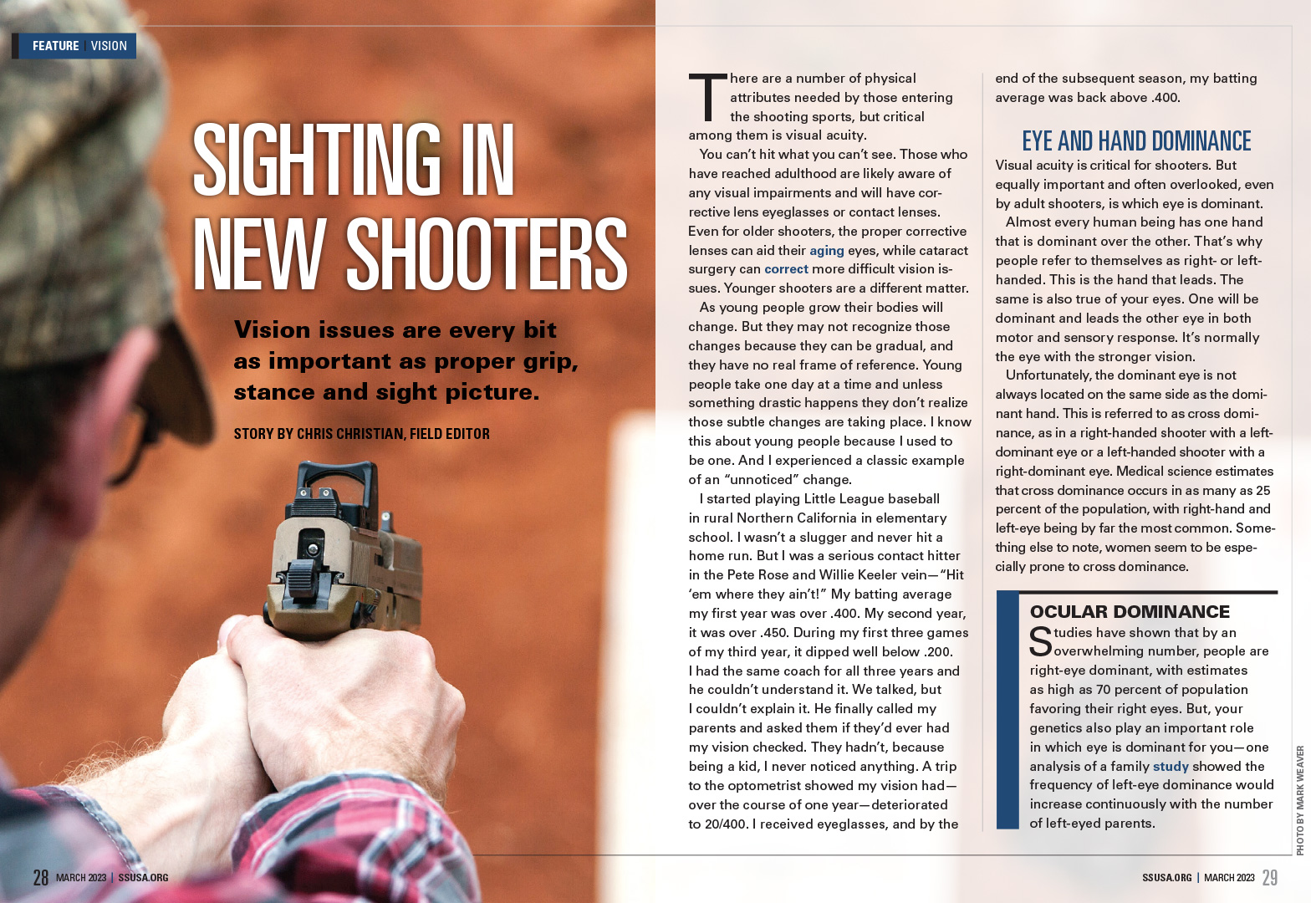 In Product Focus, you will find a roundup of match grade .22 Long Rifle ammo loads for 2023 compiled by Field Editor Art Merrill, including popular rimfire brands such as Eley, Lapua and SK. In addition, there is my preview of Smith & Wesson's newest competition pistol from the Performance Center, the aluminum-framed M&P9 M2.0 Competitor 9 mm. Sporting an optics-ready slide and four magazines in the box, just add a red dot and you're ready for action pistol competition.
With no shortage of new products, the 45th edition of SHOT Show was the biggest ever. This year, there were 2,525 exhibitors spanning two venues and more than 816,000 square-feet between them. Field Editor Art Merrill, Frank Melloni and I were among the 52,305 attendees in Las Vegas, Nev., for SHOT Show 2023, and you won't want to miss our report, which features 12 of the best competitive shooting products from the show floor.
The brainchild of pro shooter Dianna Muller, the D.C. Project is an all-women Second Amendment advocacy organization with a message that has resonated with lawmakers around the country—from state legislatures, all the way to the U.S. House of Representatives. Starting with one woman, the D.C. Project now boasts a star-studded lineup of 51 delegates from 48 states. Learn more about the D.C. Project and how its members are making a difference.
A nice pair of shooting glasses can be a solid upgrade for your clay target game. To develop its new Duster line, shooting glasses manufacturer Ranger went deep into its bench of designers, product experts and pro staff to incorporate features attractive to new shooters. Author Dana Farrell brings us the scoop this month on the Duster and its four variants.
Finally, some housekeeping—in last month's Camp Valor Outdoors feature, the lead photo on page 34 was mistakenly attributed to CVO. In fact, the shooters in this photo are members of Veterans Family Brigade, another top-notch veterans' organization started last summer by Jim Maurer and former Camp Valor Outdoors staff that fielded a team at the NRA National Matches at Camp Atterbury.
John Parker
Editor-in-Chief, Shooting Sports USA
Are you a subscriber?
Not receiving the monthly digital magazine announcement in your inbox? Become a subscriber. Not only is it completely free, it only takes a minute to sign up and it guarantees you'll never miss a single issue of the NRA's competitive shooting journal. Subscribe here.