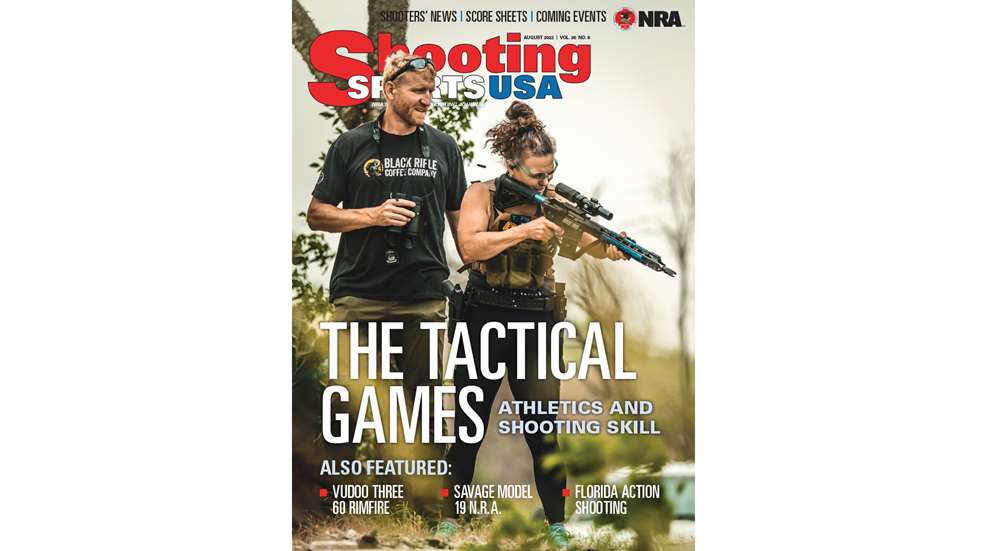 This month's Shooting Sports USA digital magazine cover features the Tactical Games, a unique mix of strenuous physical activities and marksmanship that has gained a large following with law enforcement, military and civilian competitors over the past few years. To find out more, I talked to Tactical Games champion Kirk Holmer, a former Green Beret and Distinguished Pistol and Rifle badgeholder. Holmer, who now works for Tactical Games sponsor Black Rifle Coffee Company, found out about the sport via YouTube and not long after attending his first competition, he was hooked. Read my article (page 22) to learn about this intense new sport.
In August's Product Focus (page 12), author Frank Melloni reviews the Vudoo GunWorks V-22 Three 60, the company's latest rimfire repeater. Sporting a three-lug bolt for a shorter bolt throw, he says the Three 60 is a production gun with "enough options available it can easily be considered custom." Also in Product Focus, you won't want to miss my article about the Renair ClayBot Universal Trap Carrier (page 16), a mobile trap carrier with a built-in gas motor and alternator that can provide electric power and hydraulic hook-ups for attaching external components.
With more than a century of history behind it, the Savage Model 19 N.R.A. Match Rifle is a testament to the Association's mission to foster competitive shooting. Field Editor Art Merrill is a fan, and in his article this month (page 28) he explores the glorious past of the Model 19, also giving a historic example a look with his discerning eye. This article is a must-read for fans of classic smallbore rifles.
Field Editor Chris Christian says that Florida is a paradise for retired competitive shooters. As the third most populous state, seniors are "a common sight" during matches at many clubs throughout Florida, and with no state income taxes and low property taxes, retirees in the Sunshine State gain the luxury of additional money to spend during their golden years. Be sure to read Christian's article (page 32), which includes a list of his favorite Florida gun clubs and more.
The process of ejecting a spent cartridge from a semi-automatic pistol is an engineering marvel, but it's not always perfect. In his article this month on pistol ejector tuning (page 36), author Brad Miller shares tips to help you avoid using your face as a brass catcher.
As I write this, the 2022 NRA National Matches at Camp Atterbury are in full swing. For the first time, the High Power Nationals were fired on electronic targets, supplied by Silver Mountain Targets. After a few hiccups on the first day of Across-the-Course and a quick software fix, I'm happy to report that the e-targets performed flawlessly. I'll be at the Pershing International Trophy Match during the Smallbore Rifle Prone Nationals at Camp Atterbury on August 3, please come say hi if you see me at the range. Good shooting to all!
John Parker
Editor-in-Chief, Shooting Sports USA
Are you a subscriber?
Not receiving the monthly digital magazine announcement in your inbox? Become a subscriber. Not only is it completely free, it only takes a minute to sign up and it guarantees you'll never miss a single issue of the NRA's competitive shooting journal. Subscribe here.