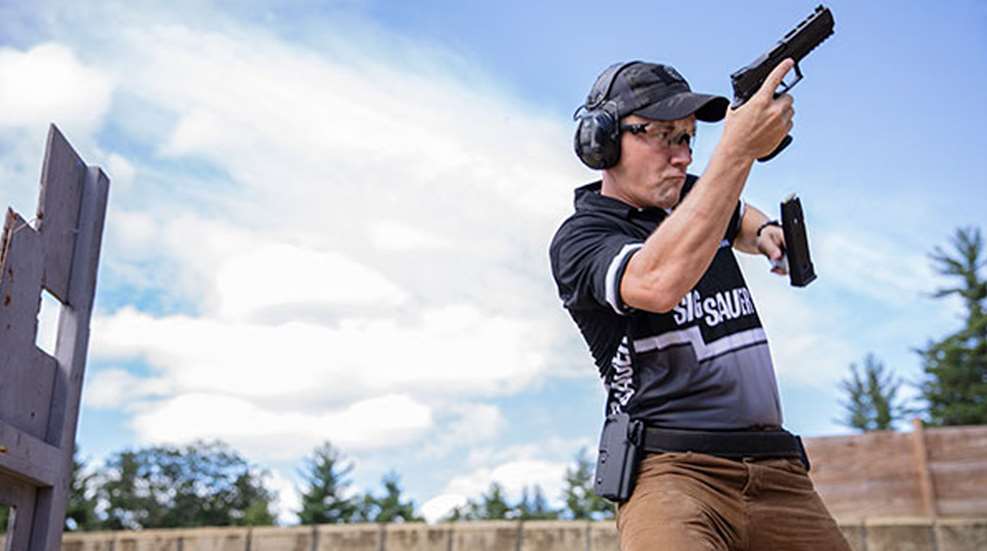 For the second consecutive year, Team SIG's Daniel Horner took top honors in Tactical Optics at the SIG Sauer Ft. Benning Multi-Gun Nationals. Held at his former stomping grounds, Ft. Benning, GA, the home of the U.S. Army Marksmanship Unit (AMU), Horner faced a talented field of 177 fellow TacOps shooters. He finished with 92.38 percent of all possible points. The match was conducted November 14-17 at Ft. Benning's Krilling Range.
Competitors at the Multi-Gun Nationals faced 12 rifle, pistol and shotgun stages with targets placed as close as two yards, and distances as far as 250 yards. Horner took the the top spot for three stages, including a sub-30 second time for Stage 4.
With the wide variety of stages, having good gear is paramount at an event like this. Naturally, as a Team SIG shooter, Horner was equipped with the best equipment the company has to offer. For pistol, he used a P320 X-Five Legion with iron sights and SIG 9mm Match Elite competition ammunition. For punching targets at distance, he was equipped with the M400 Competition rifle and SIG .223 Rem. Elite Match competition ammunition. On top of the rifle was SIG's Tango6T optic, and he also used a Kilo 2400ABS rangefinder.
"In the pistol competition, the infallible accuracy and reliability of my P320 X-Five gave me the edge I needed to win these stages," said Horner, adding, "In the rifle competition, the SIG system consisting of the SIG rifle, optic, and ammo gave me a clear advantage over the competition for long-range targets."
As a former AMU shooter, Horner enjoys the opportunity to return to Ft. Benning to participate in a competition.
"This is by far my favorite match of the season to shoot because I get to compete on my home turf, and experience the stages developed by the AMU as a professional competitor," said Horner.
---
See more:
Horner, Miculek Spectacular At 2019 USPSA Multi-Gun Nationals