by
U.S. Army, Army Marksmanship Unit, Custom Firearms Shop
posted on October 12, 2015
Support NRA Shooting Sports USA
DONATE
WARNING: All technical data in this publication, especially for handloading, reflect the limited experience of individuals using specific tools, products, equipment and components under specific conditions and circumstances not necessarily reported in the article and over which the National Rifle Association (NRA) has no control. The data has not otherwise been tested or verified by the NRA. The NRA, its agents, officers and employees accept no responsibility for the results obtained by persons using such data and disclaim all liability for any consequential injuries or damages.
Today's topic is the U.S. Army Marksmanship Unit (AMU) method for quickly applying sizing lube to cartridge cases. Our shop typically loads in up to 25,000 round lots, so honing the lubrication process can be a real time-saver.
While reader's lots probably will not be this large, the efficient methods discussed here may help save considerable time over one's handloading career. Our case lubrication rates range from 1500-1600 cases/hour to 2400-2500 cases/hour, depending on the caliber.
The AMU handloading shop uses virgin brass, whereas most handloaders use fired brass, which necessitates some small changes at times. These will be discussed. Begin with cleaned, fired brass. Remove as much tumbling media as possible; when it gets into a size die, it can dent cases significantly. It also helps to round out dented case mouths using a tapered tool—this prevents damage from the decapping stem.


The photo above shows a case lube rack made by a staffer here using aluminum channel. The tray slots are fitted to hold cases as large as 6.5x284 and 7.62 mm in 25-round rows. The rack also works well with 5.56 mm cases. Our tray uses channel with outside dimensions 5/8 inches wide by 1/2 inch high, cut to 12 inches long. The channels are mounted alternately, open-side up and open-side down, which sets the spacing on a 12 by 8 inch board.
This holds 150 pieces of 7.62 mm brass. Naturally, adjust the spacing to best fit the calibers you reload. This size rack is convenient for case handling through the phases of lubrication and transfer to progressive case feeders.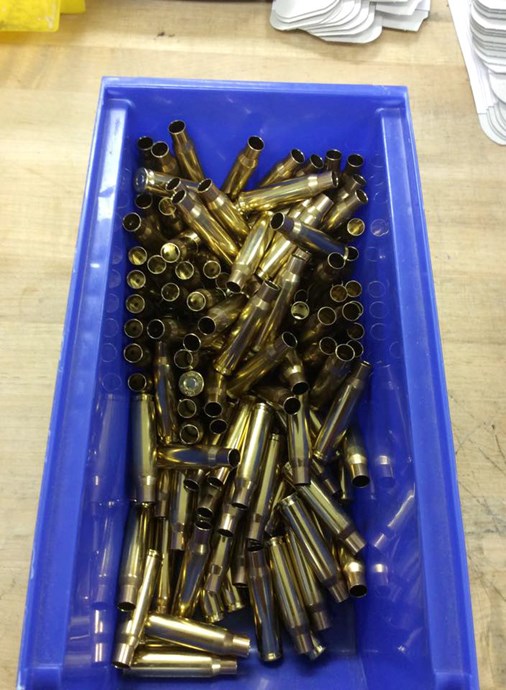 Place the clean cases into a medium-size reloading bin or cardboard box. This procedure works best with the bin well-filled—approximately 100-250 cases. The cases orient faster when they fill the bin to a depth that lets the heavy (head) end settle. Shake the bin gently so that many cases are oriented with the mouths up.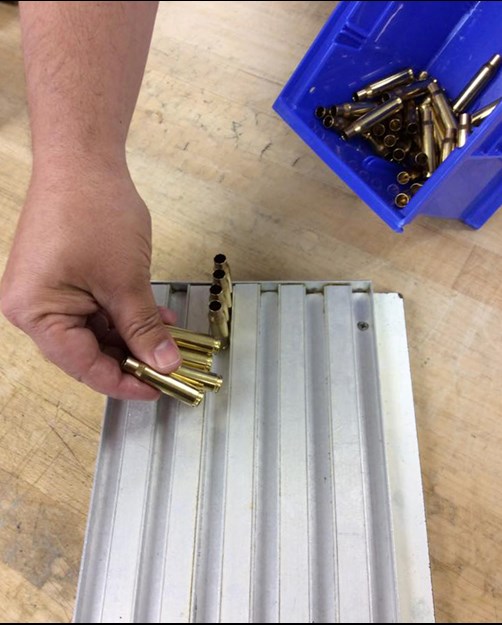 Then, pick up as many cases with the mouths "up" as is convenient, from natural clusters of correctly-oriented brass. For 7.62 mm, this is usually three to four, and with 5.56 mm, this can be approximately eight. Place cases into tray slots mouth-up. Doing this in groups vs. singly can save considerable time. As the clusters are depleted, re-shake the bin to orient more cases "up," and replenish the bin as needed.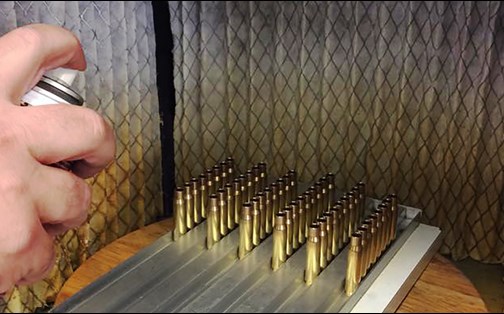 After filling the rack, use a spray lube to coat the cases adequately—but not excessively—from all sides. Be sure to get some lube into the case mouths/necks to reduce expander ball drag and case stretching. This also helps make bullet seating smoother and more consistent.
This shop uses a common kitchen turntable which allows easily rotating the rack. Being able to quickly rotate the rack improves efficiency over time. The tray and turntable rest in a custom box which prevents over-spray onto floors, walls, etc.
The spray lube the AMU handloading shop uses does not harm primers or powder and does not require removal after loading. A small test performed here involved spraying primed cases normally, but getting more lube into the case mouth/body than even a careless handloader would likely apply. Part two involved spraying the lube heavily into the cases, drenching the primers. After a several days of waiting for the lube to penetrate the primers, they were then fired in a test barrel. All fired normally.
This bolstered confidence that normal amounts of the lube would not adversely affect our ammunition, and our accuracy results have been excellent over time. We have now lubed hundreds of thousands of cases with this method without primer failures or issues.
This shop uses progressive presses with case feeders, along with carefully-set dies, to size and prime cases before hand-weighing all powder charges. Transferring the lubed cases from the rack to the feeder can be a bit daunting. Hold your hands extended upwards from the rear portion of the rack to help guide cases into the feeder. Then, place the rack's narrow end into the feeder and tilt the rear end up so the cases fall straight into the feeder bin. This prevents cases from spilling over the sides and getting dented.
A refinement of our method which especially speeds processing of 5.56 mm cases is as follows. A small cardboard box which holds about 100 cases is fitted with an angled "floor" secured by tape. Approximately eight to ten of the smaller 5.56 cases per handful can be picked up, already correctly oriented, and placed into the box together. This prevents having to place them into the rack slots, saving time.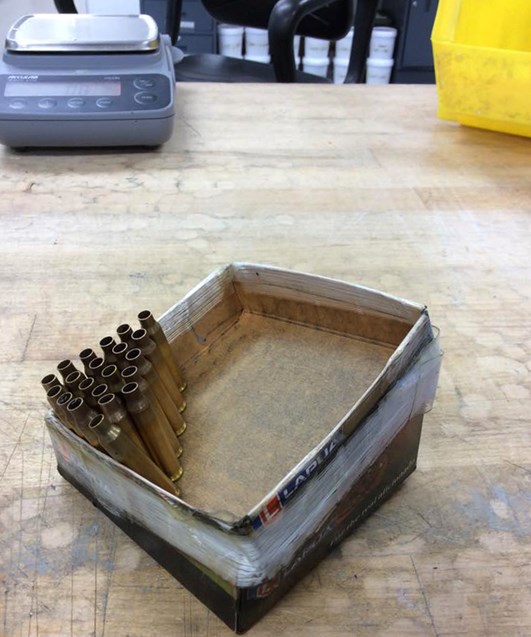 HOWEVER, please note that this approach does not allow nearly as much lube access to the case bodies as does the tray. For our purposes—neck-sizing new brass—this works well. If using fired brass, ensure adequate lube is applied to prevent stuck cases.
As always, we hope this will help our fellow handloaders—good luck, and good shooting!
SSUSA thanks the U.S. Army Marksmanship Unit for allowing the reprint of this article.