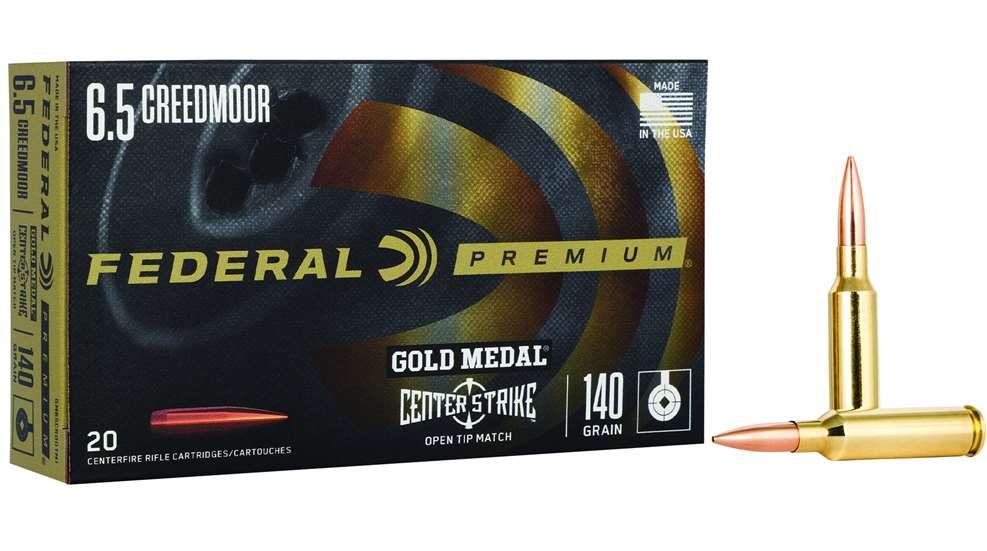 Federal Ammunition recently introduced a new product line of match-grade 6.5 Creedmoor rifle ammunition to its Federal Premium Gold Medal CenterStrike offerings.
The new 140-grain 6.5 Creedmoor load is currently shipping to dealers. Additionally, the 168-grain and 175-grain .308 Win. loads have been shipping since May. Next, a 77-grain .223 Rem. load will ship in the next few months.
More from Federal: "These new match-grade loads sport a proprietary open tip match design, sleek profile and extremely tight specifications for the ultimate long-range accuracy and consistency."
Here are some features that make Federal's CenterStrike product line special—the aforementioned precision-built open tip match bullet design, along with the high ballistic coefficient design, Gold Medal primers and brass, plus a specially formulated propellant.
Federal Ammunition Gold Medal CenterStrike loads are available in .308 Win., 6.5 Creedmoor and .223 Rem. Sold in 20-round boxes, the ammunition has MSRP ranging from $36.99 to $47.99.
Learn more at federalpremium.com.