by
Chris Christian, Field Editor
posted on April 23, 2022
Support NRA Shooting Sports USA
DONATE
Action shooting organizations divide their semi-automatic handgun competitors into separate divisions to assure that like guns shoot against like guns. The United States Practical Shooting Association (USPSA) and its affiliate Steel Challenge (SCSA) use the same gun division rules, although SCSA has no Power Factor (PF). Further, the International Defensive Pistol Association (IDPA) has its own gun division rules.
Shooters who are established in one of these organizations, but wish to try another, are faced with the problem of figuring out which division their gun(s) will legally fit. Or, if they will fit. USPSA and SCSA Open class is not a concern, because these full-blown race guns are only used in those organizations.
Beyond that one division, many guns will cross organizational division lines, albeit with a different division name. Here's a look at how shooters can make the shift without having to buy a new gun.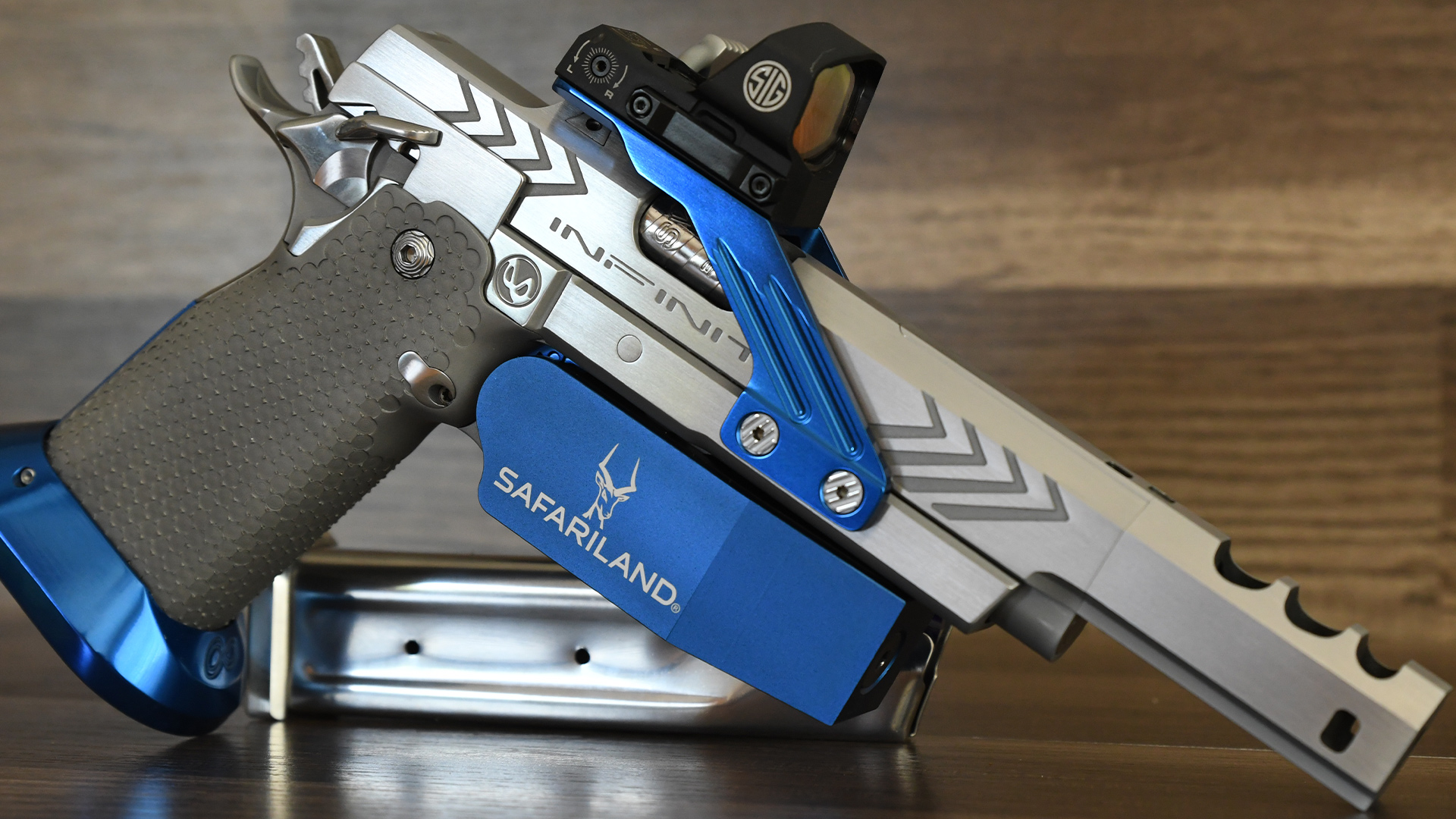 USPSA and SCSA Production divisions are designed to accommodate full-sized "duty-type" semi-automatics. The operating actions must be either striker-fired, double-action/single-action or selective double-action/single-action. The double-action guns must start from a hammer-down condition. Post-and-notch sights are required; no optics. The minimum caliber is 9 mm or .38, and regardless of caliber, the division is shot as Minor with a 125 Power Factor. Magazine capacity is 10 rounds. The maximum weight is 59 ounces with an empty magazine inserted and the gun must fit the Production box. Additionally, guns used must also be on the USPSA-approved Production list.
Although called a Production division, the list of allowable modifications is extensive. While compensators and ported barrels and slides are not allowed, ported slides are okay with a non-ported barrel. Slides and barrels can also be replaced with aftermarket models. Slides may be machined to accept aftermarket sights. Internal action work and aftermarket parts replacement are allowed, but all factory safety devices, both internal and external, must remain functional.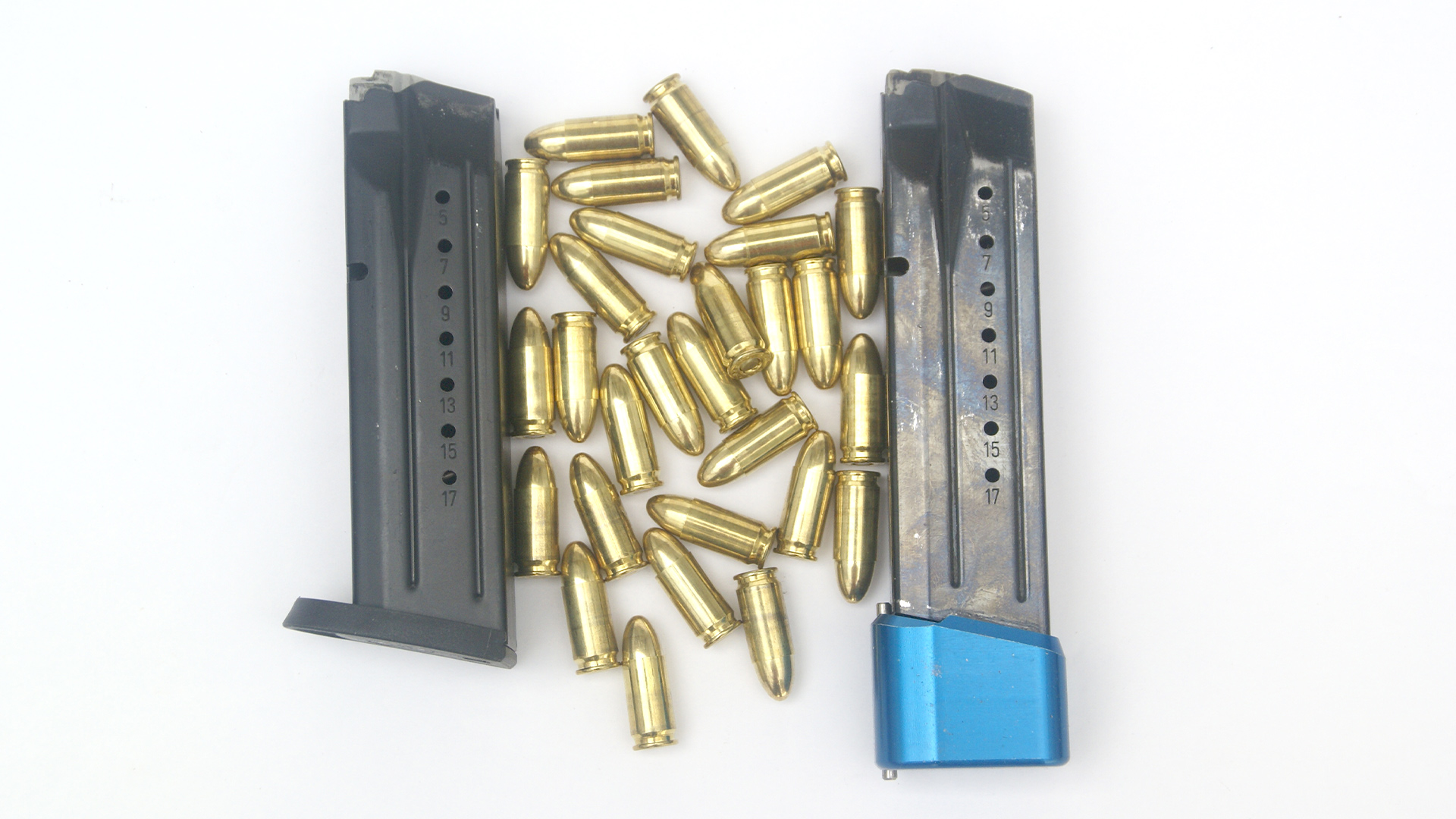 IDPA has two divisions—Stock Service Pistol (SSP) and Enhanced Service Pistol (ESP)—where these guns can fit. Both require the same operating actions, the same 9 mm minimum caliber, 125 PF and 10-round capacity limit. But there are some hurdles. First is the overall weight. Both IDPA divisions limit weight to 43 ounces with an empty magazine inserted. Both guns must fit the appropriate IDPA boxes, which are similar to USPSA. After that, gun modifications come into play.
Stock Service Pistol is basically that—stock. Compensators, barrel and slide ports, or just slide ports are not allowed. Sights may be replaced with post-and-notch aftermarket sights, but the slide may not be machined to accept them. They have to fit the original dovetails. Slides, barrels and controls must be OEM (Original Equipment Manufacture specification) parts and drop-in fits, although aftermarket extractors and pins are allowed. Frame modifications are not allowed, but grip tapes are authorized. Internal action work is legal, but that's about the limit.
Enhanced Service Pistol is more forgiving. Compensators and ported slides and barrels are not allowed, but ported slides are with a non-ported barrel. Aftermarket slides are verboten, but aftermarket barrels are allowed. Beyond that, ESP allows the same Production-division modifications, and also allows selective double-action/single-action guns to start in a cocked-and-locked single-action condition. Any handgun legal in SSP is also legal in ESP.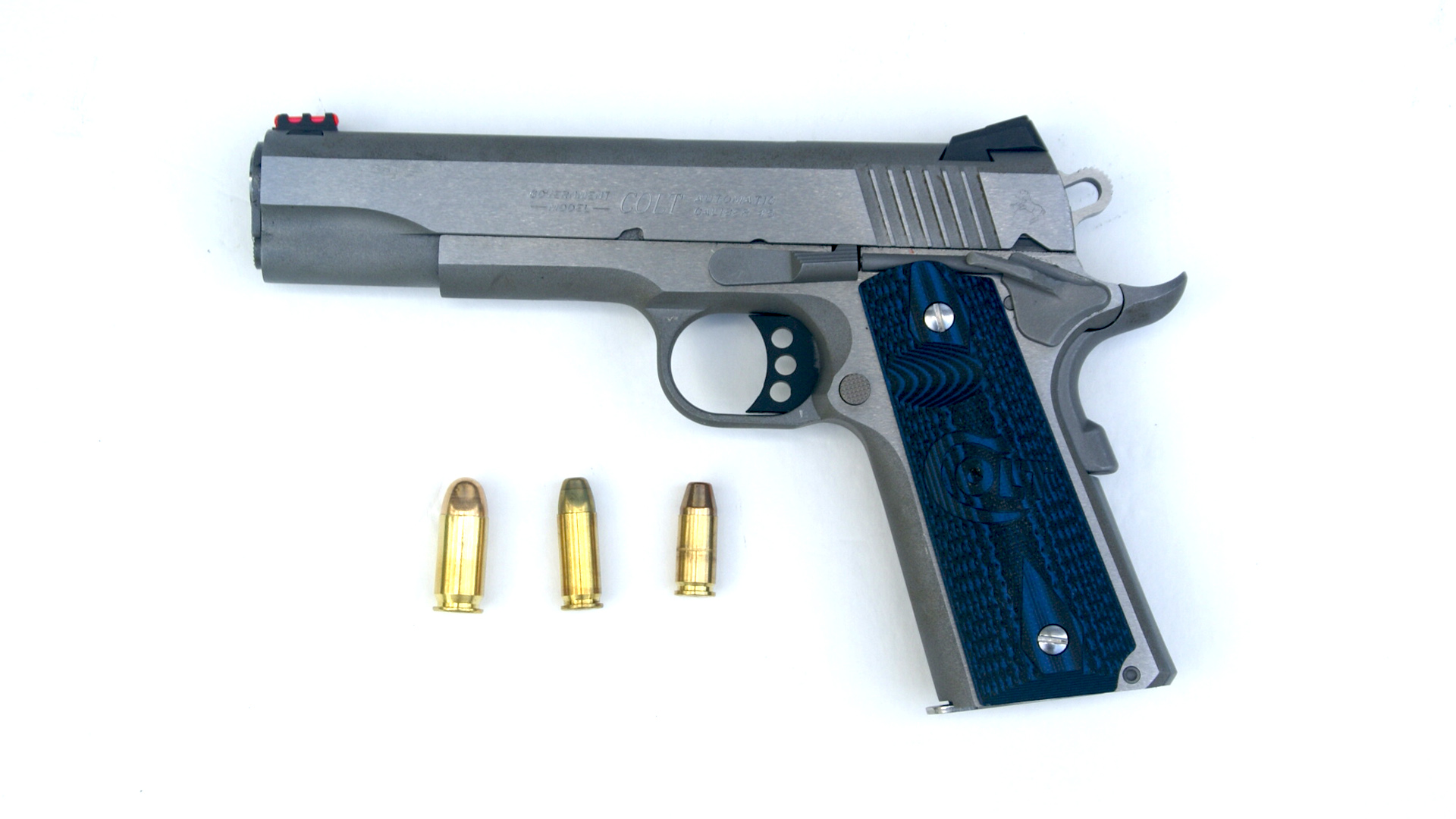 USPSA and SCSA Single Stack (SS) divisions require an original John Browning-patterned 1911 model gun that is available to the general public, with a steel frame and single-stack magazine. Wide-body 1911s are not allowed. The guns must use a barrel bushing, unless the barrel is 4.2 inches or less, which allows cone barrels. Slide milling for replacement sights, serrations and lowering the ejector port are allowed, but slide lightening and ported slides are prohibited.
Single Stack division is split into two sub-divisions.
Single Stack Minor requires a minimum caliber of 9 mm or .38, with a 10-round magazine capacity, and a 125 PF. SS Major requires a minimum .40 or .357 SIG, with an eight-round capacity and 165 PF. USPSA has a 45-ounce weight limit, while SCSA uses 43 ounces. If the 43-ounce weight limit can be met, these guns are a seamless fit into IDPA.
IDPA Enhanced Service Pistol is a perfect match for Single Stack Minor—same minimum caliber, PF, gun modifications and magazine capacity. Larger bore guns can shoot there at the 125 PF, and if they can't make the 10-round magazine capacity they can load to their magazine capacity. However, if the gun is chambered for .45 ACP, it's a perfect fit into Custom Defensive Pistol (CDP), with a 165 PF and eight-round magazine capacity. It's no different than SS Major, but .45 ACP is required in CDP division.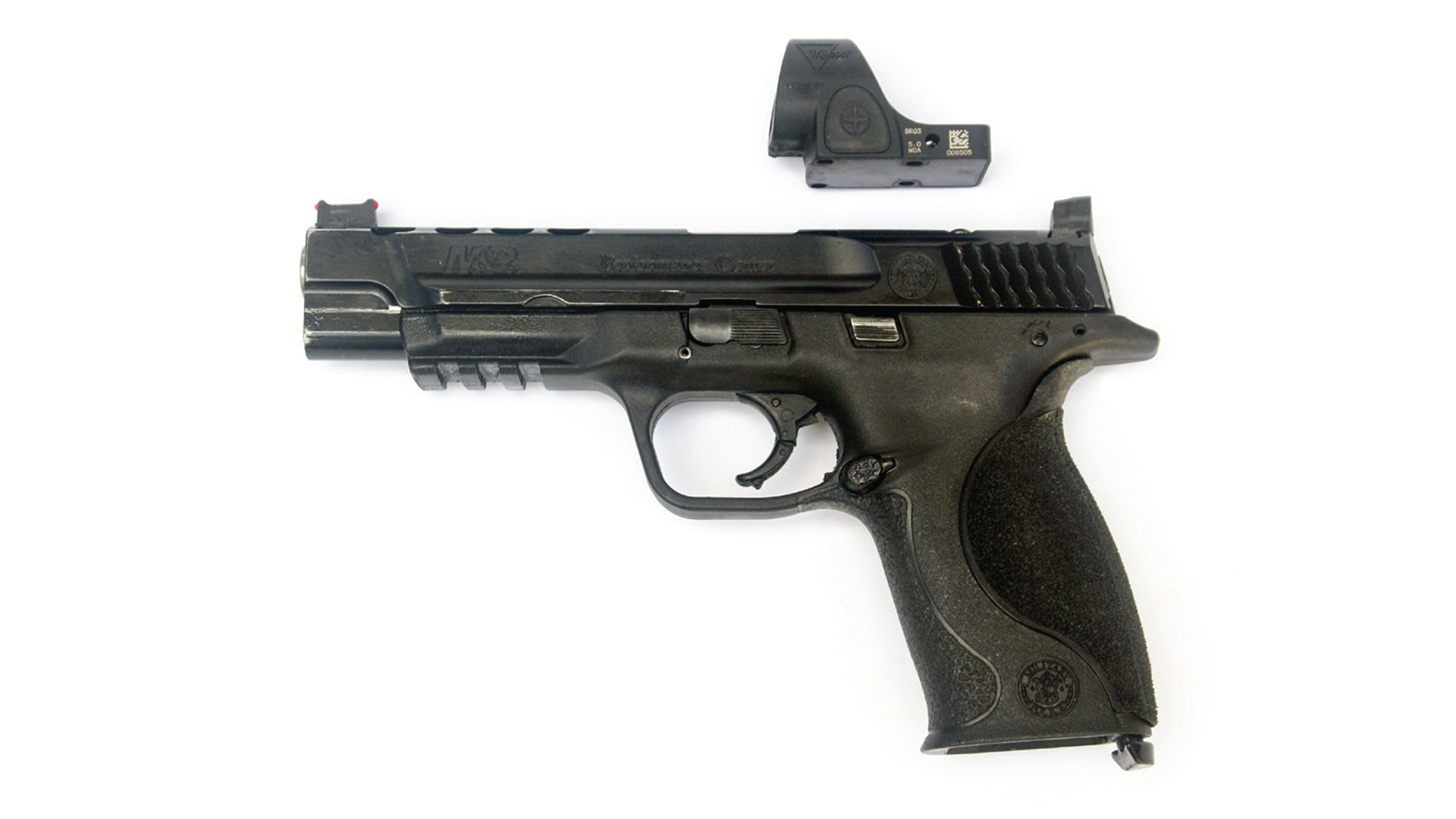 USPSA and SCSA Carry Optics (CO) requires a Production division-legal gun with a reflex sight mounted behind the ejection port. Magazines of up to 141.25 mm are allowed, and can be loaded to full capacity. Minimum caliber is 9 mm and Carry Optics is shot in Minor (125 PF), regardless of caliber.
IDPA Carry Optics requires an Enhanced Service Pistol-compliant gun with a reflex sight mounted behind the ejection port. As we've seen in the above Production to ESP transition, a USPSA CO gun that makes the IDPA 43-ounce weight limit is legal. But it will need a flush-mounted magazine with a 10-round capacity. Extended magazines are not IDPA legal. This can be a smooth USPSA CO to IDPA CO transition, but the reverse isn't true. Enhanced Service Pistol allows single-action guns, and a reflex sight mounted on one is legal. It's not legal in USPSA and would be bumped to Open.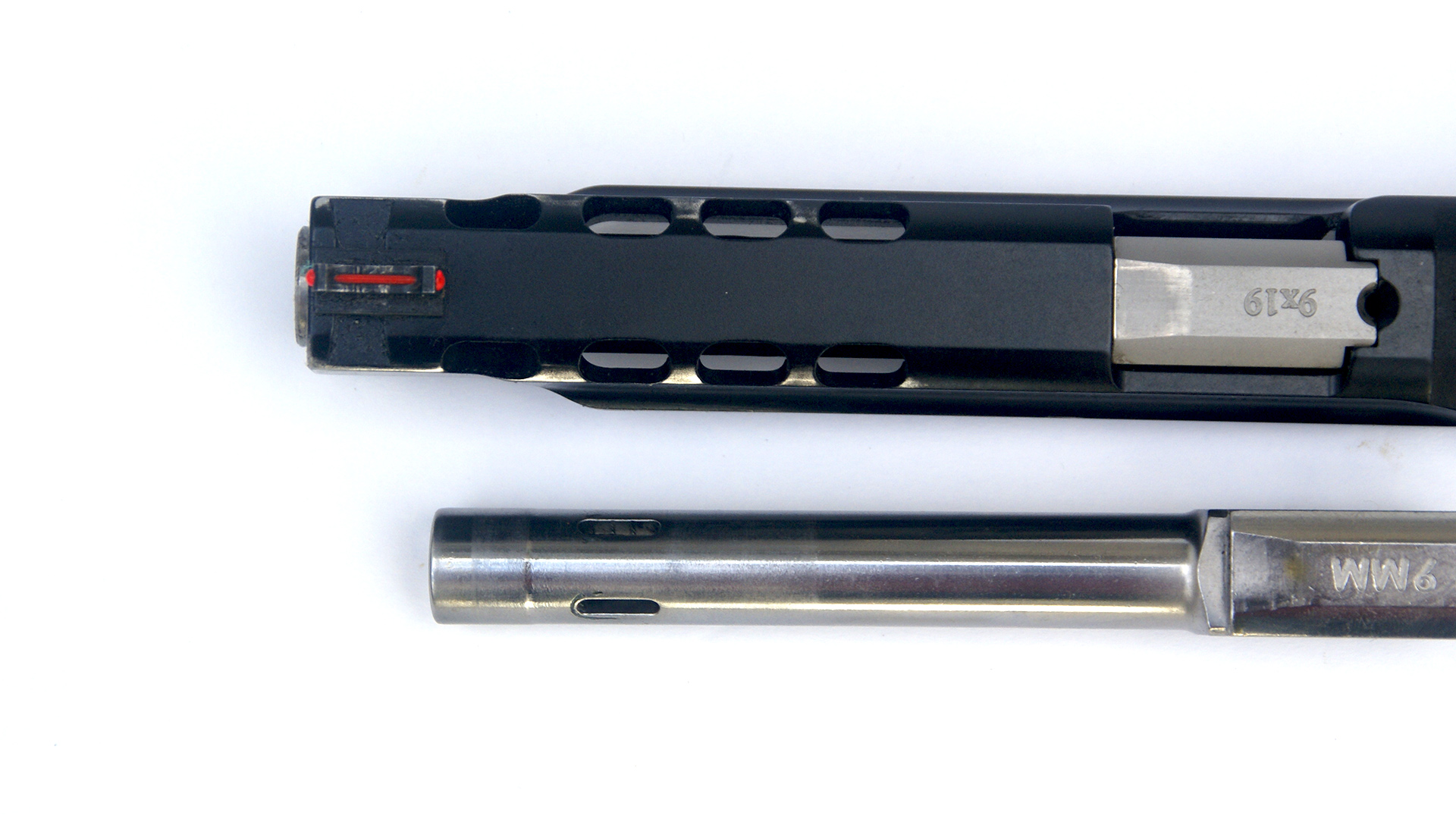 USPSA and SCSA Limited and Limited 10 divisions allow a wide range of semi-automatic handguns. There is no gun size or weight limit. Operating actions may be single-action, double-action/single-action or selective double-action/single-action. Compensators and ported slides and barrels are prohibited, but ported slides are allowed with a non-ported barrel. Sights must be iron post-and-notch, but beyond that any gun can play.
These divisions are shot as Minor 125 PF with a 9 mm or .38-cal. minimum, or Major 165 PF with .40 or .357 SIG minimum. Double-stack guns may use 141.25 mm length magazines, while single-stack guns can use 171.25 mm, and all can be loaded to full capacity in Limited. The only difference between Limited and Limited 10 is the latter is restricted to a 10-round magazine capacity.
Limited and Limited 10 guns fit into IDPA Enhanced Service Pistol division if they meet the 43-ounce weight limit. They will also need a flush-fitting magazine and fit the IDPA ESP box—but many of these guns will. It's almost a duplicate of Limited 10, but only shot as Minor 125 PF.
Semi-automatic gun division rules may sound a bit confusing to those looking to try a new match. And while any excuse to buy a new gun is a good one, it's not always required if a competitive shooter wants to try a different action shooting organization.
HELPFUL LINKS