by
Chris Christian, Field Editor
posted on October 31, 2018
Support NRA Shooting Sports USA
DONATE
Above: Well Armed Woman team member, Natasja Brant, nails -0 hits on the 25-yard target with a Carry Optics gun.

Recent years have seen some notable changes to the rules governing the International Defensive Pistol Association (IDPA). But the early 2018 introduction of Carry Optics, as a Provisional Specialty Division, could be one of the most significant.

The United States Practical Shooting Association (USPSA) introduced the Carry Optics (CO) division several years ago, and their firearm requirements were rigid. The handgun used must have an optic installed directly onto the slide, and the gun must be a firearm currently listed on the approved Production handgun list. A recent change was allowing magazines of up to 140mm in length to be loaded to full capacity, which gave rise to the nickname "Open Light;" since some can hold 22 to 23 rounds of 9mm.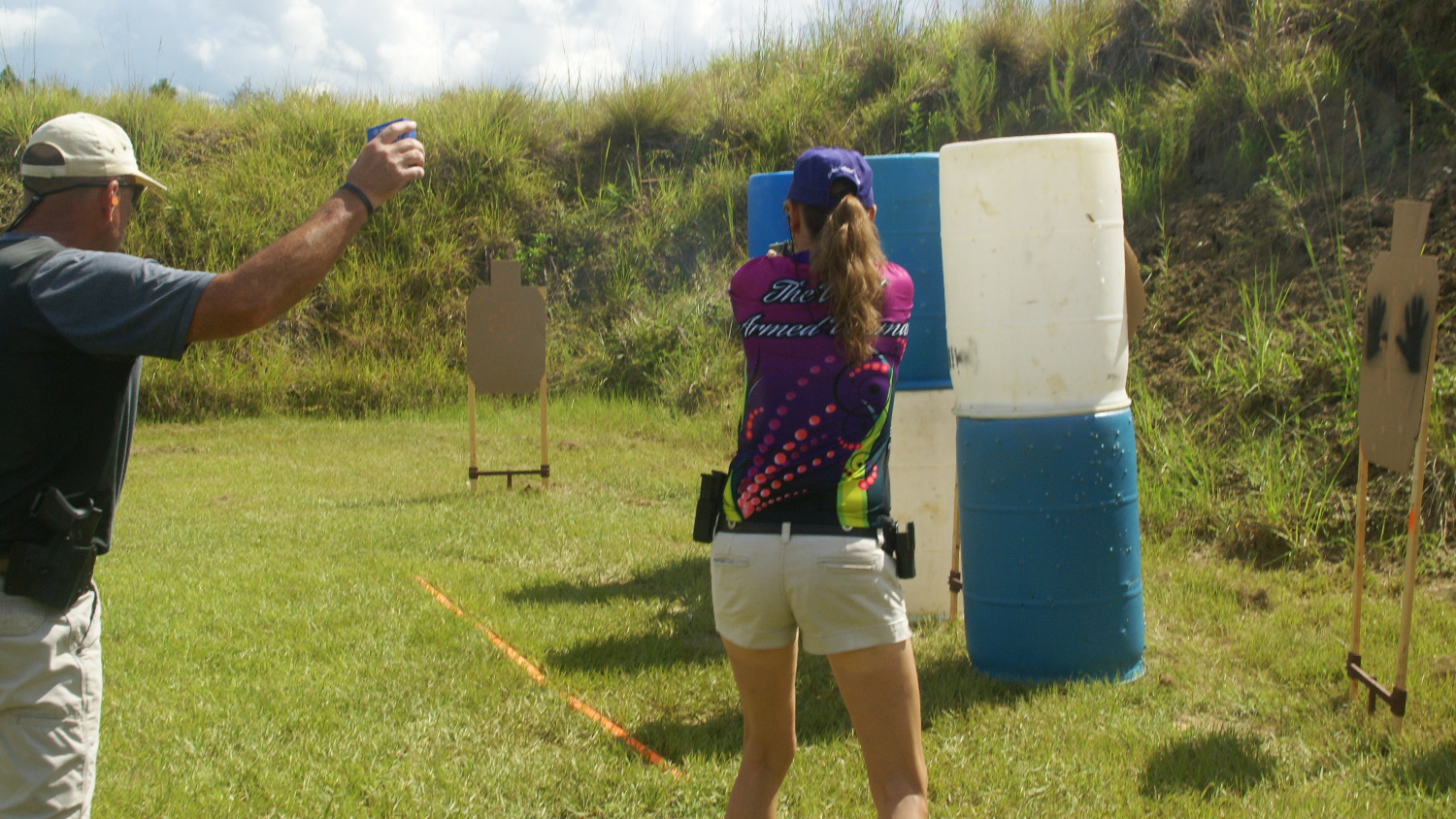 IDPA's CO rules differ greatly, and as a Provisional division they are subject to change. As well, as a Specialty division its inclusion in a match is subject to Match Director approval. But reports are that most MDs are "on board" with CO.

In terms of authorized equipment, IDPA Carry Optics goes far beyond USPSA.

Current rules state—"Handguns, associated modifications, restrictions, holsters, magazine carriers, start condition and division capacity shall be compliant with ESP Division requirements, except as it relates to sights, lasers, and overall weight. The maximum weight including an empty magazine shall not exceed 45 ounces."

Enhanced Service Pistol (ESP) is the most equipment-lenient division within IDPA and this opens the door to a number of handguns that would not be allowed in USPSA/Steel Challenge CO. IDPA shooters with a single action handgun, like the various 1911 models or Browning Hi-Power (legal in ESP), can install a reflex sight and play. Striker-fired guns, currently allowed in IDPA SSP, ESP, CCP, and CDP are certainly allowed. So too are traditional DA/SA handguns, like the Beretta 92 series, and selective DA/SA guns like the CZ-75 series.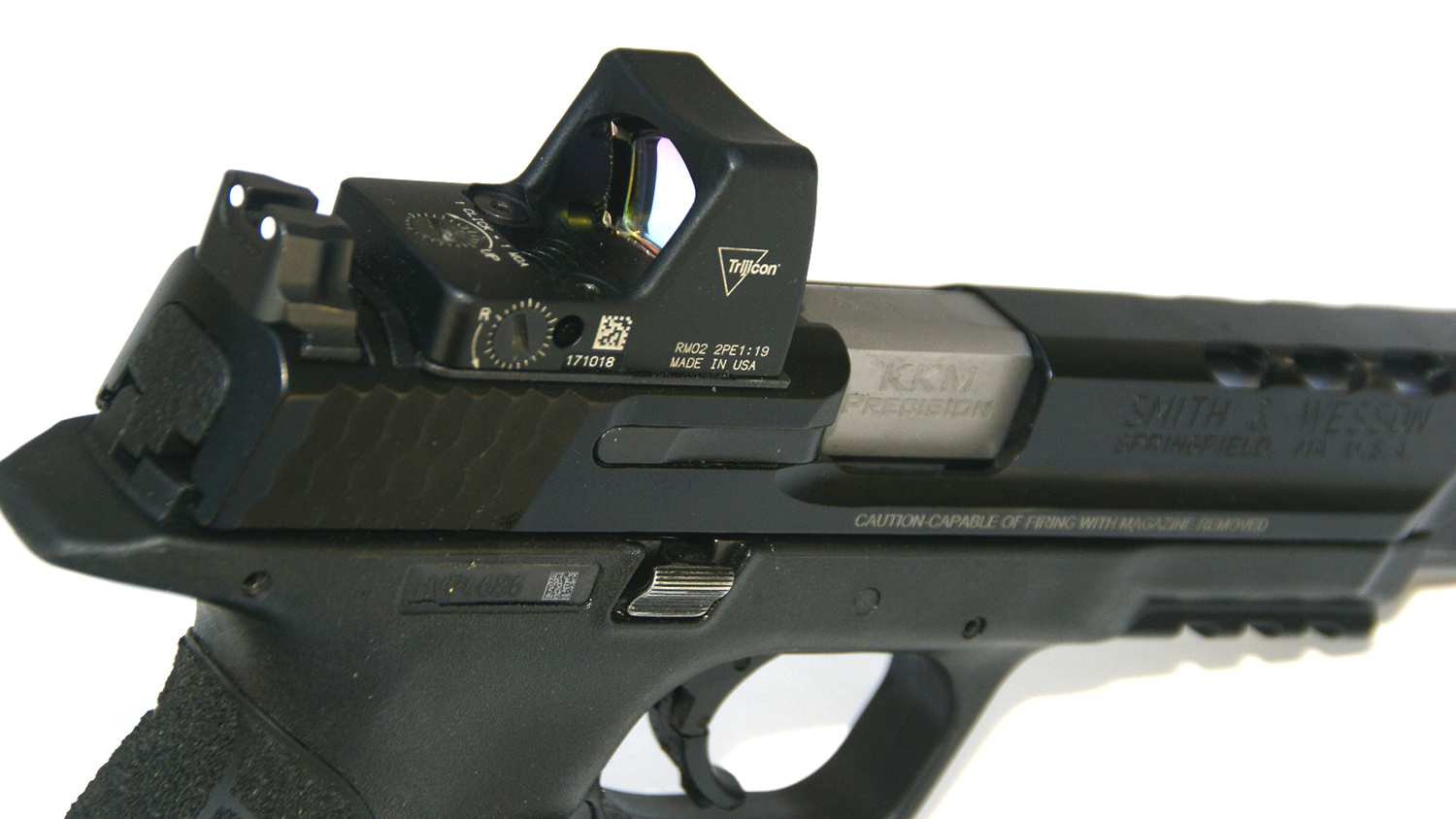 If it qualifies for ESP it is "good to go" with optical sights.

The optical sight rules also go beyond USPSA. Reflex sights may certainly be used, and like USPSA they must be mounted directly to the slide, between the rear of the slide and the ejection port. The big difference is that active laser sights that project a beam of light (either red or green) may also be used. They must be mounted on the frame or the pistol's grip.

The CO pistol must still fit the IDPA "Test Box." But the box for CO is altered. The "Box" is the same size, but according to current rules: "Test boxes modified by opening the side of the box opposite the hinges to allow the optic to protrude outside the normal dimensions of the box. This is accomplished by measuring 1 inch inside both corners and cutting away 7 inches to create an opening that continues to fit standard pistol and carry optic firearms with an empty magazine inserted and the lid to completely close."

If a shooter's gun fit the box before the slide-mounted sight was installed, it'll fit after.

A Classifier Stage score has been established for CO. But those not currently classified can shoot the match by simply using the highest IDPA classification they hold.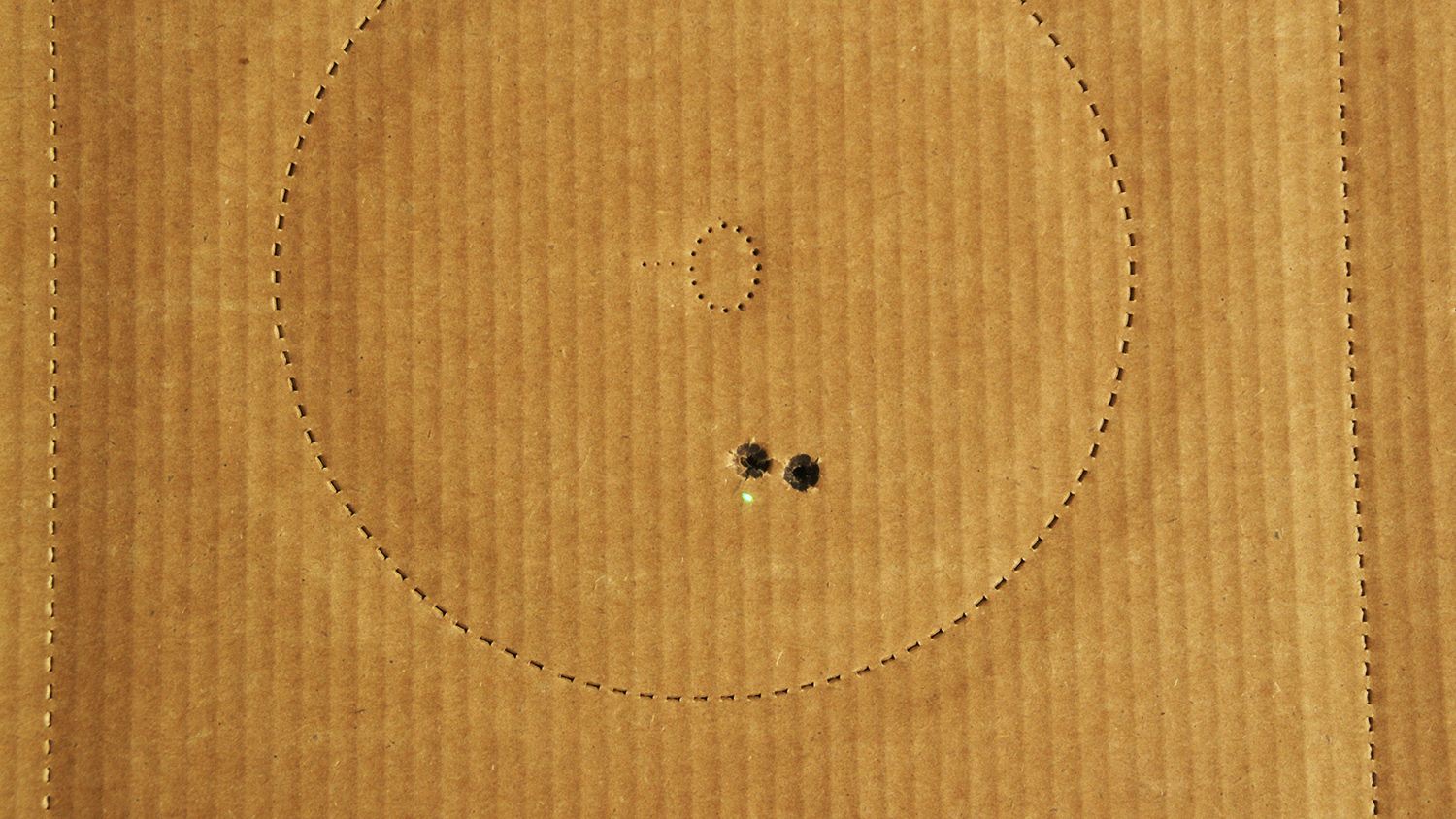 Given the acceptance of shooters and MDs, CO is likely to become popular. But, it's not the first division to allow optical sights and lasers.

A couple of years ago IDPA allowed Pistol Caliber Carbines (PCC) as a Specialty Division. As such it is subject to Match Director approval for inclusion. IDPA HQ notes that not all MDs are on board at the moment. For those clubs that do approve PCC, shooters will find only a few changes from USPSA PCC rules.

Carbines permitted for IDPA must be semi-automatic and use 9mm, .357 SIG, .40 S&W, 10mm, or .45 ACP. They must be designed to be fired from the shoulder and have a shoulder stock installed. Optical sights, lights and lasers may be installed and used. The list of allowable modifications is too lengthy to list here, but they virtually mirror USPSA equipment rules.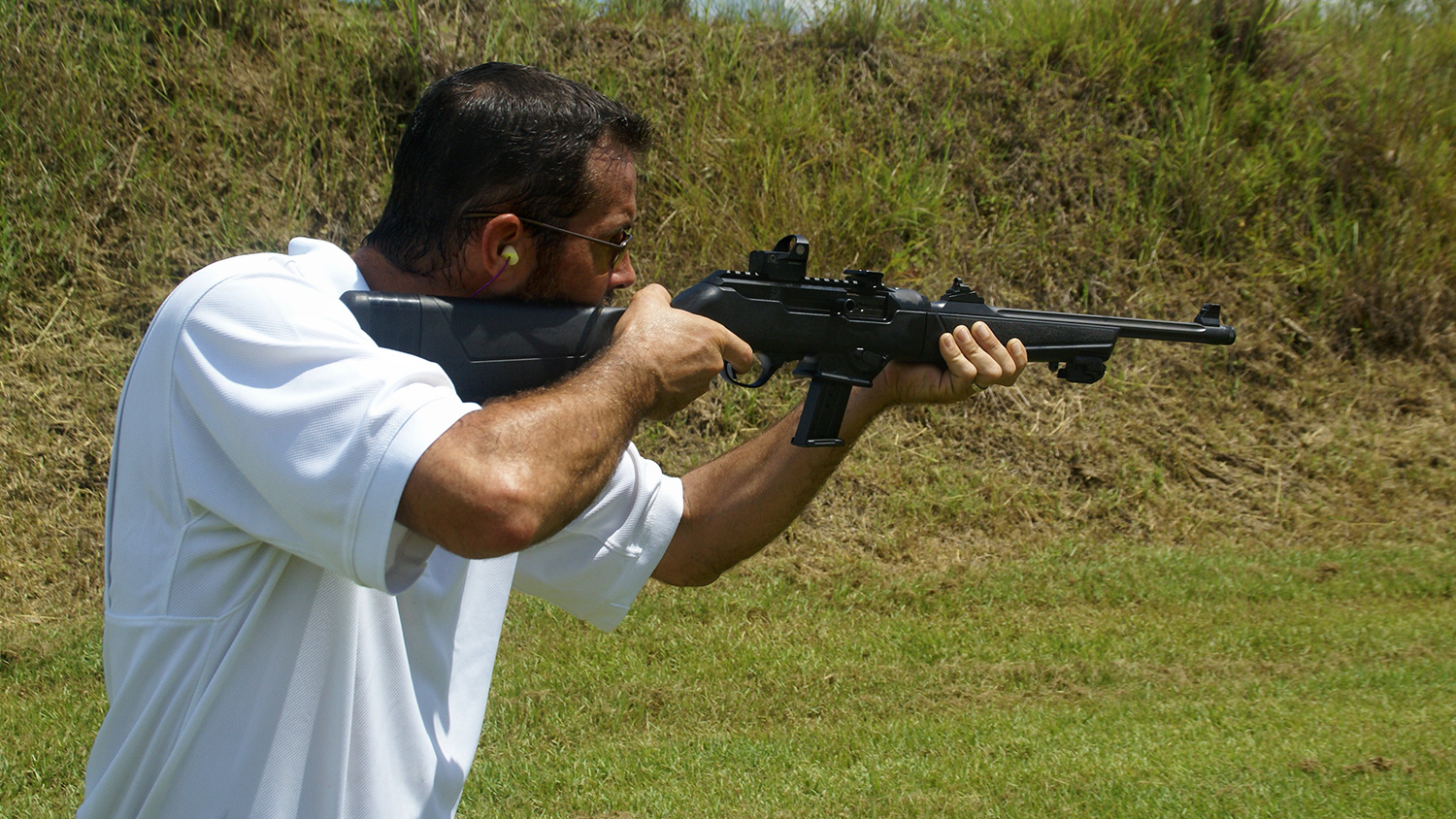 One exception is magazine capacity. USPSA has no capacity rule. IDPA limits capacity to 30 rounds, although 30-round mags are not required. Shooters may use lesser capacity pistol magazines, and may down load those, or 30-round magazines, if desired. This is hardly a handicap, since 18 rounds is about the longest continuous course of fire that IDPA shooters will encounter. Shooters are allowed to carry two additional magazines. They may be mounted on the belt behind the hip bone (as in the pistol divisions), or shooters may carry magazines in pockets located below the belt, or stuffed into their waistband.

Another change is that USPSA scores all carbines as Minor, meaning only a 125 PF is needed. IDPA requires a 135 PF—which most PCC shooters in either game are already making.

A significant change is in the Default Start Position. Unless otherwise specified by the COF description, the USPSA default position is with the butt of the carbine touching the belt and the muzzle "pointing generally downrange." If targets are close and in front, USPSA shooters can have their laser right on the A Zone before the BEEP.

IDPA requires this—"Default position is facing down range at Low Ready (this is off hand with the muzzle oriented at the base of a target or 45-degrees). Finger clearly visible outside of the trigger guard." Stage descriptions may include other starts such as unloaded, or table starts, and others common to handguns. But "facing up range starts" are prohibited.

This can somewhat slow the initial advantage USPSA PCC shooters can realize, but not by much. And, the laser is still very handy for peeking around tight barricades at close targets.

Cover garments are optional for PCC shooters, and a chamber flag will be required when the gun is not on the line and being fired.

A PCC Classifier has been established, but those not currently PCC Classified may shoot using their highest IDPA pistol classification.

For those who prefer reflex sights and lasers, these new divisions are a welcome addition to this popular action shooting game.