by
U.S. Army, Army Marksmanship Unit, Custom Firearms Shop
posted on April 22, 2016
Support NRA Shooting Sports USA
DONATE
WARNING: All technical data in this publication, especially for handloading, reflect the limited experience of individuals using specific tools, products, equipment and components under specific conditions and circumstances not necessarily reported in the article and over which the National Rifle Association (NRA) has no control. The data has not otherwise been tested or verified by the NRA. The NRA, its agents, officers and employees accept no responsibility for the results obtained by persons using such data and disclaim all liability for any consequential injuries or damages.

NOTE: Several very useful safety and technical tips regarding progressive presses were offered in this article. Any who missed it are strongly encouraged to read it, as several are not intuitive to people who aren't very familiar with progressive presses.

In a previous article, we addressed manually-operated progressive presses for the beginning handloader. This type of press requires one to manually advance the shellplate after each handle stroke. An advantage for beginners is that nothing happens at any station until the loader wants it to. This helps avoid problems from clearing malfunctions without noticing the shellplate has advanced itself.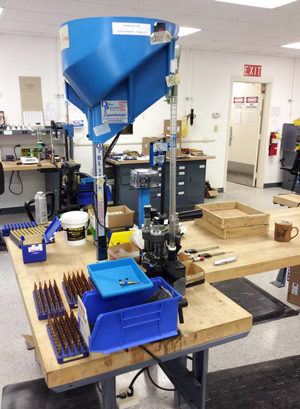 The next, more luxurious type progressively advances the shellplate automatically whenever the handle is cycled. Typically, each stroke automatically sizes and primes a case, operates the powder measure (if used) and seats a bullet. Some also have case feeders that automatically put a new case in the shellplate with every cycle. Others require the loader to insert a case each cycle. With both types, the loader usually puts a bullet on each sized/primed/charged case.

CAVEAT: While our handloading shop has several progressive presses, ALL of our powder charges are thrown/weighed by hand. We do not use powder measures on our presses. Our progressives are used for brass preparation, priming, seating, etc., but not for fully-progressive loading.

The manually-advanced press can be a boon to beginners, but as one gains experience it can be a mixed blessing, depending on one's style. If one pays close attention to every operation and loads without distractions, the manual press is very reliable and allows for full scrutiny of each round as it's loaded. However, if one easily drifts into daydreaming, or isn't focused on paying careful attention at all times, the manual progressive can be a bit of a liability. The opportunity for forgetting a powder charge, leading to a squib load, is ever-present.

The automatically-advancing progressive helps prevent this by ensuring a powder charge will be dropped each time the handle is operated. Experienced handloaders often appreciate this feature due to the savings of time and effort.

Individual preferences between the two press styles are influenced by several factors. These include one's comfort with more vs. less complicated mechanisms, how often one changes calibers (case feeders often must be converted, in addition to dies and shellplates), how many rounds one loads annually, relative ease of changing primer mechanisms from small to large, etc. Automatic progressives tend to be significantly more expensive than manual progressives from the same maker.

One AMU handloader who likes simple, bullet-proof machines and maximum efficiency when converting presses, owns two manually-advanced progressives. One is set up for large primers, and the other for small primers. He can change calibers in the twinkling of an eye. As he loads for many different calibers, this fits his style.

Another handloader here is just the opposite. He loads for a few calibers, but in larger quantities. He much prefers his self-advancing press with case-feeder for its speed. He makes large "lots" of ammo in a given caliber before switching, to improve overall efficiency. His caliber conversion kits are significantly more expensive than those for the manually-advanced progressive, but he uses fewer of them.

Whichever type one chooses, it is VERY important to buy quality gear from a manufacturer with a long, well-established track record for quality, durability and good customer support. Avoid jumping on the "latest, greatest" model until it has a proven track record. For example, this writer knows a loader who got a brand-new, expensive, self-advancing model press some years back, shortly after its introduction. As is too often the case, the manufacturer released it before all the "bugs" were worked out.

It would not fully seat primers to the correct depth. No amount of adjustment, extra force, or fiddling would do better than to seat primers flush with the case head. Any inattention could result in a slightly "high" primer, protruding above the case head.

It created a risk for slam-fires, particularly in semi-autos without spring-retracted firing pins. In desperation, he had a machinist buddy study the problem and machine a new part to correct it. No dice. Its engineering didn't permit full primer seating, even with extended parts. He now wishes he'd heeded his shooting buddies' advice to stick with the "tried and true," reliable performer they all used.

Whichever press one selects, see if the maker has a kit or list of commonly-replaced parts. Having needed springs, pins, etc. on hand in the rare event that one breaks or "goes missing" can save the day when one is busy loading for a match!

In our next article, we'll discuss peculiarities of progressive loading for rifle cartridges, with remedies for problems such as excessive cartridge-case headspace variation when sizing, ensuring best powder charge consistency, etc.
SSUSA thanks the U.S. Army Marksmanship Unit for allowing the reprint of this article.