by
Chris Christian, Field Editor
posted on July 13, 2015
Support NRA Shooting Sports USA
DONATE
Achieving your best in any shooting competition is tough enough, even when everything goes right. Moreover, if you suffer an equipment problem, your match can be trashed.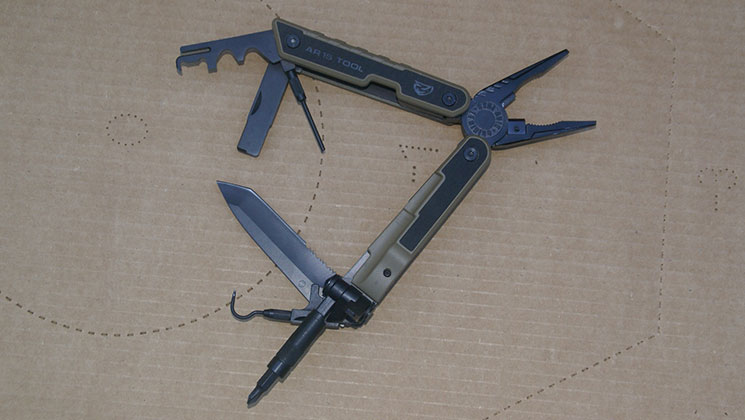 It doesn't have to be a major problem. Loose grips on a handgun, wobbly optical sight mounts, retaining pins backing out, tension screws on a holster or magazine carriers loosening, or any other minor equipment malfunction can hurt your score. Most veteran shooters have experienced one, or more, at a match.
Other than a catastrophic gun failure due to a broken part, these equipment malfunctions can usually be corrected quickly by a trip to the safe-handling area with the appropriate tools. The key words being appropriate tools, and including the right ones in an already bulging range bag can be a chore. The Real Avid AR15 Tool is a solution.
The AR15 Tool is a folding multi-tool with all steel construction, black oxide coating, and G10 grip plates. It comes with a MOLLE compatible ballistic nylon sheath. When folded with in the sheath, the tool is only slightly larger than a pack of king size cigarettes taking up little room in a range bag. Open it up and the array of tools is impressive.
As the name implies, the tool packs a number of AR-specific features that can be invaluable for High Power Rifle and 3-gun competitors.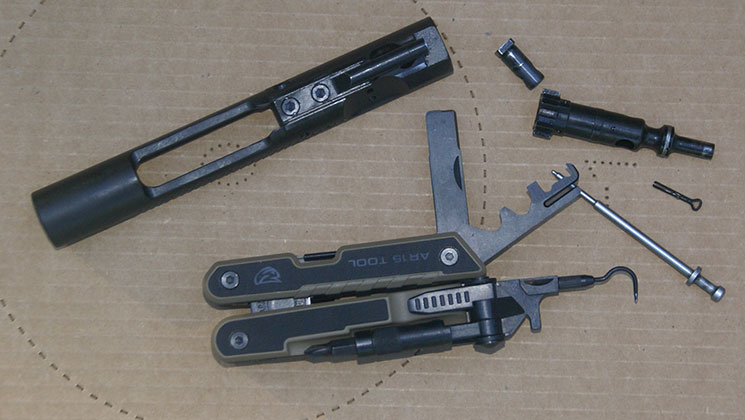 Carbon build up on the bolt carrier group (BCG) can be particularly annoying with direct impingement gas operating actions. Impressively, the Real Avid tool provides all that's needed to disassemble and clean it. A curved pick removes the firing pin retaining cotter pin, and the tool is properly sized to clean carbon from the firing pin hole on the bolt. A punch pin is sized to remove and install the extractor pin. Both are interchangeable using 8-32 threads. The curved pick uses a male thread and the punch uses a female thread. This allows those swing out arms to accept any other accessories using that 8-32 thread pattern and lets the user customize their tools for additional tasks.
With the BCG disassembled, a ten-function carbon scraper can remove carbon build up from multiple angles on the bolt, including the locking lugs. It will also ream out the gas key carrier. A separate carbon scraper is precisely sized to scrape the inner forward section of the BCG body that receives the bolt. This scraper also has a small section of flat file on one side.
A compartment on the MOLLE sheath holds a double-ended sight adjustment tool that will handle A1 and A2 front sights. Another flip out tool is a bolt override that can quickly free a jammed bolt. These features make it an excellent choice for AR shooters. However, additional tools take it beyond the AR making it valuable for any competitor.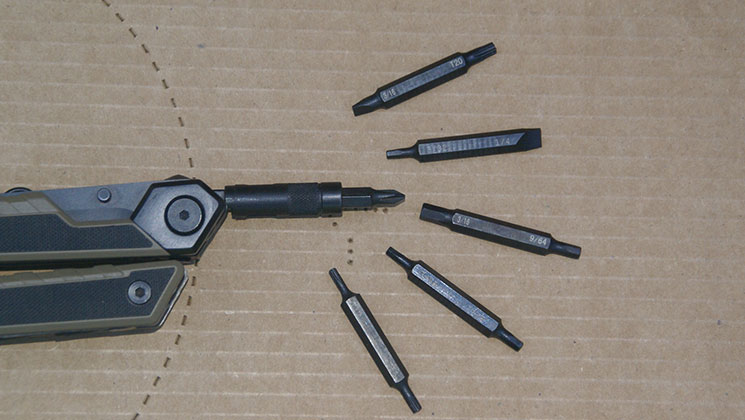 Six double-ended interchangeable bits fit into a fold out bit driver, and five are stored in the sheath. The 12 bits include flat, Phillips, Allen, and Torx heads that will handle just about anything from delicate handgun sight adjustments to torquing down an optical sight mount, and everything in between. One won't have to worry about having the wrong screwdriver.
The Real Avid AR15 Tool also has a tap hammer built in, and on more than one occasion I have used one of the larger Allen heads as a drift punch to move a shooter's fixed rear sight into the proper position.
The tool includes a sturdy set of combination needle nose pliers and a 3.25-inch serrated Tanto knife blade. These are a bit extreme for gun repairs, but this IDPA Safety Officer has used them a number of times to repair and adjust range props to keep the match moving smoothly.
That's a lot of versatility from a $79.99 tool that isn't much bigger than a pack of cigarettes and can tuck comfortably into any range bag. Order your Real Avid AR15 Tool now.