Since its 1983 debut, Benelli's Montefeltro shotgun has been a staple for clay target shooting and upland bird hunting. Earlier this year, Benelli released a revamped version of its classic semi-automatic scattergun with updated ergonomics and improved performance. The modernized model marks the first redesign of the Montefeltro since 2004.
Although this is the entry-level semi-automatic shotgun in Benelli's lineup, the new-for-2023 Montefeltro doesn't skimp on features, and is capable enough for both clay target shooting and wingshooting.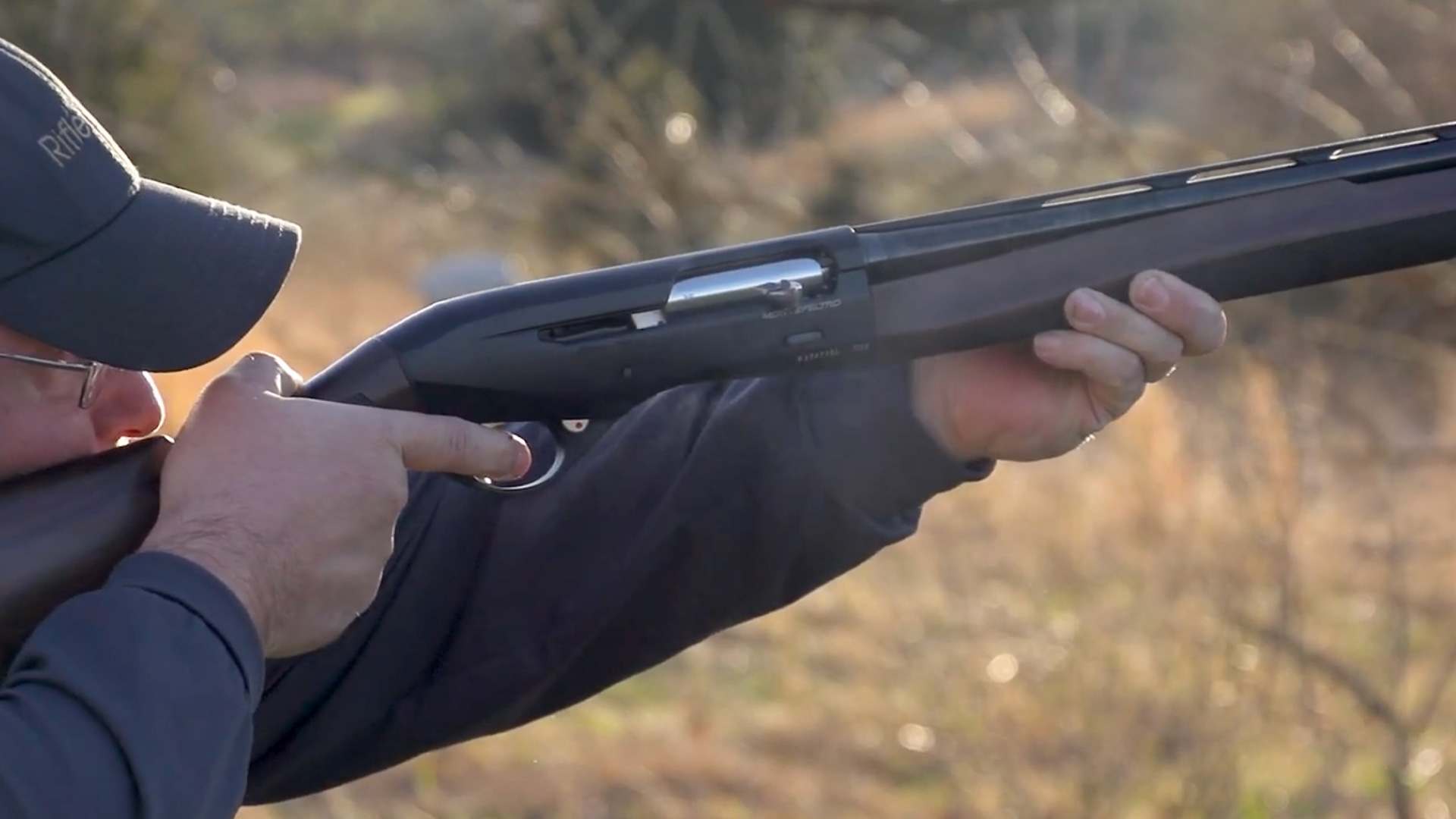 At the heart of the new Montefeltro is Benelli's inertia-driven operating system, which is as elegant as it is simple with only three main parts—the bolt body, inertia spring and rotating bolt head. During operation, steel locking lugs on the rotating bolt head lock steel-to-steel with the barrel. There is no need for adjustment. This lightweight system is not only extremely reliable, but also runs much cleaner than gas-operated systems, with smoke and burnt powder either completely existing or remaining in the barrel. Since residue doesn't reach the internal mechanism, the inertia-driven system makes for a low-maintenance shotgun. So, if you are similar to me and you aren't a fan of cleaning, you will like this operating system.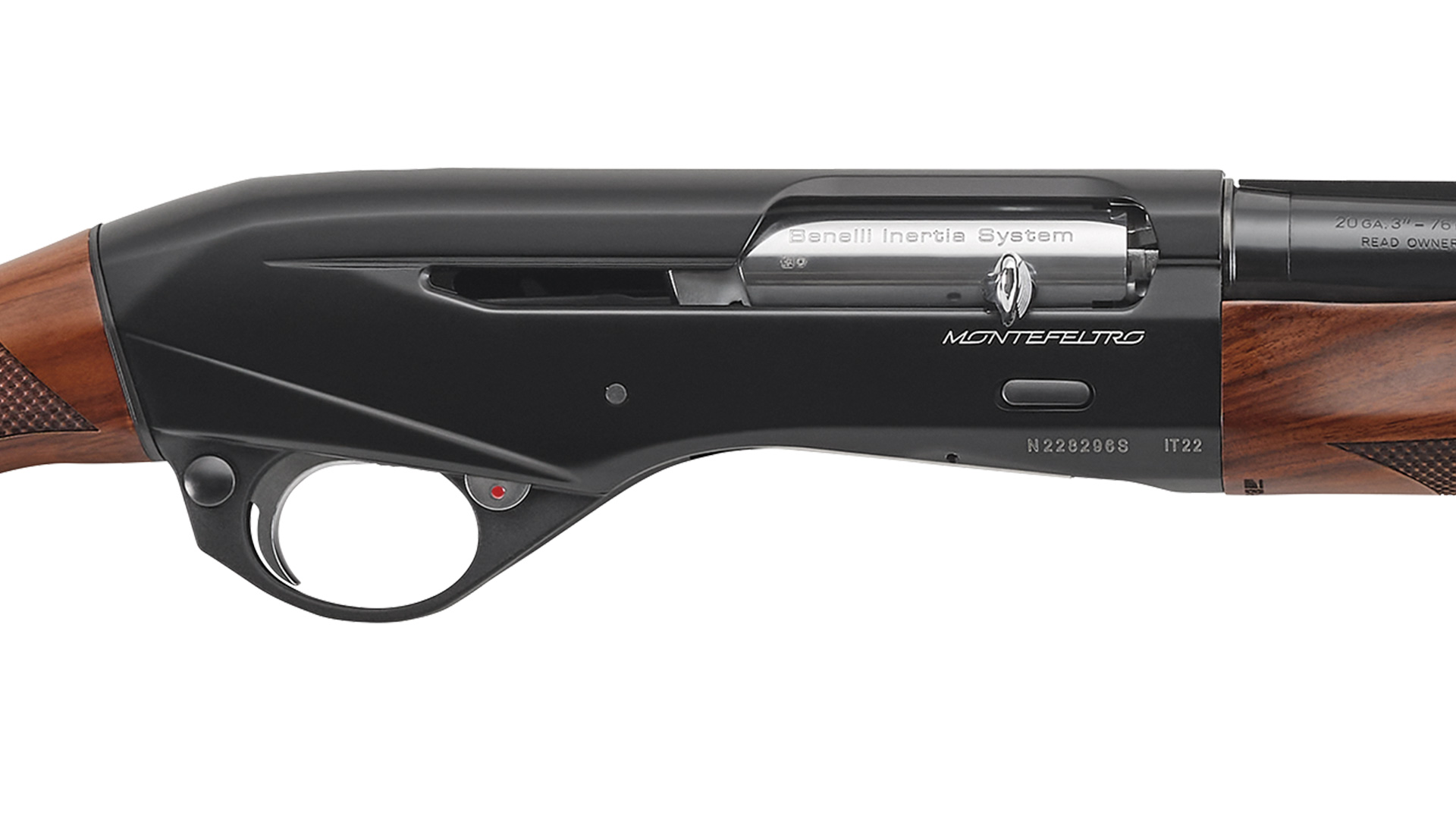 Benelli's Easy Locking Bolt System incorporates a redesigned bolt handle that's larger and easier to manipulate, even with gloved hands. Benelli also updated the bolt release button in the updated Montefeltro. Derived from the company's higher-grade guns, it only requires a light press to make the bolt slap shut.
On top of the Montefeltro's cryogenically treated barrel is a ventilated sighting rib. For sighting duties, there is a red-bar front sight on the business end of the barrel.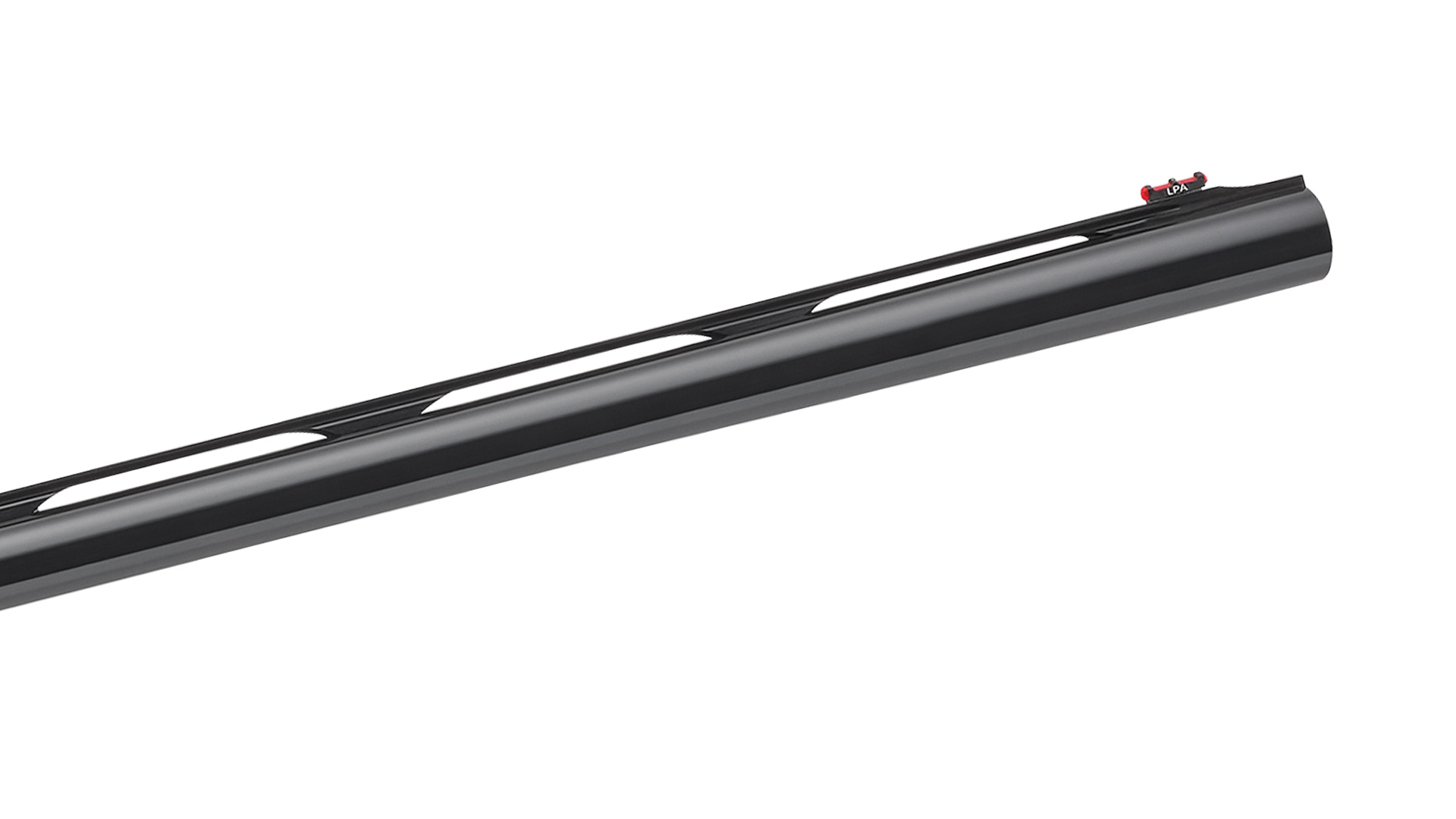 As for the trigger, it's a workhorse, with a clean break that's not too spongey and only a light amount of take up. There's no creep and it's speedy, working equally well for dusting clays or shooting birds. Length of pull is 14⅜ inches. Another upgrade is the new round safety button, which is larger and easier to use than the previous triangular safety. While the crossbolt safety is best described as bulbous, it doesn't get in the way of your hand as you pull the Montefeltro's trigger.
In addition, Benelli added a two-piece shell latch to the shotgun, which simplifies the loading process. A radiused frontier and a channel cut in front of the trigger guard is a nice touch and a major improvement over previous iterations of the Montefeltro. Widened and chamfered, that smooth cutaway really opens up the loading port, helping to avoid any thumb bite while loading shells into the magazine. Loading could be a problem in the past, especially for 20-gauge Montefeltro models, so kudos to Benelli engineers for addressing this issue in the latest version. The Montefeltro semi-automatic shotgun has a four-plus-one capacity magazine.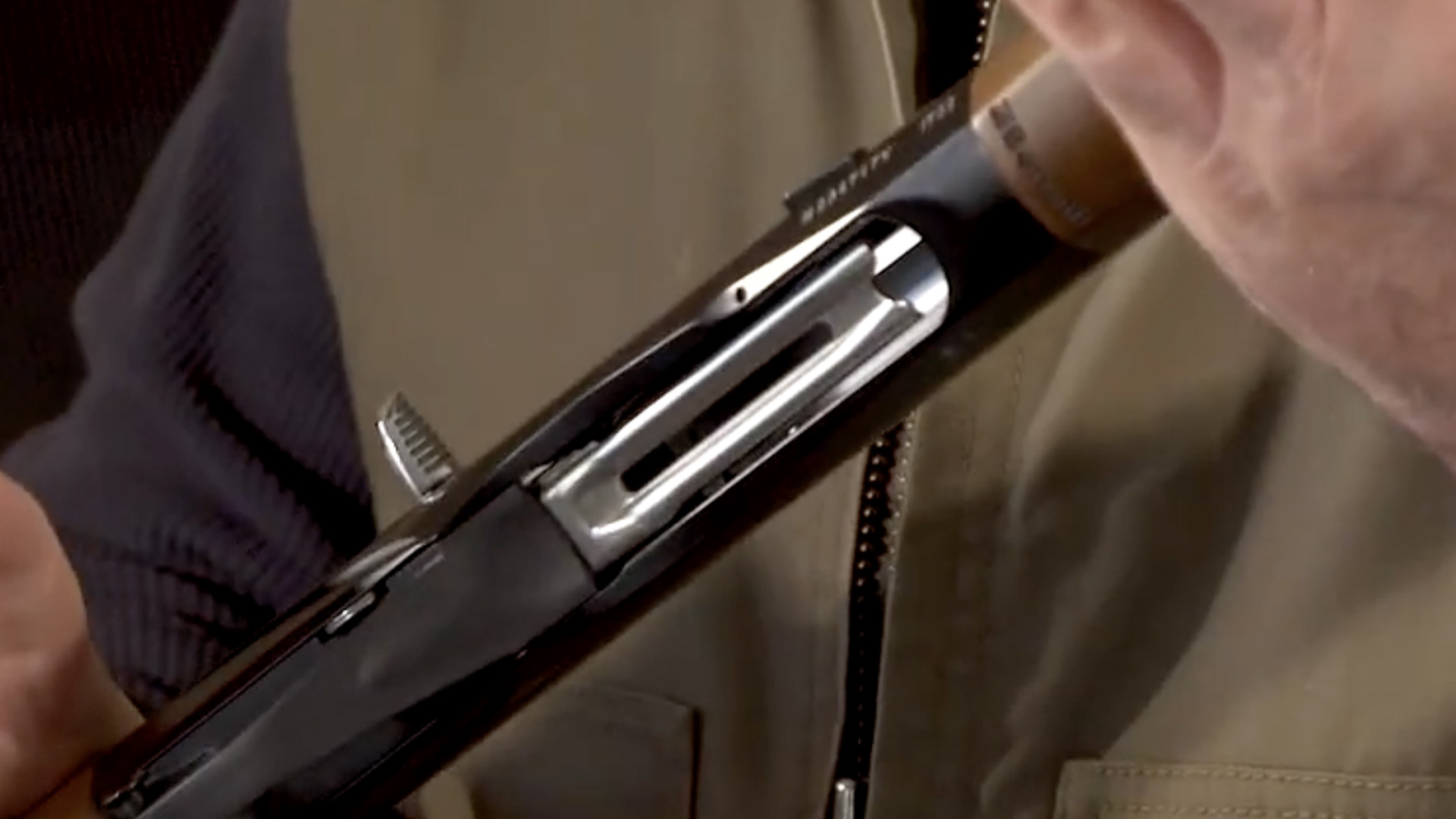 A thinner fore-end with finger grooves provides for a solid purchase with your support hand. In conjunction with a more aggressive pistol grip, the Montefeltro sits well in the hands and is easy to point. The handsome walnut stock sports a satin finish and checkering panels, along with a micro cell recoil pad. (Different sized recoil pads to change the length of pull are sold separately.) This new stock flows well with the deep-gloss-blue finish of the receiver and barrel metal, giving the Montefeltro a modern, elegant look.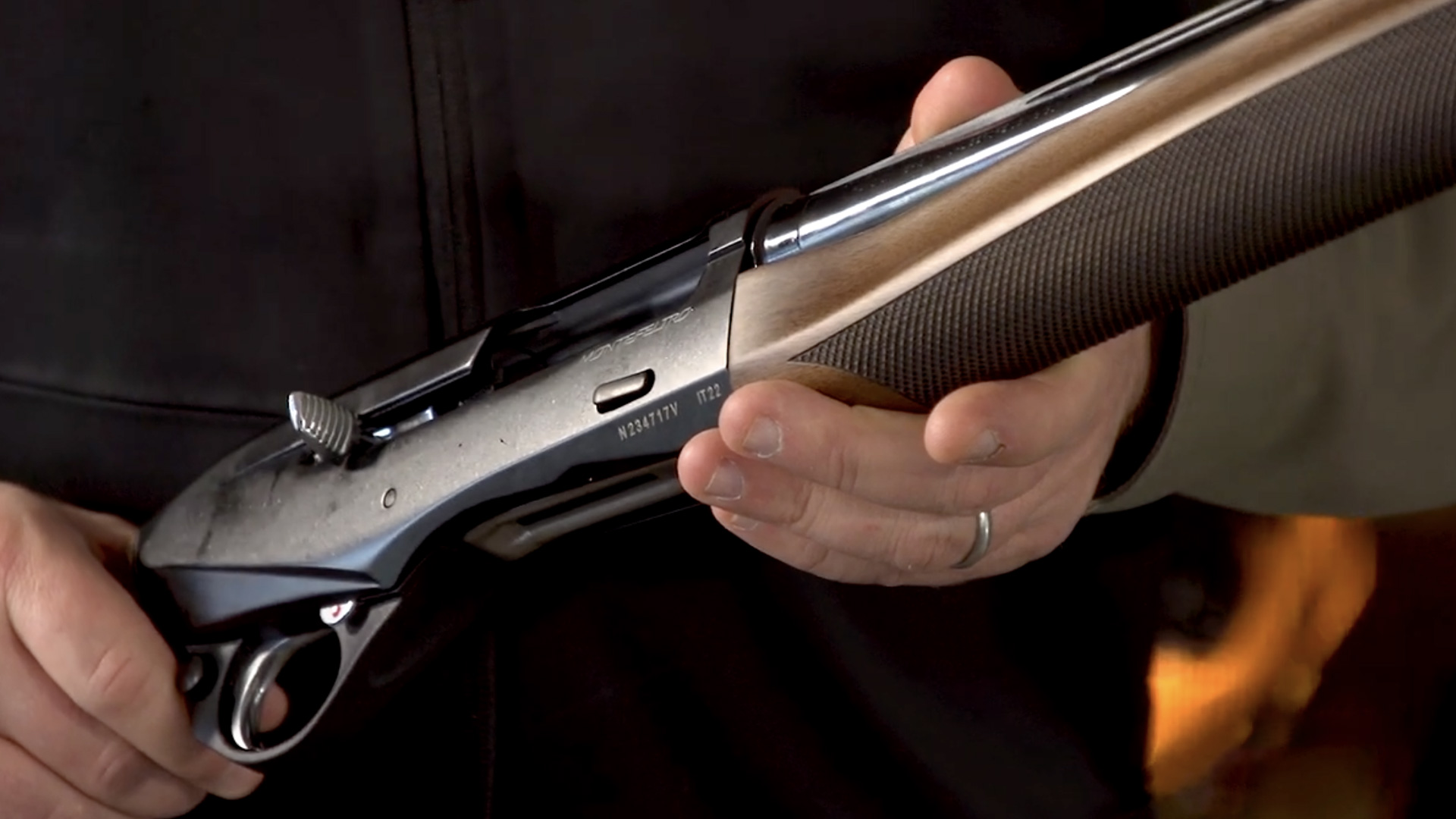 Three flush-mount Crio choke tubes are included with the Montefeltro (Improved Cylinder, Modified and Full), along with a choke wrench. There's also a shim kit for drop and cast changes.
DOVE HUNTING WITH THE BENELLI MONTEFELTRO 20-GAUGE SHOTGUN
Recently, I had the opportunity to shoot the Benelli Montefeltro in the field during a dove hunt at Quaker Neck Gun Club near Chestertown on Maryland's Eastern Shore. For my evaluation, I opted for the softer shooting 20-gauge model with a 28-inch barrel.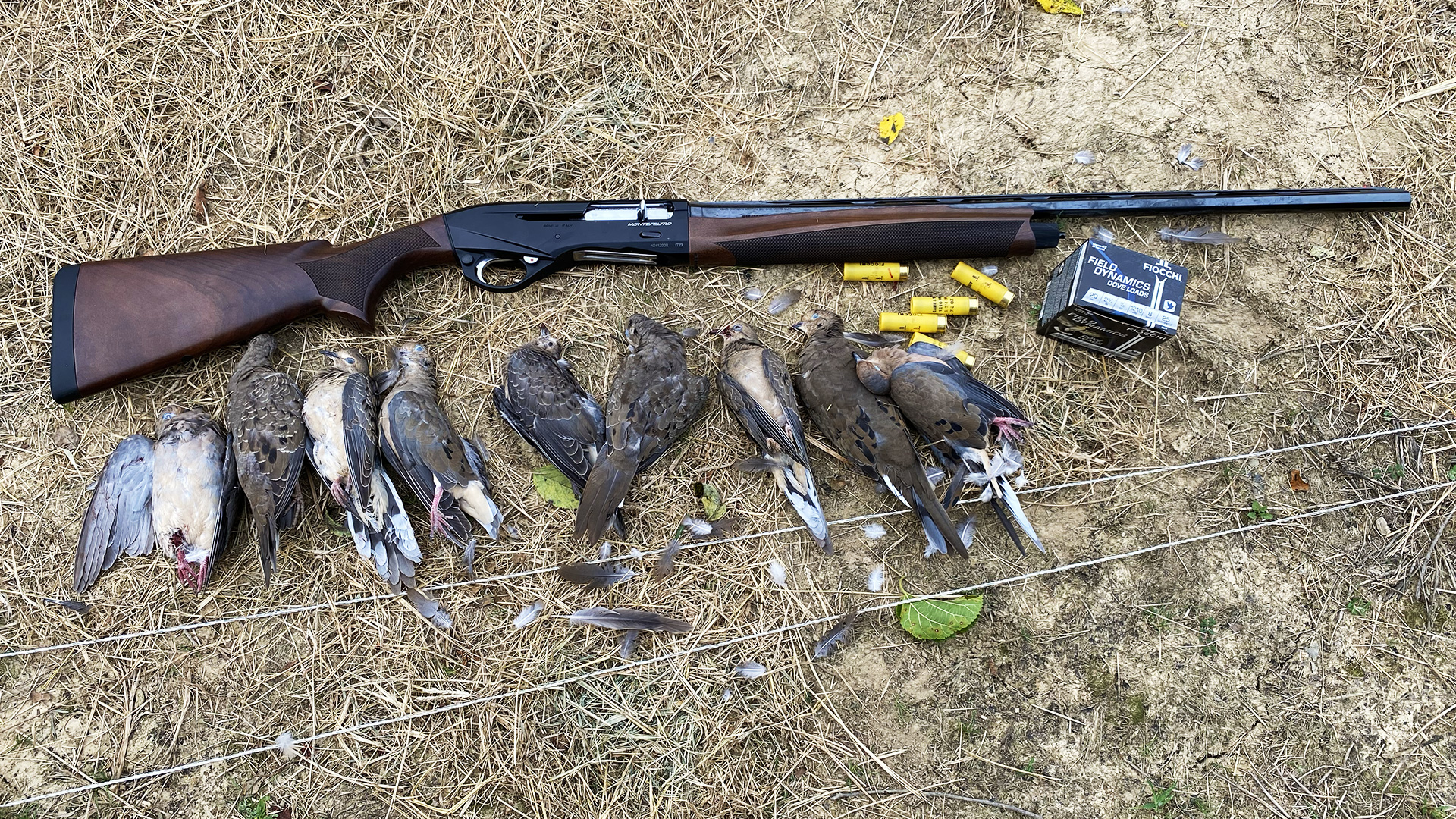 After going through about two boxes of Fiocchi's Field Dynamics Dove Loads over an afternoon of dove hunting, I'm happy to report the updated Montefeltro is a joy to shoot. Well-balanced and precise with most of the mass in the receiver, the 20-gauge is a nimble shotgun with low recoil that begs for fast shooting. I quickly downed birds as they arrived in my shooting area, and there were no malfunctions of any kind. The Montefeltro mounts well, cycles quickly and is a smooth shooter that has much in common with Benelli's more expensive shotguns. My favorite feature is the redesigned loading port that makes rapidly filling the magazine a breeze, as well as the improved ergonomics. This shotgun is a real beast for upland hunting. And, the 20-gauge, 28-inch barrel model, with its svelte 5.9-pound weight, isn't too hefty for extended field use.
BOTTOM LINE
The company could have simply given a flashy cosmetic upgrade to the Montefeltro and called it a day. Instead, Benelli went the full mile in bringing a sleek semi-automatic to market, with functional improvements that should satisfy even the most discerning shotgunners. This is a lot of gun for the money, and a solid choice for anyone looking to purchase their first Benelli, especially those looking for an inertia-driven model. Nearly all shooters, regardless of size, body type or experience level, can benefit from adding a Montefeltro shotgun to their collections.
SPECIFICATIONS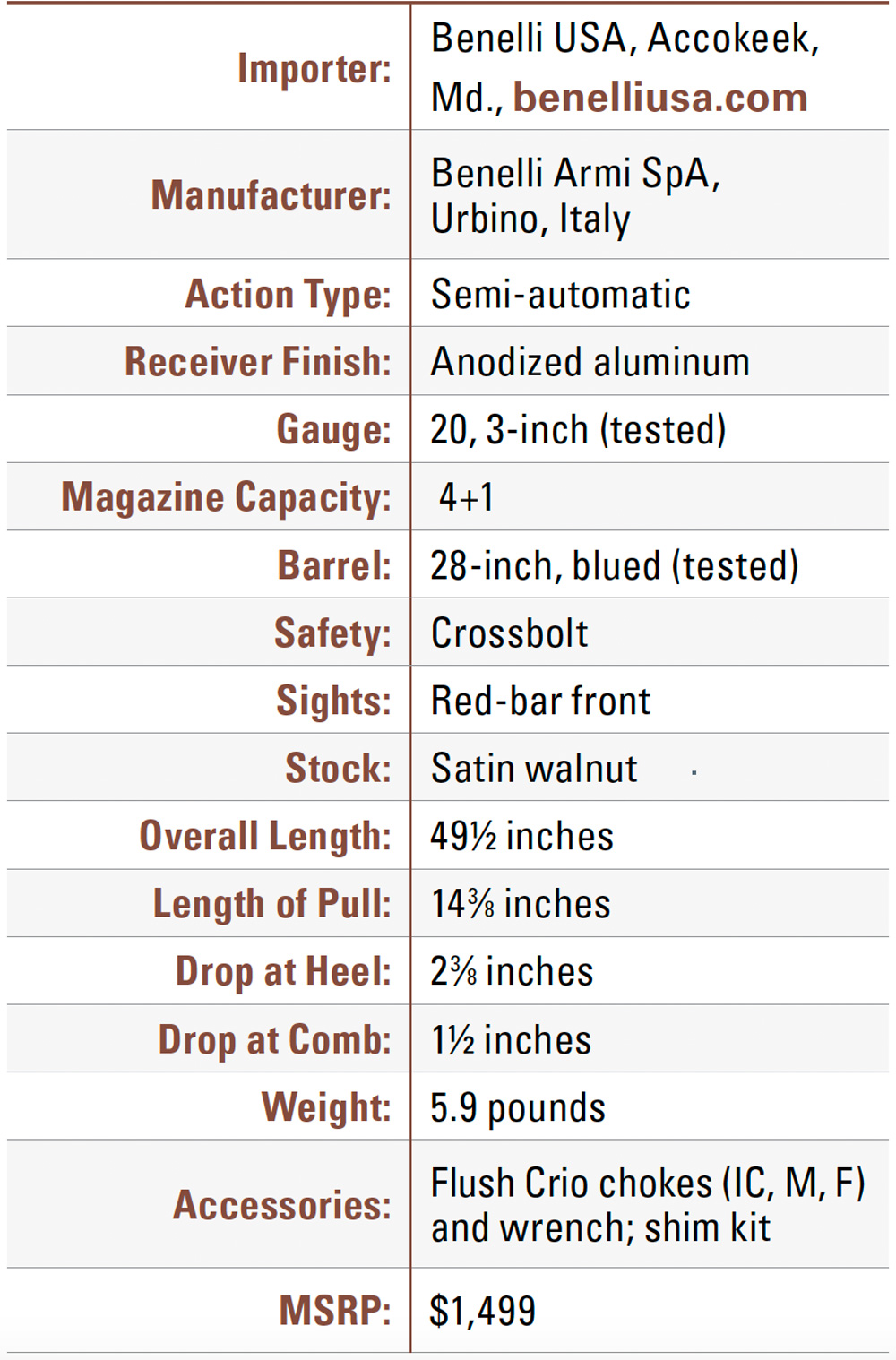 Along with the 20-gauge model evaluated here, the new and improved Benelli Montefeltro also comes in 12-gauge, with barrel lengths of 24, 26 and 28 inches, plus two compact versions (12-gauge, 26-inch barrel and 20-gauge, 24-inch barrel). Available chamber sizes are 2¾ and three inches. The full-sized 12-gauge models are also lightweight, ranging from 6.3 to 6.6 pounds. All eight configurations of the refreshed Benelli Montefeltro semi-automatic shotgun are reasonably priced at $1,499. Go to benelliusa.com.
GEAR LIST