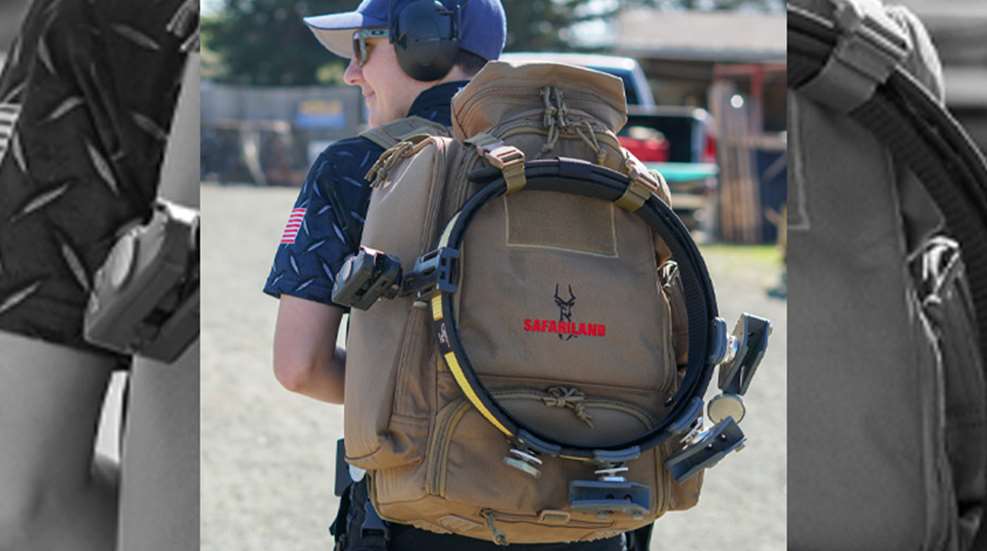 Competitive shooters carry a lot of gear to matches, so having a quality "stuff carrier" is essential for our sport. In recent years there have been a few backpack-style range bags that have come on the market; here we examine one offering from Safariland, the Shooters' Range backpack (MSRP: $195, safariland.com).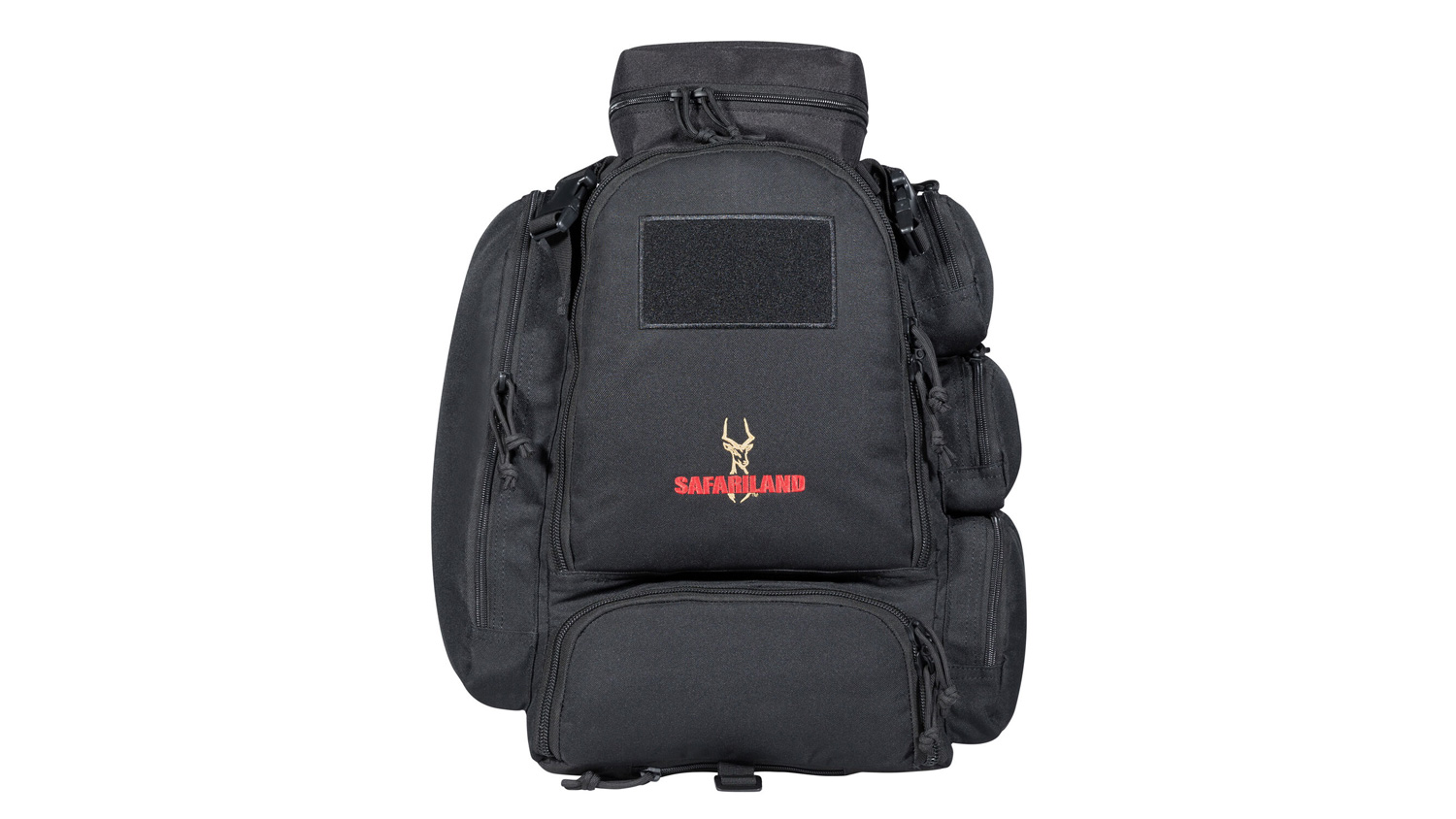 Here are the main features of this bag according to the Safariland website:
Assorted compartments and dividers to store and organize your shooting gear.
Heavy-duty lockable zippers.
Reinforced large lower compartment for heavy ammunition.
Rugged ballistic pack cloth construction.
Removable dual pistol sleeve.
Comes with an all-weather cover.

The dimensions listed are: 21" (h.) x 13" (w.) x 11" (d.), and it comes in black, tan or gray.
The first thing I noticed about the backpack was its quality construction and premium feel. The zippers are indeed heavy duty and the bag is well made. I then started the arduous task of transferring all my aforementioned "stuff" from my old range bag to this one. Anyone who has gotten a new range bag can tell you this takes some time, but it also gives you the opportunity to throw away some of your candy wrappers that are in there. Since I wanted to give this bag a thorough review, I put all the items I normally had in my range bag in it and would use it for a few matches. I loaded up, admittedly, a little more ammunition than I needed and headed to the first match.
One thing that was different than my old style of range bag were the straps to hold your belt on the outside of the bag, so your belt doesn't swing around. This is a nice upgrade from just setting your belt on top of your shoulder bag or wrapping it around the shoulder strap and having it swing all over the place.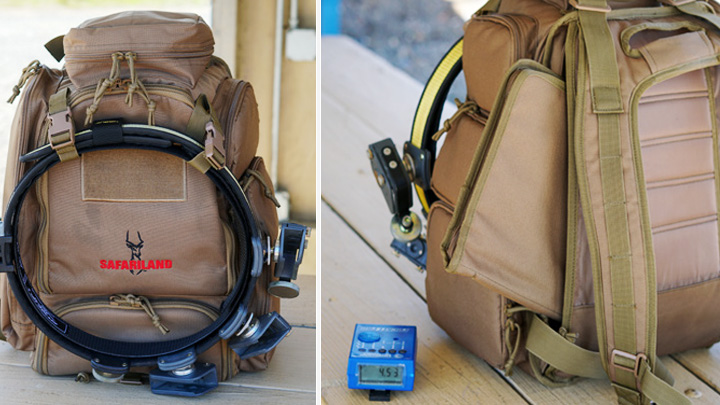 The next thing that became very apparent to me was, I had a lot of ammunition, but it wasn't hurting me to carry. The bag has a lower rigid compartment to store your ammunition, which is by far the heaviest thing we as shooters put in our bags. I had loaded this bag up with enough of it to shoot the match three times over; but unlike my shoulder bag, my back and shoulder weren't killing me by Stage 2. In fact, it carried the weight so well I didn't even think about it until near the end of the day. Changing from a shoulder bag to a backpack was more impactful than I thought. Additionally, thanks to the rigid ammunition compartment on the bottom, the backpack stands up when you set it down. Thus, you can easily access the contents inside without having to fight the bag falling over or laying it on its back.
Moving up on the backpack, there is a top compartment meant for hearing protection, but I found it fit all the items in my pocket nicely: keys, wallet, hearing protection, phone, etc. It has a laptop-style pocket on the back meant to fit your gun (in an included double-zippered sleeve) up against your back. When I put my gun in my sleeve back there I didn't notice it at all, there is plenty of heavy-duty padding on the back. Also, the laptop-style compartment can actually handle a laptop, if you're one of the very few people like me who brings a laptop to a gun range.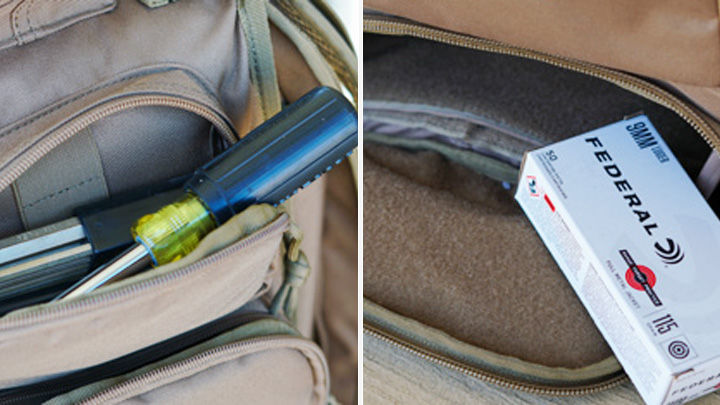 The main inner compartment is large enough to fit a jacket, a lunch, camera or whatever else you need to keep handy. This compartment also has pouches lining the sides for your magazines. The sides of the outside of the bag are literally covered with pouches to organize all your gear. The right has three smaller pouches that I found fit my tools, batteries, and other small parts very well. The left side has a large pouch running the height of the bag, large enough to hold PCC mags in. There is also a smaller compartment inside.
While the bag is not waterproof, it is a heavy-duty enough material that it will keep your gear dry in mist or light rain. However, a rain cover is included in a specific pocket on the bottom of the bag, a featured taken from camera bags. The included rain cover is a nice touch, and proof that a lot of thought went into the construction of this range backpack.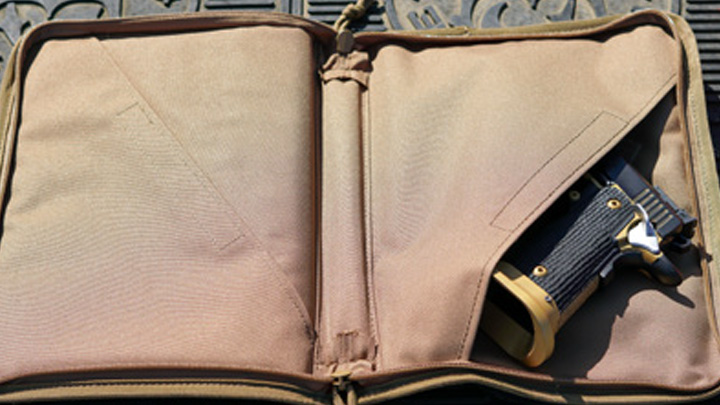 After using this bag for a few matches, I really started to get used to it and the backpack design, and I really ended up liking it more than I thought I would. The more noticeable difference is the improved load-bearing design of a backpack over a shoulder bag. Moving the weight from asymmetrically being on one shoulder to being symmetrically on your back makes a world of difference, and you don't know how well this improves carrying around all your stuff all day until you try it. After all these matches and this review, I still haven't moved my stuff back to my old bags and I don't think I will. I think I found my new range bag. Learn more at safariland.com.
Article from the May/June 2020 issue of USPSA's FrontSight magazine.
---
See more:
What's In Your Range Bag, Jalise Williams?