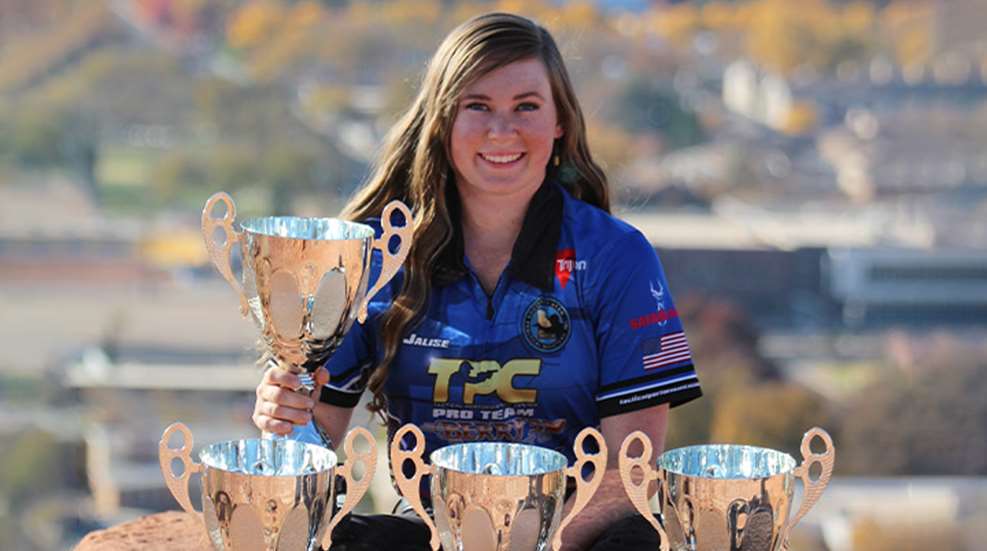 This month we highlight action shooting phenom Jalise Williams, after featuring her sister (and Colt teammate) Justine in April. Well known for her prowess in USPSA and IPSC competition, Jalise says that she loves competitive shooting because it combines two of her favorite things—guns and competition. Learn more about this talented junior action shooter.
What are your first memories of handling a firearm?
It was at age four that I picked up my first gun. Back then, my dad didn't own a .22 LR so he let me shoot his .357 Marlin. He ended up cutting the buttstock off so I could pull the trigger and correctly see through the optic. It was scary the first time I shot it, but I ended up loving the gun. From then on, every weekend I would beg my dad to either take me shooting or let me load ammunition for the next time we went out.
Tell us how you began in competitive shooting.
I started competitive shooting at the age of 10. My mom attended a Ladies Night Clinic at our home range. She loved it and wanted my sister and I to learn how to shoot pistols. Before that we never shot pistols, since my dad only owned shotguns and rifles. We instantly fell in love. The people at the range were welcoming and introduced us to competitive shooting. My sister and I were raised to be the best and that led to a very competitive household. We competed over everything and still do. We jumped right in and found out more about competitive shooting.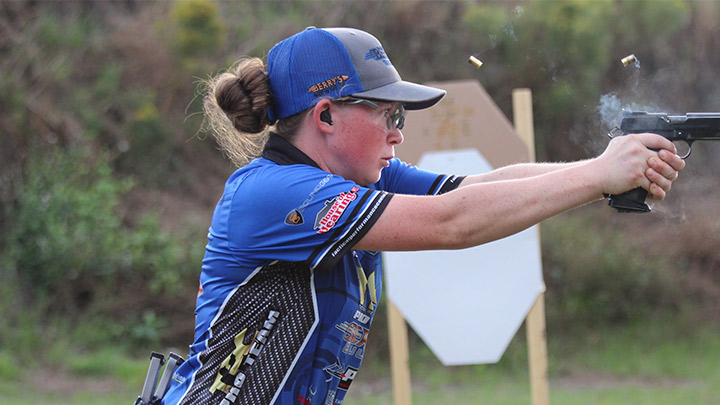 Please share with us some of your major competitive shooting accomplishments.
At 15 years old:
Youngest Lady National Champion
Youngest USPSA Single-Stack High Lady National Champion
Youngest USPSA L-10 High Lady National Champion

At 16 years old:
Youngest IPSC Classic Lady National Champion
Youngest USPSA Lady National Champion in Limited
Youngest USPSA Lady to win two Consecutive National Titles in Single-Stack and L-10
Youngest USPSA Master Class Lady in Single-Stack
USPSA Master Class in Single-Stack

Other:
2019 USPSA Limited Nationals: Lady Champion
2019 U.S. IPSC Nationals: 1st Lady Classic
2018 Single-Stack Nationals: 1st Lady
2018 Limited 10 Nationals: 1st Lady

What firearms and other gear do you use for competition?
For competition I use the following firearms:
Single-Stack/Classic/Limited 10: Colt 1911 Gold Cup Trophy 9mm
Limited: Cameron Custom .40 6-inch 2011
PCC: Colt Pistol Caliber Carbine 9mm
Production: CZ Shadow 2 9mm

My favorite gun is my Limited Cameron Custom .40-cal. 6-inch 2011. This is my favorite gun because it feels like a 9mm loaded hot. It's been made to fit my hand. In addition, I love the safety on it and the trigger is short enough for me to reach. It's the smoothest gun I have ever felt.
Tell us about your range bag and what you carry in it besides your firearms.
For my range bag, I use a Safariland backpack. I love all the pockets it has for organizing. Plus, being a backpack it's easy to carry when traveling. In my range bag I keep the following:
Tools
Extra springs
Magazines
Towels
Notebook
Front sights
Lighter
Pens
Oil
Shower cap (to protect my gun in the rain)
Rag
Two pairs of glasses
Eye drops
Extra contacts
SoundGear
Batteries
Filters
Bore snake
Cotton swab

What would you tell someone interested in finding out more about your sport?
Visit the SSUSA Coming Events section for a listing of matches around the country. And, go to the USPSA website. They have a ton of information about the sport and are also great at answering questions.
Any tips for new shooters?
Know all the firearms safety rules before you start shooting. Then go to a range near you. Everyone at ranges are super nice and would love to help. Finally, if you have any questions feel free to email me and my sister at [email protected].
Anything else you would like to add?
My words to live by are, "Prove them wrong." I think of this quote when I'm having a bad day and I need a boost. I'll repeat it to myself and it motivates me to push through whatever is going wrong. Then, I get back on my feet and practice harder.
---
Read more Range Bag articles: