Although Mark Redl always had an interest in firearms it wasn't until he graduated college that he purchased his first one. After getting his New York state pistol permit he bought a Beretta 92SB. Yes, he still has that Beretta. These days, it's his wife's favorite pistol.

Mark began shooting back in 1992 as a way to test his equipment and techniques. He believes this is the only activity that allows one to do so. Once he made Master in IDPA he knew he had to either step up his game—or remain at his current level. He really loves competition and started to train hard and learn what he thinks is the most important aspect of any type of firearms training—the all-important mental game.

Although Mark has won close to a hundred major match titles, he feels the most important accomplishment he's done is the pay back to his sports. Over the last 20 years, he's tutored many new shooters and always offers to help competitors and match directors. New shooters are the future of our sport, and Redl wants to make sure their journey is easier.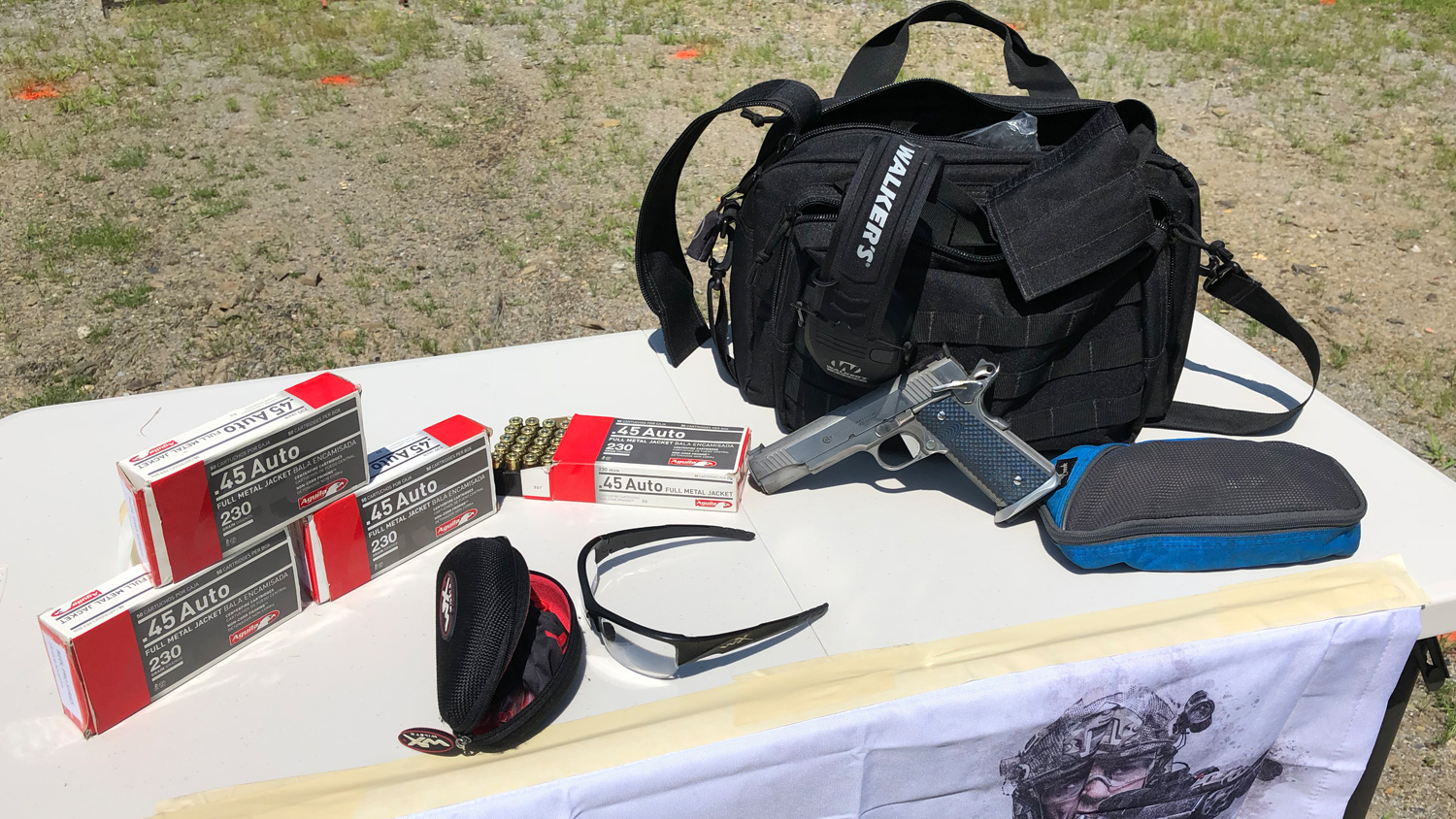 As for a range bag, Mark has two, one for the practice range and the other for matches. His practice bag is made by Drago and rather large. In it he always carries a first aid kit and blood clot, Lucas gun oil and a small tool kit. He also has practice mags as well as extra holsters, pouches, ears and eyes. His match bag is actually a backpack also made by Drago. When he's at a match and walking from stage to stage it's much easier to just sling a backpack over his shoulder. He does keep it light though, with a very small tool kit, first aid kit, his ears and eyes. If necessary he adds rain gear and a towel. The most important tool Mark carries in his bag is a shot timer. He uses it to track his progress in order to become a better shooter. He also uses his phone to record himself so he can determine if a technique he's doing is correct.

Although Mark's been a pro shooter for Colt the last nine years, he was a fan long before that. He believes they're producing the best pistols today as in any time in the past. Ammunition is a major factor in his performance. He's tried almost all of the brands and has concluded that Aguila gives him the most quality and accuracy of all that he's shot. While many shooters skimp on one of the most important items for competition or self-defense, their holster, Mark wisely chooses Blade-Tech. He's used their products for the last 20 years and never had any problems with quality or comfort.

For anyone trying to find out more about action shooting, Mark suggests watching YouTube and finding a local club hosting matches. Most shooters are very nice and always willing to help and give advice. As for advice, he often tells new shooters that you have to slow down to go faster. What he means by that is go at your pace and let your sights be your speedometer. Only fire the shot when you have a good sight picture. Shoot clean, get your hits. Speed will come.