Top USPSA shooter Jalise Williams shares her experiences as a high-level junior competitor.—Ed.
In January of 2003, a daughter named Jalise was born to hard-working parents Jason and Jaime Williams. Little did the parents know what was in store for their new little family. Hi, I am Jalise Williams, I am about to turn 18 years old, I am a nine-time UPSPSA and IPSC High Lady National Champion and have eight national titles. Although I will no longer be competing as a junior, I am thankful for all the years I had to compete as one. This is my junior shooter experience.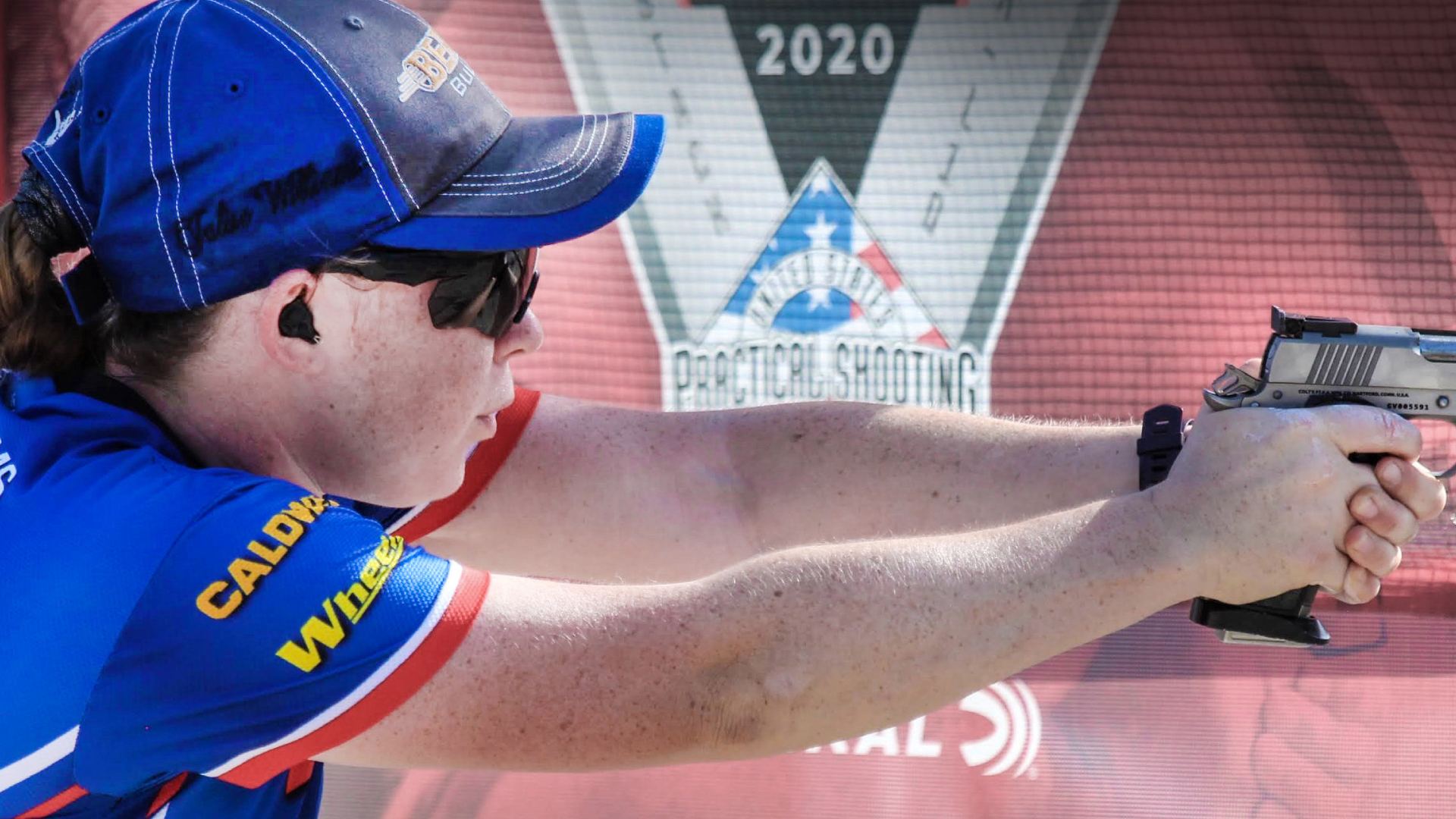 I was still in diapers when my father took me hunting, carrying his gear, along with myself and the diaper bag, which got a bit tricky once my sister came along. When I was four years old, my father decided it was time to teach my sister and me to shoot a gun. Our first gun was a .357 Marlin rifle. It was too big for us, so my father cut the stock down and loaded light ammunition. We then learned how to shoot the other rifles and shotguns.
When I was 10 years old, my mother took my sister and I to a Ladies Clinic at Southern Utah Practical Shooting Range. We had .22 LR pistols and plinked with my father, but this was totally different. All the instructors were kind and immensely helpful. We went back every week. We caught on quickly and wanted to join the local competitions. We asked one of the instructors what we had to do to move up to that level. He replied, "You ready to run with guns?" I exclaimed, "Our dad doesn't let us run with guns!" But we soon learned. One night, my mother told my father that we needed 9 mm handguns. My father did not think that a 9- and 10-year-old should be handling 9 mm guns. He decided to go out to Tuesday Night Steel and tell the instructors that they were insane.
We showed up to Tuesday Night Steel with our leather belts and stock gear. Everyone else had their full competition rigs. My dad whispered to my mother as we checked in "We don't belong here." My mother giggled and replied "It's alright. Trust me, everyone is so nice and helpful." As soon as the buzzer went off and my father broke that first shot on steel, he was hooked. He had also seen how much we learned and how safe we were. I really enjoyed going through the courses-of-fire and shooting local competitions.
My parents saw the joy the sport brought to our lives. Glen Wong, a champion shooter and an upstanding individual, volunteered to coach us. Glen has been one of the best things that has happened in my life. We instantly connected with him and began practicing three days a week for a couple hours after school. We got better every day. I realize now how far I have come. Performing simple drills like three headshots at 15 yards seemed so hard; now I put five shots in the head at 25 yards with ease.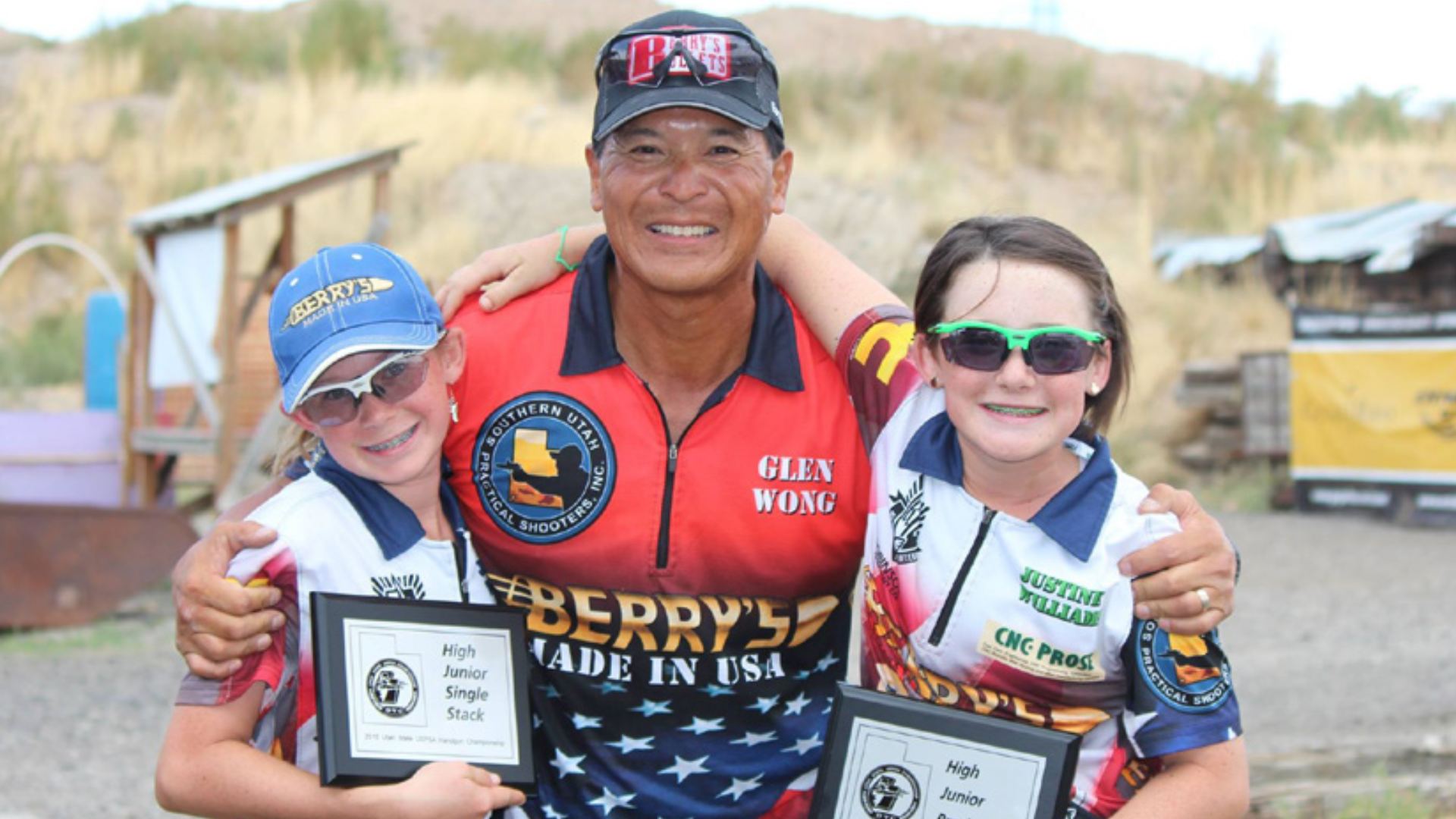 The 2014 World Speed Shooting Championship was my first major match. I remember the day before the match, all the professionals were practicing. My father took my sister and me around to get autographs. It was an awe-inspiring experience to watch these pros shoot and meet them. Now, I know these people and compete alongside them. After steel challenge, I shot the 2014 USPSA Nationals. It was a hard match for someone who had not even been shooting USPSA for a year! Over the years, I competed in as many local and USPSA Area and National matches as possible. Each match, each experience taught me something new. It was not all success—failure was also part of the learning process.
The 2017 USPSA Iron Sight Nationals was not my proudest moment. I got in my own head and destroyed my match because I could not control myself and my emotions. It was one of my greatest disappointments. After the match, I took a month off to put everything in perspective. I missed shooting the entire time, and by the end, I had a new perspective. Although my shooting skills suffered, I felt more energized. I started incline training, and I shot an insane number of matches with as much stress as possible. I would have my squadmates make a racket behind me while I was on the line, I would use a box of mixed 147- and 124-grain 9 mm rounds, and I used the tools that I read about in my books to prepare myself. One match that stands out was 2018 Factory Gun Nationals. I shot Single Stack and that was the match of my life. All of my hardcore training added up to this nearly-perfect match for me.
Growing up in the shooting sports, I thought breaking women's records or setting new records would be impossible—especially as a junior. I kept working hard, achieving my goals, and setting records. In 2018 at the age of 15, I won my first two USPSA High Lady National Championship titles (Single Stack and L-10). The next year, I won the USPSA High Lady National Championship titles in Single Stack, Limited and L-10 divisions, then in 2020 I won the USPSA High Lady National Championship titles in L-10, Production and Limited divisions.
I have come through all my experiences with valuable skills and added perspective.


Family
Competitive shooting became a family affair. My parents always worked to provide opportunities for my sister and I. Shooting gave us an opportunity to spend time together as a family. It brought us closer together. There are not a lot of families that compete together. One aspect that separates my sister and I from other juniors is that we are in this together and approach it as a team sport. If we did not participate in this sport together, we would not be where we are today. Since we are so close in age, we are extremely competitive with each other. We push each other to do better. When one of us shoots a stage, the next one up pushes even harder. That competitiveness with us pushing each other has made us stronger together.
Training
As mentioned, Glen Wong has been supportive of us, as well as getting help from other individuals and programs. This has been a great experience because I get the one-on-one help from Glen, but also garner additional perspective and knowledge from others. I was lucky enough to attend Tactical Performance trainings, MGM Junior Shooter Camps, the U.S. Army Marksmanship Unit Junior Clinic and the USPSA Young Guns Camp. There have also been many individuals that have helped me along the way.
Physical activity is part of shooting. In shooting we use specific muscle groups and movements. Initially, I did not think it was necessary, but I wanted to be the best in the sport and, being a small female athlete, it is hard to compete against men who are built bigger and stronger. So, I knew if I wanted to compete at the top level, I needed to do everything I could. I have found Plyometric training to be helpful. It helps to improve the power of my movements. This has been where I learned to move swiftly and efficiently during a stage.
Skills
As a junior, I have learned many skills, including reloading. I started on a RCBS loader loading hunting ammunition. We decided to get a Dillion 550, but it quickly became apparent that we could not keep up with my family's demand for ammunition so we upgraded to a Dillion 1050. This gave us the opportunity to keep up our ammunition supply. Reloading has been safe, cost effective and has taught me how to make my own ammunition. I know how to develop load data, fix the machine and be responsible for my own ammunition mistakes.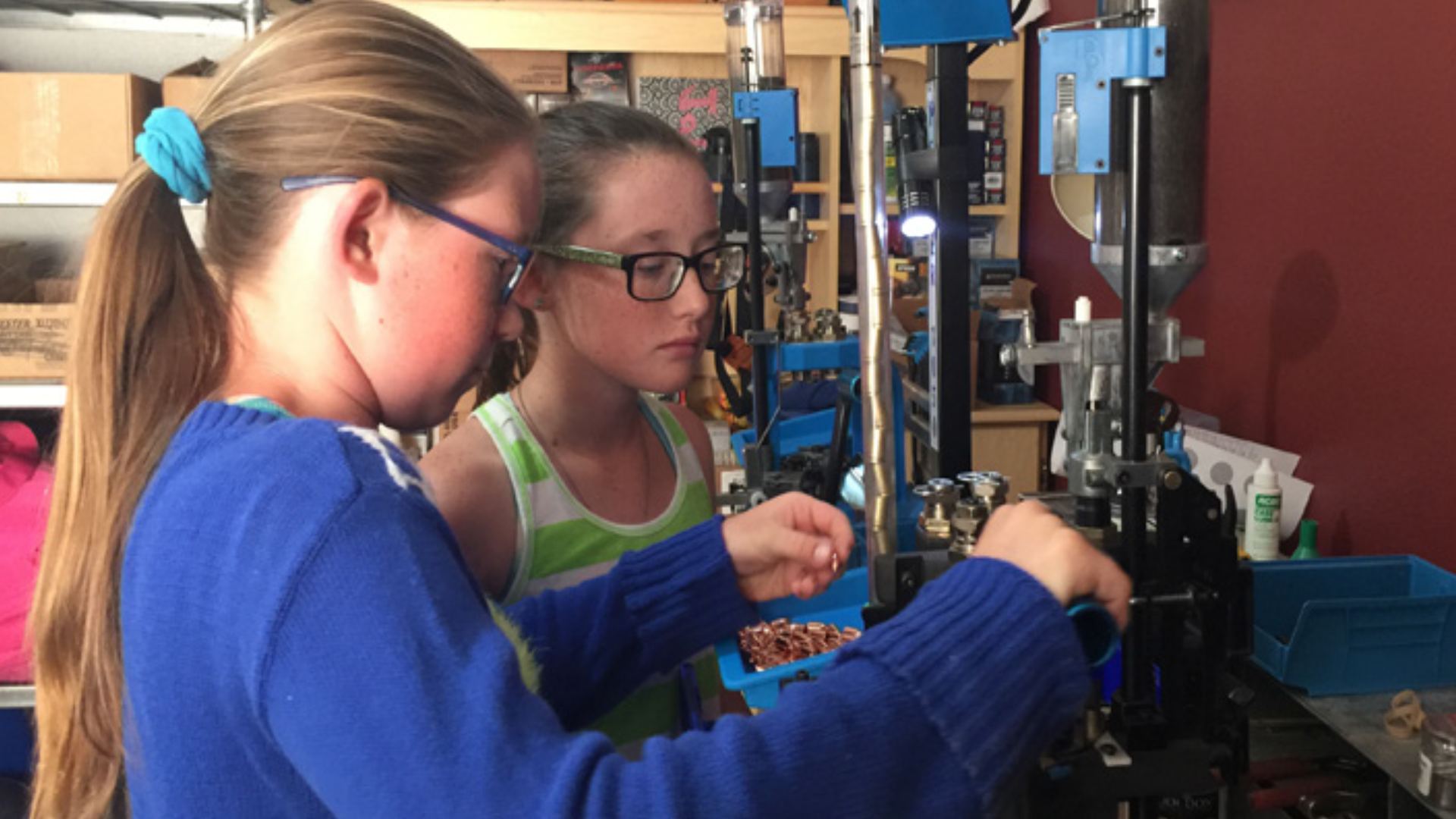 Even though I earned straight As, many teachers were not supportive of missing school. My parents decided that I would start online school. I could work at my own pace, which was perfect because I was motivated and it worked with my shooting schedule. I would finish schoolwork during the off-season and when I had major matches, I would take time off from school. I ended up graduating high school at the age of 16 with honors. Now I am in college and honored to be the first student to earn the USPSA Michael Voigt Presidential Educational Program Scholarship.
Fitting everything in can be difficult. I have shooting at the top of my priority list. That does not mean shooting should be at the top of everyone's priority. It is hard balancing life, and I found people judge juniors and think we have unlimited time and funds, without knowing all the details.
People
I have met a lot of people in this sport. The majority are kind, generous and good people. I have broken guns or run out of ammunition and people have jumped in and helped me out. There have been those people that could not see my worth or the effort I put forward, but I continued my path and could not let negativity get me down. A lot of good people have helped me, and I am forever grateful.
I figured that I could either take advice from others it or leave it. I always listened to what they were saying, thought about it and sometimes tried it. If it worked for me, great; if it did not work, that was okay, too. I would get as much information as possible and then pick and choose what worked for me. I always figured the more I learn the more options I would have to create my own shooting style.
One thing I am grateful for are the people at the range who never went easy on me. They did not let me win; instead, they toughened me up. My dad taught me how to clean my gun and then I had to clean it myself. My parents did not load my mags, paste targets for me or get my gear together. They said if I was going to do this sport, I was going to do the work. The range was supportive and let me help build stages, RO, tear down matches, design stages, etc. My parents and the people at the range taught me the value of work, which is now ingrained in me.


Traveling
This sport has given me the opportunity to travel. I have visited nearly every state. I have learned about cultures and history. I met the Jamaican shooting team at 2014 USPSA Nationals, which provided me the opportunity to shoot in Jamaica. My next overseas trip will be to Thailand for the 2021 IPSC World Shoot. I have discovered new food and met interesting people. I even went to a military base for a training camp. I enjoyed all these experiences because this sport is everywhere.
This sport has molded my life into what it is today. I am now a national champion, I graduated high school at 16 and started college at 17. I have a close relationship with my family, and I am happy. I have a chance to do something I love for the rest of my life. This sport has taught me responsibility, self-control, assertiveness, kindness, respect, patience, leadership, perseverance and humility—all necessary to go through life as a good, strong person making the best decisions possible. If I hadn't gone to the range with my mother, or even had missed one of the above experiences or skills, my life would be totally different. I cannot thank USPSA, the people and my family enough for believing in me along the way and giving me the tools to go down the path I am on.
Be sure to read our first interview with the Williams sisters from back in 2016. Also, watch this video interview with them from the 2016 NRA Annual Meeting.—Ed.
Article from the March/April 2021 issue of USPSA's magazine. Photos by Jaime Williams.
---
Read more:
2021 Shooting Sports Showcase Product Round-Up