The Professional Outdoor Media Association, Southeastern Outdoor Press Association and National Association of Sporting Goods Wholesalers teamed up on Mar. 8 to present the inaugural Shooting Sports Showcase at the CMP Talladega Marksmanship Park in Alabama. Notably, the event reunited members of the outdoor industry after a year apart due to the pandemic.
Over 30 companies were on hand to present new products and shooting-related items for 2021 at the show. Here are seven that will be of interest to the all-around competitive shooter.
Mantis X10 Elite
Mantis recently emerged on the scene as a company that builds affordable training tools for shooters to improve their abilities. The X10 Elite works for dry-fire and live-fire with pistols, shotguns, rifles and bows, making it the most comprehensive model from Mantis to date.

Weighing 14 ounces, the X10 Elite sensor mounts to standard slotted accessory rails or adapter and charges by USB. Built in the USA, the it works in conjunction with an app to score your performance and offers real-time feedback and tips to improve. Detailed illustrations and holstering drills make the X10 Elite especially friendly to new shooters and those looking to save on ammunition, as well as improving reaction time and accuracy. $249.99, mantisx.com.
Mantis Blackbeard
By far, my favorite product from the 2021 Shooting Sports Showcase is the Mantis Blackbeard. It works in conjunction with various types of dry-fire training, allowing shooters to practice without having to pull the charging handle between shots. Consisting of a drop-in bolt carrier group and magazine, the Blackbeard works with your existing trigger to dry-fire a simulated rapid-fire string without losing time or disrupting position to run the charging handle.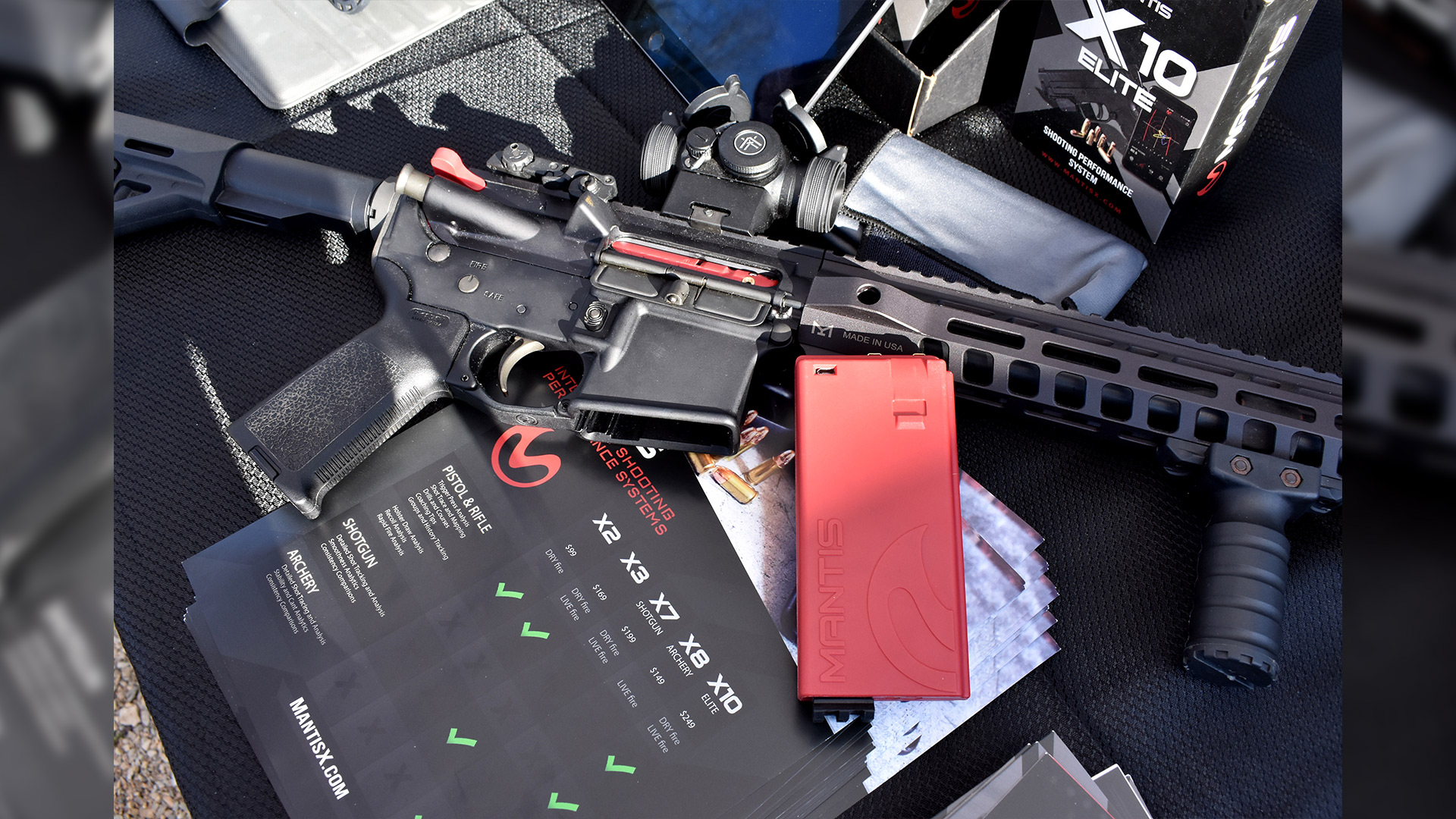 The trigger auto-reset system allows you to dry-fire up to 10 shots per second, and each full USB charge of the unit is good for approximately 75,000 shots. The magazine is the size of a 20-round magazine, which is ideal for high power service rifle shooters. Plus, the Blackbeard can be used in conjunction with Mantis and SCATT training systems. $199, mantisx.com.
GSG 1911 .22 LR HV
GSG's 1911 .22 LR HV pistol doubles both as a training tool and competitive pistol. It has the same look and feel as a full-size M1911 and is compatible with many standard 1911 parts. This single-action rimfire pistol is imported by American Tactical Inc., and sports an ambidextrous thumb safety along with an extended beavertail safety grip. It has a low profile fixed rear sight and comes with three front sights (low, medium and high).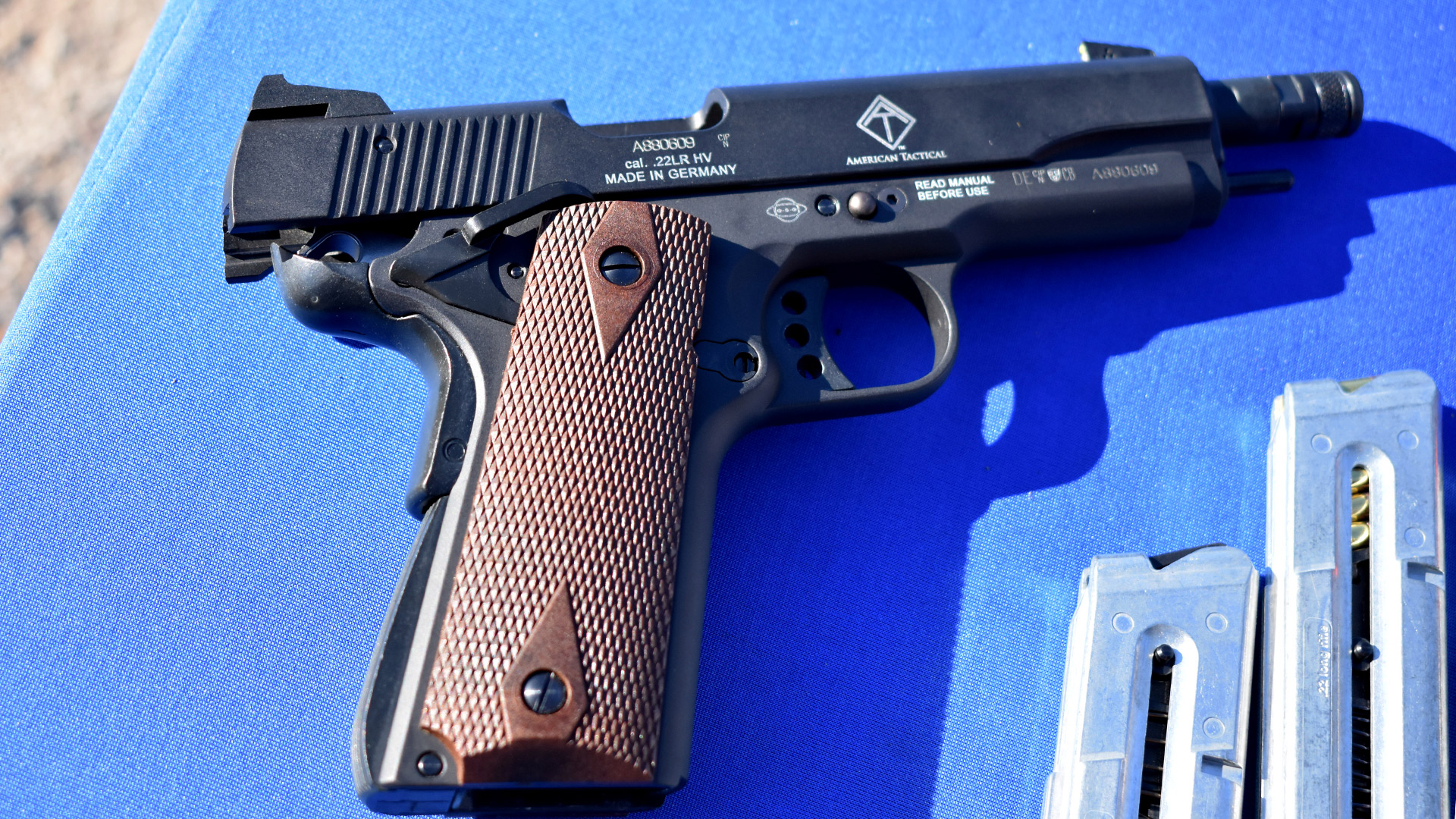 Impressed by the feel of this pistol, I also appreciated the classic 1911 styling in a low-recoil caliber. $319.95, americantactical.us.
Bergara B-14R Left-Handed
At SHOT Show 2020, Bergara made quite the splash after introducing the B-14R .22 LR training rifle. Designed for NRL22 competition, this match-grade, bolt-action rifle provided an intriguing option for precision rimfire competitors. To follow up this year, Bergara expanded the line by creating a left-handed version and adding two calibers—.17 HMR and .22 WMR. Competitive shooters understand how critical rifle fit is to performance, and a left-handed version is a game-changer for the shooters who need it.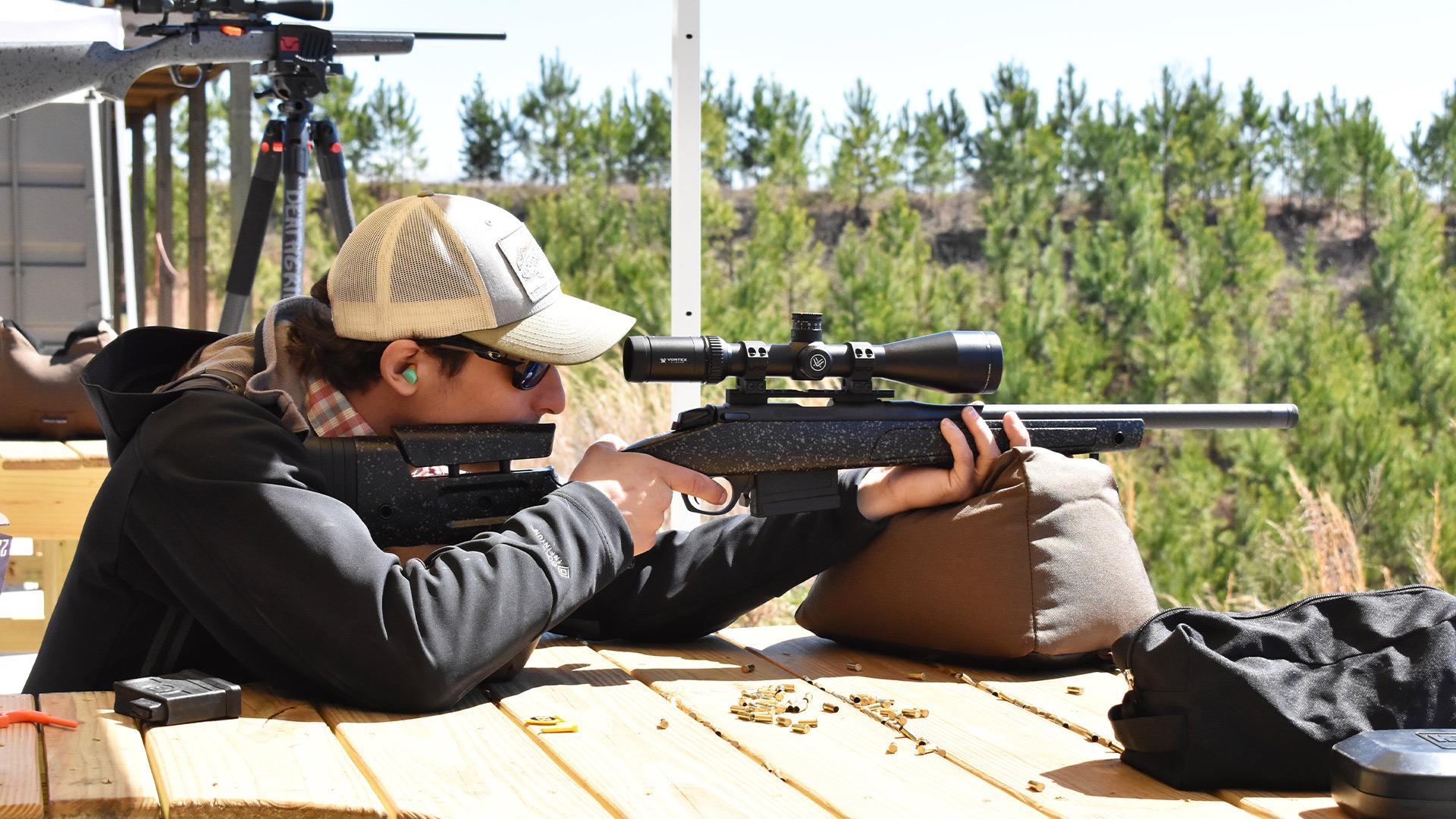 The B-14R is extremely customizable as it works within the dimensions of a Remington 700 platform, allowing shooters to have a similar set up to their centerfire rifle. A 10-round magazine comes standard with purchase. Additionally, carbon and steel options are available. $1,150 (steel), $1,245 (carbon), bergara.online.
Longshot Target Cameras
Longshot Target Cameras can change the overall experience for both the shooters and those behind the line. Partnering with Leupold, Bergara and CVA on the Unknown Distance range at the Shooting Sports Showcase, Longshot's wireless camera systems provided great opportunities for content creation and immediate feedback. Observers gathered to watch live video of animal silhouette targets out to approximately 600 yards, although the cameras will work out to two miles.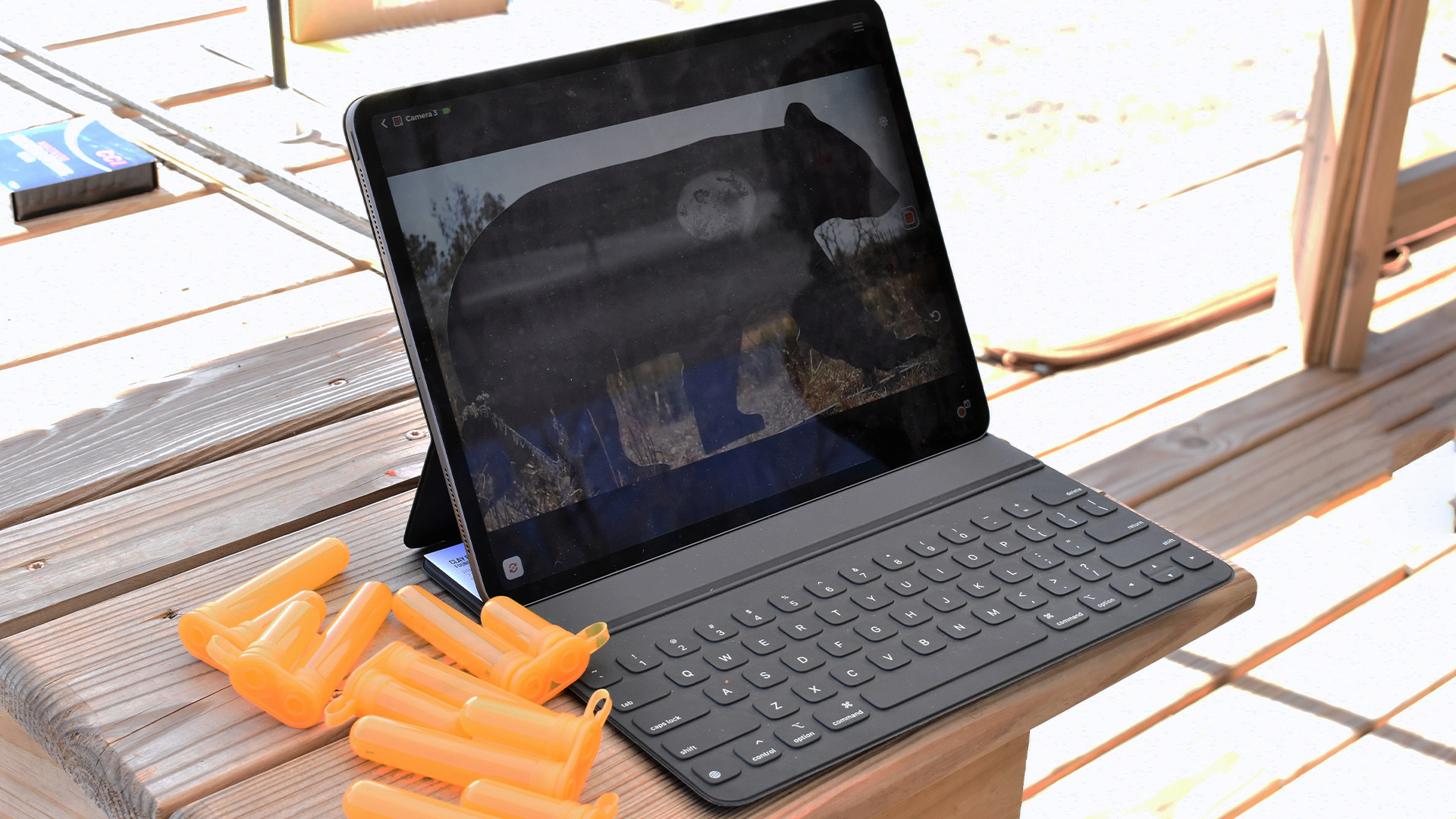 The technology is robust and includes a mode that switches between photos snapped before and after a shot is fired to locate the most recent shot. The corresponding app provides the ability to mark different shots in different colors to represent various types of ammunition or different shooters. Perhaps best of all, Longshot cameras do not require cellular or Wi-Fi service. $199 and up, longshotcameras.com.
XS Sights DXT2 Big Dot Tritium Night Sight
As a competitive rifle shooter, I am unaccustomed to traditional pistol notch sights. Talking with the representatives from XS Sights, they pointed out in a self-defense situation, a precision shooter such as myself may be prone to spending unnecessary time on a perfect shot and obtaining a great sight picture.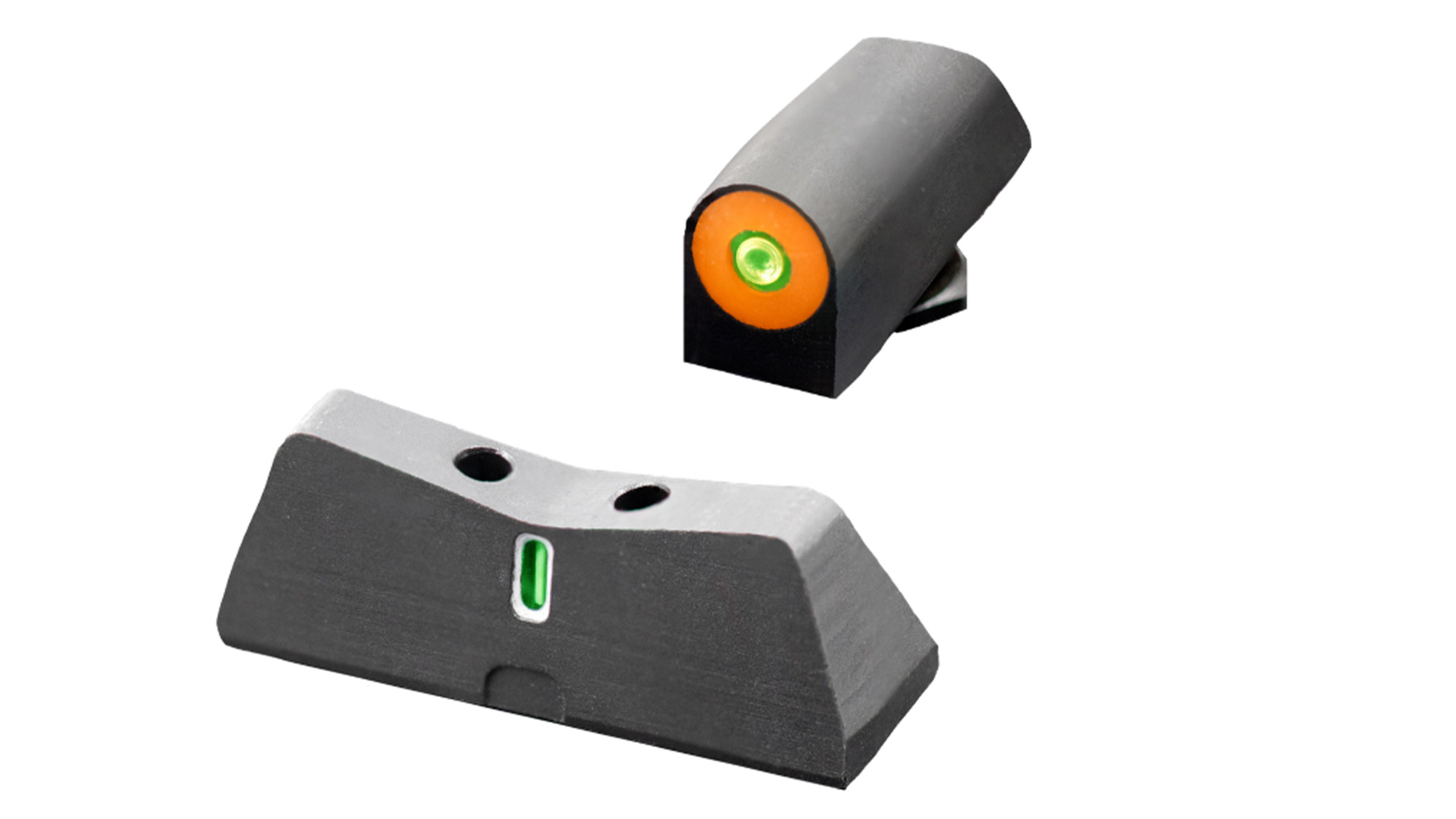 The DXT2 Big Dot presents an intuitive sight picture that is easy and quick to align. The glow dot absorbs light and glows in low light when it is not yet dark enough to see the tritium powered front and rear sights. The low-profile v-notch rear provides a greater field of view for increased visibility of the 0.188-inch diameter Big Dot front sight. $66 and up, xssights.com.
SIG Sauer BDX 2.0 Optics System
"You got it?" the SIG Sauer rep asked. I nodded as he ranged the target. My eyes widened in amazement as I watched a small illuminated dot bounce up and down within the reticle before landing in a new location. SIG Sauer's BDX 2.0 Optics system uses Bluetooth to send specific holdover data from the Kilo BDX rangefinder to the Sierra BDX riflescope. This BDX combo kit comes pre-loaded with eight popular ballistic groups for use right out of the box. The corresponding BDX smartphone app allows you to configure your rangefinder and scope to your specific ballistic and environmental specifications. $989.99, sigsauer.com.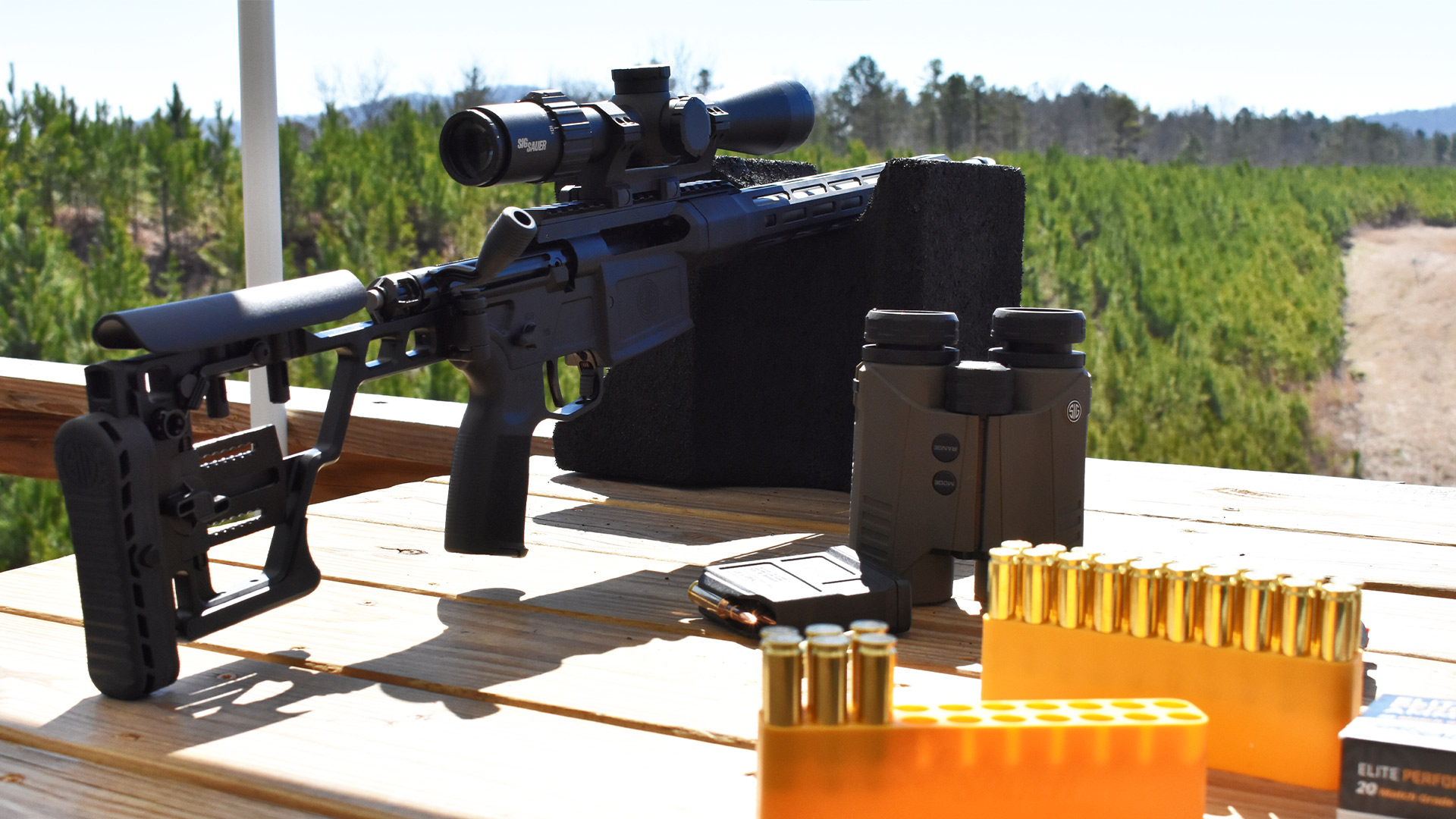 All seven of the above products display how far technology has come, especially for long-range shooting. The competitive shooting mindset desires not only accuracy—but also repeatability—which is only achieved through a combination of quality equipment and training.
Lead photo by Steve Finch.
---
Read more:
Everything You Need To Know About Modern Hearing Protection