Smallbore competition saw a tremendous jump in popularity after World War I, and manufacturers gave considerable attention to developing match-grade rifles. Working with the NRA and competitive shooters on the design of a new rifle, Savage Arms introduced the "Model 19 N.R.A. Match Rifle" in—appropriately enough—1919.

That year, the American Dewar Team used the rifle at the Caldwell, N.J., National Matches, according to period writer F.C. Ness, after which the company made a few improvements to the design. Savage manufactured about 40,000 Model 19 NRA (so-stamped on barrels) rifles by 1937. Another 6,000 went to the War Department from 1943 into 1945. The Model 19 NRA's stock was of military configuration, with finger grooves in the fore-end and sling swivels that made "the arm particularly adaptable to firing from the various standard positions incorporated in matches of the National Rifle Association," according to a circa 1925 Savage Arms catalog.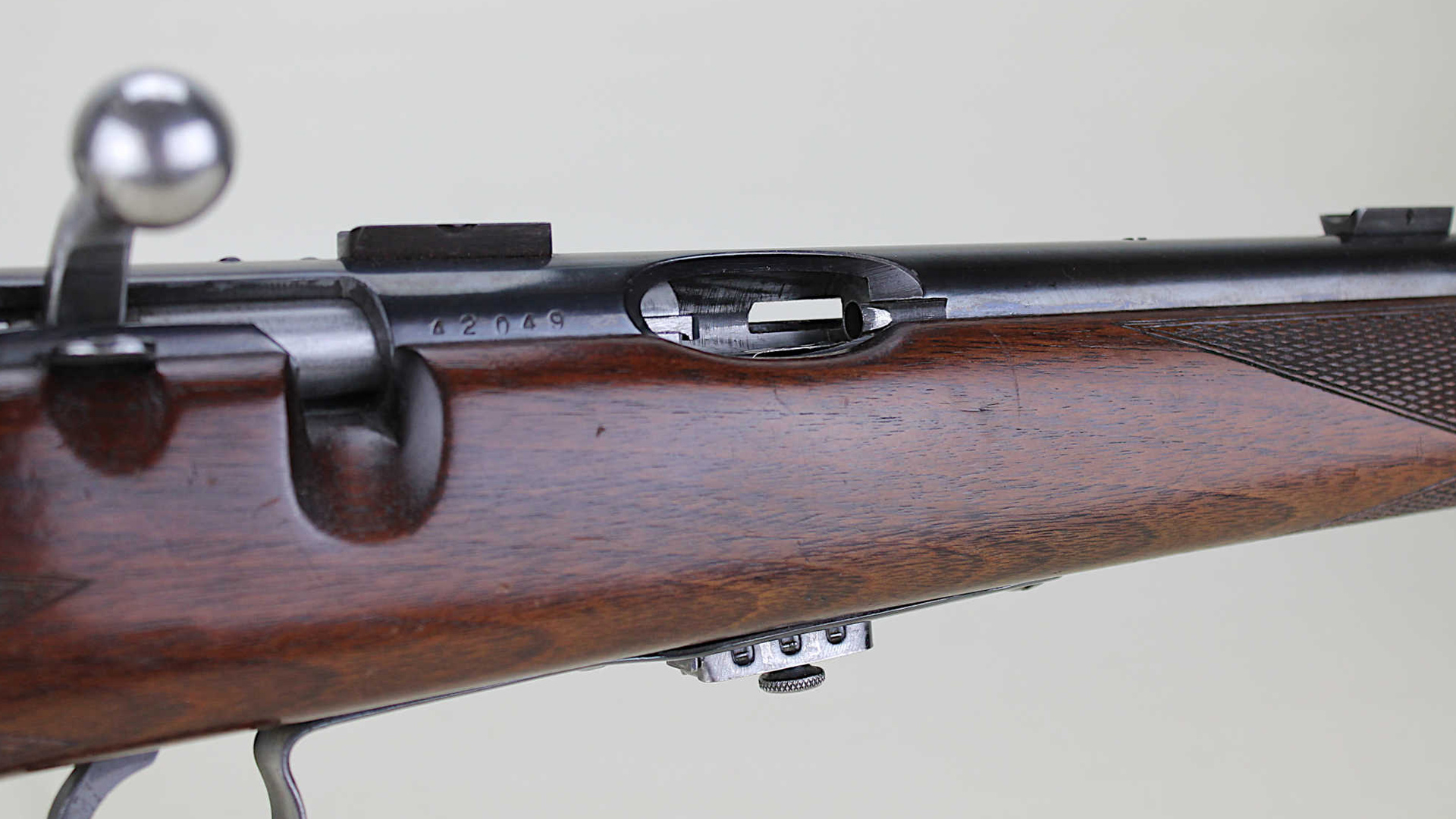 Catalog price of the Model 19 NRA in 1925 was $21.75; extra magazines were 25 cents each. Today, Blue Book value for the rifle is about $200 in 90 percent condition. Savage Model 19 NRA rifles appearing in online auctions in NRA Very Good to Excellent condition fetch $375 to $450. By comparison, the Savage Model 23-A Sporter, which is simply the Model 19 NRA with a hunting configuration stock and sights, commands less respect, selling for $60 to $279.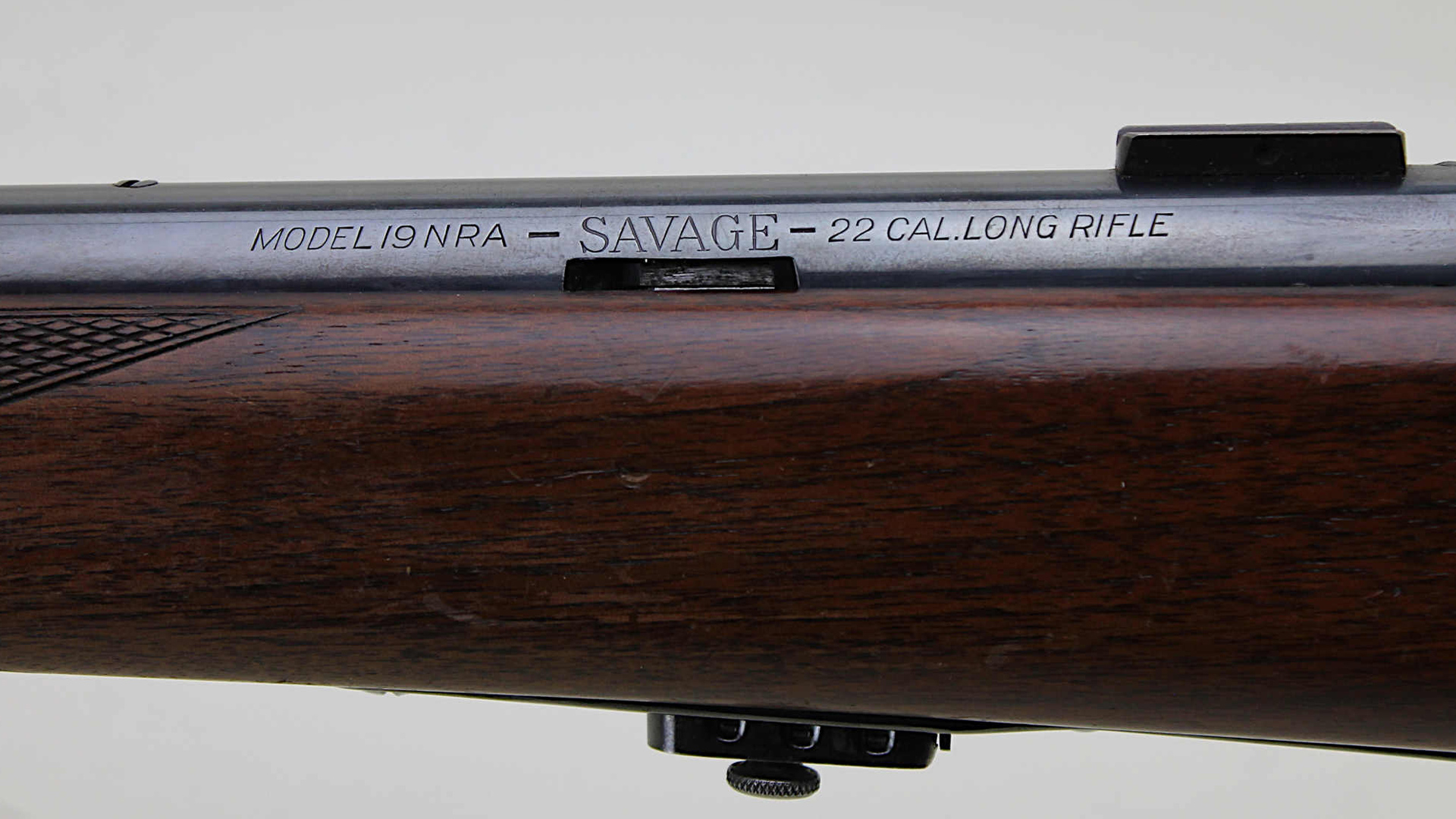 Correct or Custom?
Which brings us to the Model 19 NRA here, an anomaly among references in that the stock is neither the military type stock, nor Savage's Model 23-A plain sporter stock with Schnabel fore-end. Instead, the fore-end is rounded; unlike in images of factory versions, the pistol grip has a cap that appears to be gutta-percha or perhaps Bakelite, and most obvious is the four-panel bordered cut checkering. There are two quick-disconnect swivels attached; the front swivel threads into a barrel band that pulls the barrel down into the stock, as found on the Mossberg Model 144US target rifle, and the buttplate features a "trap" for storage. I could find no reference to any of these features being offered by Savage on the Model 19 NRA. Nor do they match up with its .22 LR cousins, the Models 19L with Lyman receiver sight, or 19M with heavy 28-inch barrel (both manufactured 1933 to 1942).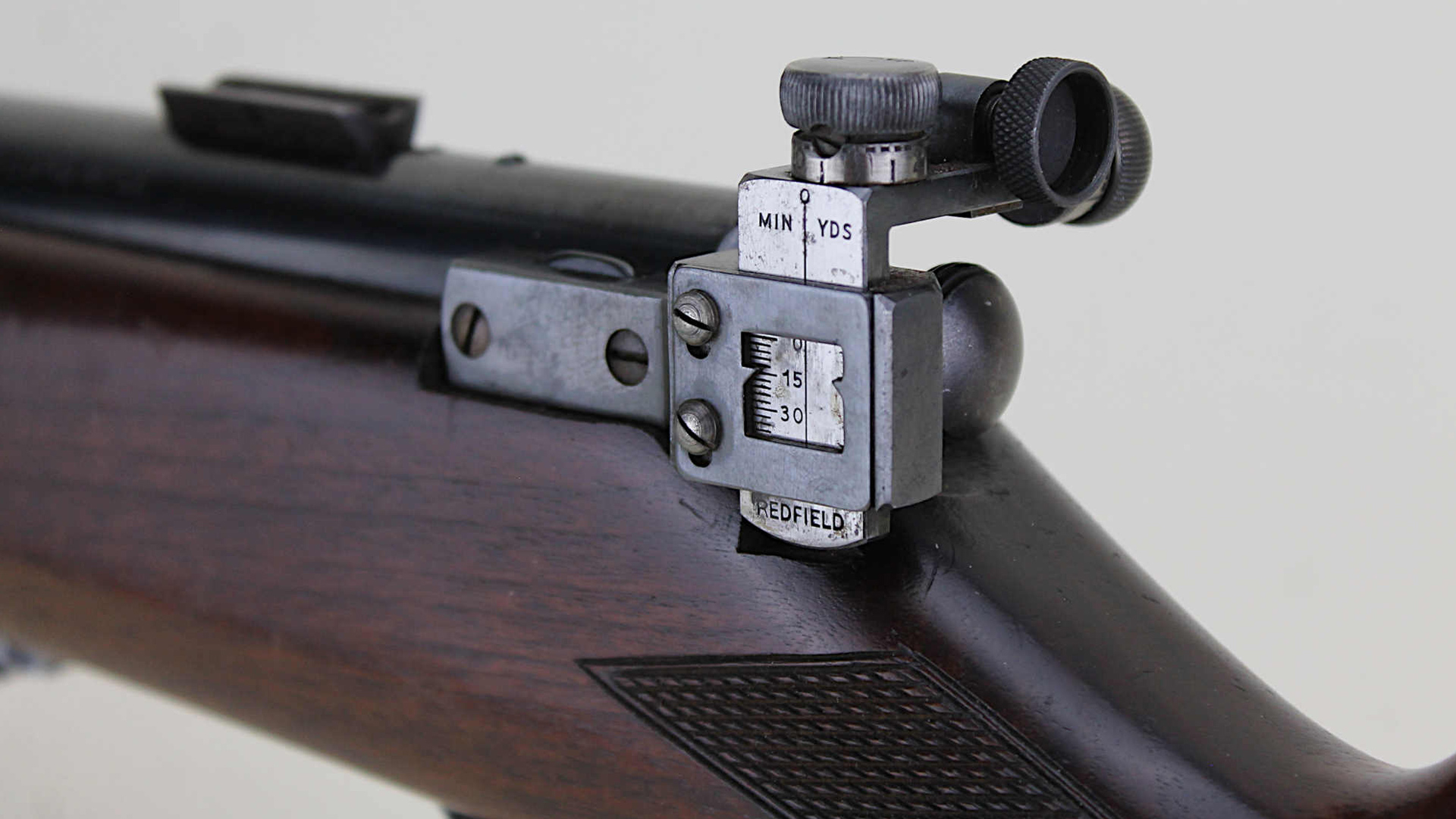 This rifle is the second version of the Model 19 NRA, in serial number range of about 25,000 to 45,000, which replaced the two-point striker with a single-point striker, among other minor changes. Muddying the identification waters further, Savage made yet another version of the same rifle, the Model 1933 (also known as Model 19-33 or Model 33), but for a while retained the "Model 19 NRA" barrel markings. The Model 1933 match rifle shortened the military full-length stock to a half-stock length, extended the loading port across the top of the action and added a rear locking lug to the bolt. The rifle here is clearly not the Model 1933. Lacking any further credible information, then, the unaccounted-for features noted above may be custom features, rendering the rifle theoretically less desirable as an historical piece.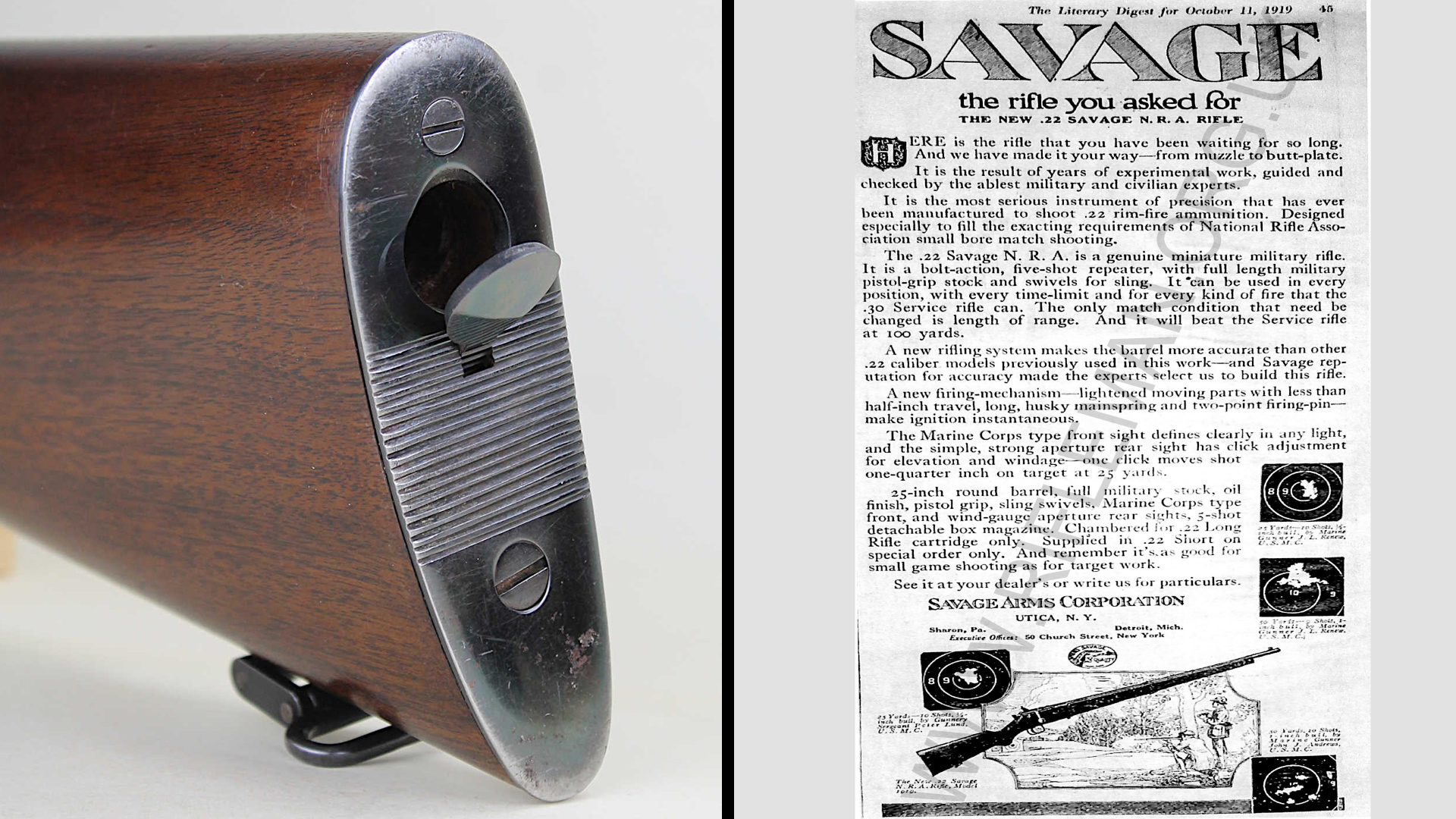 But "desirable" is in the eyes of the beholder, and this Model 19 NRA is still history in the hands. Consider that this rifle may yet be factory "correct," as many gun manufacturers did not routinely produce accurate records (or catalogs, for that matter), and when the War Department cancelled contracts near World War II's end, companies were left with orphaned guns and gun parts. The financial solution was to sell the guns on the civilian market, often with parts substitution to use up inventory or to complete production. This makes for often murky provenance of a firearm, and such may be the case with this Model 19 NRA. Regardless, the "NRA" moniker and overall condition, the rifle's reputation for accuracy, its relative scarcity, bright bore, two original magazines and its affordable price keep it attractive.
Anti-Murphy Design
Barrel and receiver of the Model 19 NRA are unusual, machined from a single piece of steel. Another anomaly, the barrel on this specimen is 22 inches long, whereas references say it should be 25 inches; contour is a heavy sporter weight. Length of pull is 13½ inches, overall length is 40½ inches and weight is 6¾ pounds.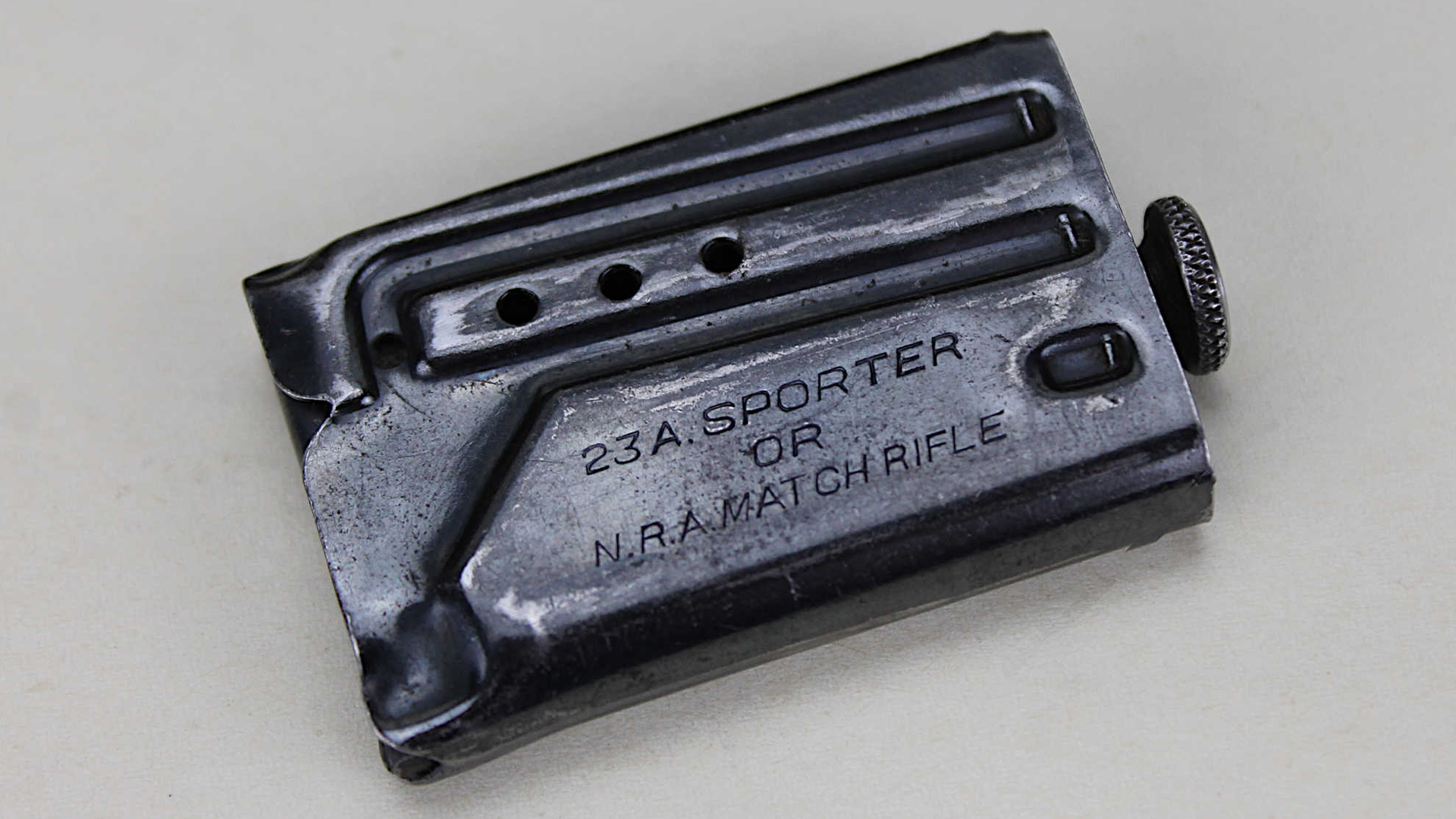 The ejection port is a large oval, easing single-loading of cartridges when needed—and what competitor has never had Mr. Murphy force an unexpected single-load? Twin extractors pinned in place also discourage Mr. Murphy from dabbling with that particular operation. A cut in the left receiver wall accommodates the left extractor and perhaps is intended as a direction for gasses to go in the event of a ruptured case. About half the cocking is accomplished on bolt lift, and the rest during bolt closure. Typical for bolt-action .22 LR rifles, the root of the bolt handle bears against the receiver to serve as the lone locking lug. The safety blocks both trigger and bolt movement, and trigger break is a sweet 1½ pounds.
Match Rifle
Savage's proprietary micrometer rear sight was replaced with a Redfield aperture target sight in a mount specific to the Model 19 NRA/Model 23-A, hinting at factory substitution. The front sight was missing and its dovetail a bit buggered up; careful work with a ball peen hammer, files and cold bluing restored it so that I could then fit a Lyman 17A globe front sight. After disassembly, a careful safety inspection and running dummy cartridges through the action, the old Model 19 NRA rifle was range ready.
With a gusty six o'clock wind perhaps accounting for some vertical stringing, the Savage still managed tight clusters at 25 yards with several brands of match-grade .22 LR ammunition, showing preference for SK High Velocity Match and Aguila Rifle Match Competition loads. The wind soon picked up and swung around to nine o'clock, abbreviating accuracy evaluation at 50 yards with iron sights. Even such limited testing showed the rifle deserves its "Match Rifle" title.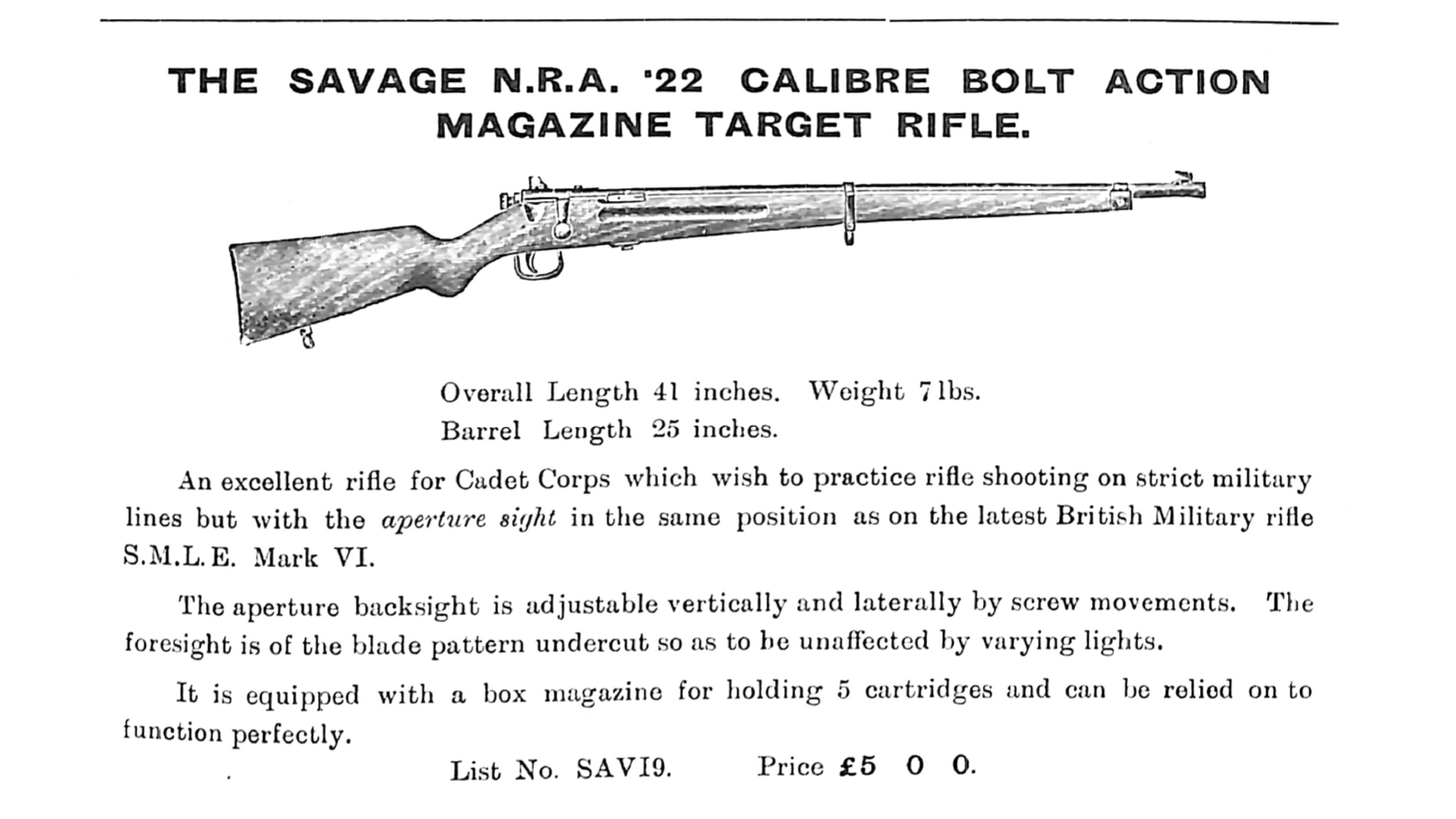 Some Savage Model 19 NRA parts are still available at gun parts houses; the "NRA Guide to Firearms Assembly" has an exploded view schematic and instructions. Original and reproduction magazines are advertised online as well.
Though likely not entirely "correct," this Savage "Model 19 N.R.A. Match Rifle" retains historic value, especially in the "NRA" stamp on the barrel bearing witness to NRA's rich history of American competitive shooting. It's both an endorsement and an acknowledgement of NRA's influence in the sport, stamped into steel nearly a hundred years ago and still relevant today.