Precision rifle shooter Rei Hoang has been making waves since her debut on the PRS and NRL scene in 2015.
Please tell us about your first memories of handling a firearm?
I bought my first rifle in 2012. Although I always enjoyed firearms, my family and friends weren't into them so I had no one to teach me. I decided to visit my local gun shop and choose one off the shelf. Within a few months I went back and this time bought a few handguns. The guys at the gun shop definitely remembered me, not only did I come in there alone (they didn't get many female customers), but I also paid with only $10 bills from a pink Hello Kitty piggybank.
In 2015, I decided to get into long range. On a trip back to the same gun shop (with the same piggybank), I purchased a Remington 700 for my birthday. This time I knew I needed formal training, so I took a precision rifle class from Max Ordinate Academy in Southern California. I immediately fell in love with the sport and had my custom rifle built 3 months later.
Tell us about how you got your start in competitive shooting.
I wasn't sure if I wanted to compete, so I started by trying a small local event. I was a bit nervous, not knowing a soul or ever having been to a competition. All the competitors were very nice and helpful. It was like going to the range with a few friends—it was very low key. This was amazing for me, at the time I lived in NorCal and to get past 200 yards I had to drive 3 hours away. After that match, I knew I wanted to compete.
What firearms and other gear do you use for when you are in competition?
For competitions, I use all custom rifles.
Cloud9 (the name of her rifle): Kahles K525i scope with a Kahles red dot mounted in Spuhr rings, Manners T6A stock, Defiance Deviant action, TriggerTech procurve diamond trigger, ZRODelta CIB gen II, 26-inch Bartlein barrel chambered in 6XC by DMR—and for my bipods I use Ckye-Pods.
Land-Nav (name of rifle): I use an Impact Precision action with a 26-inch Bartlein barrel chambered in 6 BRA. Manners PRS 2 stock, Kahles K525i in Spuhr rings, TriggerTech diamond trigger, Henderson Precision Arca rail, ZRODelta CIB and Ckye-Pods complete the build.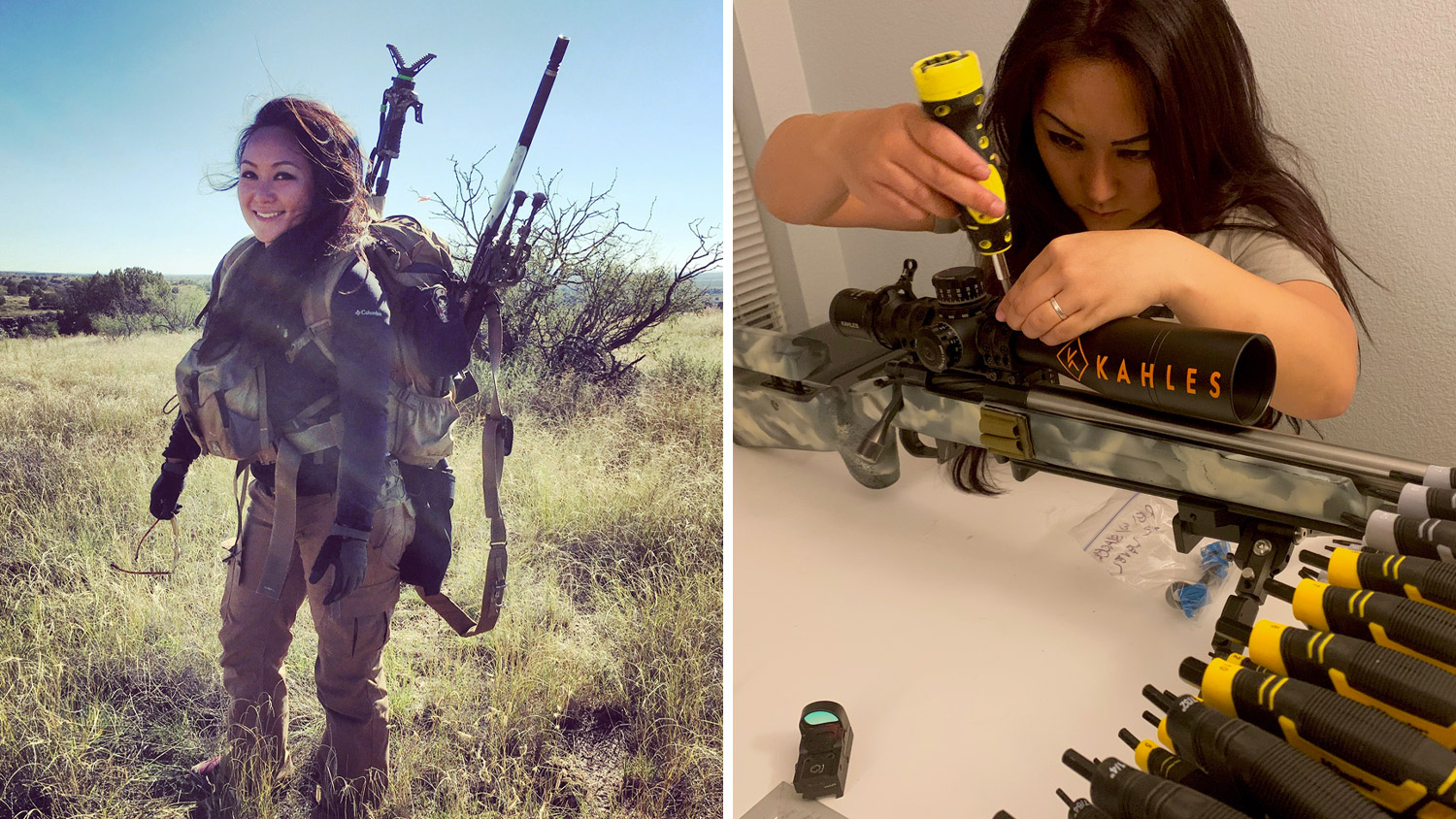 Tell us about your range bag and what you carry in it besides your firearms.
For my range bag I carry a Mystery Ranch 3-Day Military Assault pack. It was hard for me to find something that fit me because I'm only 5-foot 2-inches. Since this pack is customizable, I'm able to get it to fit my small frame. For long hikes, I strap my rifle and tripod to it, and the Mystery Ranch pack distributes the weight evenly.
A few other items she carries in her range bag:
Portable cleaning kit with rods
Fix It Sticks
Knee Pads
GeoBallistics weather meter
Reasor Precision OG gamechanger bag
Magazines for the rifle
Cole-TAC Bullet wallet with ammo
Beef jerky sticks and power bars
Pedialyte packs
Light rain coat
Portable charger
Pens/sharpies

What do you do in your free time?
When I'm not competing or practicing, you will find me at the reloading bench with my Frankford products and LE Wilsons dies.
What would you tell someone interested in finding out more about your sport?
For tactical precision matches, look at the National Rifle League and Precision Rifle Series pages for information and also local matches. If you like field matches, where you hike and shoot, search Competition Dynamics. And, for matches close to home you can always visit the Coming Events section of Shooting Sports USA.
Any tips for new competitive shooters?
Take a formal training class early so you know what to practice and work on. Max Ordinate Academy is a good school to look at. I'm a big advocate for taking the classes multiple times, you'll always pick up something new you may have missed. It's also a great way to solidify the fundamentals.
---
Read more Range Bag articles: