Regina Milkovich shot her first firearm in her late 20s, but didn't pick up another one until she was 36. This led to buying her first firearm in 2009 at a pawn shop—a used left-handed Remington 700 chambered in .223 Rem. After helping as a range officer at a precision rifle match, she wanted to learn how to shoot. A .223 Rem. seemed like an inexpensive way to learn. She had no intention to compete at the time, she just wanted to have something to do with her husband.

With her new rifle in tow, Regina went to the range with her husband where he walked her through the safety aspects. She spent four hours practicing that day, with her husband going through each step—how to get behind the rifle, zero the scope and shoot from a small barricade. When they finished and were packing up he informed her she was shooting in the club match the next day. Regina ended up coming in fourth place at the match—and has been hooked ever since.

Since then, Regina has won several club-level matches in Arizona, Nevada, and Texas. She's also finished in the top 10 numerous times on the national circuit. Currently, Regina is the only woman that's won overall at a Precision Rifle Series competition, when she won the NorCal Tactical Bolt Rifle Challenge in 2016.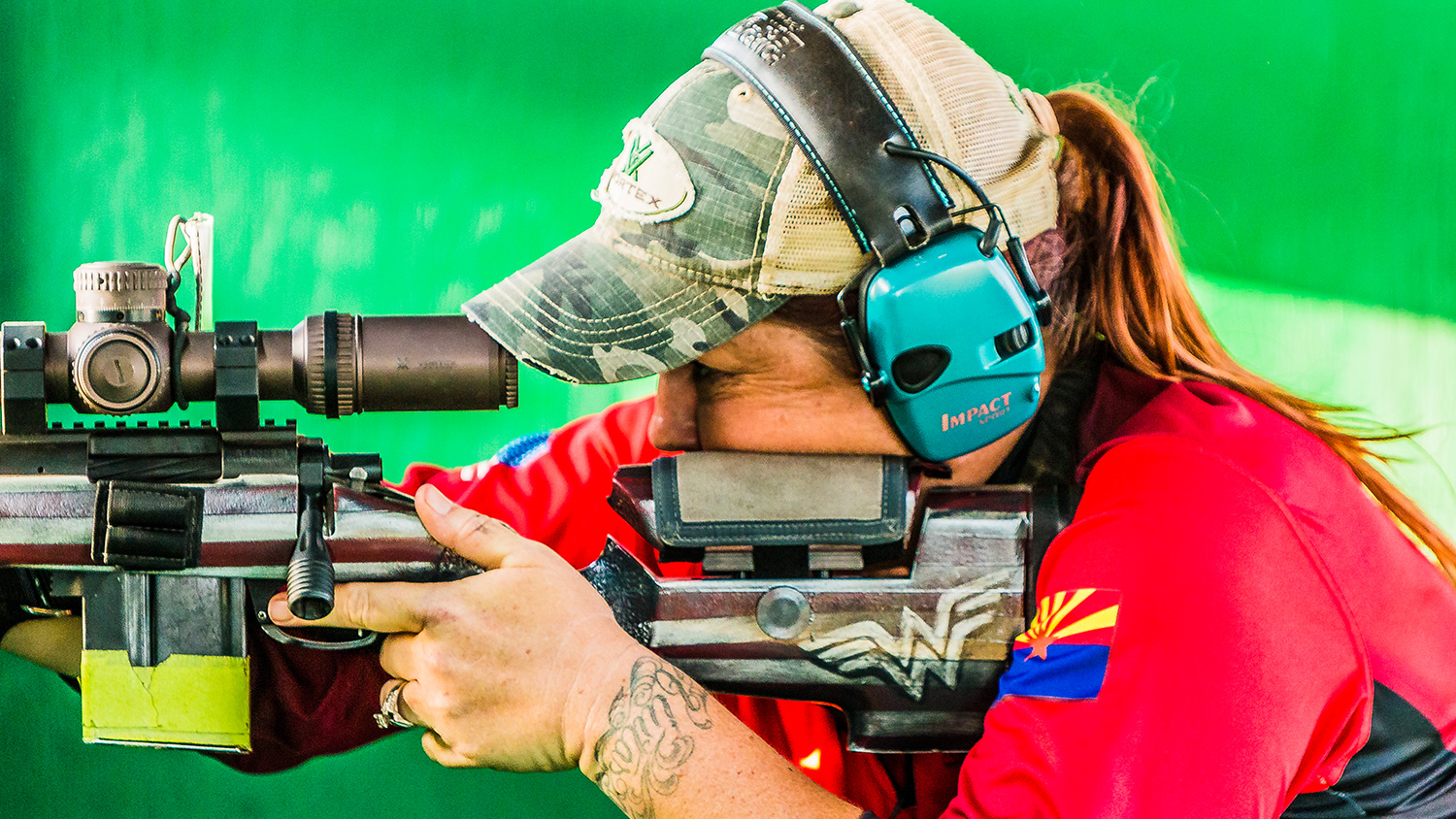 Regina has two competition rifles and one practice rifle she uses most frequently. They're all built on Surgeon Rifles 591 short actions with Surgeon bottom metal, Timney Calvin Elite single-stage straight triggers, Hawk Hill Custom medium Palma barrels, and McMillan A3-5 stocks. Recently she picked up a McMillan/KMW stock and will have it in circulation as soon as she has a little more time to practice with it. For optics she uses the Vortex Razor Gen II on all the rifles, preferring the EBR-2c reticle. Recently, she started using Nexus Ammunition in her .223 Rem. For the past two years her 6XC components have come from Butch's Reloading (Hodgdon powder and CCI primers) and Superior Shooting Systems (115 DTACs and Norma brass).

Regina uses GeoBallistics BallisticARC for her data. Short Action Precision makes a two-round holder that's along the side of her rifles in case she needs a backup round or two. For data when there are multiple target engagements she uses either the Sidewinder Industries Python data card holder, or a Rifles Only slap data card depending on the course of fire. The Python attaches to the rifle scope and the slap data card is worn on a wrist.

Voodoo Tactical supplies all of Regina's range bags and packs. She carries a Scorpion range bag for pistol and a Mini-Tobago for a rifle pack. If she has a bag that is too large, she tends to overpack with a bunch of rarely used items that weigh her down. The Mini-Tobago opens all the way up so she can easily access the items she needs right away without having to dig and search. Plus, it has a bunch of side pockets perfect for storing her range finder, weather meter, magazines, extra hearing protection, sunscreen, and lip balm. For her rifles Regina uses Patriot Cases. They're the only ones she travels because of the upgraded foam. Her zero has never shifted regardless of how rough baggage handlers are. Since precision rifle seems to have more support gear each year she has a few WieBad bags including several from their modular line. Her new favorite is their "fortune cookie" bag which she's used almost as much as her rear bag.

For those interested in competing, Regina suggests finding a local club and check out one of their matches. Ask questions. Everyone in this sport is super helpful. There are a ton of forums and social media pages, but the most helpful advice anyone can give is just go do it. There are also a few credible training schools including Rifles Only in Texas (one of her sponsors), K&M in Tennessee, and CORE in Florida who all offer quality beginner-level precision rifle instruction.

Regina's tips for new shooters: Don't be afraid to ask questions, pay attention, take notes, and once you've gotten your questions answered, find what works best for you. Every one of us is just a little different so something that might work great for one person won't for you. The guys on the top of the score board have all zeroed stages before. Also, dry fire practice is more important than live fire practice. Once you've gotten your zero and checked your elevation dope, get off your belly. Much of what her sport is about is building positions quickly. Thus, practicing off any type of prop will be beneficial (this is when the dry fire comes in handy). Learn how to use a sling. Congratulate yourself on your successes three times more than you beat yourself up for a miss.

Regina's favorite accessory her Really Right Stuff SOAR tripod. After shooting off of one at a match she had tripod envy so she bought one for herself. Their tripods are super-lightweight and the leveling base is quick to use as well as an extremely stable shooting platform. She's made impacts on steel at almost 1300 yards using one! She also uses a Send-iT level for her rifle from Long Range Arms. Regina is still trying to find the perfect place for it on her scope rail, but loves that it's something to help correct rifle cant that is quick, bright, and easy to see while under tight time constraints.

Follow Regina Milkovich on Instagram

All photos by Mary DuBuisson