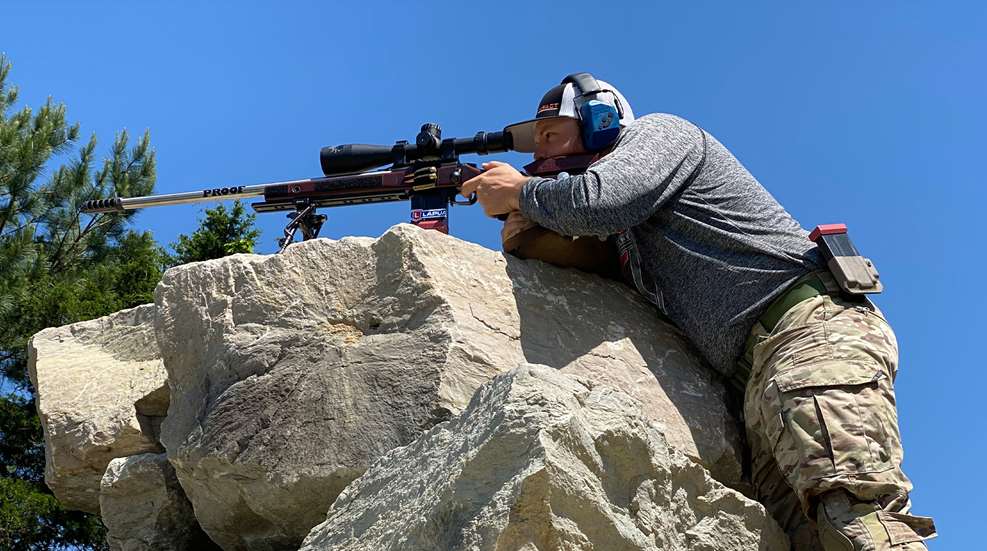 Meet precision rifle competitor Austin Orgain, who not only won the Armageddon Gear Cup last October, but also took home the PRS Pro-Series Gold Bullet award after winning the 2021 season's points race. He is the first shooter ever to win both. Find out what Orgain keeps in his range bag.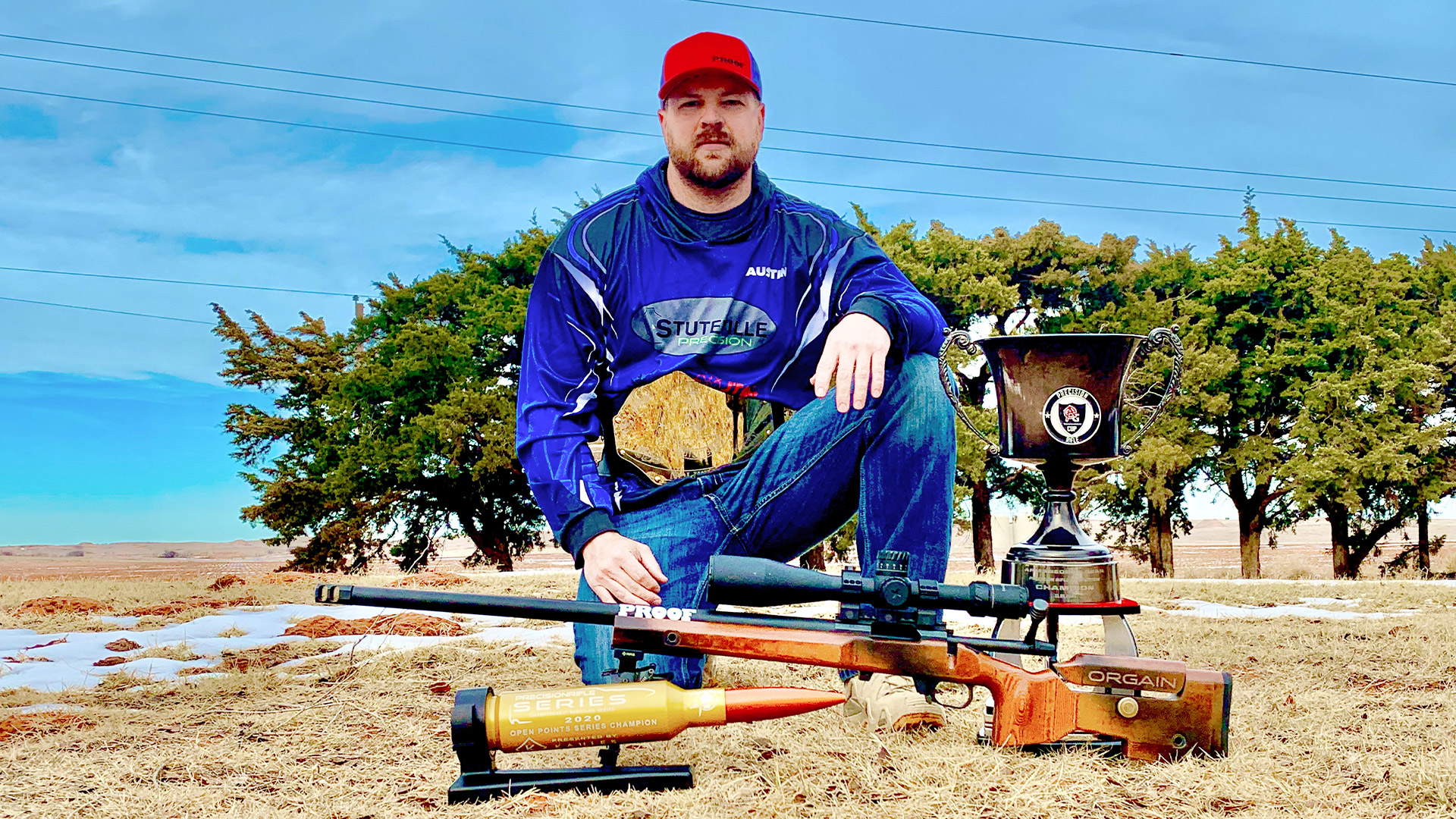 What are your first memories of handling a firearm?
I first remember shooting a .22 LR with my uncle at around six years old. From there, I began shooting BB gun. Later on, while in 4-H I shot trap, along with pellet rifle and pistol.
Tell us how you began in competitive shooting?
In 2015, I began competing in precision rifle. For most of my life I had rodeoed, then team roped and calf roped on a college scholarship. After graduating college and beginning my engineering career, the roping slowed down and I needed to fill the competitive void that was left. I always had an interest in firearms and shooting sports, so precision rifle competitions fit me perfectly.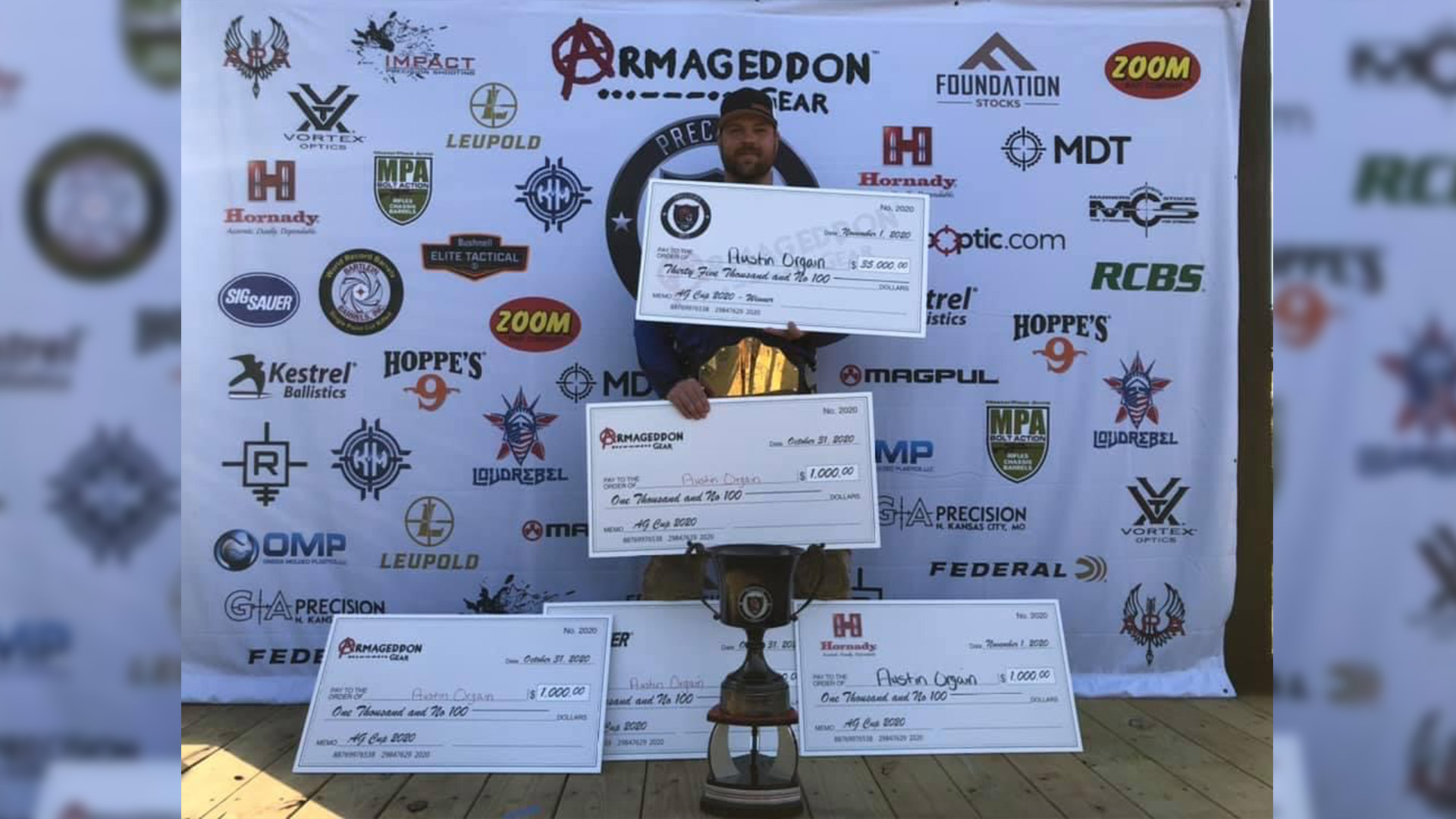 What firearms and other gear do you use for competition?
All of my competition rifles are custom jobs. They are built from the following components:
Impact Precision Actions
Foundation Stocks, Centurion model
Proof Research Barrels (typically chambered in 6 mm Dasher)
Stuteville Precision Gunsmithing work
Bix'n Andy TacSport Pro trigger with Gator Grip shoe
ACE muzzle brake
Really Right Stuff tripod and bipod mounts
Tangent Theta Scopes with JTAC reticles
Hawkins Precision bottom metal and scope rings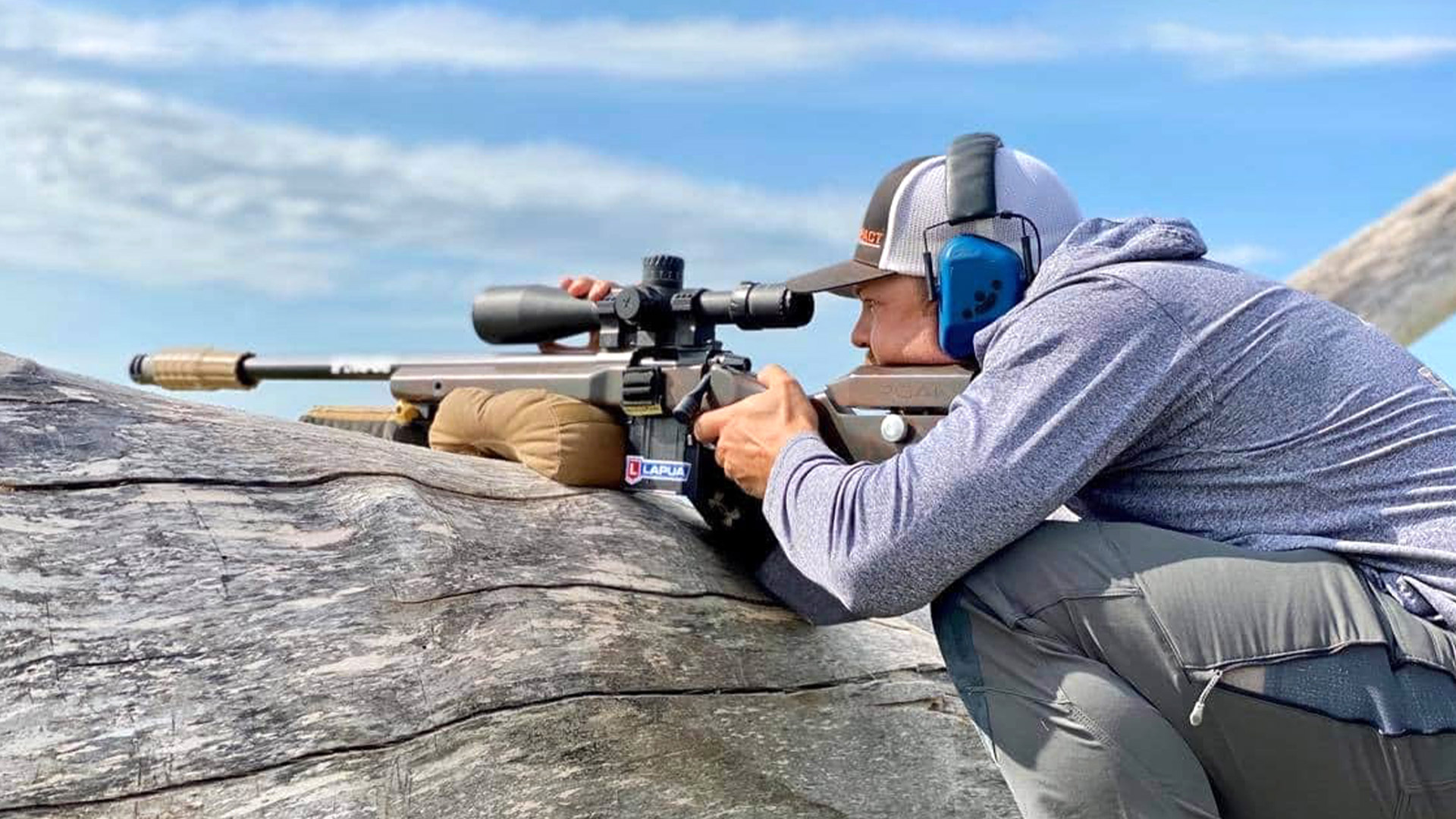 As for ammunition, I use Hornady 110-grain A-tip bullets with Alpha 6 mm Dasher brass. It's all handloaded myself or by Clay's Cartridge.
Tell us about your range bag and what you carry in it besides your firearms?
For my range bag I carry an Eberlestock Gunslinger II. It's rugged, versatile and large enough to hold all of my bags, ammunition and gear. The metal frame in it also helps bear the weight. For the past six years this pack has traveled with me to every match. Besides a few broken buckles, it's still in great shape.
In addition to my firearms and ammunition, I keep the following in my range bag: Kestrel Weather Meter, Weibad Mini Fortune Cookie sandbag, cleaning rags, extra trigger, two AICS magazines (one 10-round mag and one mag with a two-round extension), Hornady One-Shot gun cleaner, Allen wrenches, earmuffs and earplugs.

Can you share more about your ammunition and rifle gear?
Recently, I switched to Hornady 110-grain 6 mm A-Tip bullets. The high consistency and high ballistics coefficient in these bullets have been a real gamechanger. I also switched from an Exodus to a Centurion stock and it has been a much better fit for me. At the moment, I'm in the process of switching over to the new JTAC reticle in my Tangent Theta scopes. It's a clean reticle with less etching on the glass and minimal distraction and obstruction for spotting your hits and misses.
What would you tell someone interested in finding out more about your sport?
There are some good YouTube videos that encompass what we do in our sport and how to get started. Then visit a match and just watch the first time. You can find them around the country any time of the year.
Any tips for new shooters?
Don't be afraid to jump in and shoot a match. Meet the local people that have shot some and learn from them. Once you get the general idea of what is going on, take a class because you don't know what you don't know.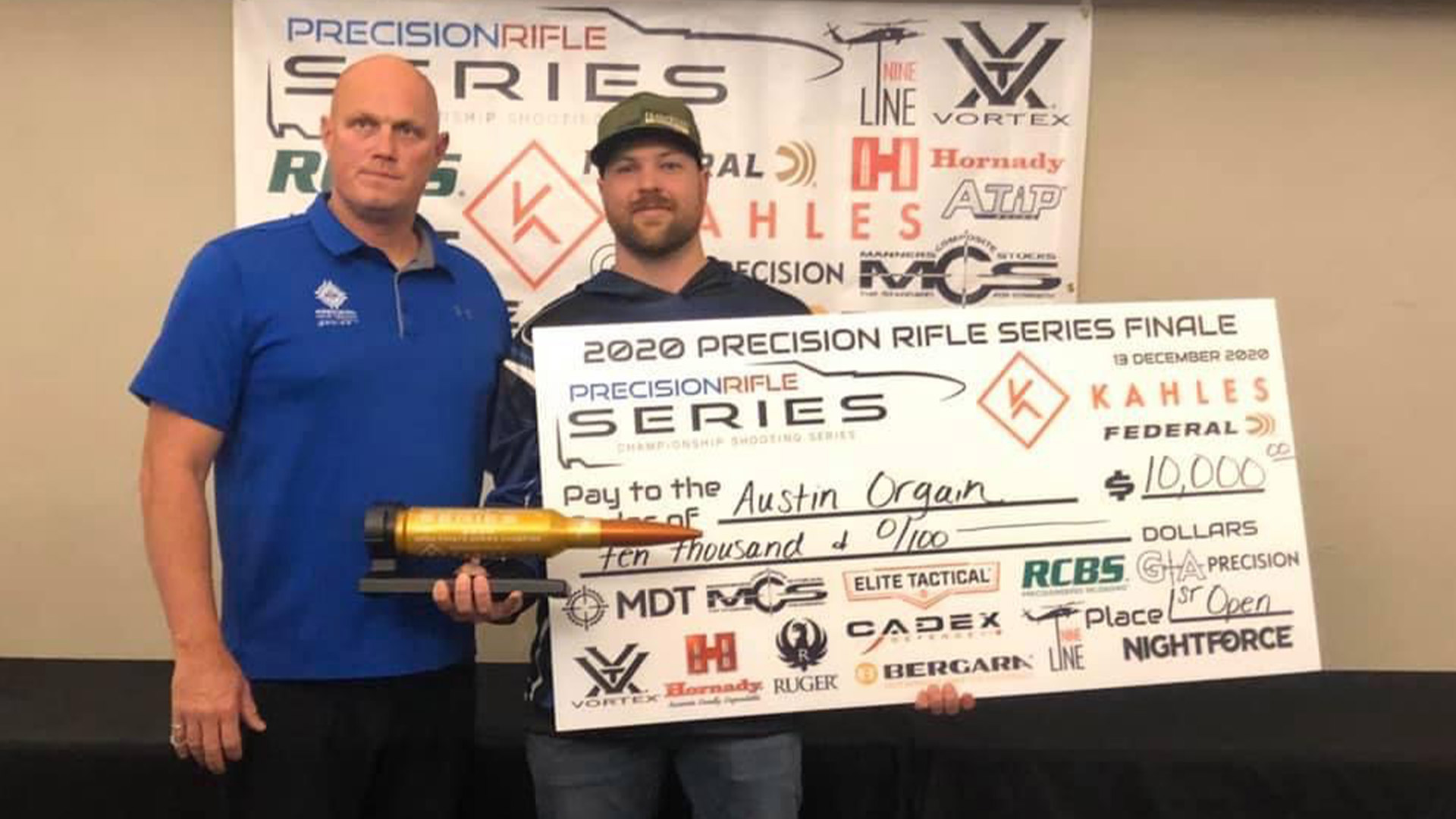 I'm a part of JTAC Precision Rifle Training. Our training provides attendees different perspectives from champion shooters on how to approach and shoot stages, the proper mentality to have and wind calling strategies. We can give you the knowledge and tools to shorten the learning curve and increase your skills in only a few days. Plus, students are fed a homegrown ribeye steak with all the trimmings.
---
Read more Range Bag articles: