by
U.S. Army, Army Marksmanship Unit, Custom Firearms Shop
posted on April 21, 2017
Support NRA Shooting Sports USA
DONATE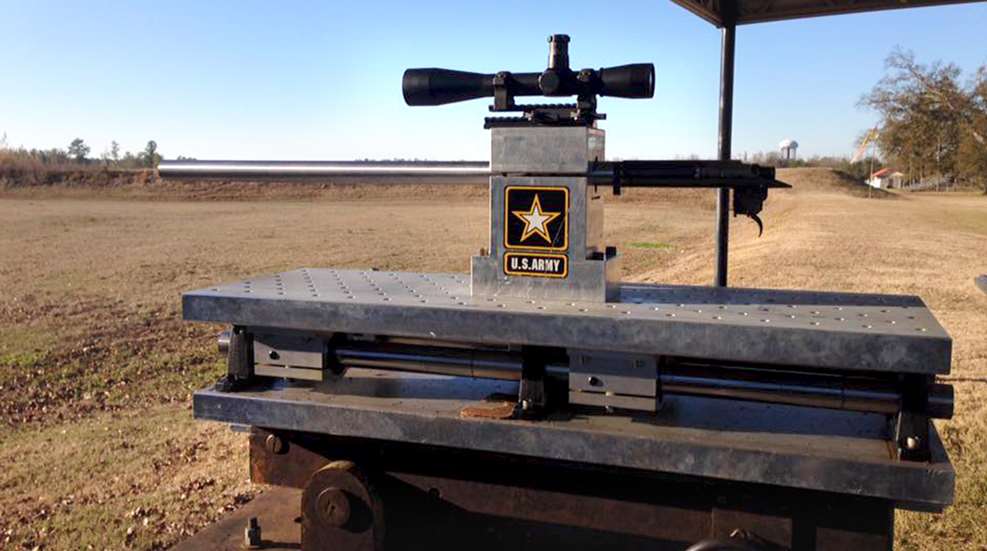 WARNING: All technical data in this publication, especially for handloading, reflect the limited experience of individuals using specific tools, products, equipment and components under specific conditions and circumstances not necessarily reported in the article and over which the National Rifle Association (NRA) has no control. The data has not otherwise been tested or verified by the NRA. The NRA, its agents, officers and employees accept no responsibility for the results obtained by persons using such data and disclaim all liability for any consequential injuries or damages.

Above: Almost too easy? A U.S. Army Marksmanship Unit Long-Range barreled action, ready for machine-rest testing at 1000 yards.

Our previous 3-part series focused on ordering a custom-chambered match barrel, some possible pitfalls, and how to avoid them. We covered the use of separate chamber throating to optimize one's throat to the selection of bullets one wanted to use. Furthermore, we addressed the use of dummy cartridges and ogive comparators to ensure compatibility both between individual bullet designs and magazine-length OALs for proper feeding. Additionally, we discussed live vs. fixed pilot chambering reamers, and working with your custom gunsmith.
In this article, we will take a somewhat different tack: what happens when your new Wunder-rifle arrives home—or, in the case of a factory rifle, things to watch for in the load development process. For this discussion, basic assumptions are: (A), the shooter is reasonably talented at assembling consistent, accurate ammunition; (B), high quality equipment and components with a proven track record for accuracy are being used; (C), rifle testing is with good optics on a proper target and from a solid position, and (D), he/she is capable of shooting well enough to make a valid assessment of the rifle/ammunition system's accuracy.
First things first: truly accurate rifles generally aren't picky eaters! That is, it's usually easy to develop at least a rather accurate load for them with little effort. Certainly, one can fine-tune loads by adjusting powder types and charges, seating depths, etc., but overall, a good rifle "wants to shoot well" from the start. The accuracy of even early handloading efforts should be at least respectable, and quite possibly, even impressive!
This is particularly the case when working with a match rifle which was built for accuracy. In the case of factory rifles, one may have to do more tweaking of loads, possibly stock bedding, etc. in order to start seeing good results, although some will shoot very well right out of the box. Those, we call "naturals." Others will defy all efforts to get them to shoot well, and those we call … er … other things.
To illustrate, the author once ordered a custom AR15 Service Rifle with a very expensive, stainless 1:8" twist "benchrest-grade" barrel, built by a 'smith who had something of a reputation in the field. It was ordered for use in a couple of important matches, and arrived with very little time to spare. The author wasted no time scoping the rifle, taking the usual throat measurements, and beginning the load development process. At this time, the nearest range was 80 miles away.
So, hoping to have the rifle ready in time for the matches, the author would leave work daily, drive to the range, and carefully fire as many test-groups as possible before sundown. Then came the long, 80-mile drive home, cleaning the rifle, and based on the day's results, preparing the next set of test cartridges. Lather, rinse, and repeat … This went on for 10 days, without success! The rifle would not shoot less than 1.5 MOA with 80-grain bullets in innumerable combinations.
Moreover, it shot only marginally better with 75-grain VLD's, and even refused to group well with the universally-beloved 69-grain match bullet designed for 200/300 yards! In short, the rifle never did perform well with any combination using bullets heavier than 52/53-grain. The "gunsmith" staunchly refused to honor his verbal "guarantee" that the rifle would shoot "0.5 MOA or better," and left the author holding a very expensive tomato stake. 1:8" twist. Hand lapped. Stainless steel. Benchrest grade.
The above cautionary tale—and others like it—explain the author's emphasis earlier in our series about researching one's choice of gunsmiths—and whether they truly *would* honor their guarantee. Somewhat later, the author ordered another AR15 Service Rifle from a well-known, very honest and reliable, highly-talented AR15-smith. The author opted for less than a top-tier barrel, but had seen many of these barrels from this 'smith perform admirably in local competition. In fact, one held the local range record for high score for several years! To paraphrase a popular movie franchise, based on his research, "the odds were in his favor." The strategy was to improve skills by practicing intensively with the "bargain" barrel, and then replace it with a first rate, cut-rifled barrel thereafter.
By this time, the nearest range was only 35 miles away, and the author made regular trips to develop loads for the new Service Rifle. Unfortunately, it wasn't performing very well with a variety of bullets, powders, seating depths, etc. As he'd seen countless rifles from this 'smith shoot very accurately, it never really entered his mind that this might be a "dog." Thus, he worked intensively on it for six weeks, and 500-plus rounds of very carefully planned and tailored match handloads. Finally, he called the 'smith, who immediately offered to replace the barrel. Two weeks later, a newly-rebarreled upper receiver arrived. It started shooting accurately right from the start, and the author had a big "Ah-Ha!" moment.
It would serve him in good stead a couple of years later, when he had a 6.5mm/.284 cal. long-range prone rifle built by a nationally-famous, extremely talented 'smith. Within 40 rounds, he could tell that the rifle just wasn't performing nearly as well as it should have. Instead of wasting a large chunk of his (expensive!) barrel life, he called the smith. Instantly, the smith stated he knew the fix and asked that the rifle be returned. Within two weeks, it re-appeared—now sporting a very nice custom bolt-handle installed for free, as compensation for the author's inconvenience. The rifle performed extraordinarily well, thereafter.
The moral of this story is, if you receive a new, custom match rifle, it should perform rather well in fairly short order, assuming quality load development and testing. If it doesn't, don't waste buckets of expensive match bullets and half a season trying to find the "magic combination." Chances are, you won't find it … and, if somehow you *were* to find such a load, a rifle that finicky would very likely cause massive frustration further into the future.
Instead, contact your smith, politely outline the situation, and give an *accurate, detailed* report of your test procedures and results. Work it out with him. This will save you considerable time, money and frustration, and hopefully get you and your rifle afield and performing admirably in the quickest possible time.

SSUSA thanks the U.S. Army Marksmanship Unit for allowing the reprint of this article.