A member of the collegiate competitive shooting family has been taken from us far too soon. Ensign Joshua Kaleb Watson, 23, who was killed in the Naval Air Station Pensacola terrorist attack on Friday, Dec. 6, was the U.S. Naval Academy rifle team captain prior to his graduation earlier this year. The entire shooting community mourns his loss.
A native of Enterprise, AL, about 125 miles northeast of Pensacola, Watson had known that he wanted to join the military since he was 5 years old. During his final season at the Naval Academy, Watson competed in 13 matches. He notched a 576.2 smallbore average for the season, which was the second-best on the team. To cap his collegiate shooting career, Watson made his first appearance at the NCAA rifle championship, where he shot a 577 in smallbore and 578 in air rifle. Another career highlight was in 2019 against the U.S. Military Academy at the Star Match, where he finished with a career-high aggregate score of 1172.
Watson was a natural leader. While at the Naval Academy, not only was he the rifle team captain, but also a small arms instructor and wrestling coach. After his commissioning last May, he remained at the Academy on temporary assignment in the Physical Education department. All that knew him say he was an outstanding citizen and teammate.
According to his father, Benjamin Watson, his son dreamed of becoming a Naval Aviator. In fact, the younger Watson had reported to NAS Pensacola to begin the flight training pipeline just two weeks prior. He was the officer on deck at the time of the shooting.
Watson is being hailed as a hero according to many accounts, including his brother.
"After being shot multiple times he made it outside and told the first response team where the shooter was and those details were invaluable, said Adam Watson. "He died a hero and we are beyond proud, but there is a hole in our hearts that can never be filled."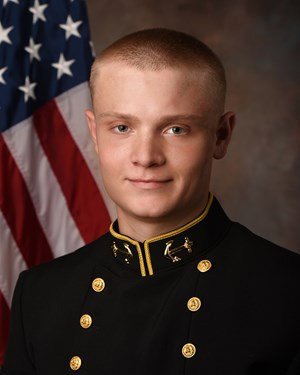 Ensign Joshua Kaleb Watson
1996-2019
Photos courtesy of U.S. Naval Academy