In his latest video for Shooting Sports USA, 12-time NRA National Pistol Champion Brian Zins shares his solutions for beginners diagnosing pistol grip problems. Watch the video above.
One mistake often made by new shooters that sticks out to Zins is grip pressure as they are manipulating the trigger. With a two-handed grip, the problem is often attempting to pull the trigger with both hands.
"As they squeeze the trigger, you will see both hands start tightening up," says Zins. "Well, it's kind of hard to maintain perfect sight alignment and sight picture with the target in relationship to your eye as you are pulling the trigger—if the rest of [your] hands are actually moving the gun while you are trying to manipulate the trigger in itself."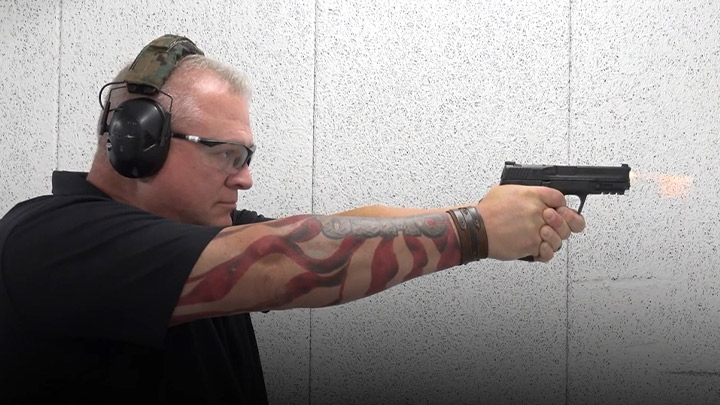 A firm, but not too firm grip will help. When you are practicing, be aware of how much pressure you have on the pistol with both hands. Make sure your grip pressure does not change as your sights are aligned and you are manipulating the trigger to the rear.
Even if you have a good grip, you can still fall victim to incorrect grip pressure. Be sure to only move the trigger finger while firing. Avoid the urge to pull the trigger with both hands, as Zins describes in the video.
And remember, consistency is one of the most important fundamentals to have to become a better pistol shooter.
"Once you get that gun out there and you have a good, steady grip pressure that can manage and maintain recoil, make sure that you leave that grip pressure exactly the same. Be aware of how much pressure you have on both hands."
To learn more about Zins' pistol training classes, please visit his Facebook page here.
Below are links to previous installments in our pistol shooting video series featuring Brian Zins.
---
See more:
Mental Training Techniques