Twelve-time NRA National Pistol Champion Brian Zins says "there is no such thing as follow-through." In his experience training students, there is much confusion for bullseye shooters when it comes to comparing follow-through and recovery.
For starters, taking your gun and bringing it back on the center of the target after the recoil from taking a shot is not follow-through.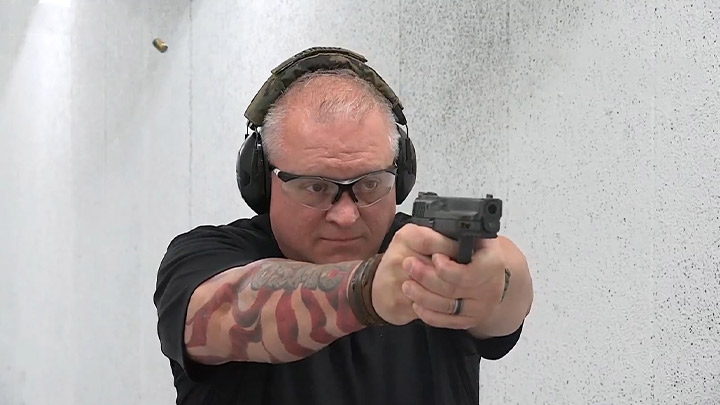 The definition of follow-through is:
follow-through [fol-oh-throo] "The continued application of the fundamentals of marksmanship until the bullet has exited the barrel."
Once a bullet has exited the pistol barrel and the gun goes into recoil, follow-through is over. Thus, bringing the gun back on the target (for both one- or two-handed pistol shooting) is not follow-through. As soon as the gun rises in recoil, follow-through is over. This is because you have maintained sight alignment until the millisecond the bullet has exited the barrel.
According to Zins, follow-through is a leftover term that dates back to the age of muzzleloaders.
"Follow-through is a term that was designed back in the day for muzzleloaders ... flintlock, matchlock—whatever the case may be ... [the] powder burns, builds up pressure and sends a big .50 or .60-cal. ball down the barrel. You could literally change your [aim] before the gun actually fired. That's follow-through, because you had to maintain perfect sight alignment and hold the firearm steady until the bullet got out of the barrel. With modern-day firearms, this is not the case."
Be sure not to confuse follow-through with recoil management and recovery. With modern-day firearms, follow-through has ceased to exist.
To learn more about Zins' pistol training classes, please visit his Facebook page here.
Below are links to the previous videos in our pistol training series featuring Brian Zins.
---