A member of the Air Force Pistol Marksmanship Team in the late 1980s and early 1990s, Dr. Robert "Doc" Engelmeier of Pittsburgh, Pa., documented his excursions, including at the National Matches. Read the latest excerpt from Dr. Engelmeier's memoire below. Also, don't forget to read the first and second installments if you haven't already. (Article via CMP.)
---
Travis Air Force Base 1989
By Dr. Robert "Doc" Engelmeier
My duty assignment during the 1988 and 1989 seasons was at Travis AFB in Northern California. I was fortunate there to have Col. Stan Wellins as my commander. He was proud to have an Air Force national competitor in his unit and was very supportive of my efforts with the Team.
He graciously allowed me time off for major competitions. That enabled me to utilize TDY funds for transportation and lodging. Otherwise, I would have had to use my annual leave and personal funds to cover all my expenses.
The Base Commander at Travis AFB granted me permission to train at the base range next to the flightline whenever it was not being used for training. I even had my own key. That and my generous shipments of Air Force .45 ammunition led me to think that I had died and somehow gone to a shooter's heaven.
In all, I spent five years at Travis AFB, the longest and best tour of my career. I was able to establish a solid maxillofacial prosthodontic service at David Grant Medical Center where the Plastic and ENT surgeons kept me very busy. It was during that period that I began to publish some of my techniques and case reports.
I also had the good fortune there to train Nancy Hanson to assist me with the treatment of those patients. I succeeded in getting the Air Force to transfer her to Wilford Hall Medical Center when I was later assigned there during the last four years of my career. Following her 30-year Air Force career, she spent many years as a Civil Servant participating in the restoration of military maxillofacial patients at the joint Air Force and Army Medical Center at Ft. Sam Houston and Lackland AFB in San Antonio.
Without question, Nancy developed to become one of the finest anaplastologists in the country. Also, during the 1989 season, I began to use our heavy-bodied dental laboratory silicone impression material to fabricate custom ear plugs for any team members who wanted them. I used spent .22-cal. shells as handles for easy removal—and a laugh.
During my time at Travis AFB, I fired in monthly matches held at ranges in the San Francisco Bay Area. These occurred at some of the most outstanding ranges that I have ever seen. The best outdoor range was Chabot on a hilltop in Oakland, Calif. My all-time favorite indoor range was at the Presidio. I felt particularly confident there and always shot my best.
I confess that I was pretty excited when I observed two scenes shot at that range in Sean Connery's movie, "Presidio." My first significant match of the 1989 season was the May 7 San Diego Regional Match. It was there that I fired my first Leg match with the "Magic Ball gun" that Bill Moore had built. My 273-5X placed second. That gave me eight more points toward becoming a "Distinguished Pistol Shot" and my second Leg medal.
The Interservice Matches were transferred that year to Camp Robbins in Arkansas. Camp Perry followed shortly thereafter. By that time, my scores had placed me on the primary team. Our top shooter was Jim-Bob McCarty, who was stationed in Germany. Jim-Bob went on to win a number of National Trophies. Our Team Captain was Ken Hutchens, who had recently been transferred to Kelly AFB in San Antonio. I did manage one significant achievement at the National Matches that year. On July 18, 1989, I placed 79th in the President's Hundred Match with a score of 365-3X.
During the 1989 season, I had the good fortune to meet the acclaimed gunsmith, Ace Hindman of Kerrville, Texas, possibly the finest handgun builder in the country. I commissioned him to assemble two wadcutter competition guns, a primary and a back-up for my center-fire aggregate matches. The results were spectacular. However, far more impressive was the friendship that I gained with Ace.
Over the next few years, I visited him often and bought several additional pistols from him including his infamous Texas Special. Firearms writer Dean Grinnell had conceived the idea of a super magnum .45 ACP. Ace developed the load which pushed a 230-grain hardball bullet from 750-800 f.p.s. to a whopping 1,450 f.p.s. He also developed his .45 Super handgun to handle it.
As a follow-up, he altered a Smith & Wesson Model 625-2 to accurately send 260 grain bullets loaded into .45 auto-rim cases down range at 950 f.p.s. Ace only built three of those guns before his passing in 1994. Mine was finished like a Swiss Watch.
We ended the 1989 season with the training camp at Lackland AFB to select the team for the 1990 season. Our coach, Ralph Talbot, and Col. Steve Richards, the Shooting Program Director, appointed me as Team OIC (Officer-in-Charge) and Master Sgt. Gary Foster as NCOIC (Non-commissioned Officer-in-Charge), essentially a Team Captain and Team Manager. To remove the awkwardness of my rank of Colonel among a team of enlisted members, I insisted on simply being referred to as "Doc."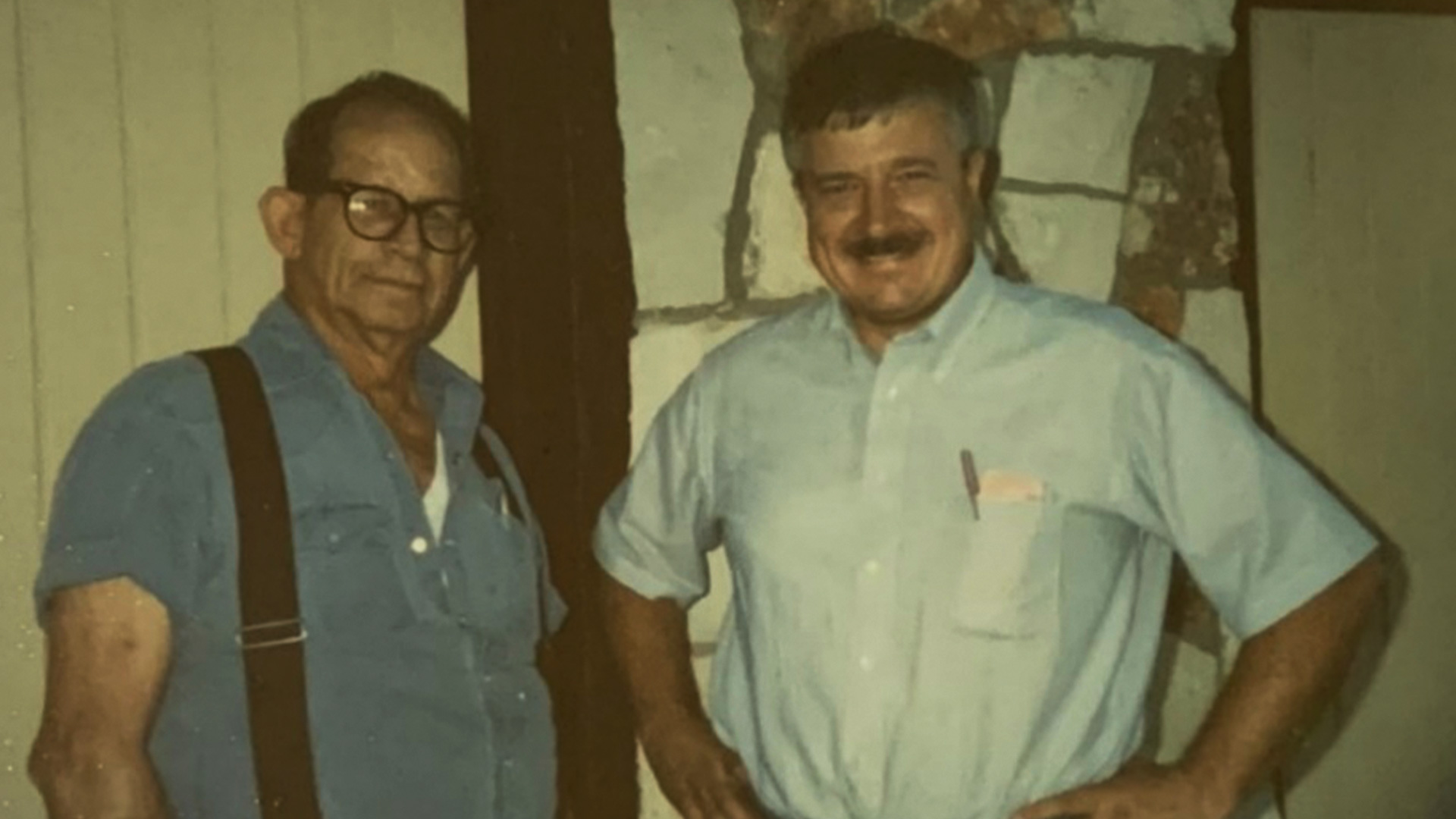 Hawaii and a Distinguished Story
During the 1990 and 1991 seasons, I was stationed at Hickham AFB, Hawaii, on the Island of Oahu. I was fortunate there to have a supportive dental clinic and hospital commander. I served as chief of the prosthodontic section in our clinic as well as assistant hospital commander.
The Air Force Supply Section shipped my monthly ammunition issue to the base security police unit at Hickam AFB which, in turn, immediately issued it to me. I was amused at the reaction of those young security policemen when they turned more than 100 pounds of ammunition addressed to their squadron to a grey-haired old Colonel, wondering what the hell he was going to do with it.
My greatest benefit in Hawaii was being granted exclusive use of an abandoned range at Wheeler AFB which was situated closer to the center of the island. The range was located in an ancient lava flow. It had uncovered benches for my gun box and some target frames. The steep walls of that deep ravine provided a perfect back stop.
An additional benefit to that location was that little sound was able to escape from that gulch. There was a modest boarding facility for several horses belonging to the base saddle club a few hundred yards further up the lava flow. The entire area seemed deserted. I rarely saw another soul during my two years of training there. I was issued the key to the range and so essentially had my own private practice range every weekend.
I joined the Chinese Gun Club in Honolulu, which conducted monthly matches at their range on Oahu. I found some great friends there. I trained almost daily in my apartment with a M1911-A1 air pistol, which I fired down the hall into a box of carpet samples propped up in my bathtub. My roommate, who was the base periodontist and another great friend, had to be somewhat nervous during those evening practice sessions, but he never complained.
In early 1990, I was one of a handful of non-Marines invited to compete in the Pacific Division Matches at Ewa Beach on February 11-14. Nearly all competitors were young, fit U.S. Marines dressed in Battle Dress uniforms. I showed up as an Air Force Colonel with greying temples, dressed in the old "Gomer Pyle" Air Force fatigues with bright blue and white Air Force and name strips over the shirt pockets. They must have thought that I was a joke.
All competed with issued Beretta Model 92 pistols (to which the Marines had recently switched). We had two practice days with our issued weapon. Gunsmiths were available with a punch and hammer to render some adjustment to the fixed rear sites.
We then competed on the following two days. I had never fired a Beretta M-92. I struggled trying to get the feel of the gun's wide grips and heavy trigger pull. Initially, my shots were all over the target. But after the two practice days, I finally started to group. I am sure that those kids were laughing at me.
In the end though, I fired a 275-5X capturing second place in the Leg match. That granted me eight more points on my journey towards becoming a Distinguished Pistol Shot and also my silver Leg medal. That 275-5X and my 266-6X fired the previous day placed me among the top four competitors.
My most satisfying marksmanship accomplishment came just two months later. From April 4-8, I competed as an individual at the Hawaii Regional Match at the impressive Oahu range at Coco Head.
I fired a 266-7X with my AFPG Ball gun and won the Leg match. That awarded me the last 10 points needed for my Distinguished Pistol Shot Badge. My badge number is No. 278. Which means that only a total of 278 of these badges had been awarded to members of the combined Air Force, Air Force Reserves and U.S. Air National Guard from the founding of the Air Force in 1947 until my award dated April 8, 1990.
I did not attend the 1990 Interservice Matches in Arkansas due to local duty obligations in Hawaii, but I did attend the National Matches at Camp Perry. I flew from Honolulu to San Antonio, then rode in a 12-passenger Dodge van from Lackland AFB to Camp Perry. That 24-hour drive seemed endless.
During my Hawaii assignment, I also competed in the 1990 and 1991 Aloha Games. I succeeded in winning one gold, four silver and two bronze medals there, which occupy a prominent place in my shooting shadow box. I was again appointed team OIC at the training camp following the Camp Perry matches. After receiving my Distinguished Marksmanship Badge, I did have it tattooed on my arm.
Before leaving Hawaii, my close friend and fellow prosthodontist, Jeff Himan, painted my flight jacket to commemorate my becoming a Distinguished Marksman in a World War II Air Corps nose art fashion. The jacket showed a young lady depicted riding a .45-cal. bullet instead of a bomb and sporting a M1911-A1 pistol in her hand. Additionally, she has a Distinguished Marksman badge prominently displayed on her chest.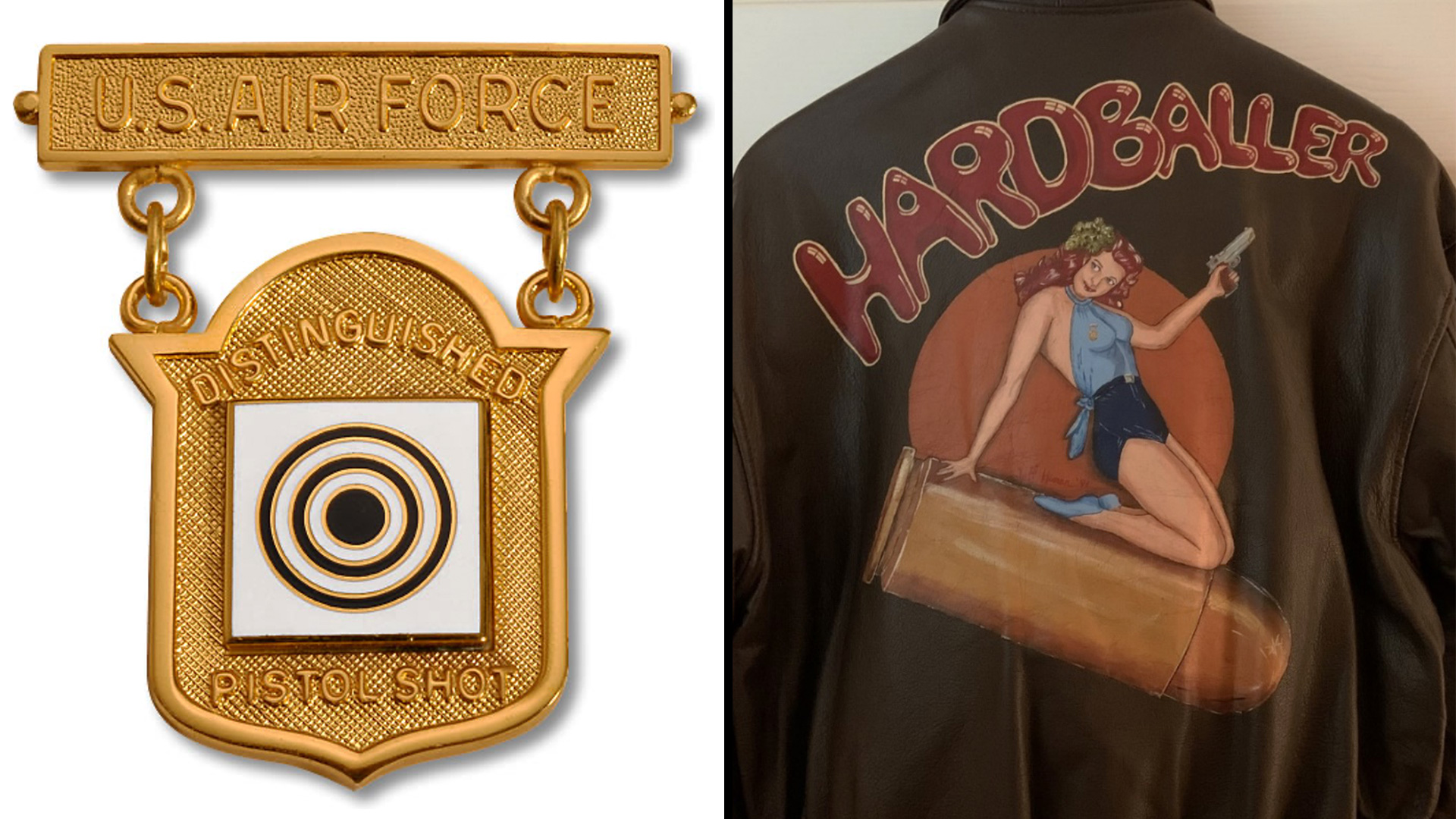 In the next and final installment, Doc Engelmeier details his historical Camp Perry run, a career ending injury and a new era in his life. If you haven't yet, be sure to read Part 1 and Part 2.
Learn more about the CMP at thecmp.org.