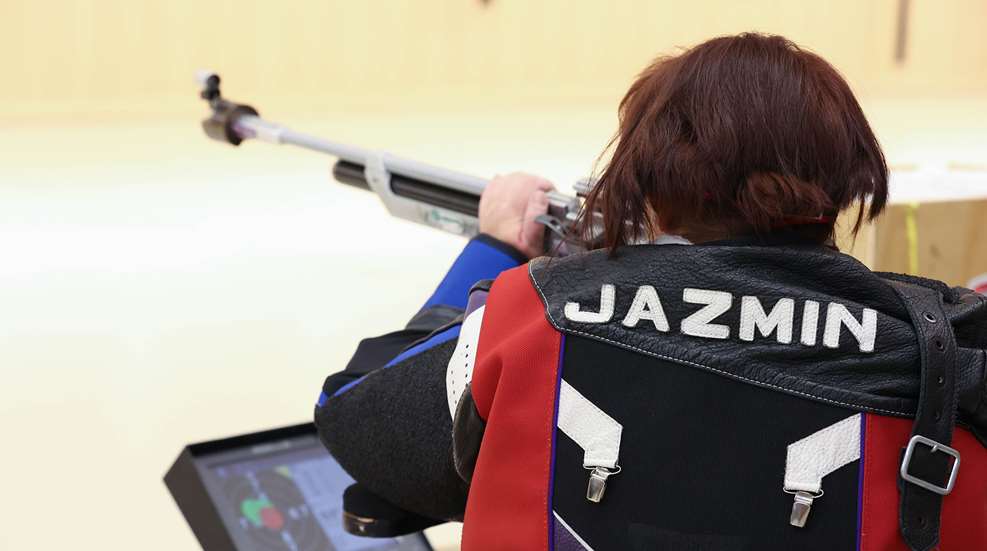 This month's Range Bag features two-time Paralympian competitive shooter Jazmin Almlie-Ryan, who qualified for the 2016 Paralympic Games in Rio De Janeiro, Brazil, and again in 2021 for the covid-delayed Paralympic Games in Tokyo, Japan.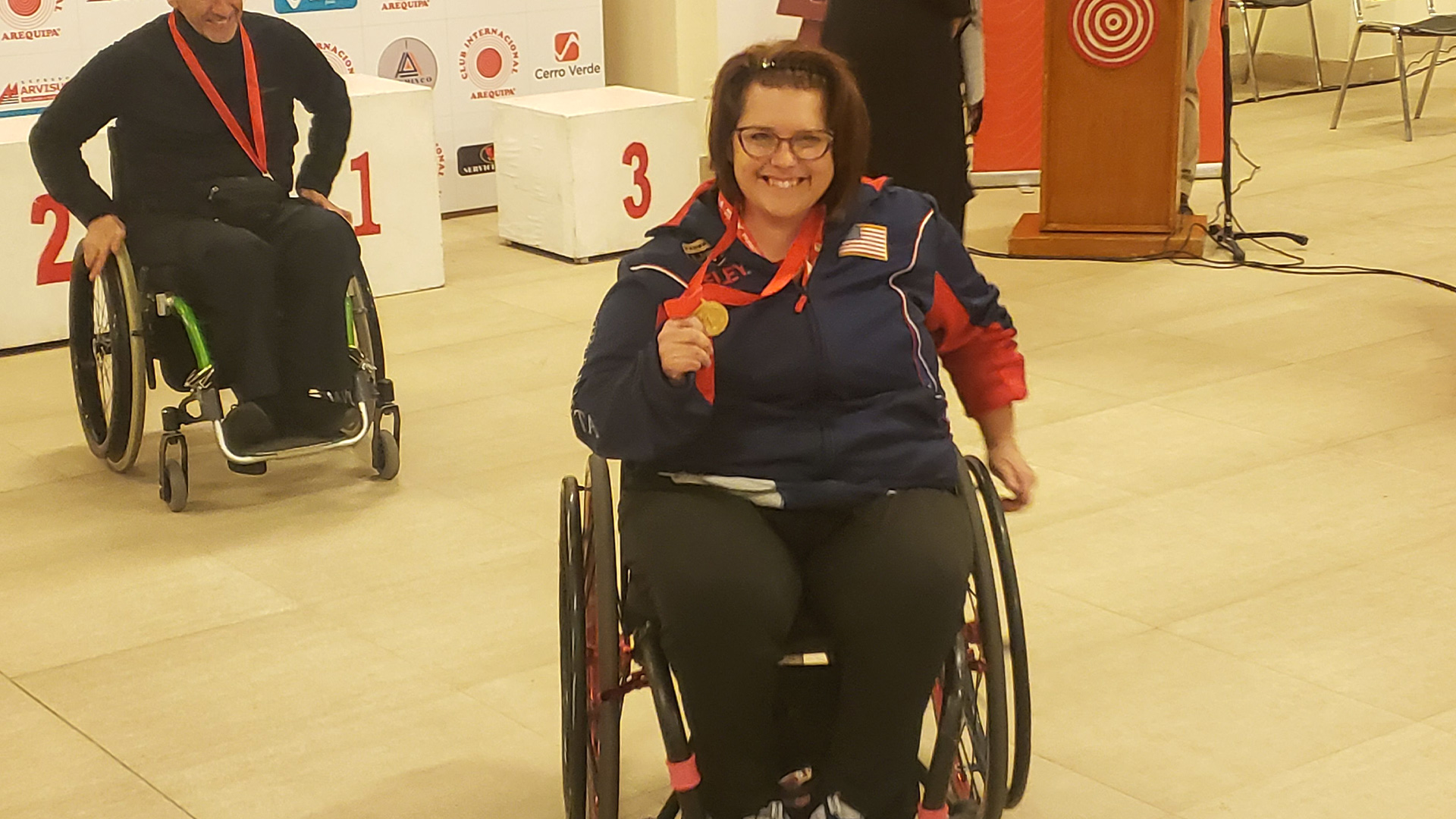 What are your first memories of handling a firearm?
Aside from just your typical Texas kid BB gun, I'd say the first "real" firearm I picked up was at age 11 with a 20-gauge shotgun. We had a deer lease in Weimer, Texas, and all the grown-ups were shooting skeet. Of course, being the curious kid that I was, I wanted to try it. I was pretty good at it, too.
Tell us how you began in competitive shooting?
Believe it or not, I accidentally fell into competitive shooting around 13 years ago. Since almost from the start of my disability and still to this day, I have been a die-hard adapted sports enthusiast with a specific passion for team-based sports. I was a competitive wheelchair basketball player at the time and played regularly for two separate teams. I was scheduled to play for my home team in a wheelchair basketball tournament at the Houston, Texas, annual Metal and Muscle event, which typically exhibits many different adapted sports simultaneously under one roof. Shooting happened to be one of them. My last game was cancelled on the event's final day, so I had some free time.
Although I was disappointed that I would not be playing basketball that afternoon, my life changed that day. I just so happened to meet this super cool lady named Vanessa Ross, the NRA instructor running a late afternoon air rifle match. She invited me to enter, and I won by a large margin. From there, I was invited straight to the Olympic and Paralympic Training Center for a novice camp hosted by USA Shooting. The rest is history. Team USA had me from the start.
What firearms and other gear do you use for competition?
The two firearms I own and love are a Walther LG400 air rifle and a Walther KK500 smallbore rifle. I am a Walther girl. I love how they handle; they certainly have been reliable and have taken me a long way. The Walther rep I work with always takes care of anything I need. I purchased both rifles at a discounted dealer rate, and many parts I needed have been given to me virtually free of cost. An absolutely wonderful organization called the Challenged Athletes Foundation generously donated 100 percent of the funds to purchase both rifles.
Tell us about your range bag and what you carry in it besides your firearms?
I use a large rolling duffle-style bag that is Team USA branded. It is one of the two bags I was gifted when named to the Tokyo 2020 U.S. Paralympic Team. One reason I use it is for its size. Since I often travel internationally as a rifle shooter, saying that I have a lot of tools and gear is an understatement. Athletes in a wheelchair typically shoot from a shooting table. The nice thing about this particular bag is the size. It is large enough to stow my table frame that attaches directly to my wheelchair without having to break it down into several pieces when I travel. All it takes is pulling it out and attaching it to my wheelchair frame, then I'm ready to go. The number one reason I use it is, quite frankly, knowing that it was given to me directly from Team USA for accomplishing what few people in this world can do. Looking at it and seeing the big fat USA plastered right on the front of the bag reminds me of the job I'm there to do. I am there to proudly represent my country to the best of my ability against some of the best shooters in the world. It certainly is motivating.
What do you do in your free time?
Aside from spending time with my amazingly supportive family, I still have a great passion for team-based sports. I also play for my city's wheelchair rugby team, the TIRR Texans. The two wildly different sports in my life keep me busy.
What would you tell someone interested in finding out more about your sport?
Don't be afraid to ask questions. I know that sounds simple, but reaching out to more experienced coaches and shooters will give you the biggest wealth of information. Shooting sports athletes are typically cordial and eager to share their experiences. You will be amazed at what you learn about the competitive side of the sport simply by conversing with another shooter who has worked their way through the ranks.
Any tips for the new shooter?
The most important tip I give to newer shooters just starting out is to have patience. It all takes a lot of time and training to perfect. If you are a highly competitive and motivated individual like myself, that can be easier said than done. It's so easy to get in the mindset of, "Well, I'm working hard, where are my results?" It's a slow and meticulous process. Everything is cause and effect. When you make a change that you think will be an improvement, you must first learn how that change will affect your whole process, not just one aspect. Any change you make will take some time to truly know if it was beneficial.
Another piece of advice I like to give to newer shooters is to focus on the process of shooting, not on the final score or result to measure success. Focus on all of the things that you can control, such as breath and trigger control, timing, repetition, shot routine, etc. If you mainly focus on these aspects of shooting, the desired outcome will simply take care of itself.
My final words of wisdom that I give everyone, whether you have a disability or not, and whether you're a shooter or not, is not to be afraid to try new things. You absolutely never know where it can take you. I am a great example of this. There I was one day thinking that I'm going to have some fun on the basketball court. Then after circumstances changed, and I decided to pick up a rifle and pursue a completely unplanned opportunity, I am now a two-time Paralympian, a 12-year veteran of Team USA, and one of the top female rifle shooters in my division in the world. I have the opportunity to travel the globe while representing this great nation. Outside of being a mom, there's no greater honor than that. Go USA!