Kimberly Hobart Fleming is blessed to have a wonderful family who enjoys firearms and shooting sports on all levels. Her dad Russ taught her how to shoot at a young age, plinking with a .22LR rifle. As a teenager she purchased her own Thompson Contender. She liked the looks of it and how the action broke open. It's still one of her favorites.

When Kimberly was nine-years-old her dad started taking the family to the National Matches. They spent part of every summer volunteering at Camp Perry. Always impressed with the level of sportsmanship and camaraderie that existed among the competitors, she knew that she wanted to one day be part of this sport.

Although she competed in smaller local matches, it wasn't until 1987 that Kimberly took part in her first competition at Camp Perry. In 2014, as a challenge to herself, she started competing in NRA Action Pistol.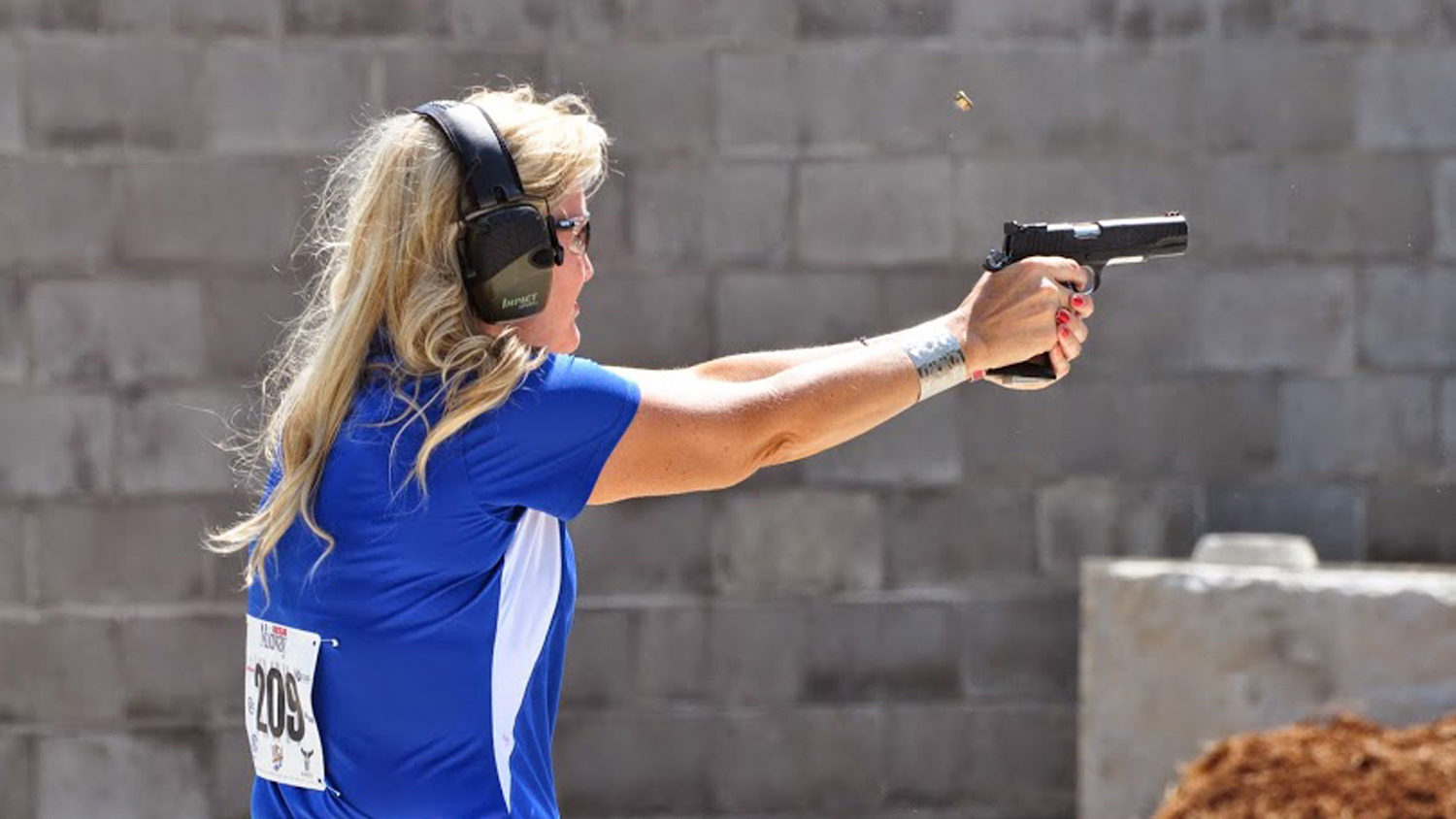 Earlier this year Kimberly earned her 11th National Civilian Women's Championship and eighth Overall Women's National Championship. She holds 12 National Records in Bullseye and was a firing member of the Mayleigh Cup Team in 2002. She is Distinguished, a member of the 2600 Club and a founding member of the Les Baer Custom Pistol Team. This first all-women factory team just celebrated 21 years of competition—and collectively hold four National Records.

When competing in rimfire, Kimberly shoots a Hammerli 208. She uses a Curtis Custom .45 cal. 1911 and a Les Baer Custom .45 cal. 1911 in the centerfire and .45 cal. competitions. She also has a Les Baer Custom Hardball Model .45 cal. 1911 that she uses in EIC Matches. For Action Pistol, it's an Accuracy X 1911 Long Slide in 9 mm. As for ammo, in Bullseye or Precision Matches, she uses CCI Blue Box .22LR Standard Velocity ammunition for the .22 portion. For centerfire and .45 cal. matches, its Quality Cast 160-grain SWC hard-cast bullets on the short line and 185-grain Zero bullets on the long line. Finally, for Action Pistol she uses a Zero 9 mm 115-grain JHP bullet.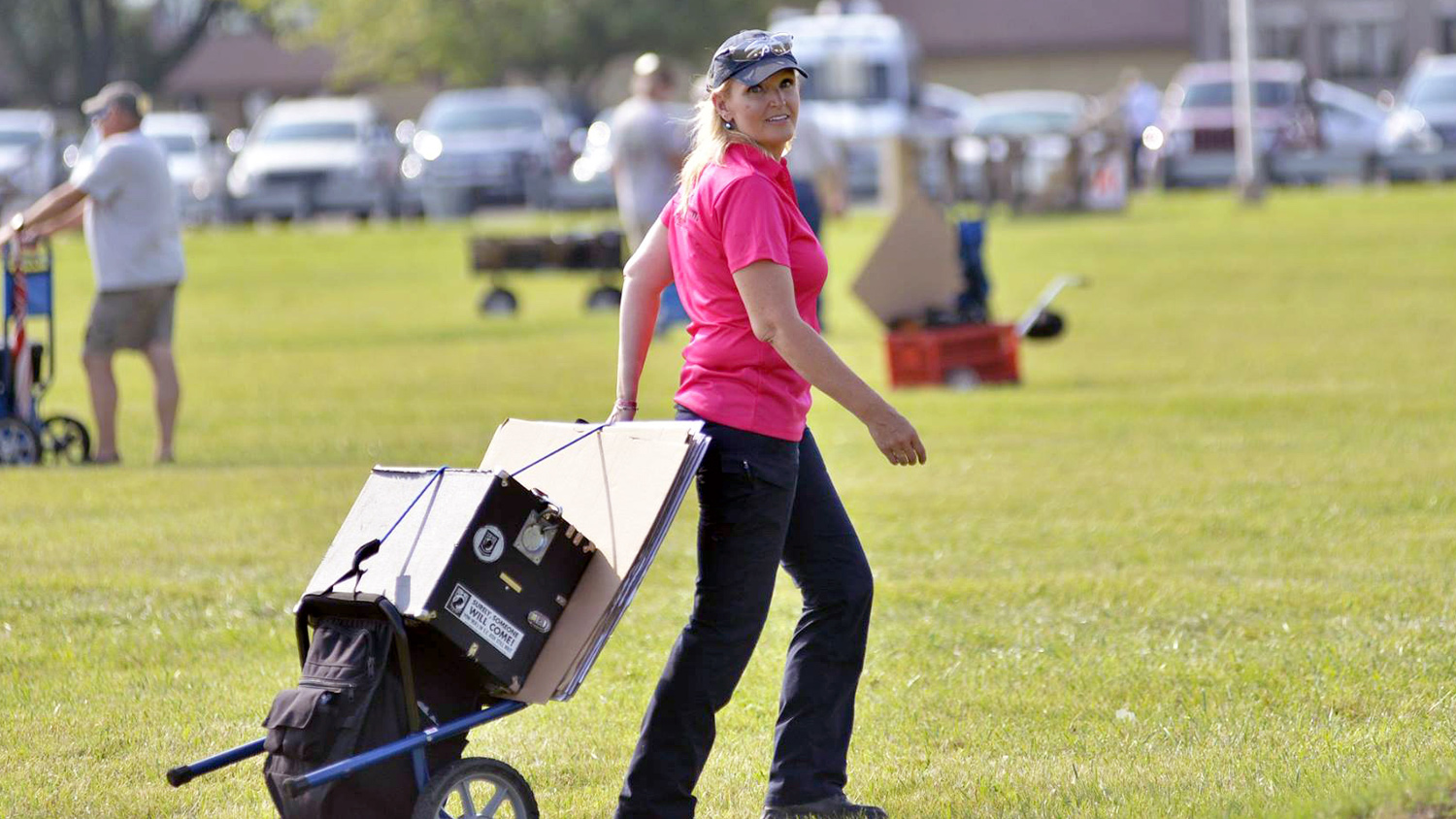 For Bullseye, Kimberly's "range bag" is the Gun-Ho Gun Box 4 that she wheels on a Perry Chariot Range cart by EMT. This allows her to carry all her gear, gun box and targets. With each phase of our Bullseye competition, she is on the range for a minimum of 1.5 hours shooting. An entire match takes a minimum of five hours. While the Gun-Ho box is big, it allows her to bring what she needs without being cramped. Using the Perry Chariot Range Cart gives her room for foul-weather gear, extra ammunition, water and food, as well as bug spray and cooling towels.

In the box Kimberly carries ammunition, shooting glasses, custom ear plugs, Howard Leight Hearing muffs, scoring devices and score book; money for challenges, red, black and blue Sharpies for marking her brass, empty chamber indicators, extra batteries for dot sights, anti-fog spray, Kowa spotting scope, a timer and spare magazines. Now we know why she needs a big box!

Kimberly's advice for new pistol shooters—be positive! "Find a match and talk to the competitors and match officials. Too often we concentrate on what we have done wrong, thereby reinforcing the negative in our brains. We must feast on the positive and forget the negative. Start with the fundamentals and gain confidence. Begin with close targets and once those have been mastered, move farther out. Most importantly, don't be afraid to try something new out of fear of embarrassing oneself. We all started out in the same place, at the beginning! Shoot with shooters that are better then you. It pushes you to strive and get outside of your comfort zone. Have goals, short and long term, and always be positive."