Pictured above is Bruce Piatt after shooting a stage at the FNH-USA 3-Gun Championship. Piatt's .308 rifle loads are well-known for their thunderous noise and visible muzzle flash. He said: "It became very obvious I was shooting when I set the fallen tree we used as a brace to shoot against on fire." He added that his "Sierra 125 grain MatchKings at 2900 fps have a way of letting everyone on the range know that it's my turn shooting."

Five-time Bianchi Cup Champion Bruce Piatt won his first Heavy Metal Optics Division at the FNH-USA 3-Gun Championship earlier this month, held in the natural terrain of "wild and wonderful" West Virginia at the Peacemaker National Training Center (PNTC). The three day main match included ten stages, some with long range rifle targets set out at 400 yards and also tight targets at four yards. Bruce's challenge was in making the right decision of which gun to use.

A week prior to the match, Piatt received an email stating that his usual Heavy Metal Iron Sight gear he planned to use would not be recognized. Not one to be discouraged, Piatt now had the ideal opportunity to debut his new Burris XTR II 1.5 x 8 scope he had received a few weeks earlier. Planning to shoot the division with his DPMS G2 .308 rifle and mounted Burris XTR II scope, Piatt had to quickly do some homework to check his zero and holds with his 125 grain Sierra MatchKings. 

Bruce said he walked the stages and discovered that 400 yards would be the maximum shooting distance. Having only zeroed at 100 yards at home, he went to the practice range at PNTC and zeroed his 100, 200 and 300-yard dots. The maximum range available for practice was 300 yards.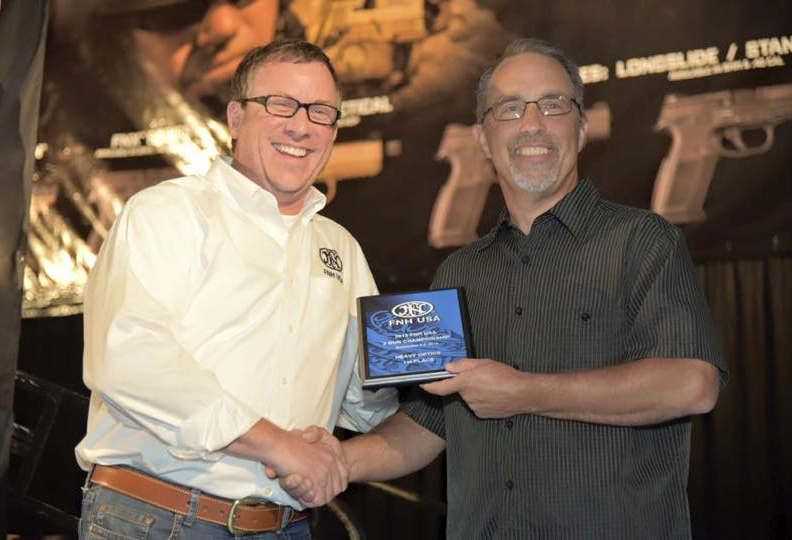 The match continued to go well for Bruce. He had one stage where he struck a plastic barrel with his pistol, incurring some minor penalties. On the final day of the match, other Heavy Metal Optic shooters came to watch him shoot his last stage.
About the last stage, Bruce said:
"I didn't give it much thought but as soon as I finished the stage, they greeted me with congratulations, telling me I had just won the Heavy Metal Optics Championship … I guess I should have checked the score board!"
Piatt told the Shooting Wire he credited his win to the same advice he offers his students when they are trying to figure out how to shoot a stage:

"Don't just play follow the leader and do what everyone else is doing. Always plan a stage in a way that will use your own strong points to the fullest advantage." Piatt added, "Today, my plan and equipment ran flawlessly, I could not have asked for a better day."
Later this month, Piatt will be tearing it up on the range when he returns to West Virginia and the PNTC to compete in the 2015 NRA World Shooting Championship, presented by Magpul.

Piatt is the founder of Bruce Piatt Training Concepts, offering police, military and civilian shooting instruction and offers Custom 1911 build by hand gunsmith classes.

Be sure to follow Bruce on Facebook and Twitter.