With a perfect score of 1920-178X, Bruce Piatt captured his seventh Bianchi Cup Action Pistol Championship.
This marks his seventh Bianchi Cup victory, after previously winning the prestigious action pistol title in 1993, 1997, 1999, 2006, 2009 and 2019.
The 2023 CMP Bianchi Cup was held May 23-26 at the Green Valley Rifle and Pistol Club in Hallsville, Missouri. This year was the first time the competition was held under the stewardship of the Civilian Marksmanship Program.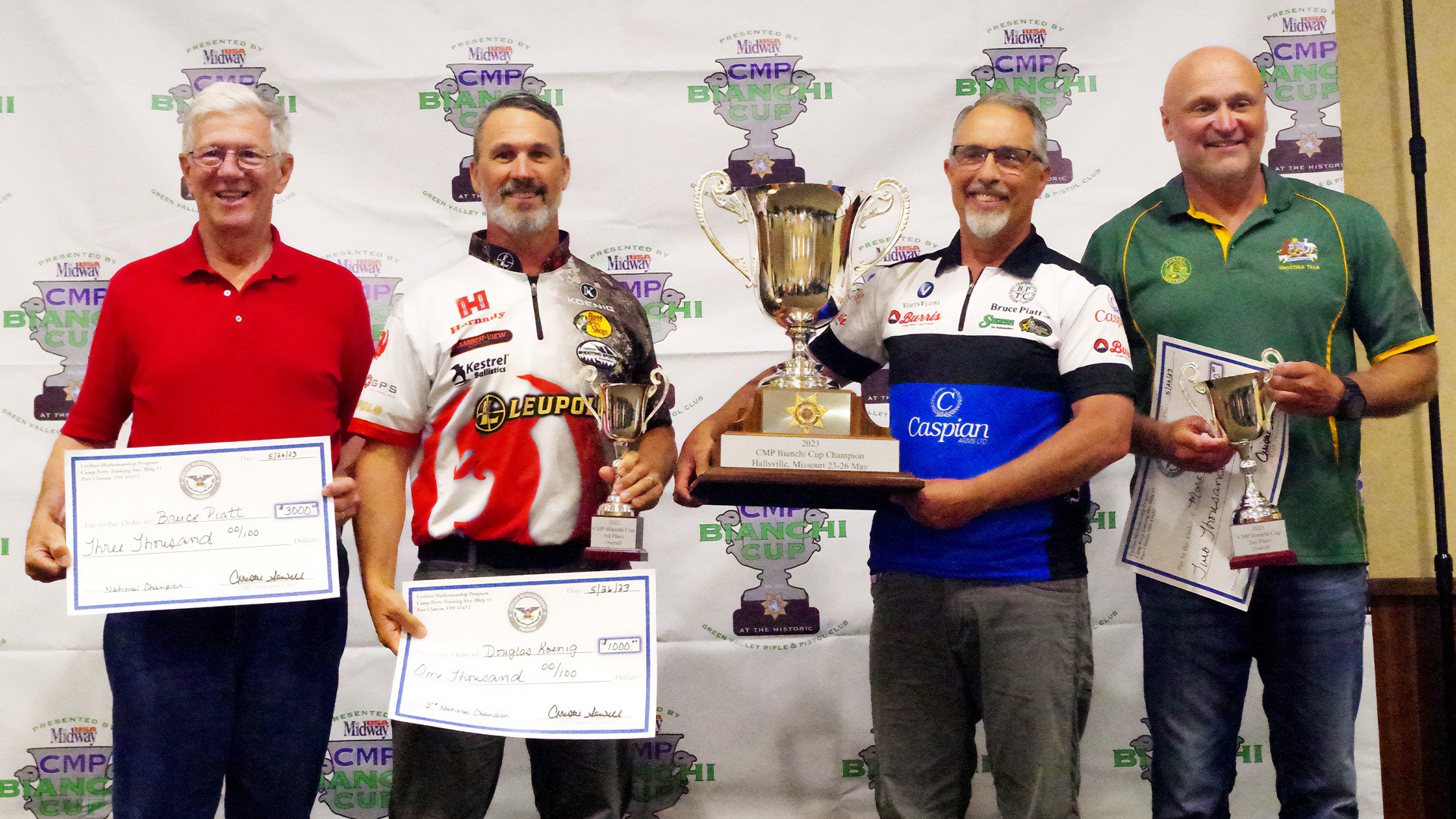 After securing his seventh championship title, Piatt said via Facebook:
"In 1993, almost 30 years to the day, I stood on a stage in Columbia, Missouri, where I won my first Bianchi Cup. Last night, I was honored to be awarded [the] 2023 Bianchi Cup after an exciting and hard fought competition. As usual, the Green Valley Rifle and Pistol Club did an excellent job of running the competition which is now an official Civilian Marksmanship Program discipline."
"Thanks go out to all the match volunteers, CMP staff and all the match supporters especially the title sponsor Mr. Larry Potterfield of MidwayUSA."
"I especially what to express my gratitude to my personal sponsors who supply me with quality equipment needed to compete at this level. Caspian Arms Ltd., Burris Optics, Sierra Bullets, Starline Brass and Vihtavuori Powders."
"Thank you to my wife and family for all their support and lastly, to my good friend Tony Holmes, thank you for all your help on and off the range. I look forward to seeing all of my fellow competitors on the range soon."
In addition, he secured Law Enforcement category title. Piatt, who above mentioned he has Vihtavuori as a sponsor, competes in action pistol with the .38 Super cartridge, naturally using Vihtavuori N320 powder in his match load.
In second place was Mark Blake (Australia) with 1920-178X, and in third place was 19-time Bianchi Cup Champion Doug Koenig, who walked away from Green Valley this year with a final score of 1918-182X.
See the full results of the 2023 Bianchi Cup at the CMP website. Also, be on the lookout for a complete match report in a future issue of the Shooting Sports USA digital magazine.