by
Chris Christian, Field Editor
posted on October 11, 2016
Support NRA Shooting Sports USA
DONATE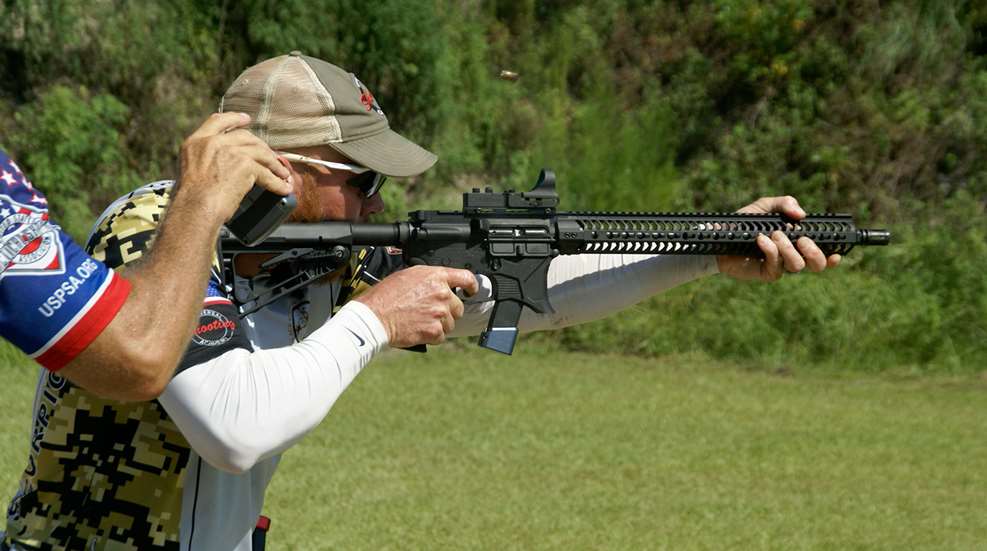 Above: Shannon Smith runs his Trensa Defense PPC at the 2016 Florida SCSA Championships, where carbines more than held their own against top level handgunners.

The United States Practical Shooting Association (USPSA) is often considered the home of $3,000 optically-sighted, compensator-equipped, Open Division 'Wonder Guns'. The truth, however, is a bit different.

Iron-sighted handguns, in a number of different gun divisions, allow almost anyone to play the game. More recently USPSA has expanded the gun selection to allow eight-shot double action revolvers and semi-automatics with a slide-mounted optical sight (Carry Optics division) to join in. In June 2016, they expanded that gun selection list even further to allow long guns.

The new Pistol Caliber Carbine (PCC) division is open to any semi-auto carbine chambered for 9mm, .357 SIG, .40 S&W, 10mm, or .45 ACP. The maximum velocity allowed is 1600 FPS. All carbines, as stated in the rules, "Must have stock attached and be capable of being fired from the shoulder position **Note: SIG Brace and any variant thereof is not allowed."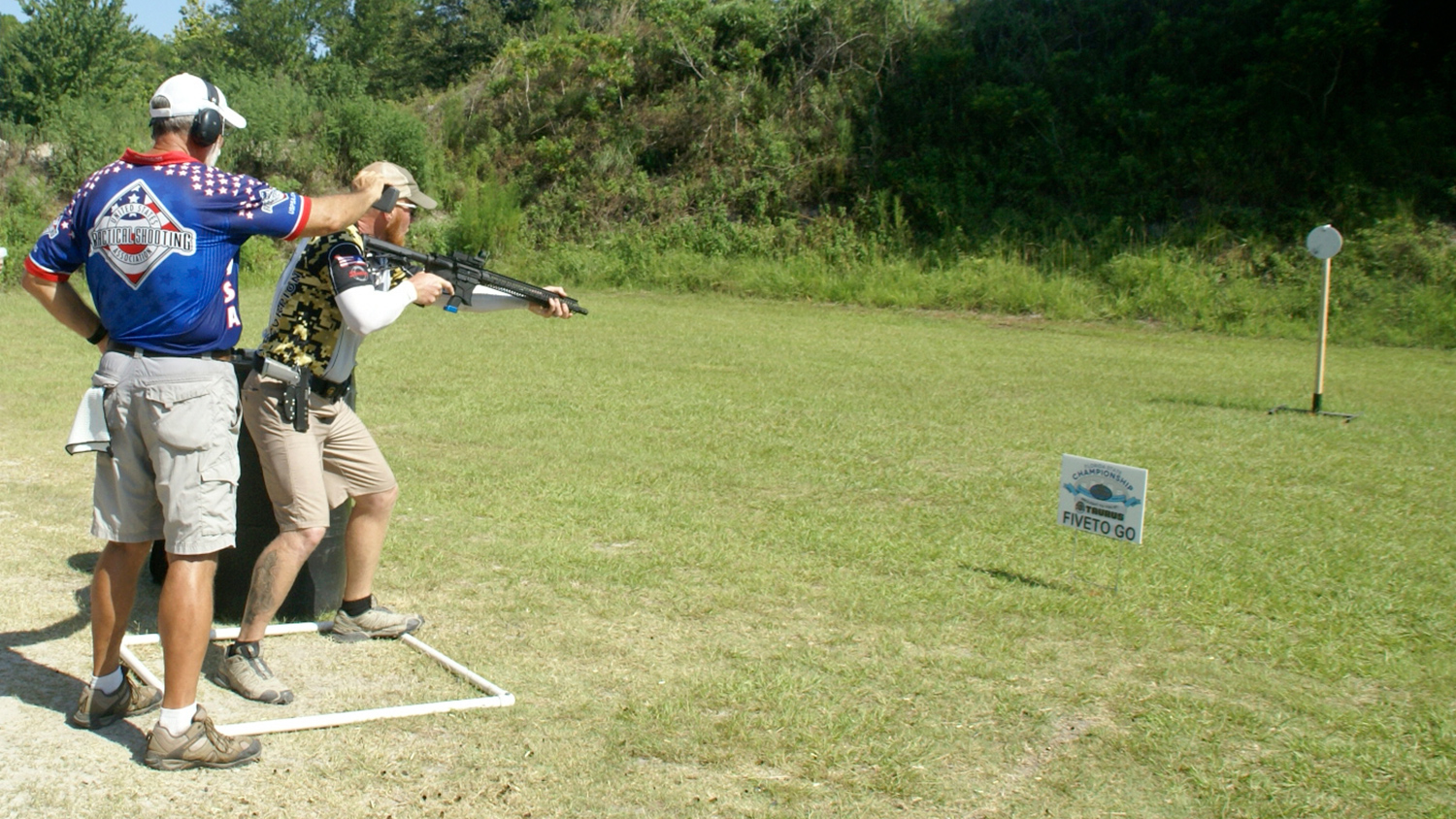 There are no barrel length restrictions and Short Barreled Rifles (SBR) are legal if the competitor is in full compliance with State and Federal laws regarding ownership and transportation. Additionally, flash hiders, muzzle brakes, lasers/flashlights and compensators are allowed. Shooters may use optical or iron sights. Slings are also allowed and there is no restriction on magazine capacity. At this time all scoring will be under Minor Caliber (125 PF) rules, although as a Provisional Division the initial rules are subject to being refined.

There are a number of guns that fit these rules, including: JP GMR-13, CZ Scorpion EVO 3 S1, Rock River Arms LAR-9, SIG MPX, Kel-Tec SUB-2000, Beretta Cx4 Storm, Colt AR6951, and the Tresna Defense 9mm.

There are plenty of guns available, and some shooters welcome their addition to USPSA competition.

"I'm excited about this new gun division," says USPSA and Steel Challenge Grand Master Shannon Smith. "It's too new to determine its popularity yet, but my gut feeling is that it will be well-received. It gives shooters the opportunity to train with their carbines in ways they wouldn't be able to do on their own. The field courses and target arrays are beyond what a shooter could set up on their own, and a major step-up from standing in a stall at a rental range."

As co-owner/instructor at the highly-respected Universal Shooting Academy, in Frostproof, FL, Smith knows about training. They routinely run law enforcement, military and civilians through complex training courses that stress the shooter to perform at their maximum level. A USPSA match provides a similar scenario. When many shooters practice, they shoot drills that they are good at and avoid those that they are not good at. A USPSA match shows a variety of target scenarios that force shooters out of their comfort zone and make them face their shortcomings. As far as effective personal defense practice, it's much better than standing on a 'square range' and casually sending rounds down range.

While it is commonly assumed that a shoulder-fired arm is easier to shoot more accurately than a handgun, this may not be reflected in the USPSA scores.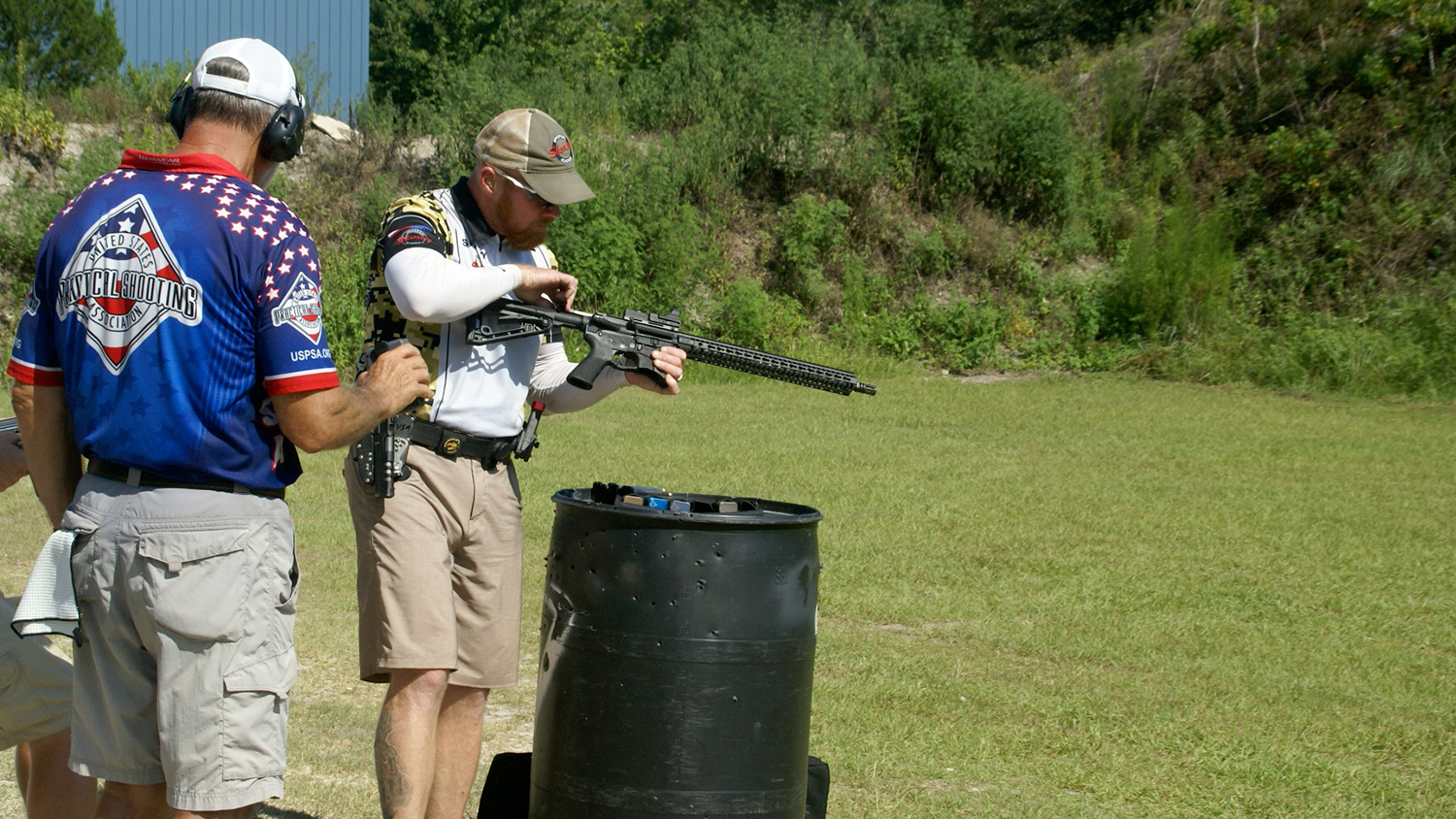 This writer can see an advantage to the carbine on open targets at ranges beyond 15 yards, especially if they have No Shoot targets snuggled tight to them. Another advantage could be Weak or Strong hand stages, since the carbine must only be transferred to the weak or strong hand shoulder, with both hands being allowed on the gun. Handgunners only get to use the appropriate one hand.

That, however, doesn't mean PCC will rule USPSA.

"I don't expect that PCC is going to dominate USPSA," Smith says. "I think, regardless of the stage layout the pistol guys are going to be quicker at just about any range because it's harder to maneuver around with a carbine in tighter quarters. But, it will be a fun division to shoot and great practice for 3-Gun matches and personal defense."

PCC may not become the dominant gun in USPSA. But on the open target arrays of Steel Challenge (SCSA—owned by USPSA and operating under the same gun division rules) things change.

Despite being recognized in June 2016, only a month later the 2016 Florida State Steel Challenge Championship hosted three times as many PCC shooters than the previously-established Carry Optics Division. And, they performed well. The top five scores during the eight stage match for the various handgun divisions ranged from 80.11 to 101.78. The top five scores for the PCC shooters ranged from 80.147 to 87.98. The aggregate top five scores for PCC was better that of the handgun shooters.

"Some people," Smith says, "think that there are way too many gun divisions in USPSA and Steel Challenge, but I like the new PCC Division. The proponents of this carbine division are reminding people that USPSA stands for United States Practical Shooting Association, and not United States Practical 'Pistol' Association. In that regard, the carbine fits in very well."

Editor's Note: As with all provisional divisions in the shooting sports some changes quickly follow. Suppressors are not allowed in PCC, please refer to the USPSA rules Appendix D8-11.