by
Chris Christian, Field Editor
posted on December 14, 2016
Support NRA Shooting Sports USA
DONATE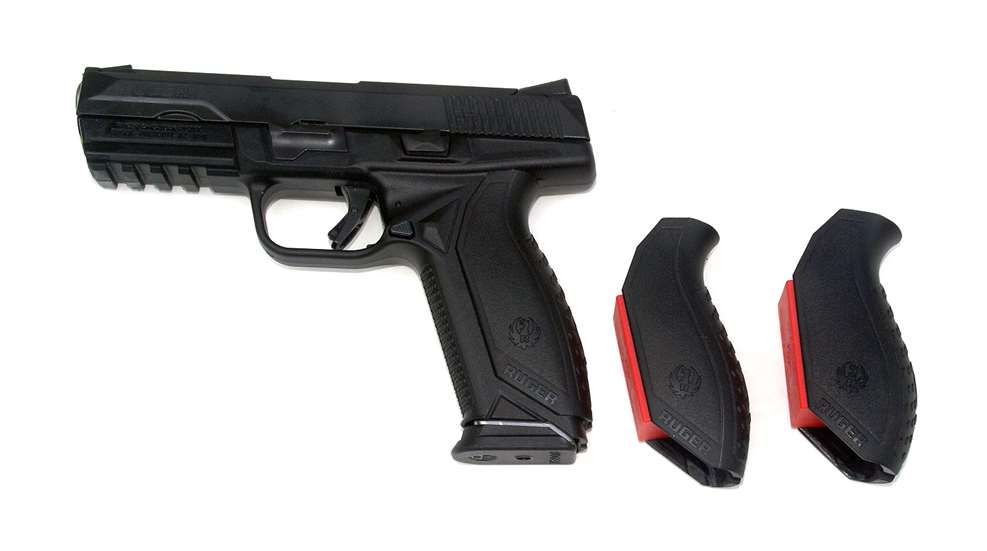 Above: Three interchangeable grip modules are included to allow fitting the Ruger American Pro Model to the shooter, with insert blocks (in red) to prevent damage in storage.

Ruger's .22LR semi-autos and GP-100 revolvers are proven choices for Action Pistol competition and well-represented in the Winner's Circle. Lacking has been a centerfire semi-auto with the features needed to win. The new Ruger American Pro Model changes that.

The gun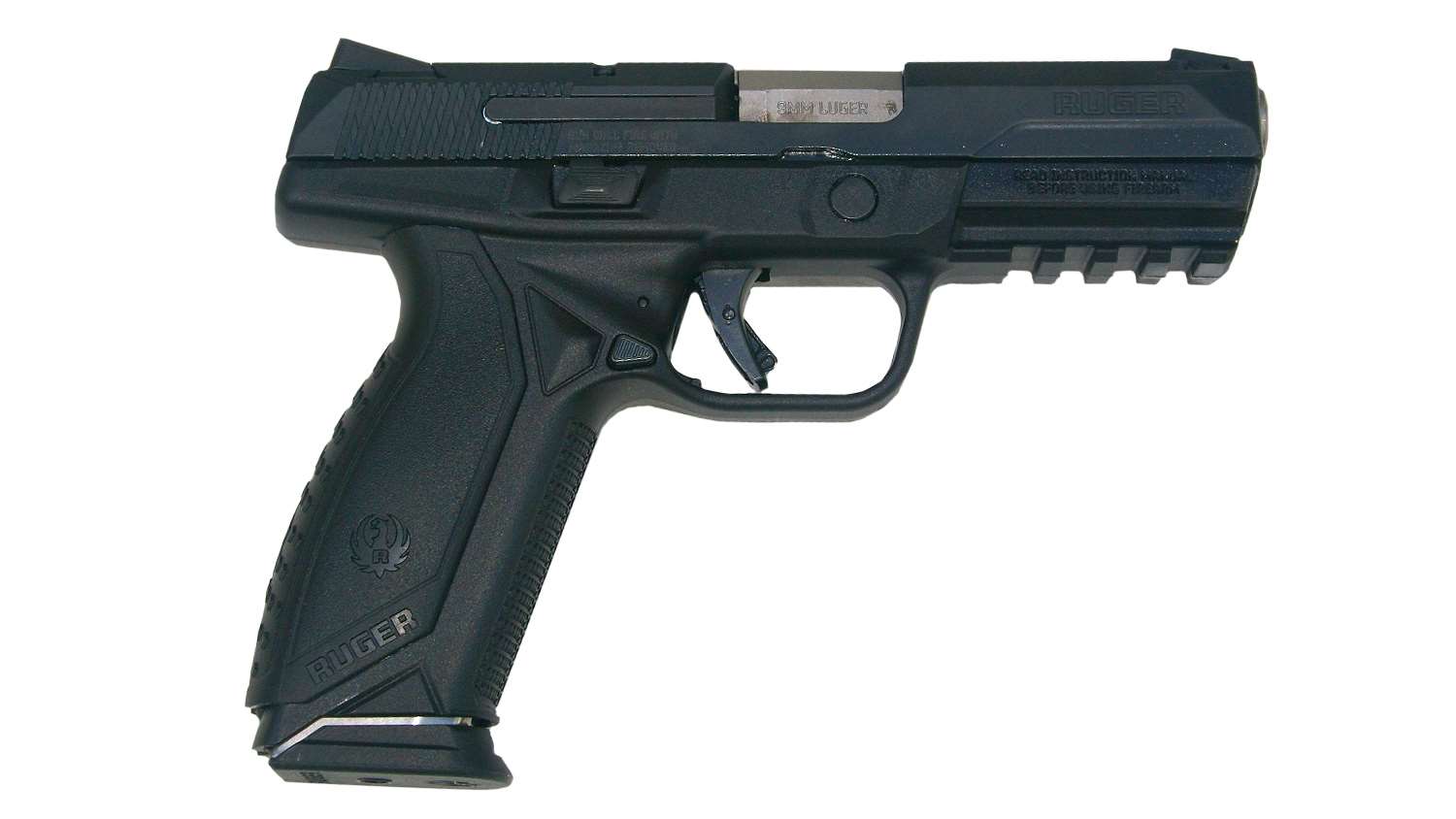 The Ruger American is a totally new design and a departure from Ruger's existing centerfire semi-auto handguns. It is currently available in two calibers—9mm (the gun tested here) and .45 ACP.

The 9mm is offered with a 17-round magazine (a 10-round version is available). It features a 4.20-inch barrel, with an overall length of 7.50-inches, a height of 5.60-inches, and an empty weight of 30-ounces. The barrel features six groove rifling in the proven 9mm 1:10 twist. Additionally, the barrel is rated for lead or jacketed bullets.

The .45 ACP features a 10-round magazine, an overall length of 8-inches, a height of  5.70-inches, and a 4.50-inch barrel with six groove rifling in the traditional .45 ACP 1:16 twist rate that handles both lead and jacketed bullets. Empty weight is 31.5-ounces.

The pistols are built on a polymer frame. The slide and barrel are constructed from stainless steel with the slide finished in Black Nitride. Instead of metal slide frame rails molded into the polymer frame, Ruger uses a one-piece metal chassis (stainless steel/black nitride finished) that provides frame rails and full metal-on-metal support for the firing mechanism. Three interchangeable backstraps allow for a custom fit to the shooter's hand. The backstraps and front strap features strongly-textured surfaces for a secure grip, even with sweaty hands. A 2-inch Picatinny rail on the dust cover allows for the mounting of lights, lasers, or barrel weights.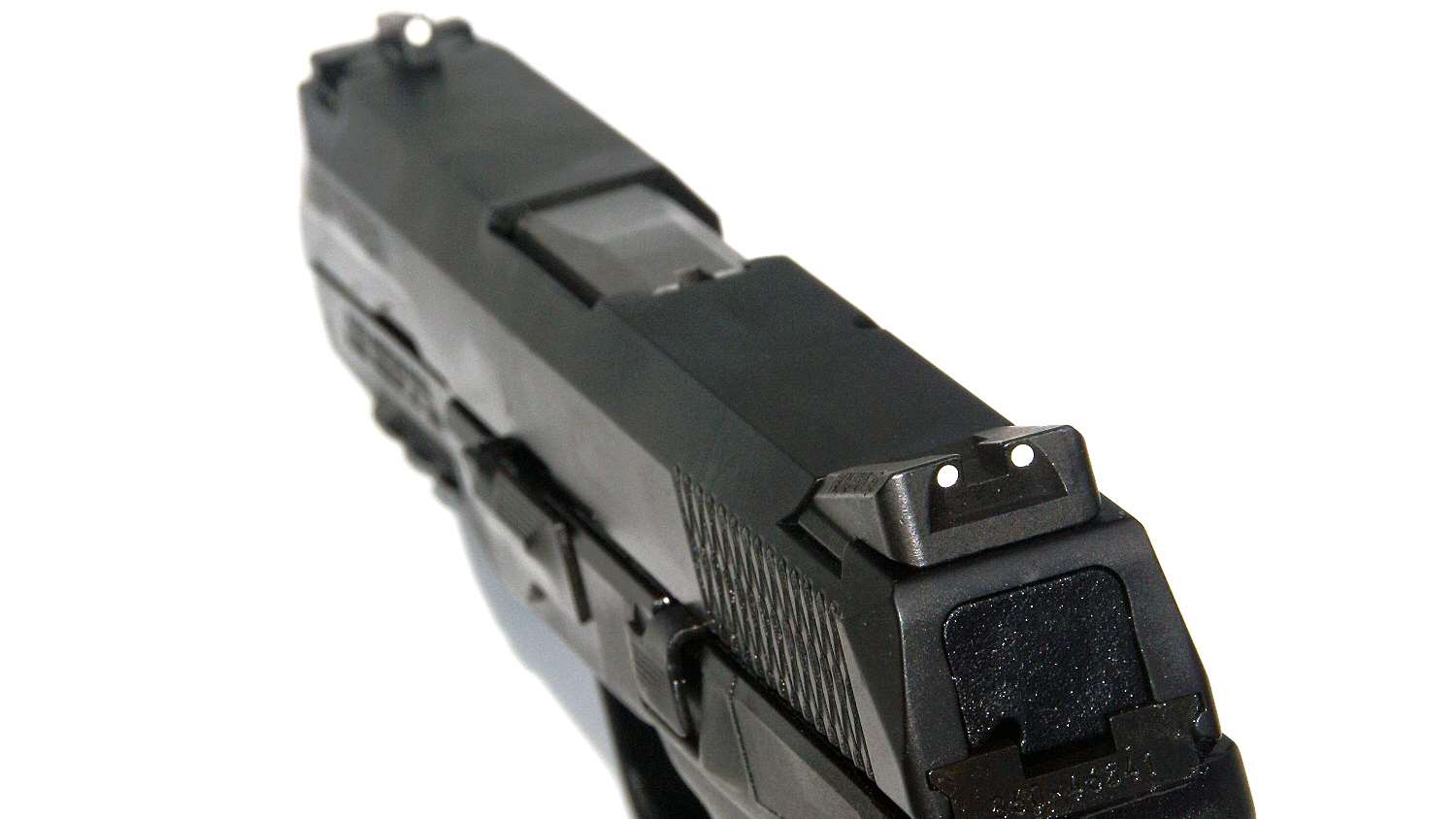 The operating action is a Browning-style locked breech incorporating a patent-pending barrel cam that controls rearward movement of the slide to spread recoil forces over a longer time period. The trigger assembly features a trigger face-mounted safety bar that prevents firing until it is depressed, and an internal sear blocking safety prevents the striker from moving until the trigger is completely pressed to the rear. The Pro Model 9mm test gun had a trigger pull just under 6-pounds with minimal creep and over travel, and a quick reset. The gun does not have a magazine safety; which many competitive shooters dislike anyway.

The sights consist of a Novak windage adjustable rear and a front sight in the popular white 3-Dot pattern. Both are dovetailed into the slide, making it easy for competitive shooters who prefer adjustable sights, or a different sight picture to change them.

Operating controls on the Pro Model consist of ambidextrous slide and magazine releases, making it a good choice for southpaws. The drop-free magazine release made for speedy reloads with either hand. The more recently introduced Standard American Pistol is identical in all respects to the Pro Model, but with the addition of a high-ride ambidextrous manual combat-style thumb safety for those who prefer the manual safety feature.

Field stripping for cleaning is simple: remove the magazine, lock the slide back, rotate the left side take down lever, pull the slide slightly to the rear to drop the slide release, and then push the upper unit forward to remove it from the frame. The barrel and guide rod assembly can then be removed in the conventional manner.

On the range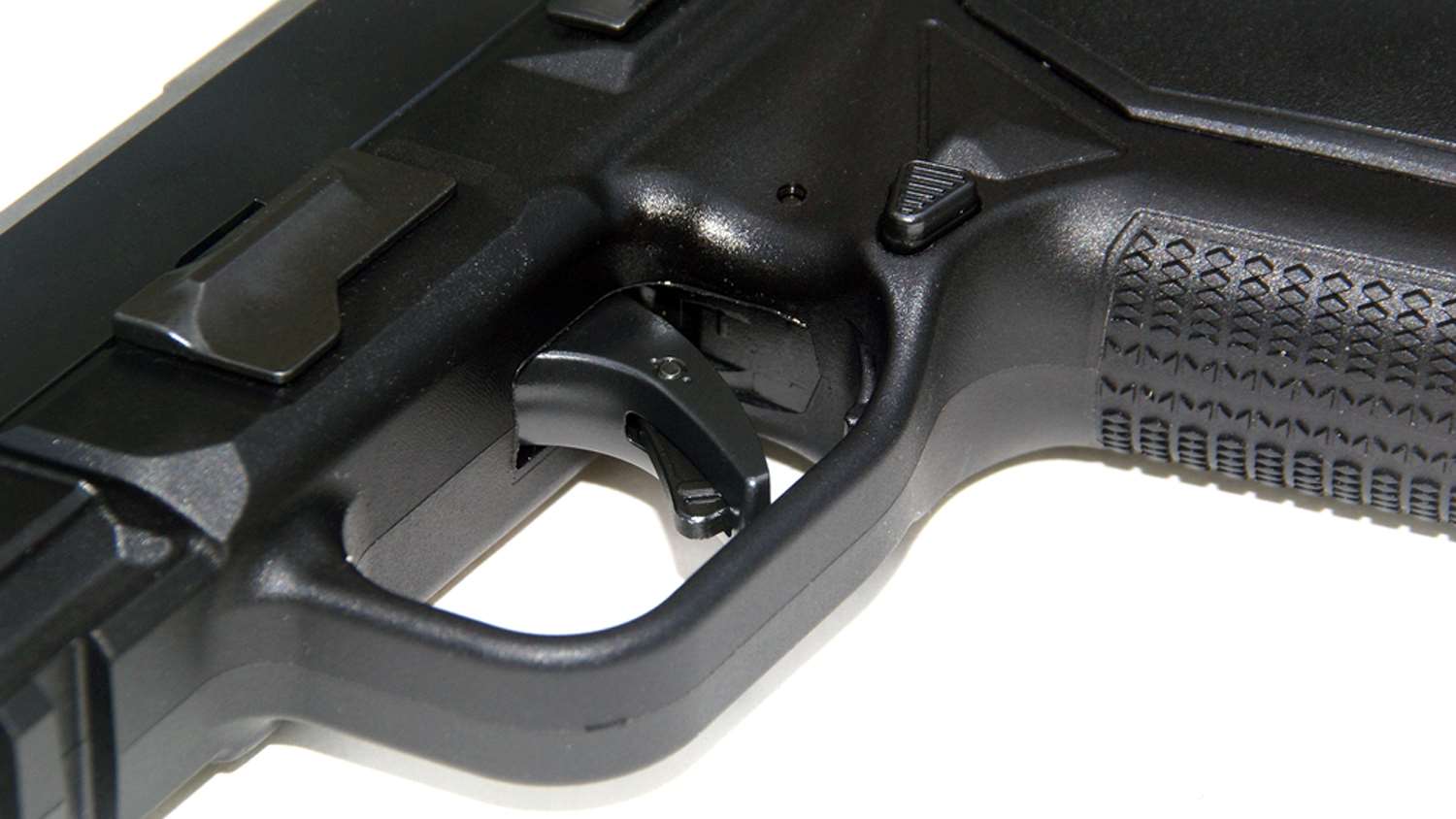 The 9mm test loads consisted of Federal's American Eagle in 147- and 124-grain weights, and CCI aluminum case 115-grain Blazer. These are common factory options for Action Pistol shooters. I added two of my competition handloads: a 147 Xtreme plated bullet at 880 fps (129.5 PF) and a 124-grain Bayou TCG at 920 fps (114.5 PF). The latter is a Steel Challenge load that produces little more recoil than a .22LR, but won't cycle some guns. I was interested to see just how "Mouse Puff" one could handload for the Ruger American.

After trying the various grip modules I settled on the small one, and it pointed perfectly for my hands. When the gun was presented quickly to the target I didn't have to raise or lower the front sight to slip it into the rear notch. It was already there.

Initial shooting was done freestyle at a 4-inch square bull at 15 yards. I started with the 147 American Eagle, which has proven to be one of the most consistently accurate 9mm factory loads in every gun I've shot it from. The 17-round magazine loaded the stated number of rounds without fuss, so I emptied it in a leisurely fashion. The resulting mass of holes was perfectly centered for elevation, with maybe an inch offset to the left (easy to fix with the drift adjustable rear sight). The 17-round group was about 4-inches. The 124-grain American Eagle produced similar results, while the Blazer was a little wider in group size and an inch or two lower in elevation. The 147-grain Xtreme handload mimicked the Federal 147, and I was pleasantly surprised to see that the Ruger handled my 124 Steel Challenge "Mouse Puff" load. It was like shooting a .22LR and I didn't have to hunt for the cases—they were in a neat little pile 2-feet to the right of the ejection port.

The Ruger American doesn't seem to be fussy about ammo, and will handle downloaded rounds with the factory recoil spring guide.

Running Action Pistol scenarios with rapid reloads was another pleasant surprise. The slightly oversized base plate on the magazine prevented any "palm pinch," while also providing a solid anchor point for a 2-handed hold.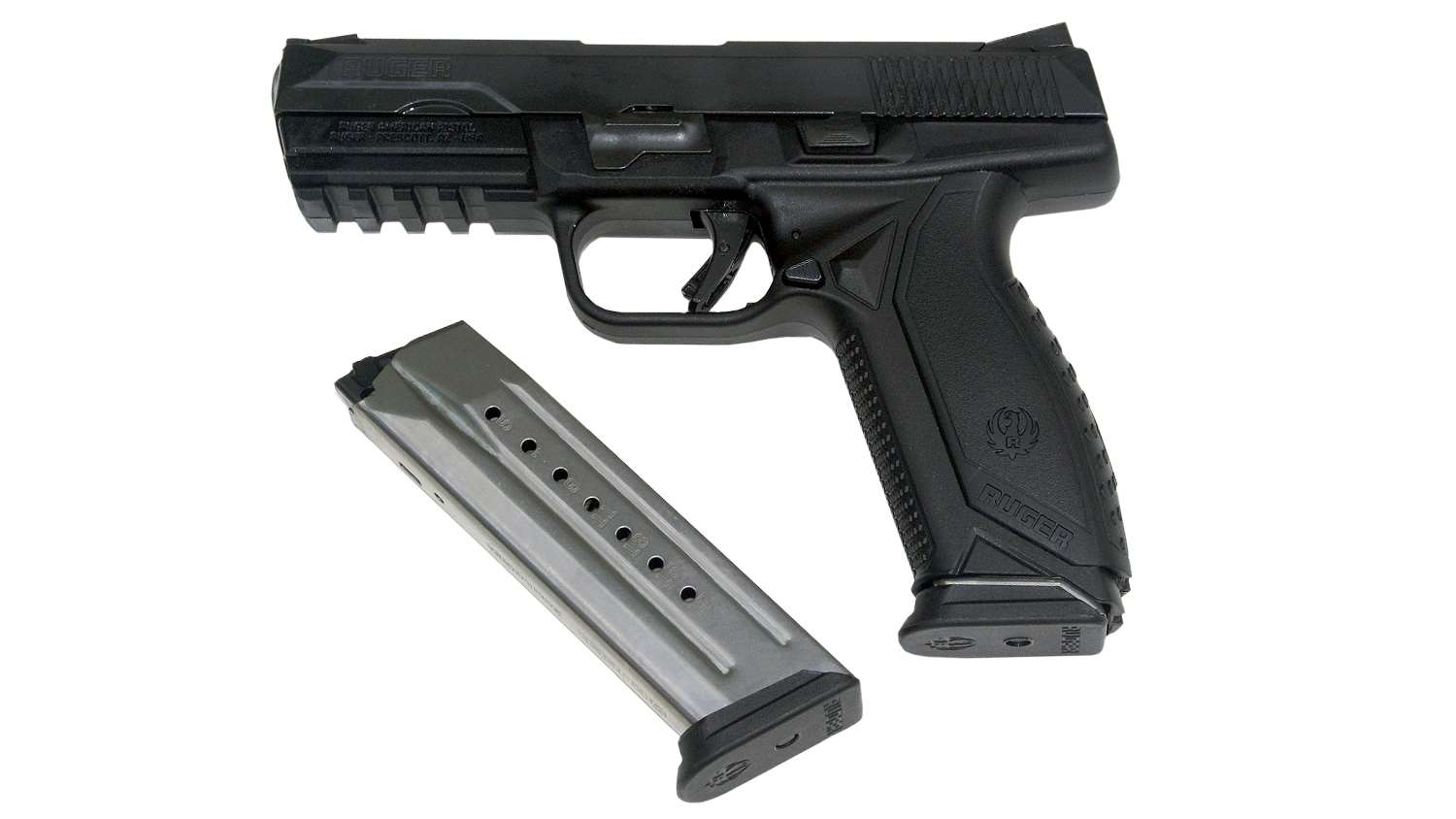 The initial testing session ran about 400 rounds and there was not a single malfunction. The gun fed and fired every round without a hiccup, even the "Mouse Puff" load. Twenty-five yard bench rest accuracy testing was next. The chart below shows it produces normal service pistol accuracy; which is more than adequate for any Action Pistol game. And the Ruger is well-suited for all of them.

In USPSA it is already on the approved Production Gun list. Both the 9mm and .45 ACP are legal there. Minor (125 PF) scoring is used in Production, but .45 ACP shooters who handload can tailor lighter loads for that division. In Limited 10 the .45 ACP is a solid choice with Major (165 PF) loads. For those who want to shoot Limited in a Minor caliber, the 17-round 9mm mags make it a viable choice. The same applies to Steel Challenge, and there is no Power Factor there.

In IDPA the 9mm is legal in Stock Service Pistol (SSP) and Enhanced Service Pistol (ESP) divisions, with the .45 ACP being legal in both of those as well as Custom Defensive Pistol (CDP).

Most 3-Gun organizations follow USPSA handgun rules, so it's good to go there as well.

MSRP: $579. The Ruger American Pro Model is an economical way to play a lot of games.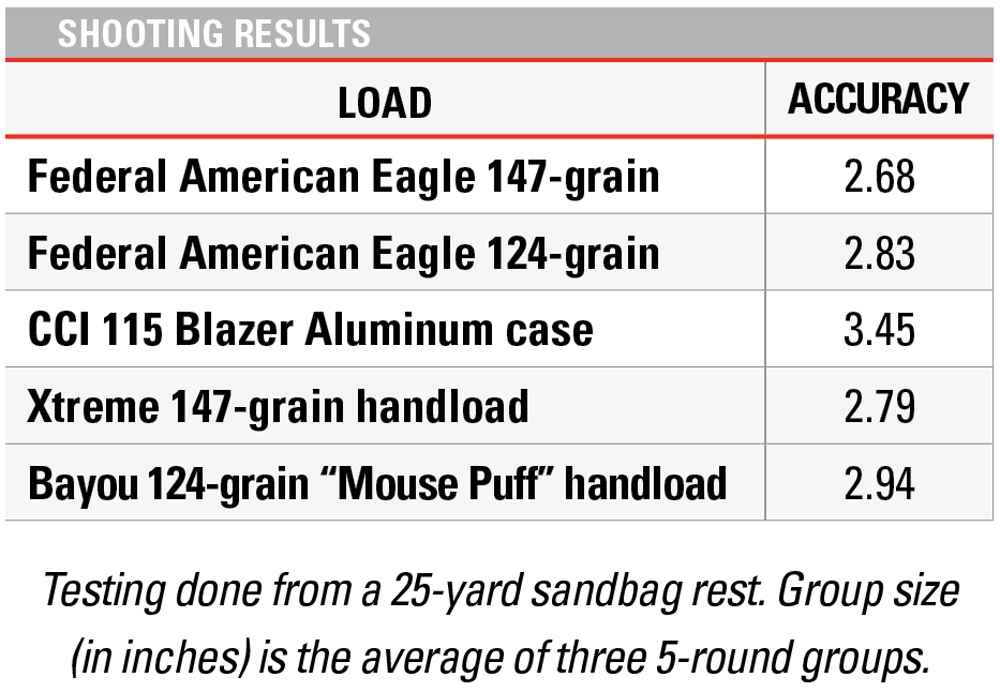 Learn more at www.ruger.com.