by
Chris Christian, Field Editor
posted on December 11, 2019
Support NRA Shooting Sports USA
DONATE
Ruger's first-ever professional shooting team continues to pile up trophies at major matches. And the company continues to provide them with upper-level competition guns to facilitate that. The latest is a single-stack 1911 in .45 ACP; which Team Ruger's David Olhasso used to win the Limited 10 Division at a recent USPSA Area match.
Enter the SR1911 Competition Pistol (Model No. 6776, $2,299 from the Custom Shop), a full-size 1911 built on Ruger's SR1911 frame in black-nitrided stainless steel and sporting a 5-inch barrel. As a .45 ACP, it complements the earlier Ruger Custom Shop Koenig SR1911 9mm pistol.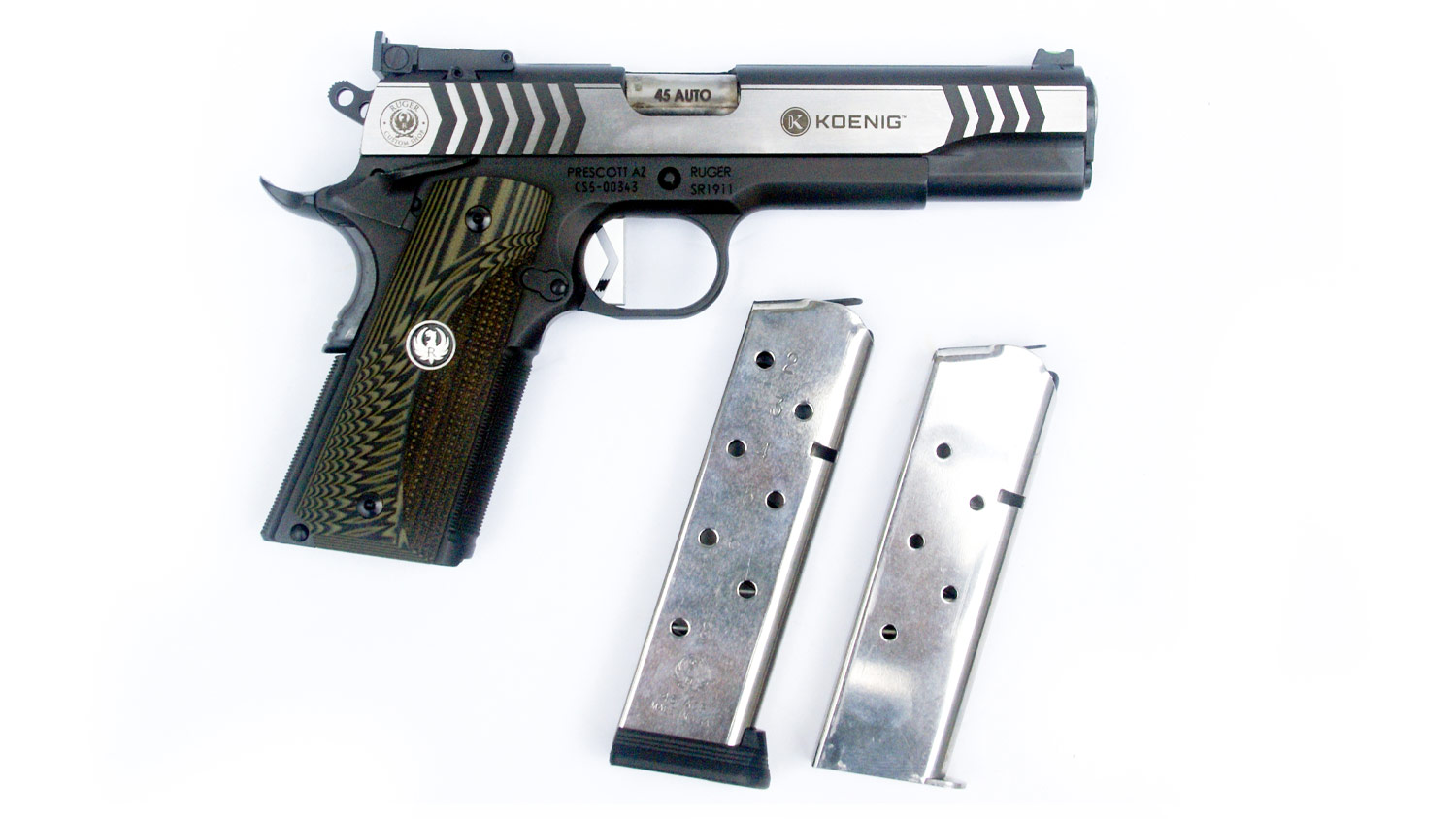 This gun is all about competition, starting with the trigger guard, which is undercut to allow a proper high grip. The front strap and flat mainspring housing feature 25-line-per-inch checkering. The magwell is standard 1911. As for the hammer, it's a rounded Commander-style one. The beavertail grip safety incorporates a generously grooved speed bump. Operating controls consist of ambidextrous combat-style thumb safeties, with a left-side slide release and magazine release. The plunger tube is integral, not staked. Finishing off the frame are textured G-10 grip panels.
Hand-fitted to the frame, the slide is stainless steel with a two-tone finish. It features generous front and rear cocking serrations, as well as a grooved top strap. The rear sight is a Bomar-style adjustable target model with a serrated black blade. The front sight is dovetailed into the slide and sports a serrated black ramp with a replaceable fiber-optic insert in .060 size. Green was installed, but a 2.5-inch length of both red and green FO rods were added to allow replacement for inevitable wear and dulling from cleaning chemicals or a change of color to suit shooter preference.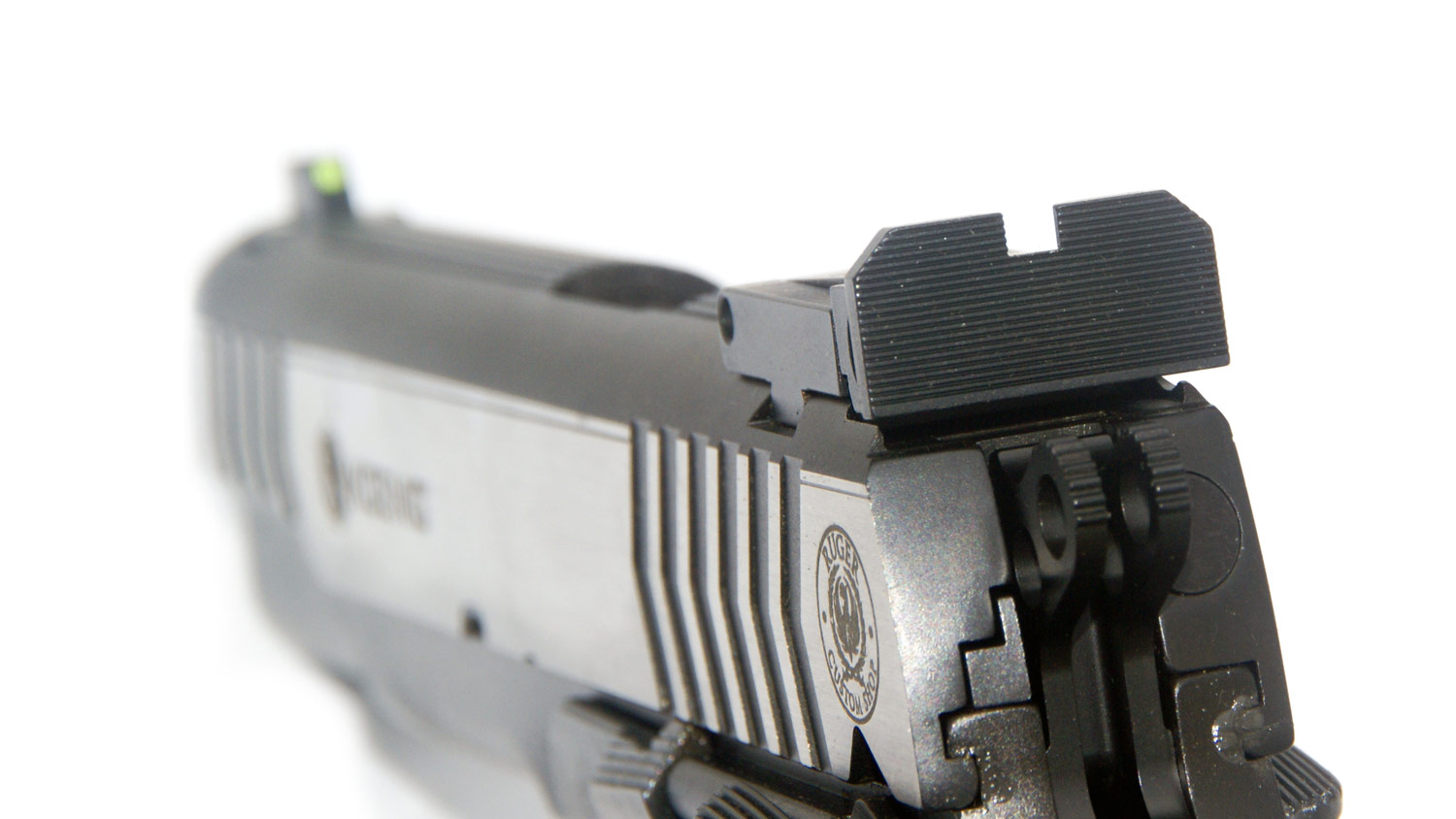 The aforementioned 5-inch stainless steel barrel (six groove, 1:16 right-hand twist) includes a fitted barrel lug and barrel bushing for a tight lock-up, and a target crown. My inspection showed it also has a well-shaped and polished feed ramp.
Additional operating action features are a Koenig Shooting Sports low-mass hammer, machined Cylinder & Slide disconnector, forged slide stop and a hand-tuned sear spring. Finally, the trigger is a flat-faced aluminum match trigger with a pre-travel adjustment screw.
The empty weight is 40 ounces, with an overall length of 8.67 inches, a height of 5.63 inches and a maximum width of 1.45 inches.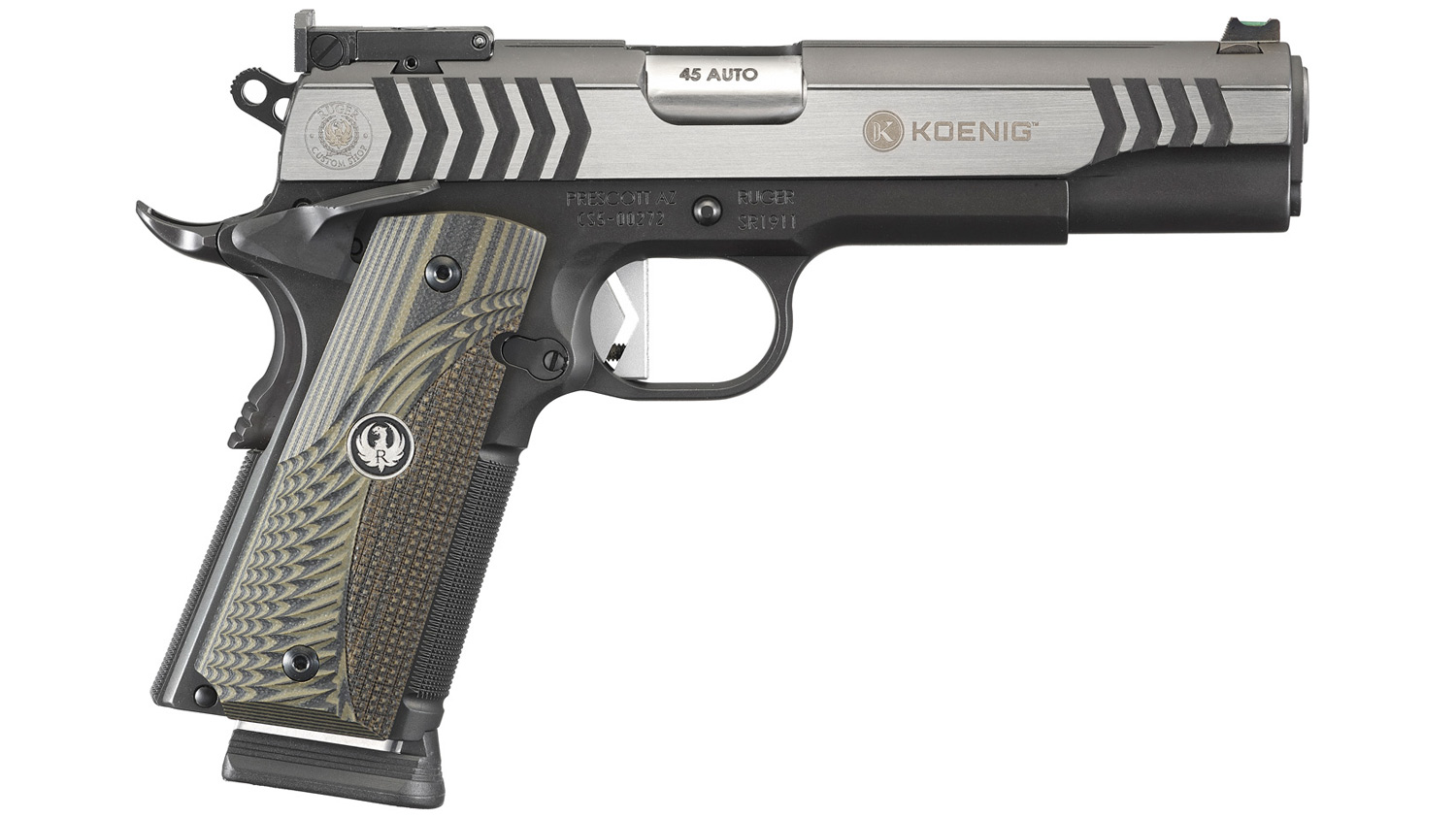 Competitive shooters will love the sturdy waterproof, lockable, foam-lined case that the SR1911 is shipped in. It certainly appears to be airline approved. Inside the box are a sight-adjustment screwdriver tool, cable lock, two stainless steel magazines (one seven-round flat base and one eight-round extended base) the FO replacement rods, bushing wrench, red chamber flag, gun cleaning cloth, the appropriate paperwork and manuals, a Certificate of Authenticity and an attractive Ruger Custom Shop challenge coin.
On The Range
Upon taking the gun out of the box, I gave it a quick inspection. The trigger pull measured 4.1 pounds on my Lyman Digital gauge. I then gave it a field strip and lube, since tightly fitted 1911s don't normally like to run well when dry. That was the only cleaning and lubrication I did during the 400-round test.
For test ammo, I selected two Federal Syntech loads that had performed well in my previous tests: 220-grain Match and 230-grain Range. For FMJ ball, I used the Aguila 230-grain and Blazer aluminum case 230-grain. Knowing that some shooters prefer lead (and curious as to how this barrel liked lead), I found some Speer 230-grain RN swaged lead handloads that had won some High Expert CDP Class trophies for me at past Florida IDPA State Championship matches. The final load was the Atlanta Arms Elite 185-grain JHP, which is used by some pistol teams for precision matches.
Step one was to zero the gun from a 25-yard bench rest. I used the Aguila 230-grain FMJ, since that is a universal .45 ball load. From the box, it appeared that the rear sight was close to bottomed out and the gun impacted about 8 inches low. The precise adjustments on the Bomar-style rear got it centered quickly.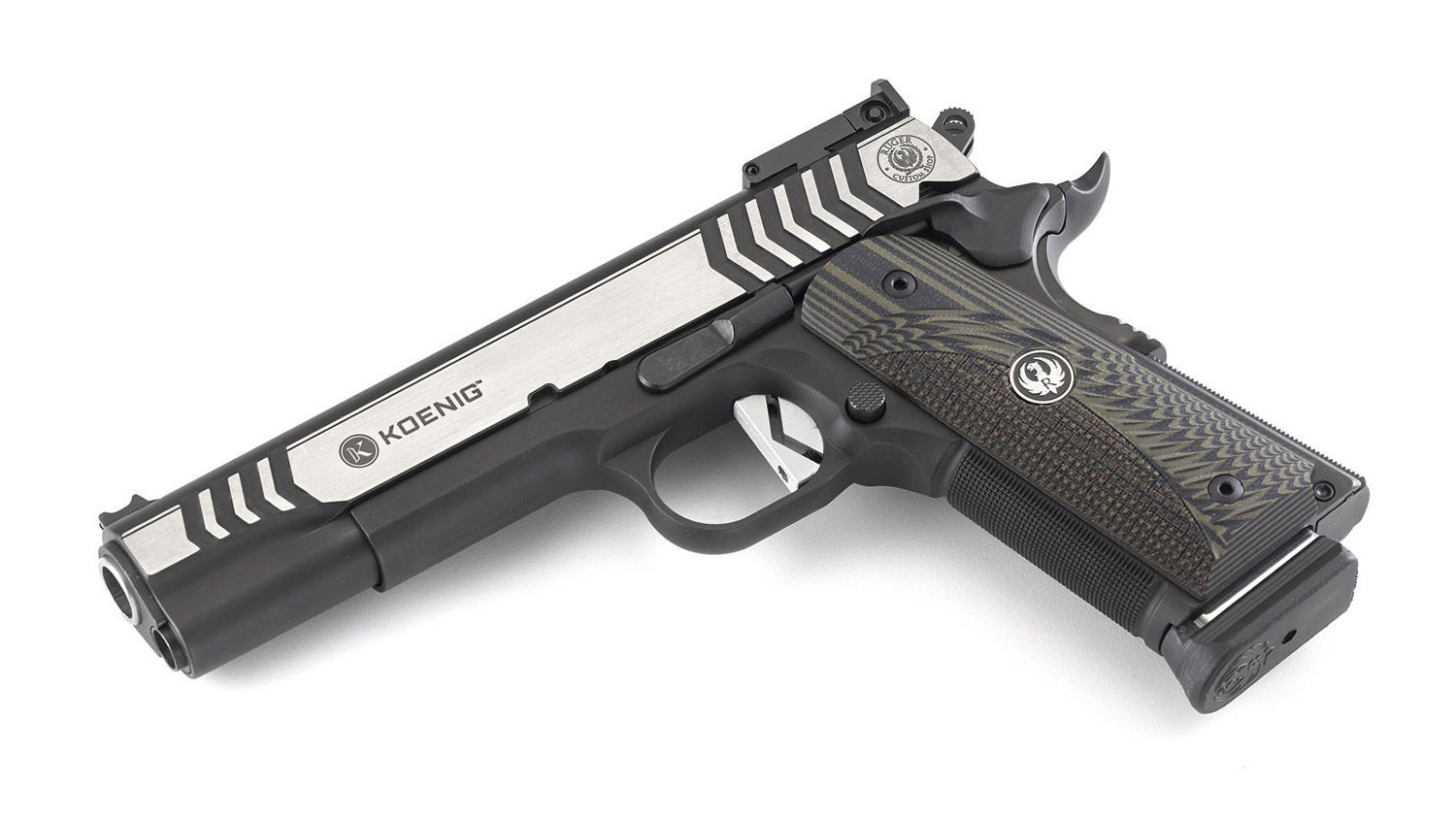 After the initial zeroing, I found an appropriate 1911 holster, set up four targets and began running rapid transition drills from the holster. I was immediately impressed by the grips.
The literature says they are "textured G10 grips." Actually, I would have to say they are "triple textured." The upper section, where the shooting-hand thumb will go after swiping off the safety from the draw is smooth for both right- and left-handed shooters. Below that the bottom portion of the grip is broken into two sections. The rear half is textured, but the indentations slant forward. That allows the shooting hand to slide smoothing into the grip position on the draw, but provides texture for the rearward recoil movement. The front section is aggressively checkered, and once the grip is assumed it locks the fingers into place. The grip panels are no bigger than standard wood panels, but a lot of thought obviously went into them. I suspect (although I don't know for certain) that the experienced shooters on Team Ruger had a hand in their design. They're the best grips I've yet seen on a 1911.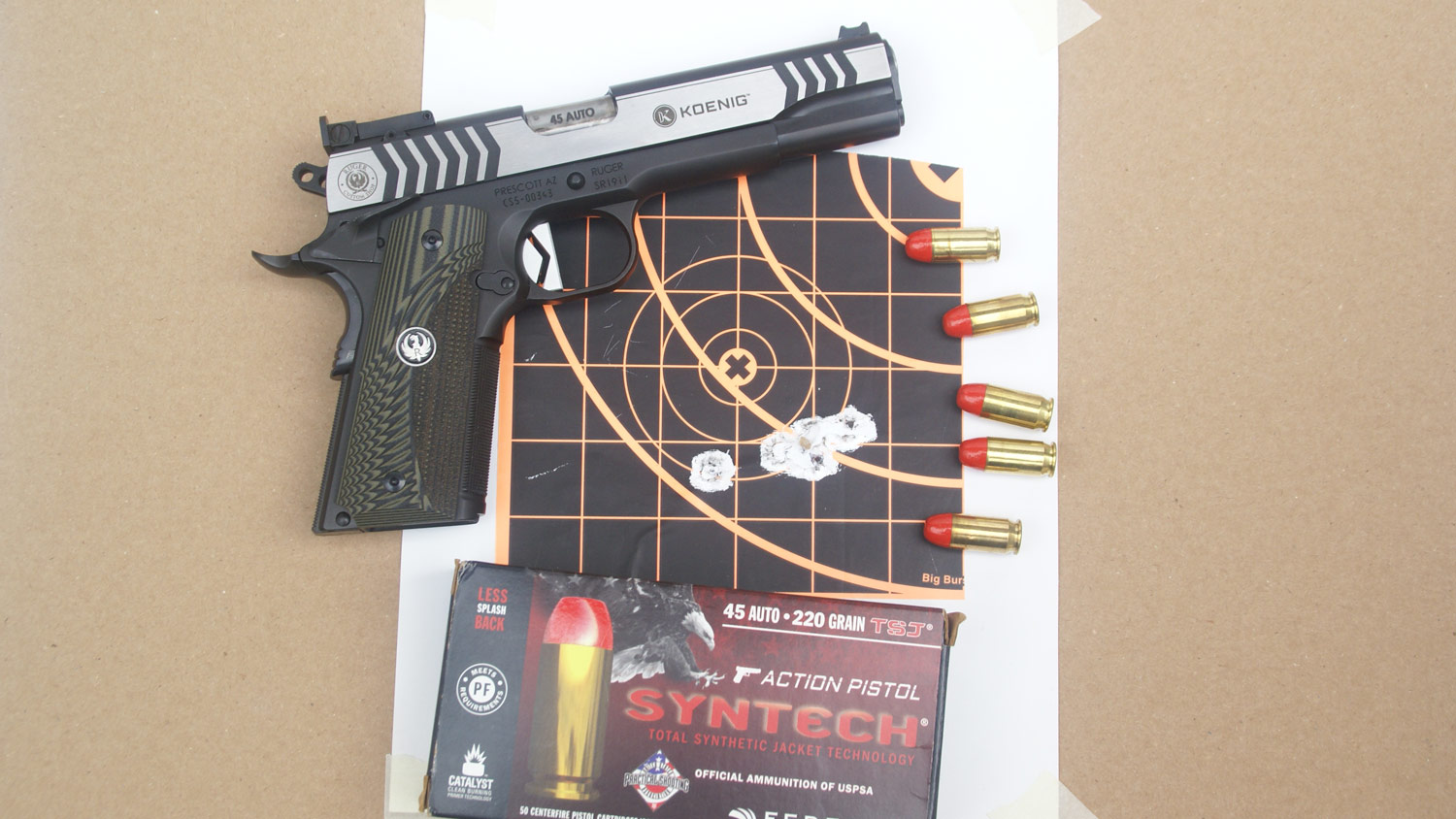 For me, the gun handled well from the holster. I prefer to shoot a 1911 that has extended combat-style safeties by using a high grip—the thumb stays on the safety after I disengage it. The generous speed bump on the beavertail safety facilitated that by getting the grip safety properly depressed. Not all grip safeties on 1911 designs do that for me.
The 4-pound trigger had a slight amount of pre-travel, which let me know I was "there." I could have removed that with the pre-travel adjustment screw, but I actually liked it. The trigger broke crisply and with a fast reset.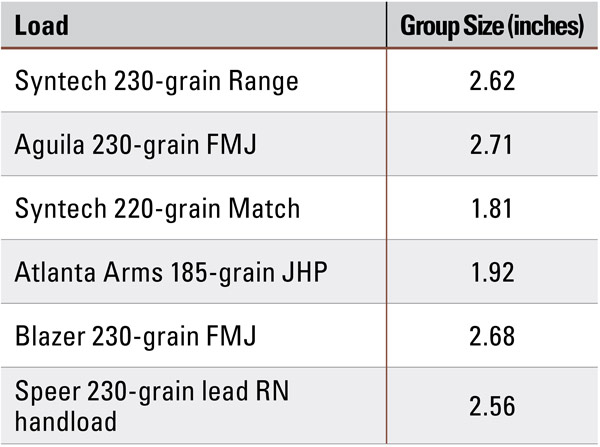 I alternated the six test rounds through both magazines and ran about 200 rounds downrange. There were no malfunctions of any type, even with the more lightly loaded Syntech 220, the Atlanta Arms 185 and my Speer lead RN handload.
Once I had enough rounds through the gun to properly break it in, accuracy tests were next. I cranked the rear sight a bit down and right in order to keep the group out of the aiming point and make an uncluttered sight picture on the "burst-type" targets I used. The accompanying chart shows the gun has more than acceptable accuracy for action-pistol competition, with a couple of loads showing potential for precision pistol.
Ruger's latest offering certainly looks like a ready competitor for USPSA Single Stack, L10 Major caliber or IDPA CDP Division. Learn more at Ruger.com.
---
Read more articles by Chris Christian: