by
Chris Christian, Field Editor
posted on April 12, 2019
Support NRA Shooting Sports USA
DONATE
Ruger firearms have a long history in competitive shooting. But when Ruger formed its first-ever professional shooting team a couple of years ago, it was inevitable that they would begin producing more competition-oriented guns. Shooters have seen this with the eight-shot Ruger Redhawk revolver and the 10/22 Target Lite rifle.

Its latest introduction is the Ruger Custom Shop Doug Koenig SR1911 9mm Competition Pistol. Watch the video of the Doug Koenig SR1911 at SHOT Show 2019.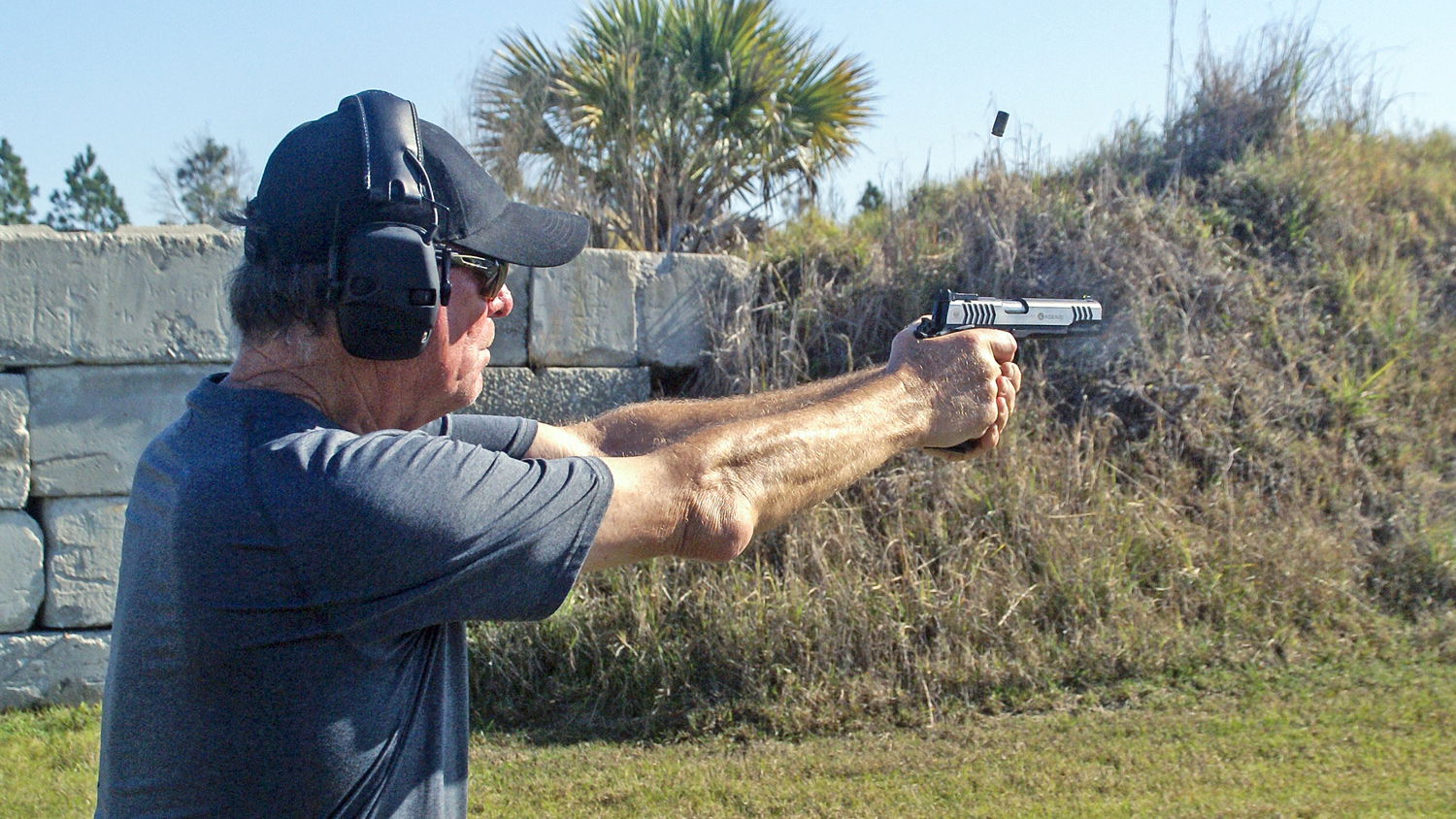 While many shooters automatically acquaint the 1911 with the Major caliber .45 ACP or .40 S&W—a single-stack 9mm has a lot of competitive uses. It's an excellent fit for IDPA Enhanced Service Pistol (ESP) division, and more than one National Championship has been won with a 1911 9mm. It's also a perfect fit for Steel Challenge Single-Stack division. As well, many USPSA/IPSC Single-Stack shooters find the increased magazine capacity a plus—even with a Minor Caliber. A-Zone hits count the same for Major or Minor, and the extra rounds in a 9mm allow better stage planning for time-consuming reloads. It also fits well into NRA Precision Pistol centerfire/metallic sights and NRA Action Pistol (Bianchi Cup) competition.

The Gun
The SR1911 Competition Pistol (#6766; $2,499, Ruger.com) is a full-size, five-inch barrel 1911. Chambered for 9mm, it has a 10+1 capacity. The slide is stainless steel with a black grooved top strap, and generous fore and aft cocking serrations. The grip frame is black-nitrided stainless steel. The empty weight is 41 ounces, with an overall length of 8.67 inches and a width of 1.45 inches.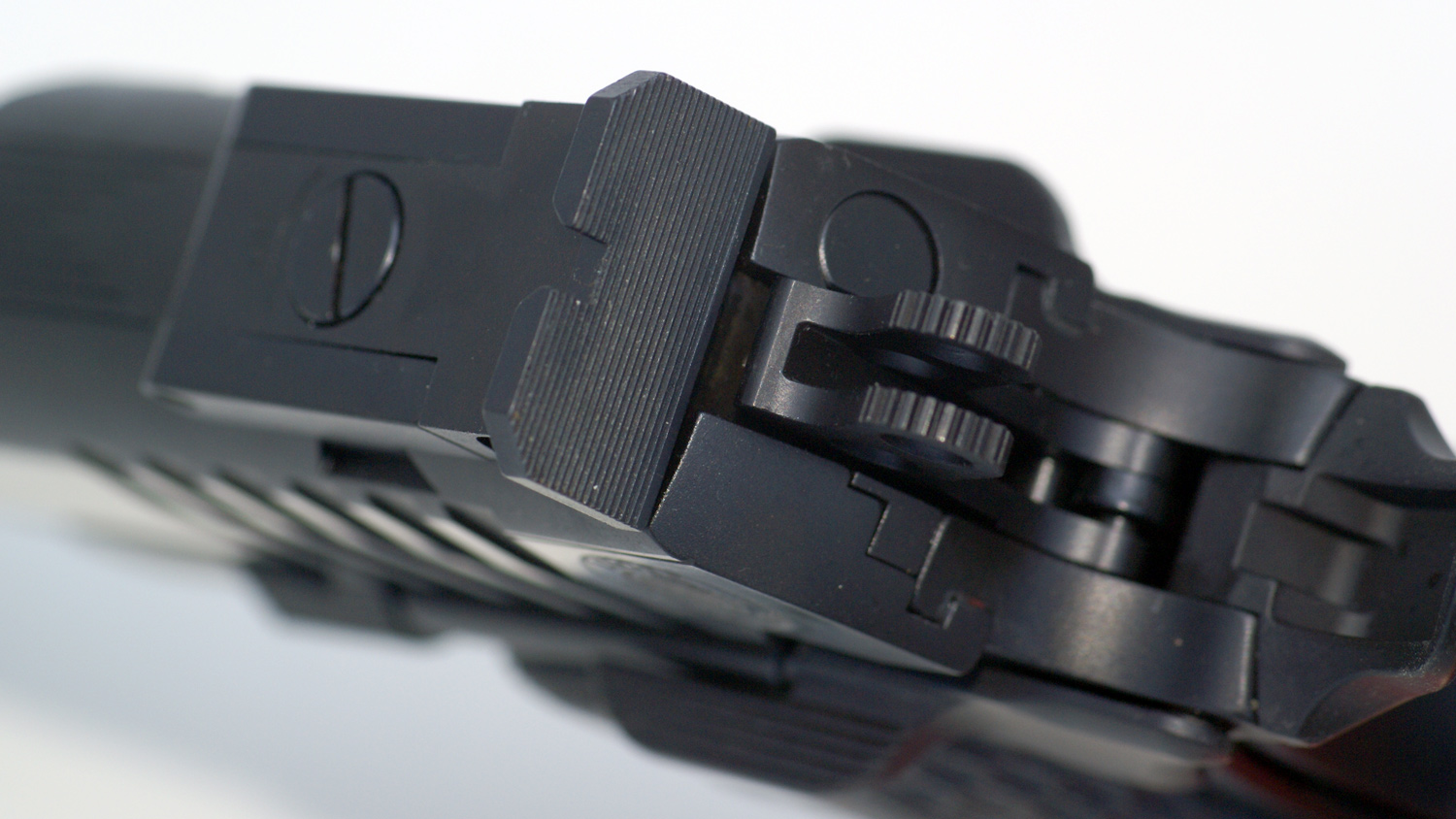 The slide and frame are hand-fitted. The mainspring housing and front strap feature 25 lines-per-inch checkering. The trigger guard is undercut to allow for a higher grip. The grip safety is an extended beavertail with a generously grooved "speed bump." The plunger tube is integral; not staked. The grip panels are Hogue Piranha G10 models. A machined aluminum TechWell magwell allows for quick reloads. Operating controls consist of ambidextrous extended combat safeties, left-side extended magazine release and left-side extended slide release.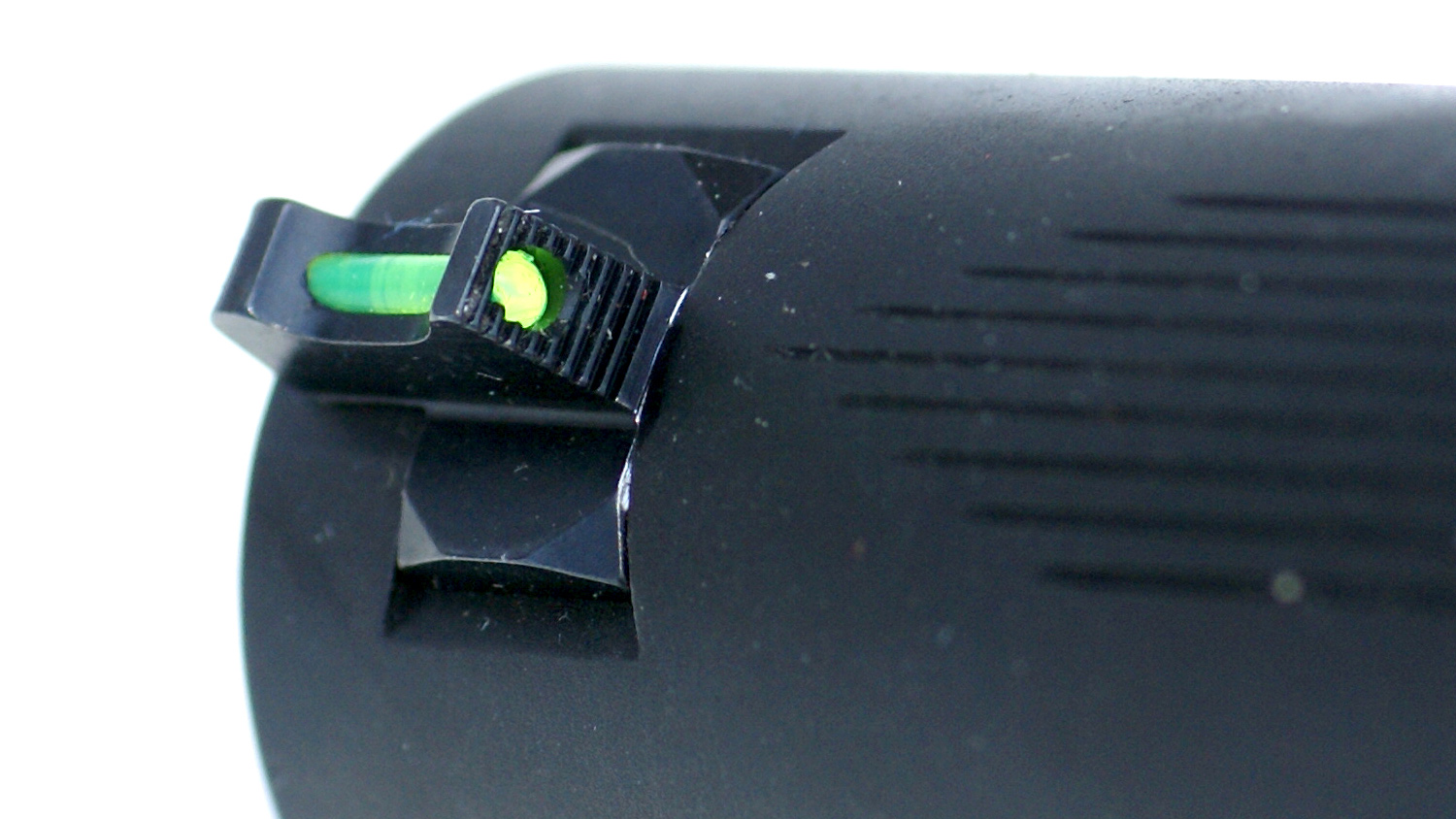 The sights feature a Bomar-style adjustable rear with a plain black serrated blade. The front sight is a slightly-ramped and serrated black blade with a replaceable fiber-optic insert (.060). Green was installed, but a 2.5-inch length of both red and green rods were included to allow replacement. Both sights are dovetailed into the slide, allowing for easy replacement to suit shooter preferences.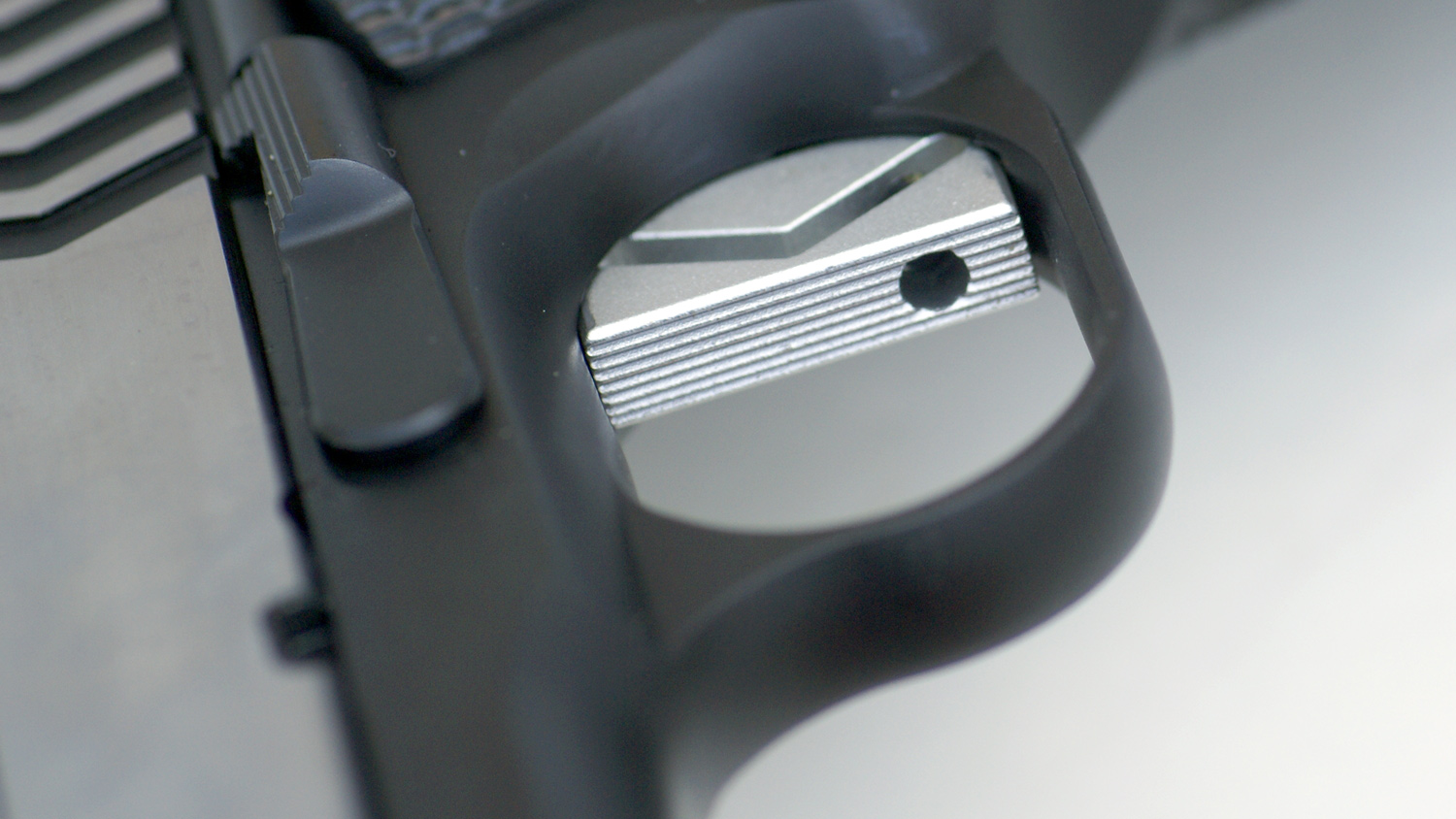 The trigger assembly uses a Koenig Shooting Sports low-mass hammer, competition sear, hand-tuned sear spring and a flat-faced trigger with an adjustable overtravel screw. Out of the box (with no lubrication or break in) my Lyman Digital Trigger Pull Gauge showed a smidge over 4 pounds of break. There was a hint of take-up, a clean break and a slight bit of overtravel in dry firing. I could have taken that out with the adjustment screw, but didn't play with it.

The barrel is a 1:16-inch twist, with a fully polished integral feed ramp, match crown and fitted barrel lugs.

The gun ships with a waterproof, fitted hard case (lockable and airline-approved), two 10-round magazines, cleaning cloth, bushing wrench, extra FO rod sections and chamber flag.

On the Range
Prior to taking the Ruger to the range I added some lube to the barrel and barrel hood lugs. Usually, 1911 guns don't run well when dry. But that was the only lubrication I did through what became a 400-plus round test.

Given the multiple uses of a 1911 single-stack—I selected a broad range of ammunition to shoot.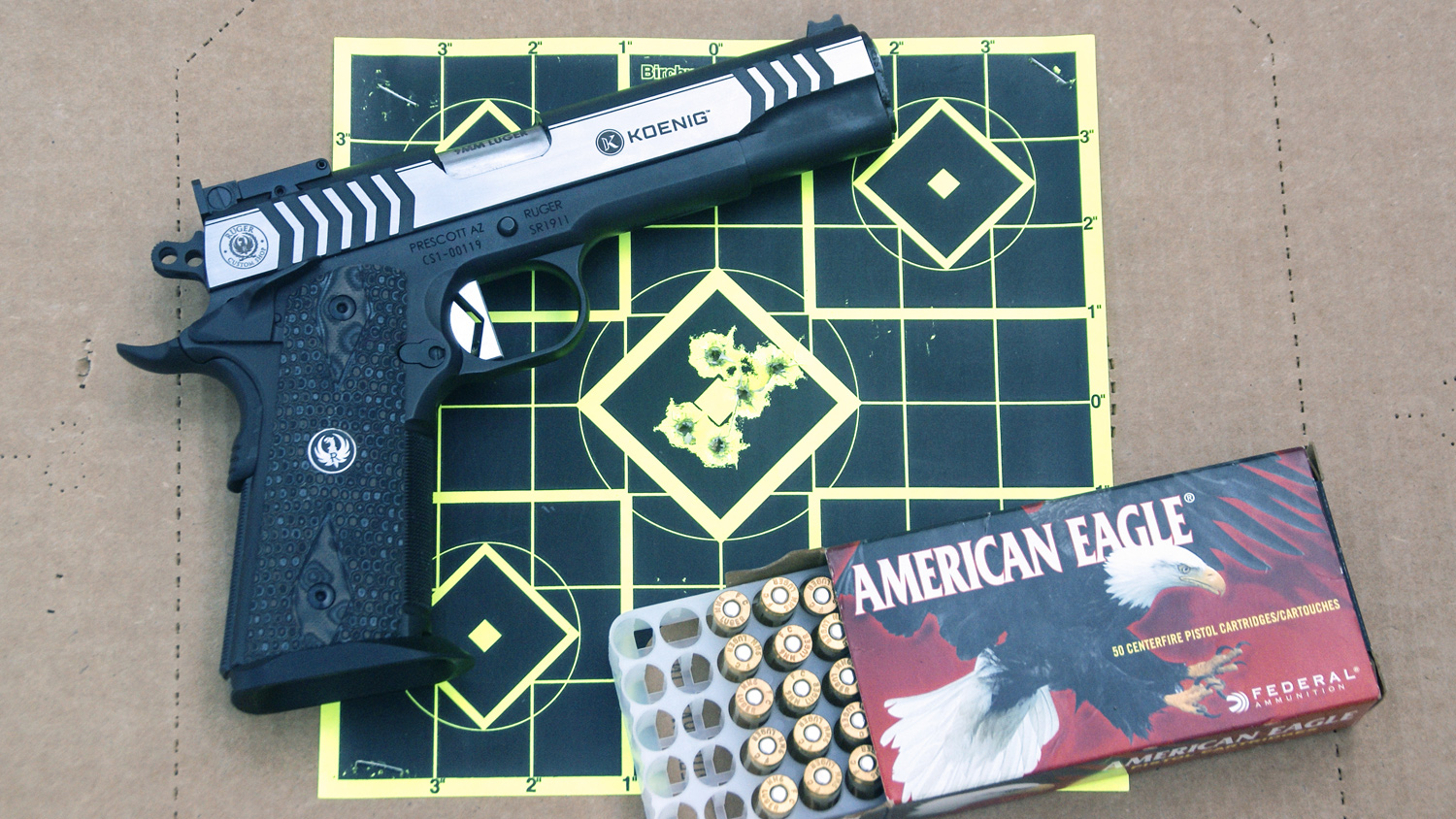 Federal 124-grain American Eagle, CCI 115-grain Blazer Brass and Aguila 124-grain FMJ are common 125-plus PF loads. Steel Challenge has no PF so I included Atlanta Arm's 100- and 115-grain Steel Challenge loads. These are lighter loads and some guns require a lighter recoil spring to run them. I was curious if the Custom Shop 1911 would run with the factory recoil spring. Although my previous experience with 1:16-inch twist 9mm barrels has been that they don't handle heavier bullets well, many shooters prefer the softer recoil "push" of the 147-grain and up bullets, as opposed to the sharper "snap" of lighter slugs, so I included Federal's 150-grain Syntech Match and Winchester's 147-grain FMJ TCMC.

The first step was to zero the gun from a 25-yard bench with the Aguila 124 load. The impact was a couple of inches low and a bit to the right, but the Bomar-style sights centered it quickly.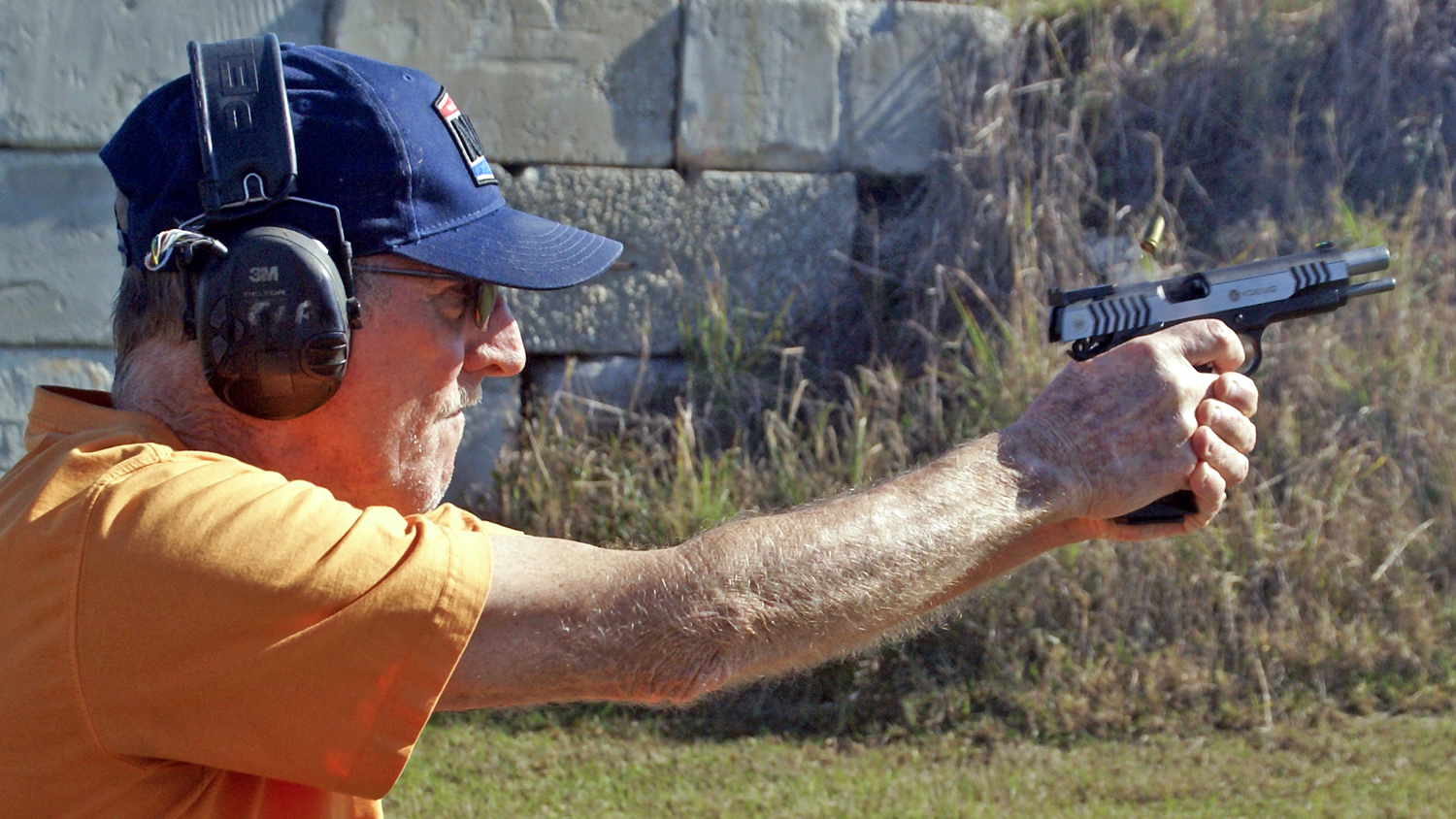 After that I set up a three-target drill at 15 yards. From a Low Ready, I ran multiple transition drills with each load. The Hogue G10 grip panels and generous magwell made a very firm grip, and the sights were crisp and positive. There were no malfunctions of any type for that 200-round session, although the ejection of the two AA Steel Challenge loads was a bit weak. That would be easy to fix with a lighter recoil spring, and they are readily available from aftermarket makers like Wolff.

One issue that crops up with 1911 9mm guns is magazines. Not all seem to work properly. But the Ruger mags loaded perfectly to their stated 10-round capacity and functioned flawlessly.

Once I had the pistol properly broken in, accuracy testing from a sturdy sandbag rest at 25 yards was next. That was another 100-plus rounds and there were still no malfunctions. The accompanying chart will show how the loads did. Given my previous experience with 1:16-inch twist 9mm barrels, I wasn't surprised by the groups from the Syntech and Winchester loads.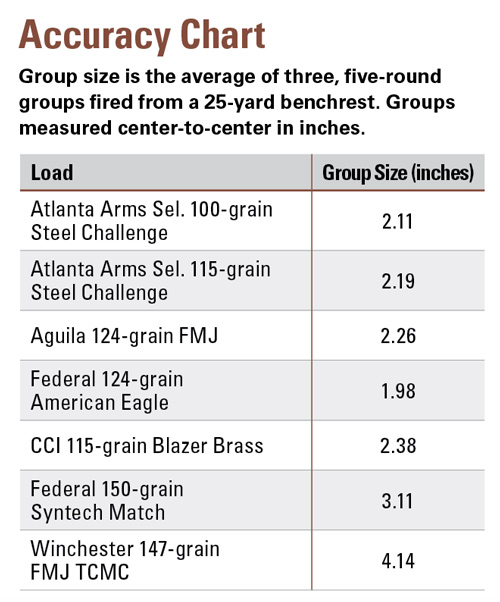 I would have liked to shoot a match (USPSA, Steel Challenge or IDPA) as part of the test, but with only two mags and no proper holster that wasn't in the cards. I did take it out to my gun club's Steel Challenge practice day, and another 100 rounds or so from the Low Ready (mostly the Accurate Arms 100 and 115 loads) that were run by myself and fellow club members still failed to produce a malfunction.

There are a number of games a 9mm single-stack can play, and the Ruger Custom Shop Doug Koenig SR1911 is a good choice for any of them.